Second Wife of General James Longstreet
Helen Dortch Longstreet, known as the Fighting Lady, lived a long and eventful life. She earned her nickname as a champion of causes such as preservation of the environment, women's suffrage and civil rights for African Americans. She also spent a great deal of time and energy defending her husband's actions during the Civil War.
Helen Dortch, born on April 20, 1863 in Carnesville, Georgia, was the daughter of Mary Pulliam and James Speed Dortch. She was educated at the Georgia Baptist Female Seminary in Gainesville, Georgia and the Notre Dame Convent in Baltimore, Maryland.
On July 3, 1863, General James Longstreet (1821-1904) strongly objected to plan of attack formulated by General Robert E. Lee on day three at the Battle of Gettysburg. Whether his actions were right or wrong, Longstreet later became the scapegoat of the Confederate loss there, and was considered by many as "the man who lost the battle that lost the Civil War."
According to some, General Longstreet was at least partially to blame for the Confederate defeat at Gettysburg; according to others, if Lee had followed Longstreet's advice, they would have won the Battle of Gettysburg. Longstreet has been called stubborn and vain; he has also been lauded as one of the greatest tacticians of the Civil War.
After the Civil War, Longstreet excited controversy among Southerners by joining the Republican Party. Moreover he advised the Southern state governments to extend civil and voting rights to freed slaves, much to the chagrin of his former Confederate comrades. In the 1870s advocates of the Lost Cause movement, Jubal Early and others, assumed an aggressive posture against ex-Confederates like Longstreet and implied that Lee was blameless for anything.
They focused on Longstreet's actions at Gettysburg as a primary reason for the Confederacy's loss of the war. Longstreet's cooperation with former Union general Ulysses S. Grant, Longstreet's best friend at West Point, further alienated his former colleagues. Longstreet's reputation in the South was damaged for over a century and has only recently begun a slow reassessment.
In 1869, now President Grant appointed Longstreet as Surveyor of Customs for the port of New Orleans in 1869. In June 1873 Longstreet was named to the four-year position on the Levee Commission of Engineers. By 1878 President Rutherford B. Hayes had appointed him Deputy Collector of Internal Revenue. He remained in the position for only a few months, before accepting the position of postmaster in Gainesville, Georgia.
In May 1880, President Hayes appointed Longstreet ambassador to Turkey. President James A. Garfield, another former Union general, nominated Longstreet to a four-year term as U.S. Marshall for Georgia, a position he had long desired. He served in that capacity for slightly over three years, but his tenure was plagued by controversy and political intrigue.
Helen Dortch met James Longstreet while she was the roommate of his daughter Louisa at the Georgia Baptist Female Seminary in the 1880s. She later described her first encounter with Longstreet in an unpublished essay, "Wooed to the Warrior's Tent," held in the Helen Dortch Longstreet Papers at the Atlanta History Center.
With the election of President Grover Cleveland in 1884, Longstreet had no prospects of receiving another position, so he went into semi-retirement in Gainesville, Georgia. There he operated the Piedmont Hotel, and enjoyed raising turkeys on his 65-acre farm and nurturing his vineyards. His wife of many years, Maria Louise Garland Longstreet, died there in December 1889.
In 1884 at the age of 21, Helen Dortch became editor of her father's newspaper, The Weekly Tribune, in Carnesville. She was the editor of the Milledgeville Chronicle, in 1893-1894. She was also active in women's suffrage, civil rights for African Americans and the establishment of the Georgia Normal and Industrial College in Milledgeville, which provided a practical higher education for women that would enable them to become teachers or to enter business and industry.
In 1894 Dortch was appointed Assistant State Librarian, making her the first woman to hold public office in the Georgia state government. She used her gender-breaking position by authoring the 'Dortch Bill,' passed by the Georgia General Assembly in 1896, making it possible for a woman to hold the office of State Librarian. She served as assistant state librarian from 1894 until her marriage in 1897.
Marriage
Despite their significant age difference, Helen Dortch married James Longstreet on September 8, 1897, when she was 34 and he was 76. They had no children. When asked why she married a man more than twice her age, she answered:
Because I love him, to be sure, for no true woman would ever marry a man whom she did not love… When he asked my hand in marriage, I granted it, knowing that I was entrusting my life and happiness to one of the noblest men God ever made.
The newlyweds honeymooned in Mexico as guests of Senora and President Porfirio Diaz of Mexico. Helen spent a little over six years of blissful marriage with James Longstreet. She was his constant companion until the moment of his death.
By the early 1900s, Longstreet was in constant pain with rheumatism and was so deaf that he had to use an ear horn. In 1903, he traveled to Chicago for X-ray treatment of a cancerous right eye. His weight had dropped dramatically, from 200 pounds to 135. By Christmas he and Helen had returned to Gainesville and he had rallied.
James Longstreet died of pneumonia on the morning of January 2, 1904, six days short of his 83rd birthday, while visiting his daughter Louisa's home in Gainesville, Georgia. Five thousand people attended his funeral and burial at Alta Vista Cemetery there.
After Longstreet's death, Helen embraced public affairs again, yet fulfilled the promise she made to her husband before he died:
In the future, so long as I shall live, whenever your war record is attacked, I will make answer.
Career in Activism
Second to defending her husband's name was Helen's passion for environmental preservation, leading her to take on one of the state's biggest corporations, the Georgia Power and Railroad Company. From 1911 to 1913 she attempted to block the Company from building a series of hydroelectric dams along the Tallulah River in Rabun County, Georgia.
She was particularly concerned about the potential impact on the Tallulah Gorge, a then thriving tourist town some 95 miles northeast of Atlanta. The dams would divert the river's flow away from the famous Tallulah Falls, affecting the area's environmental and economic future. Helen traveled the state to gain support for her initiative.
In 1913 she lost her battle but received recognition for the organization she founded to protect the area, the Tallulah Falls Conservation Association. Although unsuccessful, her campaign was one of the first conservation movements in Georgia. Despite her calling Georgia Power commercial pirates and buccaneers, the company leased 3,000 acres to the State of Georgia to create the Tallulah Gorge State Park and returned the natural water flow through the canyon in 1992.
During the Progressive Era (1900-1920), Helen Longstreet became quite active in local and national politics. This was a period of varied reforms that took place throughout the United States. Much of that change was enacted by the U.S. Congress under three consecutive presidents – Theodore Roosevelt, William Howard Taft and Woodrow Wilson – but it generated a variety of changes at the state and local levels as well.
Helen Longstreet became a member of the Progressive Party and served as a delegate to the Progressive Party Convention in 1912, where she supported Theodore Roosevelt. She returned to Brenau College where she studied speech, after which she lectured extensively throughout the country advocating Progressive reform. She also worked as a freelance author and her writing was published widely in newspapers and magazines.
General Longstreet's Reputation
In addition to her political activities, Helen spent much of her time and money defending and restoring her husband's tarnished reputation. For decades many of General Longstreet's fellow Confederate officers had accused him of deliberately disobeying General Robert E. Lee's orders at the Battle of Gettysburg and thereby forsaking the Confederate cause.
Helen Longstreet believed that her husband was unjustly blamed for the loss at Gettysburg and that he was not given the proper respect by Southerners. In 1904 she privately published Lee and Longstreet at High Tide: Gettysburg in Light of the Official Records, in which she documented her husband's account of the Civil War and tried to ensure that he was accurately portrayed in history.
In the book, she argued that because of the scurrilous comments made by petty men, "the South was seditiously taught to believe that the Federal Victory was wholly the fortuitous outcome of the culpable disobedience of General Longstreet." She noted that her husband's detractors began their campaign to vilify Longstreet after the death of Robert E. Lee, whom she was sure would have defended her husband against these unwarranted attacks had he been alive.
Throughout the remainder of her life, she continued to defend her husband's military career both in print and on the lecture circuit. She also organized the Longstreet Memorial Association and the Longstreet Memorial Exhibit at the New York World's Fair in 1939 and at the Golden Gate Exposition in San Francisco, California in 1940.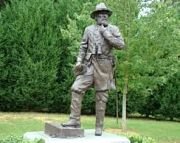 Image: General Longstreet Monument
At the site of his former home
Gainesville, Georgia
Late Years
Helen Dortch Longstreet lived a long and eventful life. At the age of 80, she gained national publicity for the effort to employ women in the defense industry when she served as a Rosie the Riveter building B-24 Bombers at the Bell Aircraft plant in Marietta during World War II. She said at the time, "I am going to assist in building a plane to bomb Hitler."
Helen worked the 8 a.m. to 4:45 p.m. shift. Her employers became aware of her age and asked her to quit. Helen refused, stating she had the eyesight of a 20-year-old and was in otherwise perfect health. She was quoted in The Atlanta Journal on October 12, 1943:
I've been an assembler and riveter for about two years and have never lost a day from work, or been a single minute late. I will quit only when the last battle flag has been furled on land and sea.
In 1947, Helen became the first woman to have her portrait placed in the State Capitol. Wanting to go even further into state politics, she ran an unsuccessful but active write-in campaign for governor of the State of Georgia against Herman Talmadge in 1950.
In 1957 Helen Longstreet was admitted to the Central State Hospital in Milledgeville, Georgia for mental illness, which was most likely Alzheimer's. She remained there until her death on May 3, 1962. She was 99 years old and the last surviving widow of a Corps Commander in the Civil War. She is buried in West View Cemetery in Atlanta, Georgia.
She received a number of honors. In 1947, she became the first woman to have her portrait placed in the Georgia State Capitol. When the Tallulah Gorge State Park was finally created in 1993, it was done in her honor and the trails in the park were named the "Helen Dortch Longstreet Trail System" in 1999. She was inducted into the Georgia Women of Achievement in 1994.
Commentary
Lee's battle plan for July 3 was disrupted by the actions of the Army of the Potomac. As dawn approached at around 4:30 a.m., the Union Twelfth Corps artillery in the Culp's Hill area opened fire on the Confederate soldiers in preparation of a planned Union counter-attack. This action forced General Richard Ewell to launch his attack long before the rest of the army was ready.
In the morning hours, Longstreet's scouts had found a route around the left flank of the Union army that would enable him to attack the Round Tops in flank and reverse. Admittedly, this "would have been a slow process, probably, but I think not very difficult." Just as Longstreet was issuing orders for a flank march, he was joined by General Lee who countermanded Longstreet's change in the battle plan.
Due to the circumstances at Culp's Hill in the early morning, General Lee was forced to rethink his plan of action on July 3. He proposed using Longstreet's entire corps to attack the Union center but Longstreet objected, later writing that Lee "knew that I did not believe that success was possible; that care and time should be taken to give the troops the benefit of position and the ground…"
It seems that General Lee underestimated the power of the Union artillery and misjudged the strength and numbers of the Union army on Cemetery Ridge that day, thinking they were weak and beaten down by this point. And it seems that no one gave a thought to the geographical hazards (fences, walls and ditches) the charging column would encounter along the way.
The disastrous result was a poorly thought out and badly executed action that will forever be known as Pickett's Charge…
SOURCES
Wikipedia: Helen Dortch Longstreet
New Georgia Encyclopedia: Helen Dortch Longstreet
Georgia Women of Achievement: Helen Dortch Longstreet