First African American Woman Lawyer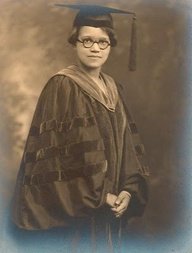 Not only was Charlotte Ray the first African American woman lawyer in the United States, she was one of the first women to practice in the District of Columbia and the third American woman of any race to earn a law degree (Howard University Law School, 1872).
Charlotte E. Ray was born in New York City on January 13, 1850 to Charlotte and Reverend Charles Bennett Ray. She had six siblings, including two sisters, Cordelia and Florence. Reverend Ray was an important figure in the abolitionist movement and edited a paper called The Colored American. Education was important to the Rays, and all of their girls went to college.
Shortly after the end of the Civil War, Charlotte began attending the Institution for the Education of Colored Youth in Washington, DC, one of the few schools that offered a quality education to young African American women. The Institution was founded by Myrtilla Miner after the school in Mississippi where she taught refused her permission to conduct classes for African American girls.
After graduating from the Institution in 1869, Charlotte was hired by the District of Columbia's Howard University, then about four years old, as a teacher in the Preparatory and Normal Department, the part of the university that trained school teachers. However, Ray was not satisfied with teaching; her ambition was to become a lawyer.
Howard University's Law School, however, discouraged women from enrolling. Therefore, Ms. Ray applied under the name 'C.E. Ray' to disguise her gender. University officials reluctantly accepted her application, and she attended classes in the law school while continuing to teach in the Preparatory and Normal Department.
Ray attended the law school for three years, specializing in commercial law. Upon graduation on February 27, 1872, Charlotte Ray became the first woman to graduate from the Howard University School of Law and the first black woman in the United States to receive a law degree. On April 23, 1872, she continued to break new ground for women and African Americans by becoming one of the first women admitted to the bar in the District of Columbia, which had recently removed the word male from its requirements.
Legal Career
Charlotte Ray opened her own law office in Washington, DC and began her independent practice of commercial law in 1872. To attract clients, she advertised in a newspaper called New National Era and Citizen owned by Frederick Douglass, a prominent African American abolitionist. By this point, Ray had also become an advocate for women's suffrage, attending the 1876 conference of the National Woman's Suffrage Association.
Unfortunately, Ray only practiced for a few years. It was too difficult for her, as an African American and a woman, to attract enough clients to maintain an active practice. Regardless of her legal knowledge and expertise, not enough people were willing to trust a black woman with their cases. Racial and gender discrimination forced her to close her office.
Myra Bradwell, among the first women lawyers in the United States, owned The Chicago Legal News. In an editorial in her publication, Bradwell stated that Miss Ray "although a lawyer of decided ability, on account of prejudice was not able to obtain sufficient business and had to give up… active practice."
In 1879, Charlotte Ray moved to New York City, where she worked as a teacher in the Brooklyn public schools. Little is known of her life after she returned to New York. In 1886 at the age of 36, she married a man named Fraim but it is not clear how long the marriage lasted. They had no children.
In 1895 Ray joined the newly formed National Association of Colored Women. In 1897 she moved to the suburban community of Woodside, Long Island, New York.
Charlotte Ray died of acute bronchitis at Woodside, New York on January 4, 1911, at age 60.
While Ray was the first African American lawyer in the United States, Arabella Mansfield was the first woman admitted to a state bar (Iowa, 1869), and Belva Lockwood was the first woman to argue before the U.S. Supreme Court (1879).
Though she only practiced law for a few years, Charlotte Ray demonstrated that African American women could excel in the field of law, and her achievements helped to inspire others. Since 1989, the Greater Washington Area Chapter of the Women Lawyers Division of the National Bar Association annually recognizes a local outstanding African American female lawyer with the Charlotte E. Ray Award.
SOURCES
Wikipedia: Charlotte E. Ray
Biography.com: Charlotte E. Ray
Blackpast.org: Charlotte E. Ray (1850-1911)