Bandit Queen of the American West?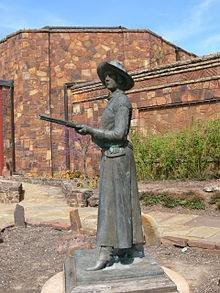 Belle Starr was a Confederate sympathizer and supposedly a notorious outlaw of the American West. She has been credited with a long list of spectacular crimes, but it appears that she might have done little more than traffic in stolen horses, bribe law enforcement officers and provide a haven for her outlaw friends.
Image: Belle Starr Monument
At the Woolaroc Museum
Woolaroc, Oklahoma
Early Years
Belle Starr was born Myra Maybelle Shirley on February 5, 1848 on a farm near Carthage, Missouri. Her parents, John and Eliza Shirley, called their daughter Belle. The Shirleys had moved to Missouri in 1839, and had become wealthy raising wheat, corn, horses and livestock. In 1856, they sold their land and moved his family into Carthage, where they built an inn, a tavern, livery stable and blacksmith shop – taking up almost an entire city block.
There Belle received an excellent education, attending the Carthage Female Academy, a private institution her father had helped to found. There she excelled in reading, spelling, grammar, arithmetic, deportment, Greek, Latin, Hebrew, and became an accomplished pianist.
Belle spent much of her time outdoors with her older brother Bud, and with his help, she became a crack shot with a pistol and rifle and an expert horsewoman. During the Civil War, Bud Shirley led a small band of Confederate guerrillas, and later became a scout with William Clarke Quantrill, the ruthless leader of the marauding band called 'Quantrill's Raiders.'
Southern sympathizers like the Shirleys often provided Confederate guerillas with support and comfort. Fifteen-year-old Belle idolized Quantrill's Raiders and saw them as gallant heroes of the South. One of her childhood friends from Missouri Cole Younger served under Quantrill, along with Frank and Jesse James. Her brother Bud, who knew the area and the people well, served admirably as a scout for Quantrill.
In June 1863, while Bud Shirley and another scout were enjoying a meal at the home of a Confederate sympathizer, Union troops surrounded the house. When Bud attempted to escape, he was shot and killed.
Belle's hometown of Carthage experienced minor skirmishes and attacks throughout the war. In September 1864 pro-Confederate guerrillas burned most of the city, including the courthouse and John Shirley's businesses. Soon thereafter, the Shirleys moved to Scyene, Texas, southeast of Dallas. John Shirley put Belle back in school with the hope that the sixteen-year-old would become a proper lady.
After the war the Youngers and the James brothers became outlaws, robbing of banks, trains and stagecoaches. In their flight from lawmen they sometimes hid out on the Shirley farm. Thus, Belle became close with members of the James-Younger gang. This later led to the myth that Cole Younger had once been Belle's lover.
Marriage and Family
In Texas, Belle fell in love with Jim Reed, a former guerrilla whom she had also known in Carthage. Now Reed was riding with the Youngers, and he and Belle became re-acquainted one night when the gang sought refuge on the Shirley farm. That led to a romance, and Belle and Reed were married on November 1, 1866. Reed moved in with the Shirley family and helped with the farming.
In 1867, Belle discovered she was pregnant, and the couple went to live with Reed's mother on the Reed homestead in Missouri. Early in September of 1868, Belle gave birth to the first of two children, a daughter named Rosie Lee, whom Belle nicknamed 'Pearl.'
In Missouri Jim Reed became involved with notorious horse thief Tom Starr and whiskey smuggling in the Indian Territory. After several years of marriage, Reed began spending less time at home and more time with Starr, whose tribe the Cherokee spurned because of his viciousness. Reed and Starr sold whiskey and rustled cattle in Cherokee territory, and Reed re-established contact with his friends in the James-Younger gang.
With Belle pregnant again, Jim Reed took his wife and daughter back to his home in Missouri. Reed soon joined a gang of Texas cattle rustlers who ambushed Texas herds headed to the rail heads in Kansas. Jim's brother Scott Reed was killed by the Shannon brothers, members of another gang of cattle rustlers, and Reed shot and killed his brother's murderers. Warrants were issued for his arrest.
This domestic tranquility was short-lived as Reed became increasingly involved in criminal activity. After Reed was accused of passing counterfeit money in California, the family had to flee again, this time moving back to Texas. For the next two years, Reed became involved in livestock rustling and murder with his outlaw associates. When warrants were issued for his arrest, Reed hid out in Choctaw territory, taking Belle with him but leaving the children with the Shirleys in Texas.
In an 1873 incident notorious for its cruelty, Reed and his gang robbed a family of about $30,000 in gold coins. Apparently, during the robbery, the outlaws hung Grayson and his wife from a tree until they revealed the location of the gold. Back in Texas, Belle left Reed to live with her parents. She had had enough of the fugitive life and her husband's criminal activities.
After the separation from his wife, Reed continued robbing stagecoaches and stealing cattle. For a while, he stayed one step ahead of lawmen. Eventually, former friend John Morris, who had been deputized to capture Reed, shot and killed Reed in Paris, Texas in August 1874.
The next few years seemed quiet and sad for Belle. Her father died in 1876. Her mother sold the family farm and moved to Dallas. Belle had never financially benefited from her husband's crimes, and after he was killed, she was broke. She sold the farm that she and Reed had bought and, for a while, lived at the Reed homestead in Missouri.
Becoming Belle Starr
Belle had met Sam Starr, the handsome young Cherokee son of Tom Starr, during her visits to her husband's hideout in 1873, and she now sought solace and companionship with the Starr family in Indian Territory. Records show that on June 5, 1880 Belle married Sam Starr, officially gaining her famous name. The marriage license listed Sam's age as 23 and Belle's as 27, though she was actually 32.
The couple settled down in a log cabin on Sam's sixty-two acres on the north side of the Canadian River near Briartown, Oklahoma. Belle named the place Younger's Bend, in honor of the Younger gang. The place was in the midst of 'outlaw country,' and many fugitives, including Jesse James, often sought refuge on the property.
Now that Belle had married a Cherokee she had dower's rights to her husband's land. There she learned ways of organizing, planning and fencing for rustlers, horse thieves and bootleggers, as well as harboring them from the law. Her illegal enterprises proved lucrative enough for her to employ bribery to free her cohorts from the law whenever they were caught.
In July 1882, the Starrs were accused of stealing horses after a roundup on a neighbor's land. The Starrs received permission to pen the horses in the neighbor's corral until they could be sold. But the neighbor noticed that some of the horses actually belonged to other ranchers, and he informed the Starrs, but they sold the horses, anyway.
The Starrs were arrested for horse theft by U.S. Deputy Marshals and taken to Fort Smith, Arkansas to face Judge Isaac Parker – the hanging judge. Their four-day trial took place in March of 1883; both were found guilty. Parker, however, went easy on them, explaining that it was the first conviction for both.
Sam Starr received a twelve-month sentence while Belle received two six-month sentences in the federal prison in Detroit, Michigan. Belle proved to be a model prisoner and during her time in jail she won the respect of the prison matron, while Sam was more incorrigible and was assigned to hard labor.
After they were released, they returned to Younger's Bend. Belle Starr had put on weight in prison and was said to appear dowdy. When she was not busy planting, she liked to read and play the piano. Sam Starr began to spend more time away from home, engaging in outlaw activities until he became a wanted fugitive.
It was well known that outlaws sought refuge at Younger's Bend and Belle welcomed them all. She made that statement to a Dallas newspaper reporter after she returned home from prison in 1884. From this period until her death Belle never seemed to be hard up for money.
Belle Starr stood trial twice more at Fort Smith, in 1886. Three bandits had robbed some farms in the Younger's Bend area, and two witnesses claimed Belle was one of them, but the evidence was not enough to convict her. Three months later, she stood trial for horse theft, after she mistakenly bought a stolen horse and gave it to a friend. Again, she was found not guilty.
When she returned home after her second trial, she learned that her husband had been critically wounded after an Indian posse ambushed him. Despite his injuries, Sam escaped and fled to his brother's home. Belle treated his wounds and convinced him that he would stand a better chance in front of Judge Parker than before the tribal council.
Sam Starr surrendered to U.S. Deputy Marshals in October 1886 and was scheduled to stand trial in February 1887. Belle hired the best lawyers in Fort Smith for Sam and paid his bail. On December 17, 1886, at a Christmas party the Starrs attended at a friend's house, Sam was killed in a shootout with U.S. Deputy Marshal Franklin West.
Belle's life as an outlaw queen (and what had been the happiest relationship of her life) abruptly ended. In addition to that, the Cherokee tribal council told her that her claim to the land at Younger's Bend ended with Sam's death, and she was in danger of losing her home.
She quickly resolved the problem by marrying young Jim July, a mixed blood Creek and Cherokee Indian and Sam's adopted brother, who was more than a decade younger than Belle. The Cherokee leaders told her she could keep the land as long as she remained married and stopped allowing fugitives to hide out on the property. The marriage was very unpopular with Belle's son Ed and daughter Pearl, who both resented July.
This was the beginning of Belle's problems with her children. Pearl became pregnant by a married man she had been seeing behind Belle's back. Belle tried to convince Pearl to visit a doctor in Fort Smith for an abortion but Pearl refused. Belle then shipped her off to her grandmother in Siloam Springs, Arkansas to have the baby.
While Pearl was still in Arkansas Ed was arrested for horse theft and selling liquor to the Indians. Belle hired lawyers but Ed was sentenced to prison. A few months later, Belle's lawyers were able to win a pardon for him and he returned to his mother's ranch. One day Belle caught Ed mistreating her horse and gave him a lashing with a bullwhip, and Ed soon moved out of the cabin at Younger's Bend.
After her baby was born Pearl returned to Fort Smith, Arkansas, and at some point became involved in prostitution there. Belle was outraged at her daughter's behavior and tried to have the baby taken away from her.
The Ambush
Farmers were settling the land near Younger's Bend, and Belle Starr agreed to rent some of her land to Edgar Watson in 1888. Watson paid cash in advance, and he and his wife moved in. Starr later learned Watson was wanted for murder in Florida. Afraid of losing her land, she tried to cancel the rental arrangement, but Watson refused to leave.
About the same time Ed was arrested for stealing horses, Jim July was also indicted for horse theft. In February 1889, July left Youner's Bend to turn himself in at the jail in Fort Smith. Belle had accompanied him a dozen miles or so when the two had an argument. Belle told Jim she would not pay his bail or his lawyers, then turned around to go home.
On the way she stopped at a neighbor's house to visit with his wife and see her son Ed who was staying there. Watson was also at the house and the argument between him and Belle resumed. During the quarrel Watson made a remark about how often the law seemed to be at Belle's ranch. She responded by saying that perhaps the authorities in Florida would be interested in knowing Watson's location.
Belle mounted her horse for the ride back to Younger's Bend. As she was crossing a creek near her cabin the blast of a shotgun hit her in the back knocking her off her horse. As she tried to get up, another shot hit her in the face and neck. Two men at the ferry on the Canadian River heard the shots. One of the men, Milo Hoyt, ran up the road and found Belle face down in the mud.
When she lost her rider, Belle's horse Venus ran off towards home. The horse with its blood covered saddle reached the cabin at Younger's Bend, and Pearl immediately knew what must have happened. Pearl ran down the trail to where Hoyt was comforting her mother, and Belle died in her daughter's arms.
Belle Starr died of her wounds on Sunday, February 3, 1889, two days before her forty-first birthday. Pearl and her neighbors buried Belle in the yard of her cabin.
At first it seemed a clear cut case against Edgar Watson. When Jim July reached Fort Smith a telegram was waiting for him with the news of Belle's death. He immediately started back for Younger's Bend arriving there the following day. Boot tracks were found leading towards Watson's cabin.
When Watson's house was searched his shotgun was found with both barrels recently discharged, but he denied having anything to do with the murder. July threatened to kill Watson, but Watson replied that he was innocent. Watson agreed to accompany Pearl, July and other witnesses back to Fort Smith arriving there three days after Belle's death. July was anxious to secure an indictment against Watson.
A hearing was held before the U.S. Commissioner. All of Watson's neighbors testified that he was quiet and hard working, that he was well liked by everyone and had caused no trouble since coming to their neighborhood. During the hearing it was discovered that the rumors about Watson being wanted for murder in Florida were false. The Commissioner ordered Watson released.
After Watson returned home he contacted U. S. Deputy Marshal Hutchins and told him that July had come by his house the afternoon of Belle's death to borrow his shotgun to kill a wolf. At the time July was supposedly on his way to Fort Smith to face trial. July returned the shotgun an hour later with both barrels empty. Soon after July left his house, Watson learned of Belle's death.
Watson gave the deputy the two empty shells from the shotgun. The deputy returned to Fort Smith and gave Watson's story to Judge Parker, who did not believe that Watson had any reason to lie since he had been cleared during the hearing. Judge Parker ordered Hutchins to go back to Younger's Bend and attempt to learn the truth.
Deputy Hutchins interviewed Milo Hoyt and learned a startling detail. Hoyt said that Jim July had offered him $100 to kill Belle. When Hoyt refused, July yelled, "Hell, I'll kill the old hag myself." Hutchins picked up July's trail from the woman's cabin and caught up with the outlaw the next morning. Ordered to surrender, July refused and reached for his gun.
Hutchins fired first knocking July from his horse and seriously wounding him. July surrendered and he was turned over to another Marshal who took him back to jail in Fort Smith. July asked to see Deputy Hutchins, saying that he had a confession that he would give only to Hutchins. Before Hutchins could reach July, he died.
The law was also interested in Belle's son. Young Ed's anger at his beating by his mother had been smoldering since the incident. He had expressed his rage to several people and some thought he was capable of killing Belle. He was at the neighbor's house and heard Belle's argument with Watson.
Even Pearl was not beyond suspicion. She held a long standing grudge against her mother because of the trouble between them when Pearl became pregnant. She had the opportunity since she was home alone when Belle was killed. Although no one looked for a shotgun in Belle's cabin, more than likely Pearl had access to one.
Soon after she died, the Belle Starr legend began taking shape. The first of many works responsible for promulgating the myth was Bella Starr, the Bandit Queen, or the Female Jesse James: A Full and Authentic History of the Dashing Female Highwayman (1889) by Richard Fox, who also wrote dime-novel westerns.
SOURCES
Wikipedia: Belle Starr
Gale Encyclopedia of Biography: Belle Starr
The Legend of Belle Starr – Queen of the Oklahoma Outlaws