Founded First School for Children of All Races
Laura Haviland (1808-1898) was an American abolitionist, suffragist and pioneer social reformer who operated a station on the Underground Railroad in southeastern Michigan. Haviland also established Michigan's first school for children of all races. This post includes direct quotes from her autobiography, A Woman's Life-Work.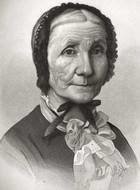 Early Years
Laura Smith was born on December 20, 1808, in Kitley Township in what is now eastern Ontario, Canada to American parents, Daniel and Sene Blancher Smith, farmers of modest means. The Smiths, were devout members of the Society of Friends, better known as Quakers – her father was a Quaker minister and her mother was an elder in that church, which favored gender equality.
Though the Quakers dressed plainly, and strictly forbade dancing, singing and other pursuits they deemed frivolous, many of their views were progressive. The Quaker religion allowed women to be ministers and elders, and while most Quakers did not actively work for abolition, the majority condemned slavery as brutal and unjust.
Quakers also encouraged the equal education of men and women – an extraordinarily liberal position in an age when most people believed that providing a woman with an education was unnecessary because she was only going to get married and have children! It was in this atmosphere that Laura Haviland was raised.
In 1815, Laura's family left Canada and returned to the United States, settling in Niagara County, New York, near the remote and sparsely populated village of Cambria. Since there was no school near their home, for the next six years Haviland's education consisted of little more than "a spelling lesson" given to her daily by her mother.
Laura described herself as an inquisitive child, deeply interested in the workings of the world around her. Once she had mastered spelling, Haviland supplemented her meager education by devouring every book she could borrow from friends, relatives and neighbors – regardless of the subject matter.
One of those books was The Journal of John Woolman (1774), a history of the slave trade that told "of the capture and cruel middle passage of negroes," Laura later recalled, "and of the thousands who died on their voyage and were thrown into the sea to be devoured by sharks, that followed the slave-ship day after day." Though her parents assured her that the slave trade had been outlawed, she transferred her sympathies to the few African Americans she knew in her small town, men who often had to endure abuse from local groups of youths.
Another key experience of Laura's youth came from the contrast she experienced between two of America's frontier religions. Although she was raised as a Quaker, her uncle Ira Smith was a Methodist, and she attended Methodist prayer meetings at her uncle's house, and found herself drawn to the demonstrative interactions of Methodist worship more than to the more inward meditation of Quaker meetings. Her parents, however, put a stop to those visits.
Marriage and Family
At sixteen, Laura met Charles Haviland Jr., a devout young Quaker whose parents were both respected ministers. They were married on November 11, 1825, at Lockport, New York. According to Laura, Charles was a devoted husband and theirs was a happy marriage. They were the parents of eight children.
In 1826 Laura Haviland's parents moved to Raisin Township in Lenawee County in southeastern Michigan. Michigan was then a largely unsettled wilderness, but land was cheap, and there were a number of other Quaker families in the vicinity. In September 1829, Laura and Charles joined them there, and settled three miles from her parents' homestead. At first Laura was occupied with the rigors of pioneer life in a 16 by 18-foot log cabin and with the responsibilities of raising her children.
Careers in Social Reform and Education
In 1832 Laura met Elizabeth Margaret Chandler, the first woman writer in America to make the abolition of slavery her principal theme. Haviland helped Chandler organize the Logan Female Anti-Slavery Society – the first abolitionist organization in Michigan. The society's work was not popular with all of their neighbors; their meetings were twice interrupted by gunfire from a local gang.
During the 1830s, the Haviland family began hiding fugitive slaves on their farm, and their home became the first Underground Railroad station in Michigan. The term Underground Railroad was coined during the 1840s and refers to the system of agents, safe houses and secret routes used by slaves to escape to freedom in the North in the decades before the Civil War.
To aid these runaways, sympathetic Americans served as conductors along these land and sea routes stretching out of the South through the North and into Canada. After her husband's death, Haviland continued to shelter runaway slaves in her home, and sometimes personally escorted them to Canada.
Being part of the Underground Railroad was not a simple matter of opening one's home to slaves arriving under cover of night; it involved outwitting armed gangs and private investigators. After the passage of the Fugitive Slave Act of 1850, law enforcement officers were sworn to return escaped slaves to Southern plantations.
Raisin Institute
By the time Laura had four children old enough to learn, she became their schoolteacher and also took on the responsibility of instructing the orphans of the county. Her concern for the children of the area led to her establishment of Raisin Institute in 1836; she insisted that it be open to all, regardless of race, gender or creed – a radical move for that day. Laura instructed the girls in household chores, while her husband and her brother, Harvey Smith, taught the boys to do farm work.
This was the first racially integrated school in Michigan. Some of the white students threatened to leave after learning they were to study with African Americans. Most were persuaded to remain, however, and Laura wrote that once the students were together in the classroom their prejudices "soon melted away."
In 1838, Harvey Smith sold his farm, and the proceeds were used to erect a building for fifty students. The Havilands expanded the school's curriculum, operating it more like traditional elementary and secondary schools. They then hired a graduate of Oberlin College to serve as the school's principal. Due to their diligence, the Raisin Institute was soon recognized as one of the best schools in the Territory.
As the Havilands became more actively involved in anti-slavery work, tensions grew within the Quaker community. There was a split between the so-called "radical abolitionists" like the Havilands, who wanted immediate emancipation, and the majority of Orthodox Quakers, who did not approve of active participation in abolitionist societies, though biblical teachings on human equality were plain.
By 1839, in order to continue with their abolitionist work, the Havilands, her parents and fourteen other Quakers resigned their membership. They then joined a group of Methodists known as the Wesleyans, who were equally devoted to the abolitionist cause. The Havilands joined the Wolf Creek Wesleyan Methodist church in 1841.
In 1845, there was an erysipelas epidemic, and the entire Haviland family contracted this deadly skin disease caused by streptococcal (strep) bacteria. Within a six week period, the disease took Laura's husband, her mother, her sister, her father and her baby. She herself almost died, and when she recovered she found herself a widow at the age of 36, with seven children to support and a debt of $700, an enormous sum at that time.
Laura Haviland was advised by creditors to put her affairs in the hands of a trusted male, but she refused. With characteristic courage, she persisted over the skepticism of businessmen about a woman's ability, took charge of her husband's business, and resolved to carry on with the Raisin Institute.
Saving the Hamiltons
Haviland also traveled to the South on multiple occasions to aid escaped slaves. Her first trip was in 1846, in an effort to free the children of fugitive slaves Willis and Elsie Hamilton. The children were still in the possession of their mother's former slave owner John Chester, a tavern owner in Washington County, Tennessee. Chester had learned that the Hamiltons were in Michigan and sent slave-catchers after them.
When that failed, Chester attempted to lure the Hamiltons to his plantation with the promise that they would be treated as freedmen and reunited with their children. Suspecting a trap, Haviland went to Tennessee in their place, accompanied by her son Daniel and a student from the Raisin Institute, who posed as Willis Hamilton.
Chester became irate when he realized Hamilton was not with them, and held the trio at gunpoint, threatening to murder them. They managed to escape, but John Chester did not forget Laura Haviland. His family would continue to haunt her for fifteen years, pursuing her in court and with slave catchers, while barraging her with derogatory letters.
The following letter was sent by Chester's son Thomas in February 1847. It provides a good example of the tone which permeated the Chester family's correspondence with Haviland:
…By your cunning villainies you have deprived us of our just rights, of our own property…. Thanks be to an all wise and provident God that my father has more of that sable kind of busy fellows, greasy, slick and fat; and they are not cheated to death out of their hard earnings by villainous and infernal abolitionists…
Who do you think would parley with a thief, a robber of man's just rights, recognized by the glorious Constitution of our Union! Such a condescension would damn an honest man, would put modesty to the blush. What! To engage in a contest with you? I would rather be caught with another man's sheep on my back than to engage in such a subject, and with such an individual as old Laura Haviland, a damned n—-r stealer…
You can tell Elsie that since our return my father bought her eldest daughter; that she is now his property and the mother of a likely boy, that I call Daniel Haviland after your pretty son…. What do you think your portion will be at the great Day of Judgment? I think it will be the inner temple of hell.
Haviland responded, sarcastically thanking him for naming the child after her family and stating that she hoped "like Moses, may he become instrumental in leading his people away from a worse bondage than that of Egypt."
Enraged by what he deemed her insolence, Thomas Chester placed a bounty on Haviland's head. All throughout the South he circulated handbills describing Haviland, detailing her abolitionist work, naming her place of residence and offering $3000 to anyone willing to kidnap or murder her on his behalf.
Three years later, after the passage of the Fugitive Slave Law, the Chester family attempted to have Haviland tried under the new statute for "stealing" their slaves. Haviland not only ran the risk of being physically harmed by angry slave-owners, if found guilty of violating the Fugitive Slave Law she would also be subject to hefty fines and imprisonment.
Still, Haviland was determined to continue with her work, no matter what the personal cost:
…I would not for my right hand become instrumental in returning one escaped slave to bondage. I firmly believe in our Declaration of Independence, that all men are created free and equal, and that no human being has a right to make merchandise of others born in humbler stations, and place them on a level with horses, cattle and sheep, knocking them off the auction block to the highest bidder, sundering family ties, and outraging the purest and tenderest feelings of human nature.
Fortunately for Haviland, her case was brought before Judge Ross Wilkins, who sympathized with the abolitionists. The Chesters attempted to regain possession of the Hamiltons by force, but were prevented by Haviland and her neighbors. Judge Wilkins delayed her case, allowing Haviland to help the Hamiltons escape to Canada.
This did not discourage Haviland in the least; she responded by broadening the geographic range of her activities. She made several trips to the key slave crossing point of Cincinnati, Ohio, on the border between slave and free states, on one occasion passing as black by joining a light-skinned black woman so that they could sneak onto a Kentucky plantation.
Due to lack of funds, Haviland was forced to close the Raisin Institute in 1849. However, she continued with her abolitionist work, and in 1851 she helped organize the Refugee Home Society in Windsor, Ontario, Canada. Fugitive slaves were settled there, a church and school were erected for them, and each family was given twenty-five acres to farm. Haviland remained for several months as the settlement's teacher.
By 1856, Haviland had raised enough funds to reopen the Raisin Institute, and returned to Michigan. The new curriculum included having former slaves give lectures about the realities of life on a slave plantation. The Institute closed once again after most of the staff, and some of the students, enlisted to fight in the Civil War.
Haviland's most daring trip occurred shortly before the outbreak of the Civil War, when she traveled to Little Rock, Arkansas, in an unsuccessful attempt to rescue the wife of a slave who had succeeded in reaching Michigan. Haviland traveled across the increasingly militant South, making notes on her experiences and answering frequent questions by saying that she was writing letters home.
Civil War and Reconstruction
When the Civil War began, Haviland nursed wounded soldiers and slaves, and she took up the cause of 3,000 Union soldiers held in hellish conditions on Gulf of Mexico islands, bringing about some improvement in their situation. She toured many refugee camps and hospitals to distribute supplies to displaced citizens, freed slaves and soldiers.
In the spring of 1865, the federal government created the Freedmen's Bureau to provide emergency food, housing, and medical aid to freed slaves. The commissioner of the Bureau, General Oliver O. Howard, named Laura Haviland Inspector of Hospitals, but her duties consisted of far more than inspecting hospitals.
Haviland spent the next two years traveling through Virginia, Tennessee, Kansas and Washington, DC, distributing supplies, reporting on the living conditions of Freedmen and indigent whites, organizing refugee camps, establishing schools, working as a teacher, volunteering as a nurse at Freedmen's hospitals and giving public lectures.
She worked for a time at the Freedman's Aid Bureau in Washington, DC, where she became acquainted with the antislavery activist Sojourner Truth. One day the pair rode a streetcar together in defiance of the city's segregation laws. The conductor asked whether Truth belonged to Haviland. "No," Haviland said, "she belongs to humanity."
In an effort to help whites understand what the Freedmen had endured under slavery, she toured abandoned plantations and collected chains, irons, restraints, and other implements which had been used on slaves. Haviland transported these items north and exhibited them during her lectures. She also met personally with President Andrew Johnson to petition for the release of former slaves still being held in Southern prisons for attempting to escape slavery years earlier.
After the Civil War, the Freedmen's Aid Commission acquired the former Raisin Institute, renamed it the Haviland Home, and converted into an orphanage for African American children. Its first residents were seventy-five homeless children brought by Haviland from Kansas. As other children joined their ranks, and their numbers increased, many whites in Michigan became unnerved.
They claimed that Haviland was burdening white taxpayers and demanded that Haviland Home be closed. Matters came to a head in 1867, when the orphanage was purchased by the American Missionary Association, who closed the orphanage, and literally threw the orphans out into the street.
Haviland abandoned her work in Washington, DC, to return to Michigan and help the children. She managed to collect enough donations to purchase the orphanage and began to manage it herself. By 1870, funds were extremely scarce. The situation became so dire that, at Haviland's urging, the state took over the orphanage and it became the Michigan Orphan Asylum.
Late Years
When Reconstruction ended in 1877, many African Americans fled the South, where they were subject to attacks by racist individuals and groups such as the Ku Klux Klan. Thousands of men, women and children crowded into makeshift refugee camps in Kansas. Determined to help, Haviland set out with her daughter Anna for Washington, DC to win financial support from Congress.
She then served in a mission in Hell's Half Acre in Kansas City. Using her personal savings, Haviland purchased 240 acres in Kansas for the Freedmen at one of the refugee camps to live on and farm. She set up schools in Kansas in order to meet the needs of African Americans who fled the rise of militant racism in the South. The towns of Haviland, Kansas and Haviland, Ohio were named after her.
Haviland wrote her autobiography, A Woman's Life-Work , in 1881. She remained active until the end of a life that was unusually long and healthy although lacking in comforts and material resources. In later years she lived with a relative in Grand Rapids, Michigan.
Throughout her life, Laura Haviland not only combated slavery and worked to improve the living conditions of Freedmen, she was also actively involved in other social causes, advocating for women's suffrage, and helping to organize the Women's Christian Temperance Union in Michigan.
Laura Haviland died on April 20, 1898 in Grand Rapids, Michigan, at the home of her brother, Samuel Smith. At her funeral, hymns were sung by a choir of white and African American singers, and her casket was then carried to the grave by a group of white and African American pallbearers. She is buried next to her husband in the Raisin Valley Cemetery in Adrian, Michigan.
Eleven years after her death, a life-sized statue of this tiny woman was erected in front of the city hall at Adrian – one of the very few erected to commemorate the life of a woman. The inscription reads: "A tribute to a life consecrated to the betterment of humanity." Above a drinking fountain at her feet are the appropriate words, "I was thirsty and ye gave me drink."
SOURCES
Wikipedia: Laura Smith Haviland
Notable Biographies: Laura S. Haviland