Pioneer Novelist and Short Story Writer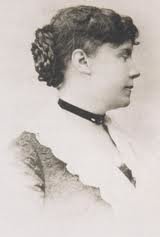 Constance Fenimore Woolson (1840–1894) was a novelist and short story writer, and grandniece of James Fenimore Cooper, her mother's uncle. The settings of her writing included what was then the frontier of the Great Lakes region, Florida and the Reconstruction South. Before she was forty Woolson lost almost everyone in her large family; she then moved to Europe where she lived and wrote for the rest of her life.
Using her powers of keen observation, Woolson recorded both her natural surroundings and the customs of the people she encountered. She wrote travel sketches, poems and a children's novel under the pseudonym Anne March, as well as a novella, four novels and more than fifty short stories for the major literary magazines of the nineteenth century.
Early Years
Constance Fenimore Woolson was born on March 5, 1840 in Claremont, New Hampshire. She never knew three of her sisters, who died in a scarlet fever epidemic within a month of her birth. In the fall of 1840 her family moved to Cleveland, Ohio, and Woolson grew up in what was then known as the West. There she watched her mother grieve over the death of another daughter in infancy and two older daughters who died shortly after their marriages.
Woolson acquired a taste for travel at an early age, traveling extensively in the Midwest and the Northeast. During her childhood and young adulthood, she accompanied her father on business trips throughout Ohio and Wisconsin, spent summers on Mackinac Island in Michigan and toured New England. On these trips, her keen eye for place and her interest in different cultures would later find expression in her fiction and travel pieces.
Woolson received an excellent education that included the study of such subjects as geology and botany – first at local schools, then at the Cleveland Female Seminary, and finally at Madame Chegarary's boarding school in New York City where she graduated in 1858.
The Civil War was the central event of Woolson's young adulthood. She called it "the heart and spirit of my life" in a letter, remarking that "everything has seemed tame to me since." She later wrote a number of stories set in the Reconstruction South, which often hinged on the strong feelings evoked by the War and are some of her most emotional works.
Literary Career
In 1870 Woolson began to publish her writing and became a steady contributor to literary magazines. She had written for her own amusement since childhood, but now she began to write seriously, and to think of herself as an author. Her kinship to James Fenimore Cooper perhaps helped her from the first to look at writing as an artistic endeavor, not a business.
Woolson published travel narratives and fiction in magazines such as The Atlantic Monthly, Harper's New Monthly Magazine and Putnam's Magazine. While some of her early stories were no better than many of the sentimental sketches popular at the time, soon after she began writing for publication she decided to become a realist. The national market had changed from pre-Civil War sentimental fiction to a form of Realism known as local color.
Drawing on her youthful observations of the Great Lakes, Woolson crafted some of the first and finest realistic fiction of that frontier. In 1875 she published her first volume of short stories, Castle Nowhere: Lake-Country Sketches, based on her experiences in that region, especially Mackinac Island. Although she wrote for literary magazines that catered to an educated middle class, Woolson's risky experiments with realism were still courageous.
Because she was financially independent and contributed to the support of several family members, Woolson also wrote stories, essays and poetry that would appeal to all readers. Thus, her work ranged from deliberately charming travel narratives such as "American Cities: Detroit" to humorous satires such as "Round By Propeller" for Harper's in 1872 which left no doubt as to what she thought of the industrial transformation of the once-pristine lakes.
As she would throughout her career, she constantly pushed at the limits of what was acceptable for a writer, and a woman, to publish. Because she used a wide range of voices and wrote in several genres, her work has been dismissed as uneven by twentieth-century critics who lack the historical acumen to recognize how innovative she was.
Woolson had become her mother's companion after her father's death in 1869, and in 1873 she accompanied her mother to New York. In 1873 her mother's doctor suggested a warmer climate might improve her health, and the two women began a pattern of summering in New York and wintering in Florida, a state Woolson grew to love. Years after she had left America to live abroad, she would tell friends she planned one day to return to Florida.
For the next six years, Woolson used St. Augustine – the oldest city in the United States – as a base for travels throughout the Reconstruction South – the Carolinas, Georgia, Kentucky, Tennessee and Virginia. Woolson's stories now featured Southern landscapes and people. These pieces carefully distinguished between regional types: cotton country planters, Florida Minorcans and mountain people, and gave her material for her next collection of short stories, Rodman the Keeper: Southern Sketches (1880).
Fenimore and Harry
Devastated by her mother's death in 1879, Woolson moved abroad in November 1879, spending time first in London, then France and Italy. In spring 1880 she met American author Henry James, the distinguished but less popular novelist, in Florence. Their tumultuous relationship lasted for the remainder of her life. He called her 'Fenimore' and she called him 'Harry.'
Woolson wrote:
A marriage not of body, but of minds… What some discover in youth, I found in middle age. In the sky of that friendship, I flew high. I was the Constance I most wanted to be.
From 1885 to 1889 Woolson lived mostly in Florence, renting rooms in the Villa Castellani on Bellosguardo Hill in 1886 and in the Villa Brichieri on Bellosguardo from January 1887 through 1889, where Henry James also rented rooms in April and May 1887.
Woolson spent time in Switzerland in Fall 1888 where James also stayed, but in different housing arrangements; and in October 1889 in Richmond, England. Few knew of these arrangements, and they did not last – one reason being the potential for scandal. Two other stays abroad were kept wholly secret, as were many short visits. They also wrote each other daily for many years.
Henry James was erudite and possessed of many charms and great wit; he was also a pompous ass who valued the appearance of propriety above all else. Whatever sublime truth beat in his heart, however steadfast a friend, the only matters of consequence were public opinion and his reputation.
Woolson's most famous story, "Miss Grief," is about a female artist of talent and drive who comes up against a male power player whom she has admired, and from whom praise or advice would be welcome; instead he criticizes her and refuses to admit that her genius is as real and full as his own. Written before her friendship with James developed, it was uncannily correct in its forecast of how she would be treated by him.
The book The Open Door (2008) by Elizabeth Maguire is a fictionalized version of the friendship between Woolson and James, written in the first person as a memoir by Woolson. It takes great liberties and makes broad assumptions, but it is interesting and insightful nonetheless, and perhaps as close to the truth as any other account of this weird, quirky relationship.
The title refers to a nasty review James wrote of Woolson's work (but couched in terms of friendship and admiration) in which he spoke of "the way the door stands open between the personal life of American women and the immeasurable world of print" and how the "conservative" nature of Woolson's writing ensures she wants nothing more than to stay inside a woman's life, restricted and ruled by those with power over her. This is blatantly untrue according to Woolson's biographers and the heroines of her own short stories and novels.
On February 12, 1882, Constance Fenimore Woolson wrote to Henry James:
Death is not terrible to me… it is only a release; and if, at any time, you should hear that I had died, always be sure that I was quite willing, and even glad, to go. I don't think this is a morbid feeling, because it is accompanied by a very strong belief, that, while we are here, we should do our very best, and be as courageous and work as hard, as we possibly can.
Life in Europe
In Europe Woolson immediately began a pattern of life she would maintain until her death: living in hotels, staying in one location for several months at a time, and then moving on. She wrote home explaining, "So I shall see Europe slowly, and by no means extensively; but I shall see and enjoy thoroughly the places I do see…"
Although she had no permanent home, Woolson often spent falls and winters in Florence, springs in Venice, summers in Switzerland, Germany or Austria, and occasional periods in England. She would set up residence in a hotel suite, then use this as a homebase for side trips and tours. She traveled to cosmopolitan spas and tourist destinations to record the idiosyncrasies of the American expatriate communities in Europe.
Late Years
Becoming increasingly frustrated by the condescension women writers were forced to endure, Woolson began the third and last period of her career with her most popular story, "Miss Grief" (Lippincott's Magazine, May 1880), which encapsulates all the frustrations she felt. It says much about the status of women of genius in the late nineteenth century and the failure of powerful male literary figures to recognize their brilliance and potential.
Woolson uses this story to show how publishers miss the names of women writers who write in a different voice, the pressure to satisfy publishers in order to find an audience and to make money, about the dangers of refusing to revise and about the way writing that has not been championed by publishers and readers disappears.
Health problems occasionally hampered Woolson's European journeys, and problems with her hearing resulted in steadily increasing deafness. Isolated from society by her hearing defects, she continued nevertheless to regularly contribute to her American publishers back in the United States.
Woolson spent the winter of 1889-90 on a trip to Egypt and the Greek Islands, which resulted in a collection of travel sketches, Mentone, Cairo and Corfu (published posthumously in 1896). She then returned to Cheltenham, England and then on to Oxford in fall 1891. In early 1893 Woolson rented an elegant apartment at the Casa Semeticolo Grand Canal in Venice.
Suffering from influenza, and perhaps plagued by bouts of depression that she had inherited from her father, Woolson fell to her death from a window in her second-floor apartment in Venice. Whether her fall was an accident or purposeful is not known. She was found by her gondolier Angelo Fusato, who carried her indoors.
Constance Fenimore Woolson died on January 24, 1894 at the age of fifty-three, and was buried in the Protestant Cemetery in Rome.
A mystery has always surrounded Woolson's death, but Henry James insisted it was no accident. It was suicide. He, alone, was certain. What exactly it was that James knew of Woolson which convinced him, remains obscure, blurred by his claims that she had been mad – beyond help. The very urgency of his repeated denials of responsibility calls attention to their tie. Henry James was a bachelor of fifty-one at the time.
A few months after Woolson's death, Henry James helped her sister sort through her belongings. Scholars believe that he burned many of her letters, and precious little remains from which to construct a life of Woolson. An often repeated story has James trying to submerge Woolson's silk dresses in a Venice canal, but they refused to sink, and surrounded him in his rented gondola like black balloons.
In A Private Life of Henry James (1998), author Lyndall Gordon describes the scene:
In April 1894, a middle-aged gentleman, bearing a load of dresses, was rowed to the deepest part of the Venetian lagoon. A strange scene followed: he began to drown the dresses, one by one. There were a good many, well-made, tasteful, and all dark, suggesting a lady of quiet habits and some reserve. The gondolier's pole would have been useful for pushing them under the still water. But the dresses refused to drown. One by one they rose to the surface, their busts and sleeves swelling like black balloons. Purposefully, the gentleman pushed them under, but silent, reproachful, they rose before his eyes.
At the time of her death Woolson had just finished writing her fourth novel, Horace Chase, in which she had imagined a similar death for one of her characters, though she has that character rescued at the last moment from the window ledge he has mounted in the delirium of illness.
In a century that idolized domesticity, Woolson was not only an unmarried professional female writer who had a successful twenty-five-year career, she was brave, using controversial subjects and methods in her writing. In an era that created an ideal of physical weakness for women of her class – such as Henry James' sister Alice James – Woolson embraced physical activity, especially rowing and walking.
In recent years Constance Fenimore Woolson has finally begun to get the recognition and attention she deserves. From a minor novelist and short story writer she has been transformed into a 'pioneering nineteenth century author' – and has been rediscovered by feminist theorists.
Commentary
Given the drama of her death, it might be easy to consider Woolson as a long-suffering martyr who, as her friend John Hay put it, "had not as much happiness as a convict." I see her life as a triumph. After many years of family obligations, she was finally free to live and write her story. She probably even wrote the perfect ending.
Published Works
Castle Nowhere: Lake-Country Sketches (1875)
Miss Grief (1880)
Rodman the Keeper: Southern Sketches (1880)
Anne (1882)
For the Major (1883)
East Angels (1886)
Horace Chase (1894)
Jupiter Lights (1894)
The Front Yard and Other Italian Stories (1895)
Dorothy and Other Italian Stories (1896)
SOURCES
Society for the Study of American Women Writers
Constance Fenimore Woolson: A Pioneering Nineteenth Century Writer
Heath Anthology of American Literature: Constance Fenimore Woolson