Portrait and Genre Artist of the Mid-19th Century
Probably the most famous woman painter of her time, Lilly Martin Spencer was known for her sentimental scenes of family life. While living in New York City with her husband and children, she attended night classes at the National Academy of Design and supported her family through the sale of her art. Today she is acknowledged as one of America's premier genre painters.
Image: Self-portrait of the artist
Angelique Marie Martin, nicknamed Lilly, was born on November 26, 1822 in Exeter, England, the only daughter of Gilles Marie Martin and Angelique Perrine LePetit Martin. Her parents had grown up in late eighteenth century France when women were first admitted to the French Academy, were highly educated, and greatly interested in social reforms such as women's suffrage and abolitionism.
The Martins had very progressive attitudes toward women and espoused more opportunities for women. Mrs. Martin belonged to the Utopian group known as the Fourierists, which supported communal living as a way to provide child care so women could have free time. Perhaps her parent's liberal upbringing was the cause of their extensive support and enthusiasm for their daughter's artistic career.
In 1830, when Lilly was eight, the Martin family immigrated to New York where they remained for three years before ultimately settling in Marietta, Ohio. There Lilly and her two brothers was home-schooled by her well educated parents with a wide range of educational materials in the extensive family library, containing works by Shakespeare, Rousseau, Voltaire and many others.
Having exhibited artistic talent from an early age, Lilly began studying drawing and oil painting with local artists. Drawn on the walls of the family home, Lilly's first artistic endeavors were "likenesses of the entire household, in lifelike, characteristic postures, so truthful as to be recognized at once by everyone who knew them."
Lilly continued to draw and her work was so impressive that
…ladies and gentlemen began to call frequently at the farm, to judge for themselves of these vaunted pictures. Their admiring comments stimulated her ambition and added to her industry; but the difficulty of procuring proper materials and the want of a competent teacher retarded her progress.
Yet she continued to draw the attention of local artists and was mentored and helped, especially in coloring her charcoal drawings. Charles Sullivan and Sala Bosworth, a portrait and landscape artist, who both trained at the Pennsylvania Academy of Fine Arts helped Lilly learn her craft. Sullivan's influence is apparent in Lilly's early work.
Artistic Career
Lilly's first exhibition in August 1841 was held at St. Luke's Rectory in Marietta, where she drew the attention of Nicholas Longworth, a benefactor of many artists. Of Lilly Martin, Longworth said:
…a new genius has sprung up at Marietta, or rather within five miles of it, at a farm house, in the shape of a French girl of 17 or 18 years of age. She already has painted a great number of pictures. She is entirely self taught, excels in attitudes and designs.
Lilly turned down Longworth's offer to send her to Europe to study, and he discouraged her from further shows until she had more training. This advice she ignored; she and her father traveled to Cincinnati for an exhibition in the autumn of 1841. Cincinnati was "swarming with artists" and Lilly spent the next seven years studying and painting there, with portrait painter John Insco Williams and others.
Within a few years she had established herself as a leading local artist. Her regional popularity grew and by 1842 she was accepting portrait commissions and exhibiting in local stores. Lilly's progress was aided by the production and sale of engravings of her paintings by the Western Art Union of Cincinnati.
Marriage and Family
On August 24, 1844, Lilly married Benjamin Spencer, an Englishman who worked in the tailoring business. Although many feared that matrimony would end her career as an artist, it did not; she would become the most popular and widely reproduced female genre painter of the mid-19th century.
Lilly Martin Spencer was rare in the art world. Most women used art as genteel accomplishment, but Lilly pursued art as a career. Once they were married Benjamin no longer pursued an independent career, but dedicated himself to helping Lilly in domestic chores, as her business manager as well as an occasional painter of backgrounds. This was a highly unusual domestic arrangement for the time, and they experienced chronic financial difficulties.
In 1848 the Spencers moved to New York City, a necessary move if Lilly was to study art and sell her work. She enrolled in evening drawing classes at the National Academy of Design, one of the nation's premier art schools, and in 1850 she was named an honorary member of the Academy, the highest recognition the institution then permitted women.
To augment her income, she hand-colored lithographs while exhibiting her work at the Academy and in Washington, DC, Boston and Philadelphia. Spencer also studied the work of new European artists at New York's many galleries. She seems to have learned the most at the Dusseldorf Gallery where she saw the realism, attention to details, high surface finish and hard contours espoused by new German artists.
By that time "art patronage was firmly in the hands of the middle class which was eager to 'purchase' culture, and quick to assert their preference for scenes which they could identify." Spencer easily filled this gap with domestic scenes, often using her own family and pets as models. She produced her most popular works during the decade between 1848 and 1858.
In 1849 she produced her first major successful painting Life's Happy Hour. Spencer combined her two roles as artist and mother with great success. Her works were all positive and devoid of tragedy, depicting endearing scenes of domesticity; scholars have commented that in this period "her paintings exude an enthusiasm and happiness reminiscent of seventeenth-century Dutch art… enhanced by a disarming gaze directly toward the viewer or his inclusion in a coy flirtation, tease or practical joke."
Spencer realized that the family's financial success necessitated both a rapid production of paintings and a specialization in popular subjects. Her still-life and portrait paintings were popular, but she became particularly well known for her humorous domestic genre scenes, in which she painted women and children in warm happy atmospheres.
Although she had an audience for her work Spencer found it difficult to earn a living as a professional painter and was in perpetual state of financial turmoil. She had to produce paintings quickly to support her family, and her art surely suffered. While Benjamin did his best to manage their growing household, she struggled to balance her role as artist with those of housewife and mother of seven children who lived to adulthood.
The American Art-Union (1839–1851) was a subscription-based organization whose goal was to enlighten and educate an American public to a national art, while providing a support system for artists. Through the American Art-Union, reproductions of Spencer's paintings reached thousands of homes and she became nationally known. Most of her sales were through art unions, and the failure of the art unions, as a result of low membership subscriptions, was a blow to her sales.
Spencer also sold possibly a million lithographs of her paintings, but she only received profit from the sales of the rights to the paintings. She also illustrated books and magazines, such as Elizabeth F. Ellet's Women of the American Revolution and Godey's Lady's Book magazine. She also executed portraits on private commission. Among her portrait subjects were First Lady Caroline Harrison and feminist Elizabeth Cady Stanton.
During the late 1850s, in an attempt to expand the range of her options in domestic scenes Lilly Martin Spencer added sexuality to the women in her paintings, which was demonstrated in more suggestive figures and elaborate hairstyles and dress. This new sexuality could be due to an influx of European images, which showed women as sexual beings.
Marcus Ward, a Newark, New Jersey industrialist who owned a successful candle and soap factory, commissioned Lilly Martin Spencer to paint three portraits of his four children. Ward offered Lilly a house and studio, and thus the Spencers moved moved to Newark in 1858. There they raised chickens and planted vegetables in order to stave off starvation. But a few years later Spencer established a studio in New York, where for some years she worked on her monumental painting, Truth Unveiling Falsehood.
In the 1860s the Civil War changed the outlook of many artists, including Spencer. Her paintings became more thoughtful and included more patriotic themes and titles. She produced famous and perceptive works of art such as War Spirit at Home in 1866, which is thought to signify the family life of those left at home while the men are off at war.
In War Spirit the children dancing around the room symbolize the innocence and misguided reality of children as they make a game out of war. The children dance with excitement, as the mother seems to sigh with relief while reading about the Union victory at Vicksburg. This painting displays romanticized color along with a nationalistic theme, and shows the impact of the Civil War on family life.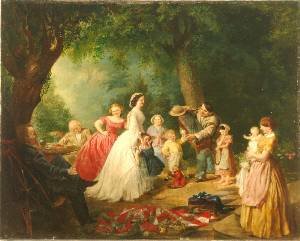 Image: The Home of the Red, White and Blue, 1867-68
This is Lilly Martin Spencer's interpretation of the aftermath of the Civil War. The country has been torn apart, much like the battered American flag in the foreground. The mother in the center wears white and her daughters are dressed in red and blue. In this painting, Spencer shows how the job of repairing the nation has become women's work. The men in the scene play a secondary role.
In 1869 Spencer completed what she considered her masterpiece, Truth Unveiling Falsehood, which is divided in half. On one side a monstrous woman with a sheep's head is about to devour a helpless babe in its grasp; on the other side a beautiful woman nurses a child. The image is divided by Truth, an angelic blond figure. She refused as much as $20,000 for the canvas, which was later lost.
Later Years
After the Civil War, genre painting in America fell increasingly into decline, and Spencer turned mainly to commissioned portraits, especially of children. Her popularity declined, but she continued to work. The family moved again in the winter of 1879-80 to a large house in rural Highland, New York. Her paintings reflect this change with increased detail in landscape and scenes of farm life.
During the 1880s Spencer attempted to reintroduce her work to the public but found that the market had drastically changed. No longer was the art world driven by middle class mentality, instead the wealthy were steered by art dealers pushing 'serious' European work. Former clients were buying "the great Foreign names." Yet she continued to try and sell work only to find "her particular kind of work had outlived popular favor."
Spencer exhibited her paintings at the National Academy of Design and was represented at the Women's Pavilion of the Philadelphia Centennial Exhibition in 1876. She also produced work for a number of prominent patrons. However, much of Spencer's fame resulted from the widespread sale of inexpensive engraved copies of her oil paintings.
After forty-six years of marriage, Benjamin Spencer died in February 1890. Spencer sold the farm and moved again, to a farm ten miles away, while maintaining a studio downtown. Spencer continued to work but her financial situation remained insecure, and sometimes she was forced to pay for services with art.
Lilly Martin Spencer worked until the day of her death, and had a career that spanned more than 60 years. She persevered despite facing challenges that all artists must address, as well as specific difficulties for a female working in a male dominated world. She was a successful American painter at a time when women artists faced obstacles unknown to male painters.
Lilly Martin Spencer died May 22, 1902 in New York City at the age of 79.
Thanks both to her gender and to her topical subject matter, Spencer was largely forgotten until 1978, when a retrospective exhibition at the Smithsonian Institution's National Collection of Fine Arts (now the Smithsonian American Art Museum) in Washington, DC, marked a revival of interest in her work. Today, Spencer is valued for her ability to capture the shifting gender roles of nineteenth-century American society.
Lilly Martin Spencer's paintings ranged in size from as large as 72″ x 50″ to as small as 16″ x 11″ and were generally oil on canvas. She was often influenced by etiquette books, which resulted in attention to details in the settings such as bowls of fruits and neatly designed flower arrangements. Painted in a palette of bright, crisp colors, her canvases are refined in execution and smoothly finished. Her works were usually given short, catchy titles that were exclamations on the subject of the painting.
Selected Works
• Self-Portrait (ca. 1841)
• Shepherdess Mending Stockings (1844–1848)
• Young Women in a Seventeenth-Century Costume (1845)
• Old Man with Two Children (1845)
• The Little Navigator (1848)
• The Young Teacher (1848)
• Peeling Onions (1848–1852)
• Life's Happy Hour (1849)
• Peeling Onions (1852)
• Reading the Legend (1852)
• The Young Husband: First marketing (1854)
• Shake Hands? (1854)
• Clap Hands (1855)
• Child Playing with Fish Bowl (1856)
• Kiss Me and You'll Kiss the 'Lasses (1856)
• Choose Between (ca. 1857)
• This Little Piggy Went to the Market (1857)
• Fi! Fo! Fum! (1858)
• Grandpa's Prodigies (1860)
• War Spirit at Home: Celebrating the Battle at Vicksburg (1866)
• Mother and Child by the Hearth (1867)
• We Both Must Fade (Mrs. Fithian) (1869)
SOURCES
Wikipedia: Lilly Martin Spencer
NMWA.org: Lilly Martin Spencer
Seeing America: Lilly Martin Spencer's Peeling Onions – PDF File