Writer and Magazine Editor in the Civil War Era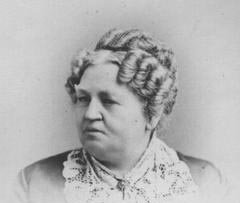 During the mid-nineteenth century, Ann Stephens (1810-1886) enjoyed a long, lucrative career as one of America's best known and most respected women writers. In addition to serving as editor for six popular magazines for more than twenty-six years, she wrote some forty-five works of fiction and manuals on the domestic arts. Stephens was one of the first generation of women to assert themselves as professional writers, entering the literary field for the sake of earning a living.
Childhood and Early Years
Ann Sophia Winterbotham was born on March 30, 1810 in Humphreysville, Connecticut, the daughter of Ann and John Winterbotham, manager of a woolen mill. Ann's mother died when Ann was very young and Ann was raised by her mother's sister, whom her father later married. The Winterbothams had a large family, as was the custom in those days.
Ann Winterbotham knew from childhood that she wanted to be a writer. She was educated at a dame school in South Britain, Connecticut and began writing at an early age. Around 1830, John Winterbotham lost his fortune in the business declines that resulted in his financial ruin, and he decided to move his family to Ohio.
Instead of going west with her family, Ann married Edward Stephens, a printer from Plymouth, Massachusetts, in 1831 and they relocated to Portland, Maine. They had two children: a daughter Ann (1841) and a son Edward (1845).
Editorial and Literary Careers
In 1834, Edward and Ann Stephens founded the Portland Magazine, a monthly literary periodical where some of her early work first appeared. Ann served as editor and frequent contributor poems, sketches and historical tales for the magazine. Edward was the publisher. Ann published her first book, The Portland Sketch Book (1836), a collection of the work of local writers.
Soon thereafter Ann experienced a stillbirth and decided to visit her father's farm in Ohio to recuperate. Ann not only recovered her health but stored away enough knowledge of the West to provide writing material for years to come, including some knowledge of Indian languages.
In 1837 the Stephens family moved to New York City where Ann began her long career as a magazine writer and editor. Ann took the job of editor of the Ladies' Companion, a position she held for four years. Her husband meanwhile had obtained work in the Custom House.
Stephens left the Ladies' Companion for Graham's Magazine because they offered more money for less work. She became Associate Editor (1841-1842) of Graham's, where her fellow contributors were William Cullen Bryant, James Fenimore Cooper and Henry Wadsworth Longfellow. Graham's had another associate editor by the name of Edgar Allan Poe, who later mentioned Stephens and her work in The Literati of New York City, a series published in Godey's Lady's Book in 1846.
Over the next few years she wrote over twenty-five serial novels plus short stories and poems for several well known periodicals, including Godey's Lady's Book and Graham's. Under the pseudonym 'Jonathan Slick' she wrote a series of sketches about an imaginary Yankee's experience in New York City. Edward Stephens published them as High Life in New York, By Jonathan Slick, Esq. of Weathersfield, Connecticut, A Series of Letters to Mr. Zephariah Slick, Justice of the Peace, and Deacon of the Church over to Weathersfield, in the State of Connecticut (1843).
In 1844 Stephens became Associate Editor of Peterson's Ladies' National Magazine. A prolific writer, during the remainder of her life she contributed to it at least one serial novel a year – commencing in January and ending in December – and many poems and short stories. Her principal short stories were "Mary Derwent," for which she obtained a prize of $400, "Malvia Gray," "The Patchwork Quilt" and "A Story of Western Life."
From 1850 to 1852 Stephens traveled in Europe and the East, where she had the opportunity to meet with writers such as Charles Dickens and other notables such as the Pope and members of the Russian Imperial family.
On her return to the United States Stephens published her first long novel, Fashion and Famine (1854), which is the best known of her works. In France three different translations of it were published. Although she belonged to the intense school of novelists, her attention to minute details and her clearness of vision enabled her to be very realistic in the description of natural scenes, and she never hesitated to visit hospitals, public institutions and resorts, in search of striking characters.
Stephens always resided in New York City, but spent many winters in Washington DC, where it is said that she was well connected with all of the presidents and other major political figures of the time.
Some say that the most famous of her writings is her novel The Old Homestead, published in New York in 1855. It was reprinted in numerous editions, but is most widely known from its dramatization by George L. Aiken (another dime novelist) in 1856, and especially from its stage revival during the 1880s and 1890s by Denman Thompson.
Ann Stephens started her own magazine in 1856, Mrs. Stephens' Illustrated New Monthly (July 1856 to June 1858), which was published by her husband. Two years later it merged with Peterson's Magazine. Stephens wrote mostly historical and romantic melodramas that first appeared in serial form in these magazines and other popular women's publications. Many were later published in book form that Stephens' numerous avid readers quickly purchased.
Ann Stephens was the author of the first dime novel Beadle & Adams Company published: Malaeska: The Indian Wife of the White Hunter (1860). The term dime novel originated with this book, which was a reprint of her serial that appeared in the Ladies' Companion magazine in February, March and April 1839. It was the first book in the Beadle Dime Novel series, and for the privilege of reprinting it Beadle paid Stephens $250. It is reported to have sold over 300,000 copies.
Stephens, like Elizabeth Oakes Smith, became one of the publisher's stable of writers, and gained an even wider readership. The Grolier Club later listed Maleaska as the most influential book of 1860.
Some of her other works include Alice Copley: A Tale of Queen Mary's Time (1844), The Diamond Necklace and Other Tales (1846), The Rejected Wife (1863) and the Pictorial History of the War for the Union in two volumes in 1865. A uniform edition of her works in fourteen volumes appeared from the press of T. B. Peterson and Brother in Philadelphia in 1869, and a new edition in twenty-three volumes was published in 1886.
Among Stephens' later novels are Wives and Widows (1869); Married in Haste (1870); A Noble Woman (1871); The Reigning Belle (1872); Bellehood and Bondage (1873); Lord Hope's Choice and its sequel The Old Countess (1873); and Phemie Frost's Experiences (1874). In addition to her novels and short stories, Stephens also wrote verse and literary reviews.
Ann Stephens died on August 20, 1886 at age 76 at the home of her publisher Charles J. Peterson in Newport, Rhode Island, and was buried in Greenwood Cemetery in Brooklyn. She was survived by her son and daughter; her husband died in 1862.
SOURCES
Ann S. Stephens
Wikipedia: Ann S. Stephens
University of New England: Ann Stephens Collection