19th Century Women's Rights Leader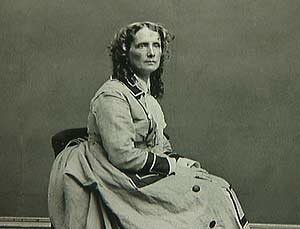 Isabella Beecher Hooker (1822–1907) was prominent in the movement to secure equal rights for women. She was a leader, lecturer and activist for women's suffrage (the right to vote) who refused to succumb to society's standards of what a woman's role should be. When she discovered that a married woman had no legal rights independent of her husband, Hooker dedicated her life's work to the empowerment of women.
Early Years
Isabella Holmes Beecher was born February 22, 1822 in Litchfield, Connecticut, the second child of the prominent family of Harriet Porter and the Reverend Lyman Beecher. As her father was called to new congregations, Isabella and her family followed him to Boston, and then Cincinnati. At age sixteen, she returned to Connecticut for an additional year of schooling at the Hartford Female Seminary, founded by her sister Catherine Beecher.
From "The Last of the Beechers: Memories on my Eighty-Third Birthday."
1905 article by Isabella Hooker in Connecticut Magazine:
I was eleven when we went to Cincinnati in 1833… At sixteen I was sent back to New England, on account of the death of my mother, and that is the last of my living at home with my father, and I knew him only through letters and his occasional visits to the East. But I date my interest in public affairs from those few years between eleven and sixteen, when our family circle was ever in discussion on the vital problems of human existence, and the United States Constitution, fugitive slave laws, Henry Clay and the Missouri Compromise, alternated with free will, regeneration, heaven, hell and "The Destiny of Man"…
While studying in Hartford, Isabella met John Hooker, a young lawyer from an established Connecticut family. They married in 1841, and lived with his parents in Farmington, Connecticut until 1853. Isabella spent most of the following twenty-five years raising their three children, while Hooker began a distinguished law career.
Between his legal cases, John Hooker read aloud from his law books by William Blackstone, and Isabella was horrified to learn of the lack of legal rights for women:
My interest in the woman question began soon after my marriage when my husband, a patient young lawyer waiting for business, invited me to bring my knitting work to his office every day, where he would read to me from his law books… …with great enthusiasm we read chapter after chapter till we came to that on the Domestic Relations and the reciprocal duties of husband and wife. I shall never forget my consternation when we came to this passage:

'By marriage the husband and wife are one person in law, that is, the very being or legal existence of the woman is suspended during the marriage, or at least is incorporated and consolidated into that of the husband under whose wing, protection and cover, she performs everything…. The civil law gave the husband the same or a larger authority over his wife: allowing him for some misdemeanors, flagellis et fustibus acriter verberare uxorem (by whips and cudgels vigorously to punish a wife)…'

Looking up to my young lover's face, I said; 'And this is your code that is to bring peace on earth, good will to men and harmonize the universe.'
Nook Farm Literary Colony
In the decade before the Civil War, John Hooker joined with his brother-in-law in a business building homes outside Hartford, Connecticut. The Hookers moved there in 1853 and established one of the first homesteads in what would become the Nook Farm Literary Colony. The community originally consisted of intellectuals united in their strong religious beliefs and opposition to slavery.
Between 1853 and 1873 Nook Farm became a place where the most famous writers in Connecticut in the mid-nineteenth century came for companionship and artistic inspiration. Harriet Beecher Stowe and Charles Dudley Warner were members of the Nook Farm community who contributed to a way of life that featured congeniality and informality (all doors were always open).
Samuel Clemens adored Hartford at first sight, finding the city a "vision of refreshing green" with homes "buried from sight in parks and forests of… noble trees." The affection of Clemens for the city was reinforced by his enjoyment of his lively neighbors at Nook Farm.
Clemens contributed a Victorian Gothic house at Nook Farm that has been called one-third riverboat, one-third cathedral, and one-third cuckoo clock. A wonder of gables, porches, and embrasures, the house had a kitchen facing the street ("so the servants can see the circus go by"), Tiffany decorations and Hartford's first telephone.
Career in Social Reform
An 1864 meeting with Caroline Severance while nursing the wounded in South Carolina during the Civil War and reading a pre-publication copy of John Stuart Mill's The Subjection of Women convinced Isabella Hooker to become involved in the women's rights movement. After the war, she carefully ventured into that arena with the unsigned "A Mother's Letter to a Daughter on Woman's Suffrage," which relied on the idea that "women would raise the moral level of politics."
Hooker attended women's rights conventions in New York and Boston, then joined others in the fight for women's suffrage (the right to vote) and was a founding member of the Connecticut Women's Suffrage Association and served as its director for 36 years. Hooker, Elizabeth Cady Stanton and Susan B. Anthony then organized the National Women's Suffrage Association in 1869.
Hooker made her intentions known to her friends and neighbors in Hartford by founding the Connecticut Women Association and Society for the Study of Political Science. With the legal aid of her husband, she wrote and presented a bill to the Connecticut General Assembly that provided property rights for married women. The bill was rejected, but she reintroduced it every year until it was passed in 1877.
In 1871, she planned and financed a special convention in Washington, DC, at which a constitutional suffrage amendment was drawn up and presented to Congress, "for the purpose of calling the attention of Congress to the fact that women were already citizens of the United States under the Constitution, interpreted by the Declaration of Independence, and only needed recognition from that body to become voters." For several years she spent much of her time in Washington lobbying and testifying for that amendment.
Hooker felt so strongly that women could already technically vote, that she and other woman activists attempted to vote in the election of 1872. Susan B. Anthony succeeded in voting but was later arrested; Hooker was unable to penetrate the security at the polling station.
Hooker also became a strong supporter of controversial feminist and suffragist Victoria Woodhull. In 1872 when Woodhull published in her weekly newspaper accusations of adultery against Isabella's half-brother, Congregationalist minister Henry Ward Beecher, resulting in a scandal. Hooker accepted the truth of Woodhull's accusation, though Reverend Beecher's church and most of the Beecher family did not.
Reverend Beecher was charged with adultery with one of his parishioners, Elizabeth Tilton, who had confessed to her husband, publisher Theodore Tilton. The charges became public when Tilton told women's rights activist Elizabeth Cady Stanton of his wife's confession. In a well-publicized adultery trial, the jury was unable to reach a verdict.
Isabella Hooker was ostracized by her family and the Nook Hill literati because of her support for Woodhull, and Henry Ward Beecher pronounced her insane. As a result Hooker severed ties with many of her siblings, including Harriet Beecher Stowe. The split never healed; when Henry Ward Beecher died sixteen years later, his wife barred Hooker from the funeral.
Hooker became involved in Spiritualism, primarily through her association with Victoria Woodhull. Although she had fallen away from the Calvinistic teachings of her father, Isabella felt herself 'commisioned of God,' to work to carry out His will. Her motto was: "The world is my country; to do good is my religion." She wrote one book, Womanhood: Its Sanctities and Fidelities (1874).
Later Years
By the mid 1880s Hooker advocated the more common position that women should vote because they would bring a new level of dignity to politics. Along with her drift in strategy, she began campaigning for women's rights in general, instead of focusing on suffrage alone.
During 1887, Isabella spoke on the need for women to have greater roles in society, including the benefits of female police officers. She digressed on a campaign for police reform that included a complete reorganization of New York City's police department, with a woman as superintendent; for this she was mocked by the New York World and the Chicago Tribune.
While Hooker was derided in New York and Chicago, she had enough national stature that her speaking tours were regularly reported. Furthermore, she gained respect in Hartford, where The Hartford Courant published her lectures from around the country and her congressional addresses. As she wound down her travels she was able to use this avenue to continue her advocacy.
The Nook Farm circle was more willing to forgive old divisions than Henry Ward Beecher's family had been; in 1891 that group held a grand celebration of the Hookers' fiftieth wedding anniversary.
In her seventies and still active, Hooker supported Olympia Brown's efforts to work for suffrage in presidential elections through Congressional action, rather than working for state-by-state suffrage. Hooker also served on the Board of Lady Managers at the Columbian Exposition of 1893.
Hooker made one last appearance before Congress in 1893, where she persuaded various senators to endorse a limited suffrage proposal. By the turn of the century she traveled less frequently to speak, but maintained her activity by writing letters. Her last appearance before the Connecticut General Assembly to present the voting bill was in 1901.
When John Hooker died in 1901 and again when Isabella Beecher Hooker died in 1907, her family severed more fully their ties to Isabella's father's and brother's Congregationalism by having the funerals conducted by a Unitarian minister.
Isabella Beecher Hooker was crippled by a stroke on January 13, 1907 and died twelve days later at age 85.
Isabella Beecher Hooker devoted her life to fighting for the rights of women. While she died more than a decade before the Nineteenth Amendment was ratified, Hooker's participation in the women's rights movement saw it transformed from a fringe group to the respectable lobby that finally succeeded in 1920.
SOURCES
Isabella Beecher Hooker
Wikipedia: Isabella Beecher Hooker
About.com: Isabella Beecher Hooker