Wife of Poet and Writer Ralph Waldo Emerson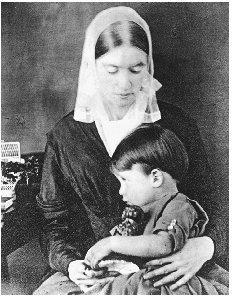 Lydian Emerson was a devout Christian, witty conversationalist and a member of the Transcendental Club. A major influence on her husband's thought, she offered commentary on current events and once wrote of the excesses of American Transcendentalism in a text called The Transcendental Bible. She opposed slavery, supported women's rights, and considered marriage to an unfit mate to be tantamount to slavery.
Image: Lydian Emerson with son Edward, circa 1847
Lydia Jackson was born in 1802 in Plymouth, Massachusetts. She met Ralph Waldo Emerson – an essayist, lecturer and poet – when he gave a lecture in her hometown in 1834. On January 24, 1835, Emerson wrote a letter to Lydia proposing marriage, and she accepted. He wanted Lydia to have a less common name and asked her to become Lydian Emerson. He often called her Queenie, and she called him Mr. Emerson.
Ralph Waldo Emerson was born on May 25, 1803, in Boston and attended Boston Latin School from 1812 to 1817, and Harvard from then to 1821. His first career, as a teacher, lasted four years, after which he was licensed to preach as a Unitarian. In 1829 he was ordained minister of Second Church in Boston and married his first wife, Ellen Tucker.
Eighteen months later in 1831, Ellen died of tuberculosis. Emerson was heavily affected by her death and visited her grave in Roxbury daily. After becoming dissatisfied with his profession, Emerson resigned from his position and traveled throughout Europe.
Emerson returned to the United States on October 9, 1833. Seeing the budding Lyceum movement, which provided lectures on all sorts of topics, Emerson saw a possible career as a lecturer. On November 5, 1833, he gave his first speech, discussing "The Uses of Natural History" in Boston.
In 1834, Emerson's travels on the lecture circuit took him to Plymouth, Massachusetts, where he met Lydia Jackson and fell in love for the second time. On January 24, 1835, Emerson wrote a letter to Lydia proposing marriage. Her acceptance reached him by mail on the 28th.
In July 1835, he bought a house in Concord, Massachusetts which he named Bush. Emerson quickly became one of the leading citizens in the town. He gave a lecture to commemorate the 200th anniversary of the founding of Concord on September 12, 1835.
Lydia Jackson married Emerson on September 14, 1835, at her family home. The next day, they drove to Concord where they would spend the rest of their married lives together in the large white house on the Cambridge Turnpike. Emerson's mother, as well as a live-in cook, moved in with them.
Lydia was Emerson's intellectual partner, and he was enamored of the "perfect sympathy that exists between like minds." He wanted her to have a less common name and asked her to become Lydian Emerson. He often called her Queenie, and she called him Mr. Emerson.
The Emersons had four children, Waldo, Ellen, Edith and Edward. When Waldo died in 1842 at five years of age, neighbor Henry David Thoreau wrote, "he died as the mist rises from the brook… He had not even taken root here." Ellen Emerson, who never married, became her father's travel companion, and was devoted to him in his later years.
In 1836, Emerson wrote Concord Hymn, a poem about the first battle of the Revolutionary War fought on April 19, 1775 between British and American soldiers in the towns of Concord and Lexington. In 1837, the poem was sung at the dedication of the Battle Monument near the site of the North Bridge.
Transcendentalism
In the 1830s and 1840s Ralph Waldo Emerson led the Transcendentalist movement as a protest to the general state of culture and society. Among his core beliefs was the inherent goodness of both man and nature. He believed that society and its institutions – particularly organized religion and political parties – ultimately corrupted the purity of the individual, and had faith that man is at his best when self-reliant and independent.
The publication of Emerson's 1836 essay Nature is usually considered the watershed moment at which transcendentalism became a major cultural movement. Although the book is only a slim volume, it contains in brief the whole substance of his thought, and represents at least ten years of intense study in philosophy, religion and literature.
Excerpt from Nature:
To go into solitude, a man needs to retire as much from his chamber as from society. I am not solitary whilst I read and write, though nobody is with me. But if a man would be alone, let him look at the stars. The rays that come from those heavenly worlds, will separate between him and what he touches.
On September 8, 1836, the day before the publication of Nature, Emerson met with Henry Hedge, George Putnam and George Ripley to plan periodic gatherings of other like-minded intellectuals. This was the beginning of the Transcendental Club, which served as a center for the movement. Its first official meeting was held on September 19, 1836, and in the ensuing years the group met often at his home.
On September 1, 1837, women attended a meeting of the Transcendental Club for the first time. Emerson invited Margaret Fuller, Elizabeth Hoar and Sarah Ripley for dinner at his home before the meeting to ensure that they would be present for the evening get-together. Fuller would prove to be an important figure in Transcendentalism.
In his speech The American Scholar on August 31, 1837, Emerson declared literary independence in the United States just as the Patriots had declared independence from England decades earlier. In this speech Emerson urged Americans to create a writing style all their own and free from Europe.
The Transcendentalists became a generation of well educated people, who attempted to create a uniquely American body of literature in the decades before the Civil War. They began creating essays, novels and poetry that were clearly different from anything produced in England or Europe. The major figures in the movement were Emerson, Henry David Thoreau, Margaret Fuller and Emerson's neighbor Bronson Alcott.
In 1840, Emerson helped launch The Dial, a journal of literature, philosophy and religion that focused on transcendentalist views, with co-members such as Margaret Fuller, Henry David Thoreau and Elizabeth Palmer Peabody. After the first two years, he succeeded Fuller as its editor. The Dial was recognized as the official voice of transcendentalism. It ceased publication in April 1844.
Emerson had first met Henry David Thoreau when Thoreau was a young Harvard student. Thoreau was like a brother to Lydian Emerson because he took care of the family while her husband was away on his lecture tours. Thoreau lived in the Emerson home for two years in 1841, doing handywork in exchange for board, and he was a favorite of the Emerson children.
The Emerson home was a kind of experiment in communal living, based on Emerson's desire (one shared to a degree by his wife) to make their home in Concord an intellectual center. So the house was frequently filled with like-minded residents and young women such as Elizabeth Hoar, Lydian's sister Lucy Brown and Margaret Fuller.
Emerson wrote most of his important essays first as lectures, then revised them for print. His first two collections – Essays: First Series and Essays: Second Series, published respectively in 1841 and 1844 – represent the core of his thinking, and include such well-known essays as Self-Reliance, The Over-Soul, Circles, The Poet and Experience. Together with Nature, these essays made the decade from the mid-1830s to the mid-1840s Emerson's most prolific period.
Never intending to be regarded as a philosopher, Emerson emerged as one of the original thinkers of his age, and became known as the Sage of Concord. While his writing style can be seen as somewhat difficult to understand, Emerson's work greatly influenced the thinkers, writers and poets who followed him. When asked to sum up his work, he said his central doctrine was "the infinitude of the private man."
Emerson's earnings allowed him to expand his property, buying 11 acres of land by Walden Pond and a few more acres in a neighboring pine grove. He wrote that he was "landlord and waterlord of 14 acres, more or less".
When Thoreau decided to build a cabin in the woods, his good friend Ralph Waldo Emerson donated the land. In 1845, Thoreau went to live at Walden Pond in the small house he had started building. Thoreau's book, Walden, broke new ground for environmentalism and the Transcendentalists.
Toward the end of the 1840s, Emerson took his second trip to Europe with his friend Thomas Carlyle. While touring Europe, Emerson not only toured literary venues but also delivered around 64 speeches during 1847 and 1848, in a series of lectures named "Mind and Matters of the Nineteenth Century."
By the late 1840s, Emerson believed the Transcendentalist movement was dying out, and even more so after the death of Margaret Fuller in 1850.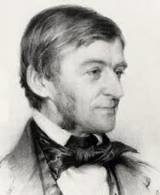 Ralph Waldo Emerson
Emerson made a living as a popular lecturer in New England and much of the rest of the country. He had begun lecturing in 1833, and by the 1850s he was giving as many as 80 per year. He charged between $10 and $50 for each appearance, bringing him as much as $2,000 in a typical winter series of talks. This was more than his earnings from other sources. He eventually gave some 1,500 lectures in his lifetime.
Lydian Emerson was an abolitionist and expressed her feelings by draping a black cloth over the gate and fence posts in front of the Emerson home on July 4, 1855, in protest of the continued presence of slavery in the United States.
Civil War Years
Ralph Waldo Emerson was also staunchly anti-slavery, but he was hesitant about lecturing on the subject. He did, however, give a number of lectures during the pre-Civil War years, and from 1844 on took a more active role in opposing slavery. He also welcomed John Brown to his home during Brown's visits to Concord.
Emerson voted for Abraham Lincoln in 1860, but was disappointed that Lincoln was more concerned about preserving the Union than eliminating slavery outright. Once the Civil War broke out, Emerson made it clear that he believed in immediate emancipation of the slaves.
In 1860 Emerson published The Conduct of Life, his final original collection of essays. In this book, Emerson "grappled with some of the thorniest issues of the moment," and "his experience in the abolition ranks" is a telling influence on his conclusions.
Emerson visited Washington, DC, at the end of January 1862, and gave a public lecture at the Smithsonian on January 31, 1862, in which he declared: "The South calls slavery an institution… I call it destitution… Emancipation is the demand of civilization."
His friend Charles Sumner took him to meet Lincoln at the White House. Lincoln was familiar with Emerson's work, having previously seen him lecture. Emerson's misgivings about Lincoln began to soften after this meeting. In 1865, he spoke at a memorial service held for the assassinated president in Concord: "…I doubt if any death has caused so much pain as this has caused…"
Emerson also met a number of high-ranking government officials, including Treasury Secretary Salmon P. Chase, Secretary of War Edwin M. Stanton, Attorney General Edward Bates, Secretary of the Navy Gideon Welles and Secretary of State William Seward.
On May 6, 1862, Henry David Thoreau died of tuberculosis at the age of 44 and Emerson delivered his eulogy. Emerson would continuously refer to Thoreau as his best friend, despite a falling out that began in 1849 after Thoreau published A Week on the Concord and Merrimack Rivers. Emerson served as one of the pallbearers at the funeral of author Nathaniel Hawthorne two years later.
Final Years
Starting in 1867, Emerson's health began to decline; he wrote much less in his journals. Beginning as early as the summer of 1871, Emerson started having memory problems. By the end of the decade, he forgot his own name at times and, when anyone asked how he felt, he responded, "Quite well; I have lost my mental faculties, but am perfectly well."
The Emerson home caught fire on July 24, 1872; Emerson called for help from neighbors and, giving up on putting out the flames, all attempted to save as many objects as possible. The Emersons moved in with family at the Old Manse. The fire marked an end to Emerson's serious lecturing career; from then on, he would lecture only on special occasions.
While the house was being rebuilt, Emerson took a trip to England, Europe and Egypt. He left on October 23, 1872, along with his daughter Ellen while Lydian remained at the Old Manse and with friends. Emerson and Ellen returned to the United States on April 15, 1873, and his return to Concord was celebrated by the town.
The problems with his memory had become embarrassing to Emerson and he ceased his public appearances by 1879. As Oliver Wendell Holmes, Sr. wrote:
Emerson is afraid to trust himself in society much, on account of the failure of his memory and the great difficulty he finds in getting the words he wants. It is painful to witness his embarrassment at times.
Ralph Waldo Emerson died of pneumonia on April 27, 1882 at the age of 78. Close to one thousand people came to Concord to honor Emerson. Louisa May Alcott, among others, spoke at his service in the Unitarian church. Emerson was laid to rest on Authors' Ridge in Sleepy Hollow Cemetery in Concord.
Lydian Emerson died in 1892 at the age of 90, and was buried next to her husband.
SOURCES
Wikipedia: Ralph Waldo Emerson
The Living Legacy of Ralph Waldo Emerson
The Literature Network: Ralph Waldo Emerson