Journalist and Novelist in the Civil War Era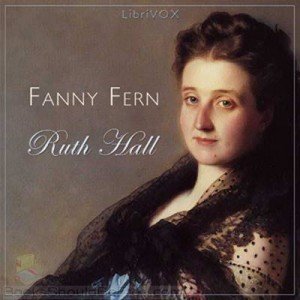 American writer Fanny Fern (1811-1872), born Sarah Willis, was the first woman newspaper columnist. By 1855, Fern was the highest-paid columnist in the United States, commanding $100 per week for her New York Ledger column. Her best-known work, novel Ruth Hall (1854), was based on her life – the years of happiness she had with her first husband, the poverty she endured after he died, the lack of help from her male relatives, and her struggle to achieve financial independence as a journalist.
She was born Sarah Payson Willis on July 9, 1811 in Portland, Maine to Nathaniel Willis and Hannah Parker Willis; she was the fifth of nine children. At an early age she moved with her family to Boston, where her father became the editor of two Boston newspapers.
Sarah graduated from Catherine Beecher's boarding school in Hartford, Connecticut in 1829, where she was known for her spirited writing. Beecher later described Sarah as one of her "worst-behaved girls," but added that she also "loved her the best."
At Beecher's school Sarah had her first taste of literary success when her compositions were published in the local newspaper. After returning home, she wrote and edited articles for her father's Christian newspapers, The Puritan Recorder and The Youth's Companion.
Marriage and Family
In 1837 Sarah married banker Charles Harrington Eldredge, and they had three daughters: Mary Stace (1838), Grace Harrington (1841), and Ellen Willis (1844). Her mother and younger sister Ellen both passed away early in 1844; her eldest daughter Mary died of meningitis in 1845.
When Eldredge died in 1846 from typhoid fever, he left his wife penniless. Sarah appealed to her father and father-in-law for assistance, and though they each gave her a small allowance, they advised her that remarriage would be her best means of support.
Willis acquiesced to her families' demands and in 1849 married merchant Samuel Farrington, a widower with two children. Farrington was so intensely jealous that Sarah left him in 1851 (a shocking move for a woman at that time). Her family was scandalized and refused to continue to support her. Farrington obtained a divorce in 1853.
Writing Career
In a desperate attempt to feed her surviving young daughters, Sarah Willis began writing articles for Boston newspapers. In the summer of 1851 the Boston Olive Branch published one of her essays and paid her fifty cents, followed by some short satirical pieces there and in True Flag.
Her brother, N.P. Willis, had become a noted journalist and magazine owner in New York. Sarah then sent some writing samples to her brother, but he returned them with scathing criticism, deeming her work inappropriate and indecent, and not marketable outside of Boston.
She persevered without his assistance, and was able to make ends meet by writing for various newspapers under the pseudonym Fanny Fern. The choice of her pen name was inspired by happy childhood memories of her mother picking sweet fern leaves. Although she is often referred to in literary histories as Sarah Parton, she preferred her pseudonym; eventually most of her friends and family called her Fanny.
James Parton, a biographer and historian who edited Home Journal, a magazine owned by Fern's brother N.P. Willis, was impressed by Fern's work. He published her columns and invited the author to New York City. When her brother discovered this, he forbade Parton from publishing any more of Fern's work. Parton resigned as editor of the magazine in protest.
In the summer of 1852, Fanny Fern was hired by publisher Oliver Dyer to publish a regular column exclusively in his New York newspaper Musical World and Times; she was the first woman to have a regular newspaper column. Newspapers and periodicals in New York and elsewhere began printing her "witty and irreverent columns."
Fern's timing for entering journalism was perfect. As Marion Marzolf explains in an article in the Dictionary of Literary Biography, American periodicals were booming in the 1850s and 1860s, publishing light reading for the many Americans who had recently learned to read in the common schools.
Fanny Fern was one of the most successful newspaper columnists of her day. Her great popularity has been attributed to her conversational style and sense of what mattered to her middle-class, mostly female readers: economic independence, birth control, prostitution and venereal disease. From 1851 through 1872, Willis published a weekly column in several newspapers, as well as six collections of her columns, two novels, and three books for children.
In 1852, Dyer helped Fern find a publisher for her first two books: Fern Leaves from Fanny's Portfolio (1853), a collection of her columns and short stories, which became a bestseller, and Little Ferns for Fanny's Little Friends (1853), a children's book.
Fern's writing brought her both income and fame. Within a year of its publication in 1853, almost 100,000 copies of Fern Leaves from Fanny's Portfolio were sold in England and America, "a phenomenal figure for the time." Fern decided to move to New York after earning $10,000 in royalties, which enabled her to buy a house in Brooklyn, and live comfortably.
Fern wrote two novels. Her first, Ruth Hall (1854), was based on her own life: the years of happiness with Eldredge, the poverty she endured after he died and lack of help from male relatives, and her struggle to achieve financial independence as a journalist. Most of the characters are thinly veiled versions of people in her life, including her father, her in-laws, her brother N.P. Willis and two newspaper editors.
The publication of Ruth Hall gained widespread attention for Fern. The resourceful and independent title character also drew scathing commentary from critics, many of whom insisted that the heroine exhibited behavior that was grossly unfeminine. Modern critics, however, tend to view Fern as being ahead of her time both in terms of what she considered important issues in society.
Soon after its release, a fellow journalist, angered by his fictional portrayal in the novel, publicly revealed Fern's true identity, leading many readers to criticize her candid disclosure of her family's misbehavior and their lack of support when she needed it most – however egregious it may have been.
At the same time, the book also garnered positive attention. Author Nathaniel Hawthorne, who had earlier complained about the "damned mob of scribbling women," wrote to his publisher in early 1855 in praise of the novel. He said he "enjoyed it a great deal. The woman writes as if the devil was in her, and that is the only condition in which a woman ever writes anything worth reading."
And, unlike other novels of its generation, Ruth Hall does not end with the heroine's marriage and the end of her career. Ruth is an assertive, independent businesswoman in a male-dominated environment, but she is also a devoted mother. Elizabeth Cady Stanton praised the novel for debunking the myth that women can always depend on men for economic, legal and social protection.
Wounded by the criticism and ambivalent about the wide publicity she stirred up, Fern tried to reduce the autobiographical elements in her second novel, Rose Clark (1856), which also sold well. But while it features a conventionally sweet and gentle heroine, a secondary character makes a poor marriage of convenience, an act which Fern had regretted in her own life.
After Rose Clark, Fern stopped writing long fiction, focusing instead on the essay form, which allowed her the opportunity to express herself much more openly and freely. In all of her writings, Fern also decried hypocrisy, pretension and conformity, and urged individualism for both men and women.
Fanny Fern was hired by Robert Bonner of the best-selling New York Ledger as a weekly columnist. By 1855, Fern was the highest paid newspaper columnist in the country, earning an unprecedented $100 a week. Her columns often spoke out against women's economic dependence upon men. Her column would run weekly, without exception, until October 12, 1872, when the last edition was printed two days after her death.
One of her columns included a review of her friend Walt Whitman's controversial book Leaves of Grass, in which she took the unpopular stance among critics by praising the book. She noted Whitman's fearless individualism and self-reliance, as well as his honest and "undraped" portrayal of sex and the human body. Criticized for her admiration, she continued to champion literature that was ahead of its time.
Fanny Fern married James Parton in 1856 when she was 45 and well established. He was and editor and writer, eleven years her junior. Parton was familiar with Fern's publications and supported every aspect of her writing; he signed a prenuptial agreement specifying that all Fanny Fern articles and books belonged to her.
The rights of women and the status of female authors are obvious Fanny Fern themes. She was witty and abrasive, and developed her writing style as an irreverent and iconoclastic satirist. Her most passionate argument was about the necessity for women to have and control their own money.
In other columns, she frankly addresses women's suffrage and their right to their children. At other times, she merely reminisced about her childhood or complained about feeling blue. What unifies many of these columns, however, is Fern's strong sense of her audience: ordinary women who at times feel oppressed or depressed, wives and mothers who worry about losing their children and about managing their skirts in rainy weather.
In most of her work, Fern wrote as a social critic, exposing what she saw as societal wrongs and sometimes proposing ways to right these wrongs. She was deeply concerned with injustice as it affected women, both at home and in the marketplace, which is why she never ceased urging women to secure financial independence from men.
While Fern's female contemporaries were writing what was called 'sentimental' literature,' deemed appropriate for women writers, Fern was wrestling in her weekly columns with such topics as equal pay and more employment opportunities for women, divorce, children's education reform and the sexual double standard.
In 1859, Fern bought a brownstone in Manhattan at what is now 303 East Eighteenth Street near Second Avenue, and was able to furnish all her family's wants and needs. She and Parton lived in this house with her daughter Ellen, and also raised granddaughter Ethel, orphan of daughter Grace who died in 1862. Ethel later became a correspondent for the periodical The Youth's Companion.
In 1868 Fanny Fern co-founded Sorosis, New York City's pioneer club for women writers and artists, formed after women were excluded from hearing the author Charles Dickens at the all-male New York Press Club dinner in his honor.
Fanny Fern dealt with cancer for six years and died October 10, 1872, missing only one column – the week before her death – in seventeen years of journalism. She is buried in Mount Auburn Cemetery in Cambridge, Massachusetts next to her first husband. The only named carved on her gravestone was Fanny Fern.
After her death, her widower James Parton published Fanny Fern: A Memorial Volume (1874).
Although Fanny Fern was married three times, twice happily, she did not hide the fact that she did not think highly of the institution as it was traditionally structured, with the wife tethered and subservient to the husband. She also did not think much of the expectations of women's self-sacrifice when it came to the home:
Nobody will thank you for turning yourself into a machine. When you drop in your tracks, they will just shovel the earth over you, and get Jerusha Ann Sombody to step into your shoes… So you just take a little comfort yourself as you go along, and look after 'No. 1.'
SOURCES
Enotes: Fanny Fern
Wikipedia: Fanny Fern
Fanny Fern (Sarah Willis) 1811-1872, By Mark Canada, Professor, University of North Carolina at Pembroke