American Feminist Author and Social Reformer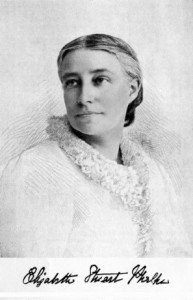 Elizabeth Stuart Phelps (1844-1911) was an American author and an early advocate of clothing reform, urging women to burn their corsets. She wrote fifty-seven volumes of fiction, poetry and essays. In 1868 Phelps' story "The Tenth of January" about a tragic fire that killed scores of girls at the Pemberton Mill in Lawrence, MA established her reputation as a writer, and her novel The Gates Ajar became a national bestseller.
Elizabeth Stuart Phelps was born Mary Gray Phelps in Boston on August 31, 1844, to Elizabeth Wooster Stuart Phelps and Reverend Austin Phelps. Her father was pastor of the Pine Street Congregational Church until 1848, when he accepted a position as the Chair of Rhetoric at Andover Theological Seminary and moved the family to Boston.
From her earliest years, Phelps was surrounded by writing women. Her mother wrote the Kitty Brown books under the pen name H. Trusta, an anagram of her name which she used frequently throughout her career. Her mother died of brain fever on November 20, 1852. After her mother's death, eight-year-old Mary Gray adopted her mother's name and became Elizabeth Stuart Phelps, the name she used in her personal and professional life.
In 1854 her father married her mother's sister, Mary Stuart, who was also a writer. She died of tuberculosis a year and a half later. In 1858, Phelps' father again remarried, to Mary Ann Johnson, a minister's sister, who bore him two sons, Francis Johnson in 1860 and Edward Johnson in 1863.
Phelps was well educated at the Abbot Academy and Mrs. Edwards' School for Young Ladies. One source credits her with a gift for story-telling even as a child. At thirteen, she had a story published in Youth's Companion, and subsequent stories appeared in Sunday School publications.
In the spring of 1863 she sent a Civil War story called "A Sacrifice Consumed" to Harper's Magazine. The editor returned her a generous check for it, with the request that she should write for them again. It was appreciation for which she was always grateful, coming as it did when she was uncertain of her own power and in need of encouragement.
In 1864 her first adult fiction was published in Harper's New Monthly Magazine, and she wrote her first books for children, the Tiny series, and the four-volume Gypsy Brenton series, her best-known juvenile work. One commentary notes that Gypsy, a tomboyish figure, "set the pattern for the engaging tomboy heroine later popularized by Louisa May Alcott in Little Women and Susan Coolidge in What Katy Did."
Over the next three decades, more of her stories appeared in juvenile periodicals (most notably Our Young Folks). She also published the two-volume Trotty series: The Trotty Book (1870) and Trotty's Wedding Tour, and Story-book (1873), which "realistically sketch the mischievous escapades of a four-year-old boy called Trotty."
Phelps gained popularity through the publication of The Gates Ajar (1868), for which she is now best known. This novel offered a comforting view of the afterlife to women who had lost loved ones in the Civil War. The book sold over 100,000 copies in the United States and England; it was also translated into several languages. One source notes that "the only nineteenth-century novel to outsell The Gates Ajar was Harriet Beecher Stowe's Uncle Tom's Cabin."
The story concerns the grief-stricken Mary Cabot, whose brother was killed in the war, and who becomes convinced that she will be reunited with her brother in the hereafter. This book was followed by two sequels, Beyond the Gates (1883) and The Gates Between (1887). All three novels describe heaven as a perfected version of earthly life and the afterlife as a chance to make up for opportunities squandered on Earth.
In the 1870s and 1880s Phelps wrote a series of novels with feminist themes – concerning the social, political, legal and economic rights of women. During the intervening years, Phelps published additional novels, as well as essays, including articles dealing with women's economic and emotional independence. She was also the first woman to lecture at Boston University, in 1876, in a series titled "Representative Modern Fiction."
Phelps was also involved in clothing reform for women, urging them to burn their corsets in 1874. Designed to emphasize the waist, the corset was pulled in as tight as the woman could stand and still breathe, in order to achieve the smallest waist possible. Doctors deplored the garment, arguing that it was harmful to health, but were unable to override the dictates of fashion.
Phelps wrote:
Burn up the corsets! … No, nor do you save the whalebones, you will never need whalebones again. Make a bonfire of the cruel steels that have lorded it over your thorax and abdomens for so many years and heave a sigh of relief, for your emancipation I assure you, from this moment has begun.
But dress reform had little mainstream impact. Fashion continued to emphasize the waist and, so long as it did, the corset continued to be regarded as an indispensable of dress. All this changed in the early 20th century when the Empire style was again popular. The waist became unimportant and the waist-restricting corset lost its significance.
Elizabeth Stuart Phelps apparently saw her mother as a victim of the impossibility of reconciling artistic ambition and a woman's traditional role. Her novel The Story of Avis (1877) is based in part on her mother's life. In portraying marriage as detrimental to women's aspirations, Phelps was making a radical break with the kind of fiction written by American women before her.
The Story of Avis reflects many of the concerns in the feminist movement of the time. These included women's financial dependence on men, the negative effects of unrealistic feminine ideals and the question of careers for women, in addition to the debate on marriage. Avis is an exceptional, independent woman who does not intend to be defined by marriage, but ends up succumbing to the institution anyway.
Phelps's criticism of institutionalized roles for men and women and her creation of a female protagonist who wanted to be defined through her art rather than her marriage was a radical revision of the traditional American marriage plot, and caused quite a controversy.
Some critics admitted that there was hardly a fault with Avis artistically but objected to the moral. Feminist Lucy Stone gave the work her unqualified approval, certain that the artistic skill and message would give it "a permanent place in English literature." This obviously did not prove true, but its publication was a major literary event.
With The Story of Avis, Phelps attempted to write a book in which the heroine did not accept wifehood, "a woman's book" as she called it in her autobiography.She was also aware that the book would not be popular: "I had not expected that book to have a wide circle of friends." The figure of Avis as the woman artist who is incapacitated by marriage was offensive to the male sensibility.
Phelps took Henry Wadsworth Longfellow for his first visit to Norman's Woe shortly before his death in 1882. Norman's Woe is a rock reef on Cape Ann in Gloucester, Massachusetts, which was the site of a number of ship wrecks. Longfellow wrote "The Wreck of the Hesperus," a narrative poem about Norman's Woe, which is near Phelps' East Gloucester summer home.
In 1888, Phelps married Herbert Dickinson Ward, a journalist seventeen years younger than she (and the son of a friend); together they co-authored two Biblical romances in 1890 and 1891. Her autobiography Chapters from a Life was published in 1896 after being serialized in McClure's. She also wrote a large number of essays for Harper's.
Phelps continued to write short stories and novels into the twentieth century. Trixy (1904) dealt with another cause she supported, anti-vivisection: opposition to all animal use in product testing, education and medical research (a topic on which she also addressed the Massachusetts State Legislature). Her last work, Comrades (1911), was published posthumously.
Elizabeth Stuart Phelps died of heart failure January 28, 1911, in Newton Center, Massachusetts.
My favorite ESP quote:
Write, if you must; not otherwise. Do not write, if you can earn a fair living at teaching or dressmaking, at electricity or hod-carrying. Make shoes, weed cabbages, survey land, keep house, make ice-cream, sell cake, climb a telephone pole. Nay, be a lightning-rod peddler or a book agent, before you set your heart upon it that you shall write for a living… Living? It is more likely to be dying by your pen; despairing by your pen; burying hope and heart and youth and courage in your ink-stand.
SOURCES
Elizabeth Stuart Phelps Ward
The Literary Fate of the Woman Artist
Wikipedia: Elizabeth Stuart Phelps Ward