Well Educated Wife (and Sometimes Editor) of Mark Twain
Olivia Langdon Clemens (1845-1904) was the wife of the famous American author Samuel Langhorne Clemens, better known as Mark Twain; she was a major influence on his writing. Olivia was raised in the stimulating environment of Elmira, New York, and was constantly exposed to some of the most exciting issues and women of her day, including Isabella Beecher Hooker and Anna Dickinson.
Early Years
Olivia Langdon was born November 27, 1845 in Elmira, New York to Jervis and Olivia Lewis Langdon. Jervis was a very wealthy coal businessman, and her family participated in a branch of the Underground Railroad that came through Elmira, and socialized with leading doctors' theologians and suffragists. There is evidence that Olivia's parents often worked as equals at a time when women were rarely accepted in the public sphere.
Olivia, called Livy, was educated by a combination of home tutoring and classes at Thurston's Female Seminary, which provided a "scientific education" and aided in the "formation of character" in its students. At 12' Olivia began studies at the Elmira Female College where she studied Latin' arithmetic' English' grammar' U.S. history' music and philosophy.
However, her health was poor; she suffered from what was probably tuberculosis of the spine or Pott's disease. This debilitating illness caused her to live away from her family for years, and ended her formal education at 15. However, Olivia was determined to continue her education, and used tutors, study groups and a professor from the college to accomplish her goal.
While the Civil War was raging, she was an invalid for about six years as a teenager, and continued to have health problems throughout her life. From 1862-1864 she was in and out of treatment centers and sanitariums in Elmira' Washington, DC and New York City, receiving treatment from the country's leading physicians on diseases of the spine.
Marriage and Family
Samuel Clemens entered Olivia's life in 1867, not long after her health began to improve. Their first date was to a reading by Charles Dickens in New York City. Clemens courted her throughout 1868, mainly by letter. She rejected his first proposal of marriage, but they became engaged two months later, in November 1868.
The engagement was announced in February 1869 and on February 2, 1870, Olivia married Samuel Clemens in Elmira.
In a letter to his boyhood friend, Will Bowen, written just four days after marrying Olivia, Clemens wrote:
I am 34 and she is 24; I am young and very handsome (I make this statement with the fullest confidence, for I got it from her,) and she is much the most beautiful girl I ever saw (I said that before she was anything to me, and so it is worthy of all belief) and she is the best girl, and the sweetest, and the gentlest, and the daintiest, and the most modest and unpretentious, and the wisest in all things she should be wise in and the most ignorant in all matters it would not grace her to know, and she is sensible and quick, and loving and faithful, forgiving, full of charity… She is the most perfect gem of womankind that ever I saw in my life – and I will stand by that remark until I die.
The newlyweds moved to Buffalo, New York, where they lived in a house purchased for them by Olivia's father Jervis. Life was difficult for them at first. Jervis Langdon died of cancer in August, followed a month later by Olivia's friend Emma Nye, who died in the Clemens home. Their first child Langdon Clemens was born in November, but was premature.
Under the strain of so much misfortune, Olivia contracted typhoid fever, and was also hovering near death. Clemens packed up his family and moved to Elmira, where Olivia's family could help watch over her and Langdon. "She was never strong again while her life lasted," Clemens wrote.
In 1871, the family moved to Hartford, Connecticut, where they rented a large house in the Nook Farm neighborhood, and quickly became important members of the social and literary and intellectual scene there. They lived lavishly off Clemens' earnings from his books and lectures and Olivia's inheritance.
Their son Langdon died in 1872, a year and a half after his birth, but soon three daughters were born – Olivia Susan (Susy) in 1872, Clara in 1874, and Jane (Jean) in 1880.
The couple purchased land and built a large house in Hartford in 1874, which was their home until 1891. With the increasing fame of Mark Twain (Clemens' pseudonym), there was a constant flow of guests. Clemens' earnings from his books and lectures and Olivia's inheritance enabled the family to lead a lavish lifestyle.
Editor in Chief
Like the relationship between Olivia's parents' the Clemens marriage was very much one of equals. Clemens wanted a wife "in the position which I designed for her, viz; – as a companion. I don't want to sleep with a threefold being who is a cook, chambermaid and washer woman all in one." In other words, he did not want the stereotypical women of his times – subservient, domestic and reserved.
Clemens proved that point when he asked his wife to proofread and edit his manuscripts. Olivia encouraged the raunchy, unpolished and humorous Clemens to take a serious approach to his writing. With her help, Twain's work became increasingly accessible to a female audience, a necessity for being a popular writer in his day.
I never wrote a serious word until after I married Mrs. Clemens. She is solely responsible – to her should go the credit – for any influence my subsequent work should exert. After my marriage, she edited everything I wrote.
During their seventeen years in Hartford (1874–1891), Mark Twain wrote many of his classic novels, among them The Adventures of Tom Sawyer (1876), The Prince and the Pauper (1881), Life on the Mississippi (1883), Adventures of Huckleberry Finn (1885) and A Connecticut Yankee in King Arthur's Court (1889).
Since Clemens did not enjoy the details of domestic life' he was more than happy to have Olivia take a leading role in managing the household and as the primary caregiver (along with the servants) of the couple's three daughters. Though she suffered numerous bouts of illness she remained the emotional center and strength of the family.
Olivia continued to be an active participant in her husband's career by helping him edit his books, articles and lectures. He left pages of manuscript by her bedside for her to read and review, and often' though not always' accepted her suggestions. Clemens noted in his autobiography how he liked to insert phrases and incidents which he knew Olivia would not approve – just to see her reaction.
However, their expensive lifestyle and the failure of Clemens' publishing company and the Paige typesetting machine finally caught up with the family in 1891. On the brink of bankruptcy Olivia was given "preferred creditor" status, and deeds to their house and land in Hartford and Mark Twain's copyrights were transferred to her to preserve the family's financial future.
They closed up the Hartford house and the entire family lived in Europe for the next four years. Samuel Clemens was forced to go on a round-the-world lecture tour in order to raise money and pay off his debts in the summer of 1895. Olivia and daughter Clara accompanied him, but Susy and youngest daughter Jean stayed in Elmira with Olivia's family.
Before they could be reunited' Susy died of spinal meningitis on August 18' 1896, a devastating blow to the family. Olivia refused to return to the Hartford home where they had raised their children' and it was later sold. Her broken heart would never fully recover.
In the years after Susy's death' the family lived a somewhat nomadic lifestyle, mostly in Europe. Jean was diagnosed with epilepsy' and her illness had periods of remission and times when she had frequent grand mal seizures. Jean was 15' and now unable to experience the idyllic teenage years her sisters had enjoyed.
While in Europe the family sought out doctors to treat Jean in England' Sweden' Germany and Switzerland. She was supposed to be kept calm – excitement and worry made the seizures more frequent. A sedative was prescribed along with a strict diet that limited meat and sweets. She was kept under constant supervision by her parents, who both thought that by being vigilant they could hold off the seizures.
Olivia stayed with Jean night and day when she was having her "spells." The perpetual travel and Jean's need for ongoing care took its toll on Olivia's declining health. Clemens described it as "five years of constant anxiety and periodical shocks and frights." In her 1931 memoir My Father: Mark Twain' Clara recalled that no one in the family smiled for a long time.
There was social stigma surrounding epilepsy' and sufferers were often ostracized, but Olivia insisted that Jean be included in as many family and social activities as her health would allow. Jean was prescribed fresh air and exercise' such as horseback riding' which she loved. She carved elegant glove boxes and chests after the studying the craft as part of her treatment' and always hoped that if she could get healthy enough she could make a modest income from her art.
Late Years
In 1902 the Clemens family returned to the United States and lived in Riverdale, New York, while arranging to move into a house in Tarrytown. In August 1902' Olivia suffered what was probably a heart attack. She had chest pain and difficulty breathing. Her health continued to deteriorate.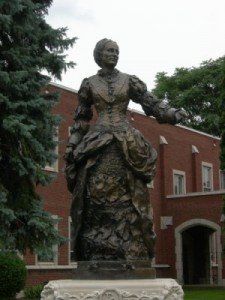 Image: Olivia Clemens Monument
At her alma mater, Elmira College
By the end of 1903, her doctors advised Olivia to move to Italy for the warm climate, and they took up residence in a villa outside of Florence. Olivia was kept away from her husband for much of her last months – she was supposed to be kept totally quiet and unexcited. So he sent little love notes to her twice a day, and occasionally broke the rules by making brief visits to sit with her and give her kisses.
Clara and the family's longtime maid Katy Leary spent the most time with Olivia. Clara made sure no news of Jean's illness was shared with their mother' to keep her from worrying. Jean' in turn' was not allowed to hear about her mother's failing health. Clara suffered terribly as the go-between.
Olivia Langdon Clemens died of heart failure at the villa on June 5' 1904. She was cremated and her ashes are buried in Woodlawn Cemetary in Elmira, New York. Her death would leave a hole in the family that no one could fill.
After her mother's death Clara suffered her own emotional breakdown' and Jean Clemens' care was left to her father and his staff. He was unable to maintain the level of care she had received from her mother' and Jean spent most of her last years separated from her father' living in sanitariums and treatment centers believed to be the best choice for her health.
In the fall of 1909 Clemens finally woke up and realized he needed to take responsibility for Jean's care' and Jean returned to live with her father at his home in Redding' Connecticut. In the last few months of her life Jean reconciled with her father and worked as his personal secretary. She died on Christmas Eve 1909 of an apparent heart attack' the result of a seizure. She was 29.
Olivia Clemens was one of the founders of the Hartford Art School which later became part of the University of Hartford.
Samuel Langhorne Clemens / Mark Twain died April 21, 1910. He was lauded as the "greatest American humorist of his age," and William Faulkner called him "the father of American literature."
SOURCES
Wikipedia: Olivia Langdon Clemens