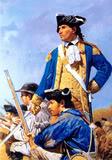 Wife of Patriot Militia General Andrew Pickens
Rebecca Floride Calhoun was born on November 18, 1745, at Long Canes Creek, Abbeville, South Carolina. She was the daughter of Ezekiel and Jane Ewing Calhoun. According to 800 Years of Calhouns, at the age of 15, during the Long Canes Massacre, Rebecca hid for three days in the long canes to escape the Cherokee who killed her grandmother, Catherine Montgomery Calhoun, on February 1, 1760.

Andrew Pickens was born in Bucks County, Pennsylvania, on September 19, 1739. His parents were French Huguenots, who had fled to Scotland, then Ireland before mmigrating to America from Ulster. His family traveled the Great Wagon Road and settled in the Waxhaws region of the Carolinas.
In the Cherokee War of 1760-61, Pickens served as an officer in a provincial regiment that accompanied British Colonel James Grant against Lower Cherokee settlements. In 1764, Pickens and his brother sold their farm in the Waxhaws and bought land in the Long Cane Creek settlements in Abbeville County in southwestern South Carolina near the Georgia border. Pickens settled down to become a farmer, marry and raise a family. There, he met Rebecca Calhoun.
Rebecca Calhoun married Andrew Pickens on March 19, 1765; they would have 12 children. In 1768, he built a blockhouse as a defense against Indian attacks and a base for Indian trading. He was a successful farmer and was serving as a justice of the peace as the war began.
As the American Revolution approached, feelings were strong in the South from the start, its inhabitants split between Patriots and Loyalists (or Whigs: Patriots and Tories: British supporters). Pickens, as many of his Scots-Irish neighbors, was an ardent Patriot. Pickens also emerged as a military leader.
Military Career
After the Revolutionary War began, Andrew Pickens became a militia captain. On November 19, 1775, he was at Ninety-Six, South Carolina, with Major Andrew Williamson and 600 militia when a Tory force of 1800 drove them into the fort there. After two days, a truce was negotiated. In Fall of 1776, as a major of the militia, Pickens joined Williamson's expedition against the Cherokee who had allied with the Loyalists in hopes of retaining their lands.
In 1779, British General Sir Henry Clinton sent British soldiers to South Carolina and North Georgia to encourage Loyalist support. On February 14, 1779, Colonel Pickens and his three-hundred man militia overtook and defeated a much larger force of 700-800 men under Colonel James Boyd at Kettle Creek in North Georgia just south of the Long Canes. Pickens borrowed heavily from Cherokee warfare skills and used those skills in partisan warfare.
The victory at Kettle Creek slowed the recruitment of Loyalists, but by 1780, the British dominated. On May 12, 1780, General Clinton captured Charlestown (Charleston), South Carolina, from General Benjamin Lincoln.
British General Charles Cornwallis routed Patriot General Horatio Gates at the Battle of Camden on August 16, 1780. The successive Continental defeats convinced militia leaders such as Pickens and General Thomas Sumter to discontinue their campaigning. Pickens surrendered a fort in the Ninety-Six District, and he and three hundred of his men went home to sit out the war on parole.
Pickens' parole did not last, however. After Tory raiders destroyed most of his property and frightened his family, he informed the British that they had violated the terms of parole and rejoined the war. Ironically, Sumter also resumed fighting under similar circumstances. Pickens was soon operating in the Ninety Six District. During this period of the war, Pickens would join Francis Marion and Sumter as the most well-known partisan leaders in the Carolinas.
At the Battle of Cowpens (January 17, 1781), General Daniel Morgan gave Pickens command a large body of militia. Pickens convinced Morgan to make a stand rather than continually retreating from British Colonel Banastre Tarleton. On the evening of January 16, Morgan personally instructed the militia to hold its ground while firing two rounds and then retreat.
On the morning of January 17, Pickens and the militia carried out the plan perfectly, which led Tarleton to believe that the militia was fleeing. The British blindly charged ahead and were drawn into a double flanking and soundly defeated. Following Cowpens, South Carolina Governor John Rutledge promoted Pickens to brigadier general. He was also be awarded a sword by Congress.
The bravery of the militia, combined with well-disciplined Continental troops and William Washington's cavalry, won the day in the battle that turned the tide for American forces in the South. Afterward, the State of South Carolina promoted Pickens to brigadier general in the state militia, and the Continental Congress presented him with a sword.
Pickens' militia was recalled to defend their own homes and he missed the Battle of Guilford Court House on March 15, 1781. In April, he raised a regiments of state regulars. In May 1781, General Nathanael Greene sent Pickens and Colonel Henry 'Light Horse Harry' Lee to support Elijah Clarke in operations against Augusta, Georgia. The siege began on May 22 and after maneuvering, securing outposts and the cutting off of reinforcements by the Patriots, Colonel Thomas Brown surrendered Augusta on June 5, 1781.
Following the surrender of Augusta, Pickens and Lt. Colonel Lee joined General Greene in his siege at Ninety-Six, South Carolina. On June 11, 1781, Greene ordered Pickens and Colonel Washington to aid Thomas Sumter in blocking a relief column led by Lord Rawdon. However, Sumter instead moved to Fort Granby, allowing Rawdon to make his way to Ninety-Six. On June 19, Greene had to give up the siege and retreat after a failed assault.
Pickens participated in the Battle of Eutaw Springs, South Carolina (September 8, 1781), where he was wounded. In November 1781, he led a three week campaign against the Cherokee in north Georgia. In September 1782, Pickens and Elijah Clarke succeeded in forcing the Indians to surrender claim to all lands south of the Savannah River and east of the Chattahoochie River in the Long Swamp Treaty. Pickens was well regarded by Native Americans and was given the name Skyagunsta, 'The Wizard Owl.'
In 1782, Pickens was elected to represent the Ninety Six District in the South Carolina Legislature, serving there until 1793, when he went to Congress for one term.
Hopewell Plantation
After the Revolutionary War, Pickens acquired land in frontier South Carolina on the banks of the Keowee River, across from the old Cherokee town of Isunigu (Seneca). There he established the 593-acre Hopewell Plantation and lived life as part of the backcountry elite. Built about 1785, it is representative of a rural house in the late 18th and early 19th century in the South Carolina backcountry.
Beginning as a small log structure, Hopewell was substantially enlarged by Pickens and was his plantation home for about 20 years (1785-1815). Pickens was a negotiator with the Cherokee, Choctaw, Chickasaw, Creek and Chickamauga First People after the Revolution. Several treaties were held there, each called the Treaty of Hopewell, which resulted in peaceful cohabitation for many years.
Pickens served as a political middleman between Natives and the new American nation and sympathized with Indian causes in his later years. President George Washington offered him a brigade of light troops under General Anthony Wayne to serve against the Indians in the northwest but he declined. Pickens was commissioned major general of the South Carolina militia in 1795.
After living at Hopewell for many years, Andrew and Rebecca Pickens moved to Tomassee Red House in the Pendleton District of South Carolina, leaving Hopewell to their son Andrew Pickens, Jr.
Rebecca Calhoun Pickens died on December 9, 1814, at Tomassee, South Carolina, at age 69. She was buried in Old Stone Presbyterian Church Oconee County, South Carolina.
Andrew Pickens also died at Tomassee on August 17, 1817, at the age of seventy-eight. His remains lie by the side of his wife.
Pickens and his actions served as one of the sources for the fictional character of Benjamin Martin in The Patriot, a motion picture released in 2000.
SOURCES
NPS.GOV: Andrew Pickens
Wikipedia: Andrew Pickens
Patriot Milita General Andrew Pickens