Wife of Confederate General Joseph Wheeler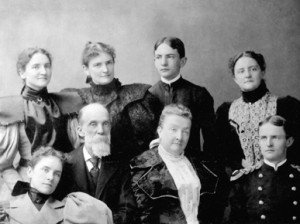 After the Battle of Chickamauga (September 1863) CSA General Joseph Wheeler and his troopers were sent into central Tennessee, where they destroyed railroads and at least 500 Union supply wagons. By October 9 Wheeler had safely crossed the Tennessee River at Muscle Shoals, Alabama. Daniella Jones Sherrod met Wheeler at her parents' home, Caledonia Plantation, at nearby Courtland, and they began a courtship.
Image: The Wheeler Family in 1896
Joseph and Daniella, front center
With their four daughters and two sons
Daniella Ellen Jones was born on August 20, 1841, daughter of Richard Jones and Lucy Early Jones, who was the daughter of Georgia Governor Peter Early. The Jones family moved from Georgia to Alabama in 1822. Joseph Wheeler was born near Augusta, Georgia, on September 10, 1836, the youngest of four children of Joseph and Julia Wheeler. After the death of his mother in 1842, he was raised by aunts in Connecticut and New York, but always considered himself a Georgian.
Wheeler entered the U. S. Military Academy at West Point at age 17. Robert E. Lee was Superintendent of West Point at that time. He graduated from a five year program at West Point in June 1858. He attended the U.S. Army Cavalry School in Carlisle, Pennsylvania, and was transferred on June 26, 1860, to the Regiment of Mounted Rifles at Fort Craig in the New Mexico Territory. There he gained experience in the tactics of mounted infantry, traveling light and ranging far.
In June 1860, Wheeler was assigned to escort duty for a wagon train traveling from Hannibal, Missouri, to Fort Craig. He was left behind the main wagon train to escort an ambulance carrying a mother and her new baby attended by a surgeon and a wagon driver. When the ambulance was attacked by a small band of Indians, Wheeler shot down one with his musket and charged them on horseback, blazing away with his Colt pistol until they fled. From this event he received the nickname, Fighting Joe, which stuck with him the rest of his life.
Wheeler in the Civil War
On January 9, 1861, Wheeler's home state of Georgia seceded from the Union. Like most of the officers of his mounted cavalry regiment, Wheeler sympathized with the South. He resigned his commission in the U. S. Army and headed to his family in Augusta, hoping to receive a commission with the Georgia regiments that were forming.
On February 23, 1861, with the help of his brother William, he received a commission as a First Lieutenant in the Georgia Forces. His initial duty in Pensacola, Florida, as an artillery officer brought him the favorable attention of Confederate General Braxton Bragg and Leroy Pope Walker. In September 1861 Walker succeeded in getting Wheeler promoted to full Colonel, a rather controversial jump of four ranks.
Colonel Wheeler and the 19th Alabama distinguished themselves at the Battle of Shiloh (April 6-7, 1862), and conducting rear guard operations as the Army of Mississippi retreated from Shiloh to Corinth, and then to Tupelo. His command was expanded to include the 25th and 26th Alabama and the 4th Mississippi (April to August 1862).
On August 28, 1862, Wheeler was given three cavalry regiments and assigned to the command of General William Hardee in the Army of Mississippi. In September 1862 he distinguished himself as a cavalry leader in raids into Tennessee and Kentucky. His cavalrymen destroyed Union Don Carlos Buell's railroad and telegraph lines north of Nashville. He was also very effective in routine cavalry functions such as covering the front and flanks of a retreating army, intelligence gathering and delaying actions against enemy advances.
Wheeler was appointed Chief of Cavalry for the Army of Mississippi on October 13, 1862, and was made Brigadier General at the age of 26, on October 30. He received orders to take charge of all cavalry under General Joseph E. Johnston including the forces of General Nathan Bedford Forrest and John Hunt Morgan (November 14, 1862).
In February 1863 Wheeler's forces burned bridges and captured and destroyed a Union gunboat and four transports on the Cumberland River in Tennessee, earning Wheeler his second star of Major General on May 1, 1863, by the Confederate Congress on the recommendation of General Bragg. In May 1863 Major General Wheeler published a manual entitled, Cavalry Tactics, advocating mounted infantry over heavy cavalry, which proved very valuable in systemizing Bragg's and Johnston's cavalry.
In February, Wheeler and Forrest attacked Fort Donelson in Tennessee, but they were repulsed by the small Union garrison. Forrest angrily told Wheeler, "Tell [General Bragg] that I will be in my coffin before I will fight again under your command."
On June 27, 1863, Wheeler experienced a near disaster trying to rescue Forrest from being cut off by Union forces at Duck River near Shelbyville, Tennessee. Wheeler personally led a small cavalry charge against to drive them back across the bridge at Duck River. He and 50 of his men were trapped on the north side of the river and had to plunge on horseback 15 feet down into the rain-swollen river to avoid being captured.
At Chickamauga (September 19-21, 1863) Wheeler and his troopers protected Bragg's flanks and harassed Union General William Rosecrans' forces withdrawing to Chattanooga. Bragg sent Wheeler's men into central Tennessee and on October 3, 1863, they destroyed railroads and at least 500 of Rosecrans' supply wagons in a major raid.
There were more actions at Murfreesboro and Farmington, but by October 9 Wheeler had safely crossed the Tennessee River at Muscle Shoals, Alabama. At nearby Courtland, Wheeler met and courted his future wife, Daniella Jones Sherrod. Daniella's first husband had died in 1861, and she had returned to live at her parents' home, Caledonia Plantation, which was near Wheeler's camp. They fell in love, and were married after the war.
Wheeler covered Bragg's retreat from Chattanooga and received a wound in his foot as his cavalry and General Patrick Cleburne's infantry fought at the Battle of Ringgold Gap on November 27. In December 1863, Wheeler assisted General James Longstreet at Kingston and Knoxville, Tennessee.
On December 27, 1863, General Joseph E. Johnston assumed command of the Army of Tennessee and retained Wheeler as his Cavalry Commander. On February 22, 1864, Wheeler turned back federal forces at Tunnell Hill near Dalton, Georgia, delaying General William Tecumseh Sherman's movement into North Georgia. In May 1864 Wheeler slowed General Sherman's assault on Atlanta.
With the death of General J.E.B. Stuart on May 12, 1864, in Virginia, Wheeler became the highest ranking cavalry officer in the Confederate Army. On May 24, 1864, his cavalry captured 80 Union supply wagons and captured 100 prisoners near Cassville, Georgia, receiving the personal congratulations of General Johnston.
Image: General Joseph Wheeler
On July 29-30, 1864, General Wheeler routed Sherman's Cavalry, mauling and defeating McCook at Newnan, capturing Stoneman at Macon, and forcing back Garrard. For the Union this was the most disastrous cavalry defeat of the war. In all the Confederates took 3200 prisoners including Major General Stoneman and five Brigadier Generals.
From August 10 to September 2, 1864, General John Bell Hood ordered Wheeler to raid into middle Tennessee with 2000 men, but he returned demoralized with less than one thousand and perhaps only 500 of them combat effective.
In October and November 1864, Wheeler's cavalry continually harassed Sherman as he marched through Georgia. Sherman, however, succeeded in leaving a wide path of path of destruction, burning towns, homes, farms and crops, devastating the Georgia economy. On November 26, 1864, Wheeler almost captured infamous Union cavalry general and West Point classmate, General Judson "Killcavalry" Kilpatrick, at Waynesboro, Georgia, much to the latter's embarrassment.
However, his resistance to Sherman did little to comfort Georgia civilians and lax discipline within his command caused great dissatisfaction. In December 1864, Wheeler came under criticism of Confederate General D.H. Hill, which came to the attention of CSA President Jefferson Davis. Against Wheeler's orders, his cavalry foraged for food and supplies from an already hard pressed civilian population.
On January 28, 1865, responding to complaints that his forces were out of control, Wheeler's Corps was found lacking in discipline, organization and leadership, but it was noted that the same conditions also prevailed in the commands of Forrest and Hampton. No charges were brought against Wheeler, but it was stated that he was unable to control such a large cavalry force. Of course, Wheeler was only 28 years-old.
On February 17, 1865, Wheeler was replaced as cavalry chief by General Wade Hampton, but he continued to serve faithfully without bitterness or complaint. His cavalry units continued to harass Sherman's marauding forces as they burned their way through South Carolina. On March 9, 1865, he again forced Union rival Kilpatrick to flee in the night, this time in his night clothes.
On April 26, 1865, following the surrender of Lee at Appamattox, General Johnston surrendered to General Sherman at Bennett Place in North Carolina. Wheeler issued a farewell message to his cavalry and departed to assist President Davis, who had fled from Richmond to Georgia.
On May 10, 1865, President Davis was captured at Irwinsville, Georgia. On May 13, General Joseph Wheeler was captured near Athens, Georgia. From May to June 8, 1865, Wheeler was a prisoner of war at Fort Delaware. On release, he proceeded to Courtland, Alabama, and proposed marriage to Daniella.
On February 8, 1866, General Joseph Wheeler married Daniella Jones Sherrod. After their wedding, the Wheelers lived in New Orleans for four years, where Wheeler was a partner in a carriage business. In 1870, they moved to Pond Spring Plantation in Lawrence County, Alabama – which Daniella had inherited from her first husband – to raise their six children. It remained a large farming operation, with the primary crop being cotton.
Pond Spring
In 1859, Daniella Jones was married to Benjamin Sherrod of Pond Spring Plantation in northwestern Alabama. The Sherrods expanded the property and added several buildings, including the two-story Federal style structure known as the Sherrod House. At the time of Sherrod's premature death in 1861, Daniella inherited Pond Spring.
The Wheelers built the three-story Wheeler House on the property in the early 1870s. The second floor has four bedrooms, one for each of their daughters, while their governess lived in the third story attic. The family occupied both houses while Daniella and Joe were still alive. The men, including their two sons, lived in the older Sherrod House, while the women lived in the Wheeler House. Daniella occupied a room downstairs, which was equipped with its own door knocker. The two houses are connected outside through a covered walkway.
In November 1880 Wheeler was elected to the U.S. House of Representatives as a Democrat. In 1882 he defended former Union General Fitz John Porter before the U.S. House against accusations made by General John Pope, attempting to make Porter the scapegoat for the loss of the Battle of Second Manassas. Porter was acquitted and commended by Congress.
Daniella Jones Wheeler died on May 19, 1896, in Washington, DC, after an operation on her appendix. She was interred at Oak Hill Cemetery there.
On April 26, 1898, following the outbreak of the Spanish-American War, Wheeler petitioned President McKinley to serve in the U.S. Army to liberate Cuba. McKinley, a Republican, appointed Wheeler as a Major General of Volunteers in the U.S. Army. On June 14, 1898, Wheeler sailed for Cuba with his dismounted cavalry including the 'Rough Riders' under Theodore Roosevelt.
On July 1-2, 1898, Wheeler's dismounted men were at the center of the attack on San Juan Hill. Although racked with fever, on the second day he was able to direct and encourage his men, who took the heights of San Juan Hill. After assisting in negotiating a peace treaty with the Spanish forces in Cuba, he returned to the United States in July 1898 a hero and symbol of a reunited nation.
Major General Wheeler, still a Congressman, arrived for duty in the Philippines reporting to General Arthur McArthur, where he served in the Philippine-American War from June 20, 1899, to January 15, 1900. On June 16, 1900, President McKinley appointed Wheeler a Brigadier General in the Regular Army. In the fall of 1900, he retired and moved to New York. During the last five years of his life Joseph Wheeler was involved in many speaking tours and civic projects.
While attending the hundredth anniversary celebration of West Point in 1902, Wheeler approached the old West Point hotel, where his Confederate comrades James Longstreet and Edward Porter Alexander were seated on the porch. At the festivities Wheeler wore his U.S. Army dress uniform. Longstreet reportedly said:
Joe, I hope that Almighty God takes me before he does you, for I want to be within the gates of hell to hear Jubal Early cuss you in that blue uniform.
General Joseph Wheeler died on June 16, 1906, while visiting his sister in Brooklyn, New York. The whole nation, North and South, mourned his passing. He is one of the few Confederate officers buried at Arlington Cemetery in Virginia.
General Wheeler was portrayed in the television film Rough Riders by actor Gary Busey, although Busey is much taller than Wheeler was and had only a mustache instead of a full beard. The film portrays Wheeler as an 'unreconstructed Confederate', and oddly has him cite Nathan Bedford Forrest (who hated Wheeler) as his 'old friend.' The young character of Dill in the Harper Lee novel To Kill a Mockingbird attempts to impress his new friends by claiming that Wheeler is his grandfather and left him his cavalry saber.
SOURCES
Joseph Wheeler
Wheeler Home Foundation
Wikipedia: Joseph Wheeler
Joseph Wheeler (1836-1900)