Wife of Union General William Wells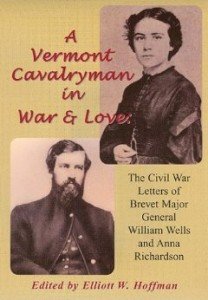 After his distinguished service in the Battle of Gettysburg, cavalryman William Wells began corresponding with 18-year-old Anna Richardson, his sister's roommate. He shared his experiences in the war, and she wrote about news from the home front. From this simple beginning, a romance blossomed, and on a furlough home in January 1865, William and Anna became engaged during a sleigh ride – the only time they had been together since their correspondence began.
Arahanna 'Anna' Richardson was born on July 20, 1845. William Wells was born in Waterbury, Vermont, on December 14, 1837. After attending the Barre Academy and Kimball Union Academy (Meriden, NH), Wells worked in his father's wholesale flour and grain business. From the age of nineteen until the spring of 1861, he was his father's assistant in his extensive business.
At the outbreak of the Civil War, William Wells enlisted as a private and helped raise the First Vermont Cavalry in September 1861, but quickly rose to captain's rank. By October 1862, he had risen to rank of major. Wells distinguished himself at Orange Court House, Virginia (August 2, 1862). Wells was taken prisoner on March 17, 1863, by Confederate raider John Singleton Mosby and spent nearly two months in Libby prison in Richmond, Virginia.
Wells at Gettysburg
Major Wells commanded a cavalry battalion in the repulse of General J.E.B. Stuarts' cavalry at the Battle of Hanover, Pennsylvania, (June 30, 1863), a decisive victory that deprived General Robert E. Lee of his cavalry for the first two days of the battle at Gettysburg.
On the third day of the Battle of Gettysburg on July 3, 1863, Union cavalry General Judson Kilpatrick ordered General Elon Farnsworth to make the charge and questioned his bravery when Farnsworth protested. Farnsworth, who had been in command of the brigade for only a few days, went on to lead the charge associated with his name into the Confederate right flank on Big Round Top soon after Pickett's Charge.
Wells and Farnsworth rode side by side with four companies of the First Vermont Cavalry over rough and wooded ground into the desperate dash against five regiments of General Evander Law's Alabama Brigade and artillery in an attempt to take the hill. Breaking into the Confederate right rear flank, the troopers took heavy musket and cannon fire in the area of the D-shaped field, enclosed by a stone wall on the John Slyder Farm.
When Farnsworth was mortally wounded, Wells, who almost by a miracle came out unharmed, got cut off from the Union lines. Wells took command of the survivors and led his battalion to safety, while his commander fell in the midst of the Confederate infantry, along with 75 of the 225 cavalrymen who had followed him.
A few days after Gettysburg, Wells was wounded by a sabre cut at Boonsboro, Maryland, while dueling "hilt to hilt with a Confederate officer." At Culpeper Court House, Virginia, September 13, 1863, he charged the enemy's artillery with his regiment and captured a gun, and was wounded by a shell.
After the return of the regiment from the Kilpatrick raid toward Richmond and through the Virginia Peninsula in March 1864, Major Wells was detached and placed in command of the 7th Michigan Cavalry (which had lt is commander) for a month.
On May 11, 1864, he commanded a battalion of General Philip Sheridan's cavalry at the Battle at Yellow Tavern, Virginia, where Confederate Cavalry General J.E.B. Stuart was killed.
Promoted to colonel on June 4, 1864, Wells took part in General Philip Sheridan's Shenandoah Valley Campaign. In the Battle of Tom's Brook, Virginia (October 9, 1864), a cavalry action, Wells commanded a brigade of Custer's division, and at Cedar Creek (October 19), his brigade took a foremost part in turning the rout of the morning into a decisive victory at nightfall, capturing forty-five of the forty-eight pieces of artillery taken from CSA General Jubal Early's fleeing army.
By the last year of the war Wells was a brigade commander and Major General George Armstrong Custer's right hand man.
On April 3, 1865, Wells' brigade routed the Confederate Brigade of General Rufus Barringer at Namozine Church. At Appomattox Station on April 8, Wells was in the thick of the fight, capturing a large number of Confederate soldiers and cannon. Then, at Appomattox Court House on April 9, his men were engaged in some of the last fighting that fateful day when the truce flags were sent out by General Lee's army.
Following Appomattox, the departure of Generals Sheridan and Custer for Texas left Wells as the ranking officer and last commander of the Cavalry Corps of the Army of the Potomac. On the personal recommendations of Sheridan and Custer, Wells was commissioned Brigadier General on May 16, 1865, "for gallant and meritorious service," having received more promotions than any other Vermont officer during the war (from Private to General in less than three and a half years).
General Wells was in command at Fairfax County Court House after Lee's surrender. He had distinguished himself repeatedly in action. General Sheridan remarked: "He is my ideal of a cavalry officer."
At the Union Army's Grand Review in Washington, DC, on May 22, 1865, Wells commanded the Second Brigade of Custer's Division of the Cavalry Corps, which led the advance. Wells was mustered out of the service on January 15, 1866, and married Anna three days later.
Love and Marriage
At the end of August 1863, at the age of 25, William Wells had begun corresponding with his future wife, 18-year-old Arahanna "Anna" Richardson, a roommate of his sister Sarah at Kimball Union Academy. After a quick synopsis of the regiment's activity since he originally met her, ten months earlier, he passed along some family news and gossip in a friendly, chatty letter, signing it, "As ever your friend."
Anna responded two months later, and their correspondence blossomed from simple friendship to serious romance to betrothal by the waning months of the war. Although he regularly shared news from the war, and she wrote of news from the home front, it becomes quite evident their only real interest is each other and their hopes and plans for the future.
In one of Wells' first letters, he related how he was almost captured for a second time, but was able to escape only after the loss of his horse and wallet that contained $125. Anna wrote of her memories of the short time they had together.
On a furlough home in January 1865, Wells and Anna became engaged during a sleigh ride – the only time they were together since their correspondence began. On March 4, 1865 – after Wells returned to the army – Anna received a ring, and on March 8, she scrawled her vows in a letter to Wells.
After the Battle of Five Forks (April 1, 1865), Wells wrote Anna that his clothes had six holes made by bullets and that he was hit by a spent piece of shell. In one of his last letters to Anna before coming home, he admitted to being bashful about stopping by her house on his way home, because he did not "want your people to think I am too intimate on short acquaintance."
William and Anna were married on January 6, 1866. They had two children: Franklin and Bertha.
Wells became a partner in the firm of Henry and Company, wholesale druggists in Waterbury, Vermont. In 1868, the company moved to Burlington, Vermont, where it became Wells, Richardson and Company in 1872, and where the Wells family made their home.
He represented Waterbury in the legislature of 1865-66, serving as chairman of the military committee and an influential legislator. In 1866 he was elected adjutant general of Vermont, and held that office until 1872, when he was appointed Collector of Customs for the District of Vermont, a position he held for thirteen years.
At the end of that time, Wells resumed his active connection with the business house known the world over as the Wells Richardson Company, manufacturer of Paine's Celery Compound.
Wells was identified with many important business enterprises in the city, being president of the Burlington Trust Company, president of the Burlington Gas-Light Company, president of the Burlington Board of Trade, director in the Burlington Cold Storage Company, director in the Rutland Railroad Company and director in the Champlain Transportation Company. He was a member and a vestryman of St. Paul's church, and was one of the trustees of the YMCA of Burlington, and one of its most liberal supporters. Few men, if any, touched the life of the community in which he lived in so many important capacities.
Wells retired from business in September 1885, and was elected State Senator from Chittenden County the following year, a position he held until his death. He was active in veteran soldiers' societies; was one of the presidents of the Reunion Society of Vermont Officers, and president of the Society of the First Vermont Cavalry. He was one of the trustees, and first president of the Vermont Soldiers' Home, and was a member of the Gettysburg Commission of 1889-90.
Because of his Anna's health problems, they began spending winters in New York City. In 1890 General Wells became ill with coronary disease.
In 1891, seven months before his death, an ill Wells received his Medal of Honor:
Major William Wells led the charge of the second battalion, First Vermont Cavalry, upon Round Top, Gettysburg, Pennsylvania, at the time General Farnsworth was killed. This charge… was considered one of the most daring charges of the war of the rebellion, or any other war.
General William Wells died suddenly of angina pectoris on April 29, 1892, while he and Anna were on a business trip in New York City. At the age of 54, in the prime of his life, a most courteous and kind-hearted man, a gallant soldier and one of the most respected citizens of the Green Mountain state was taken.
The funeral was directed by the Vermont Commandery of the Military Order of the Loyal Legion. The city of Burlington virtually shut down for his funeral, with flags flown at half-mast. The Cathedral of St. Paul
was inadequate to accommodate the crowd wishing to attend the service. His remains were interred at Lakeside Cemetery on North Avenue. A large granite boulder bearing a plaque that chronicles Wells' accomplishments marks the grave.
A delegation from the First Vermont Cavalry Regiment traveled to Gettysburg in the autumn of 1910 to confer with the Gettysburg National Military Park Commission, and the War Department promptly granted a site for a monument to Wells on October 30, 1910.
Image: General William Wells Monument
J. Otto Schweizer, Sculptor
Gettysburg National Military Park
The William Wells Portrait Statue, erected by the State of Vermont to honor General Wells and his men, was dedicated on July 3, 1913 – the 50th anniversary of Farnsworth's Charge at the Battle of Gettysburg – near the spot where the battalion crossed Plum Run, where the charge began. The bronze sculpture stands atop a seven-foot-square granite base. The figure is eight feet five inches tall and is portrayed afoot, striding forward, sword in hand.
Anna Richardson Wells died on June 12, 1905.
The publisher of A Vermont Cavalryman in War and Love: The Civil War Letters of Brevet Major General William Wells and Anna Richardson, Patrick Schroeder, comments that Wells' letters provide "fresh views" of the senior Union cavalrymen, including Custer, Farnsworth, Wilson, Mosby and Kilpatrick, as well as an insider's perspective of the politics surrounding inept and unpopular commanders of the regiment.
SOURCES
William W. Wells Papers
Wikipedia: William Wells
A Tale of Two Statues – PDF File
A Vermont Cavalryman in War & Love
General William Wells – 1st Vermont Cavalry