One of the First Feminists in the United States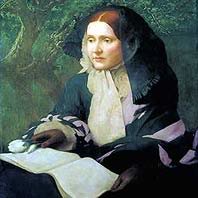 Julia Ward Howe, little known today except as author of The Battle Hymn of the Republic, was famous in her lifetime as a poet, essayist, lecturer, reformer and biographer. She worked to end slavery, helped to initiate the women's movement in many states, and organized for international peace – all at a time, she noted, "when to do so was a thankless office, involving public ridicule and private avoidance."
Image: Portrait of Julia Ward Howe
By John Elliott and William Henry Cotton
Julia Ward was born in New York City on May 27, 1819, the fourth of seven children born to Samuel Ward and Julia Rush Cutler Ward. Her father was a well-to-do Wall Street banker. Her mother, a published poet, was the great grand niece of Revolutionary War legend Francis Marion (nicknamed The Swamp Fox). She died when Julia was five. The Ward children were left to the care of their father.
Julia was an intelligent and inquisitive child, who pretty much educated herself, benefitting greatly from the excellent library her brother shipped home from Europe during his travels. Without her father's knowledge she became acquainted with writers such as Balzac and Sand. Their modern ideas regarding the world contrasted sharply with her father's puritanical Calvinism.
Samuel Ward's concern for the welfare of his children was often overwhelming. He was fiercely protective of them, and Julia was torn between her love for her father and her ambitions as a writer, a thinker and an individual. By age she was 20, she had written literary criticism published anonymously in the Literary and Theological Review and the New York Review.
As a wealthy young heiress, social contact (though limited by her father) exposed her to some of the leading minds of the time, like Longfellow, Dickens, Charles Sumner and Margaret Fuller. High-spirited Julia, with her auburn hair, blue eyes and beautiful voice, was extremely popular.
When her father died in 1839, Julia and her two sisters moved in with their brother Sam, who had recently married Emily Astor, the favorite grandchild of John Jacob Astor. Under her supervision, Julia and her sisters were introduced to New York society. Too soon tragedy struck, though, and in 1841 Emily Astor and her newborn son both died.
While Julia was visiting friends in Boston in 1841, Henry Wadsworth Longfellow and Charles Sumner took her to visit the Perkins Institute for the Blind in Watertown, Massachusetts (outside Boston). There she met Samuel Gridley Howe, a physician, abolitionist and an advocate of education for the blind, who had founded the Institute.
On April 23, 1843, Julia married Samuel Gridley Howe. Howe was almost eighteen years older than his young bride, and upon their marriage (and against the protestations of her family), he took charge of Julia's income from her large estate. She would not have charge of her economic affairs again until her husband's death. The couple had six children.
A week after their wedding the Howes sailed for an extended trip to Europe accompanied by Julia's youngest sister Annie. Any expectations of a romantic wedding trip were quickly doused; six weeks were spent in an intensive tour of educational institutions. Their first child, daughter Julia, was born in Rome in 1844.
Their return to Boston meant a radical change for Julia "from my life of easy circumstances and brilliant surroundings to that of the mistress of a suite of rooms in the Insitution for the Blind at South Boston… two miles distant from the city proper, the only public conveyance being an omnibus which ran but once in two hours." Practically overnight she was expected to change from a coddled and cared for, yet independent-minded New York heiress into a wife and mother.
In 1845 the family's living conditions improved when they moved to a house near the Institution in South Boston where they lived until 1863. Named Green Peace by Julia, this was their principal home between 1846 and 1864.
Dr. Howe was a strong willed and autocratic husband. He forbade Julia to work outside the home. He believed that married women should forge a career out of 'wifely duties' and motherhood. Therefore, Julia spent the first several years of their marriage rearing children and reading philosophy, attempting to reconcile herself to her new life in Boston.
Julia's letters to her sisters during this period indicate that this was a difficult time for the couple. She expressed depression and sorrow, and described the struggles of a 19th century woman seeking independence and understanding. In 1849 Julia's poetry was published in Rufus Griswold's The Female Poets of America, much to her husband's displeasure and her own despair at his refusal to accept her writing.
Julia began, despite Sam's opposition, to get more involved in writing and in public life. In 1850, she and her two youngest children traveled to Italy and stayed with her sister in Rome while her two eldest daughters remained in Boston with their father. Free of her usual duties and restrictions, she enjoyed the society of the American colony in Rome.
During this period a family dynamic emerged between the couple and their children that would remain throughout their lives. When Julia returned home in 1851 Samuel purchased a summer house in Newport, Rhode Island. Summers there provided the stimulating cultural and social life she missed.
Not long after her return, she broke with her husband's wishes about making her work public. Passion Flowers, a collection of her poems written without her husband's knowledge, was published anonymously in December 1853, but the author's identity soon became known because many of the poems were so personal.
The poems revealed the intimate affairs of a real man and woman, hinted at infidelity, openly challenged her husband's authority and generally exposed the author in a manner which Boston society found shocking for a woman. While the poetry itself was not very well received, the sentiments presented were sensational.
Sam was devastated by what he perceived to be his wife's disobedience and betrayal. Their marriage remained strained. Julia retreated into depression, yet it is clear that she had developed a new resolve. Julia wrote to her sister: "Chev [her nickname for Sam] was very angry about the book, and I really thought at one time that he would have driven me to insanity, so horribly did he behave."
The Howe marriage was deeply troubled. Julia considered divorce, but Sam threatened to keep her from her children if she divorced him – which was legal and common practice at that time.
She again wrote to her sister:
His dream was to marry again – some young girl who would love him supremely. I thought it my real duty to give up everything that was dear and sacred to me, rather than be forced to leave two of my children. I made the greatest sacrifice I can ever be called upon to make.
Julia's diary indicates that Sam controlled, resented and at times mismanaged her inheritance, and much later she discovered that he was unfaithful to her during this time. Instead of divorce, she took up the study of philosophy and devoted herself to the education and care of her children.
Adjustments were gradually made on both sides of the troubled marriage, though a lingering problem was Sam's management of Julia's inheritance. She wrote:
His tyrannical instincts, more than any direct purpose, have made him illiberal with me in money matters, and if he can possibly place this so I cannot easily use it, he will, only because money is power, and a man never wishes a woman to have any which she does not derive from him.
In 1857 another book of Julia's poems, Words for the Hour, came out, and in the same year her play, The World's Own was performed in New York and Boston.
Julia Ward Howe's emergence as a published writer corresponded with her husband's increasing involvement in abolitionist activities. As Sam led anti-slavery settlers to Kansas, Julia published poems and plays, which further angered him. References in her writings to love turned to alienation and even violence were too clearly allusions to her relationship with her husband.
While Sam objected to Julia's work, he did not stop her. She managed to free herself from her husband's demands and develop her own interests. She was fluent in seven languages and a serious scholar of philosophy. In addition to her poetry, she wrote many books, including essays, biographies and travel stories.
Image: Samuel Gridley Howe, circa 1859
During the 1850s Sam drew Julia into William Lloyd Garrison's anti-slavery group. She came to admire Garrison and other abolitionist leaders including Wendell Phillips and Thomas Wentworth Higginson. When the Civil War broke out both Howes worked with the Sanitary Commission.
On a trip to Washington, DC, in November 1861, the Howes went to watch a Union army review which was suddenly dispersed by a Confederate attack. On the way back to the city in their carriage surrounded by retreating troops, the Howe party began to sing patriotic songs, including the popular John Brown's Body. A friend suggested to Julia that she write new lyrics for the tune.
At the hotel late that night, the words to The Battle Hymn of the Republic began forming in her mind. Careful not to wake the children, she groped in the dark for pencil and paper and wrote the poem. In the morning she made only one or two changes.
The Battle Hymn of the Republic was set to William Steffe's already-existing music and was first published in the Atlantic Monthly in February 1862. The song became an anthem for the Civil War and brought Julia Ward Howe instant celebrity, making her one of the most famous women in 19th century America.
During and after the war, Julia appeared publicly many times. In 1864 she read a poem at a gala New York event honoring William Cullen Bryant's 70th birthday. Her marriage had now settled into a workable arrangement. Her fame brought her even more autonomy, and her ambitions were beginning to be realized.
During the late 1860s Julia became involved in the budding national movement to gain the right to vote for women. In 1868 she joined Caroline Severance in founding the New England Woman's Club. She also attended the meeting that formed the New England Woman Suffrage Association and served as its president, 1868-77 and 1893-1910. In 1869 she and Lucy Stone led the formation of the American Woman Suffrage Association. She presided over the Massachusetts Suffrage Association, 1870-78 and 1891-93. From its first issue in 1870 she edited and contributed to the Woman's Journal founded by Lucy Stone.
Julia wrote:
During the first two thirds of my life, I looked to the masculine idea of character as the only true one. I sought its inspiration, and referred my merits and demerits to its judicial verdict. The new domain now made clear to me was that of true womanhood – woman no longer in her ancillary relation to her opposite, man, but in her direct relation to the divine plan and purpose, as a free agent, fully sharing with man every human right and every human responsibility. This discovery was like the addition of a new continent to the map of the world, or of a new testament to the old ordinances.
Throughout their stormy marriage, the Howes made contributions to many humanitarian causes. Julia traveled with her husband on trips to Santo Domingo in 1873 and 1875 and preached there several times in a small Protestant church. By this time Sam's resistance to his wife's public appearances had softened into an amused admiration of her abilities.
Before Sam died in 1876 he confessed his marital transgressions, and the tension between them dissolved. Julia's biography of her husband, Memoir of Dr. Samuel Gridley Howe (1876), is full of praise for his character and achievements.
By the time of Sam's death, Julia had established a career for herself as a preacher, a reformer, a writer and a poet. In the first journal entry after his death Julia wrote, "Start my new life today," and for the next forty some years she was a strong force. She traveled the world promoting women's rights, peace, and prison and education reform.
Julia finally had charge of her financial affairs, but due to a series of bad investments by both her husband, her uncle and her brothers, much of the money was gone. She found herself a widow with a very meager income. By the end of her life Julia was a working woman, earning her own money and in control of her life.
She went on an extensive lecture tour through the West to raise money for a two-year trip to Europe and the Middle East with her youngest daughter Maud. When they visited relatives in Italy, a niece described her Aunt Julia at age 60 as:
A small woman of no particular shape or carriage, clothes never quite taken care of, her bonnets never quite straight on her head; and yet there was about her presence an unforgettable distinction and importance. Her speaking voice was very beautiful, and her face had a sensitive gravity, a look of compassionate wisdom, until a twinkle of fun rippled over it and a naughty imp laughed in her eyes.
In Boston Julia's busy social and organizational life centered in a house at 241 Beacon Street. She continued writing and lecturing, organizing women's clubs wherever she went. She preached frequently at her own Church of the Disciples and other Unitarian churches. The Battle Hymn of the Republic was often performed to celebrate her appearances.
Julia Ward Howe died of pneumonia on October 17, 1910, at her home, Oak Glen, in Portsmouth, Rhode Island, at the age of 91. Services were held at Church of the Disciples and at Symphony Hall with crowds overflowing both buildings. Her daughter wrote, "A long succession of meetings of commemoration were held by her church, her clubs, the many associations she had founded and worked for." She is buried in Mount Auburn Cemetery in Cambridge, Massachusetts.
On January 28, 1908, Howe became the first woman elected to the American Academy of Arts and Letters. Her children collaborated on a biography, Julia Ward Howe, 1819-1910, published in 1916, and it won the Pulitzer Prize. She was inducted posthumously into the Songwriters Hall of Fame in 1970. Julia's home, Oak Glen, was added to the National Register of Historic Places in 1978. She has been honored by the U.S. Postal Service with a 15¢ Great American series postage stamp issued in 1987.
SOURCES
The Howe House
Julia Ward Howe
Wikipedia: Julia Ward Howe
About.com: Julia Ward and Samuel Gridley Howe