Black History Month: Creole Nun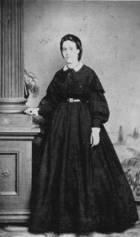 Henriette DeLille (1813–1862) founded the Catholic order of the Sisters of the Holy Family, made up of free women of color in New Orleans. The order provided nursing care and a home for orphans, later establishing schools as well. In 1989 the order formally opened its cause with the Vatican in the canonization of Henriette DeLille.
Henriette Delille was born in 1812 in New Orleans, Louisiana, into a life of privilege. Her father, Jean-Baptiste (de Lille) Lille Sarpy (French/Italian) was born in 1762 in France; her mother, Marie-Josèphe Díaz, a free quadroon Creole of color of French, Spanish and African ancestry, was born in New Orleans. Delille's parents were Catholic, as were most Creoles and free people of color.
Delille's great-great-grandmother was brought from Africa as a slave. After the death of her owner, she became free. Some years later, she had amassed enough money to purchase her daughter and two of her grandchildren out of slavery. Spanish law, which ruled in Louisiana at that time, allowed slaves to purchase their freedom at a fair price from the master. A judicial process could be initiated if the owner refused. For the times, it was a compassionate system.
Henriette's parents never married since laws prohibited it. Their union was a common-law marriage typical of the placage system, in which white men entered into the equivalent of common-law marriages with women of African, Indian and white (European) Creole descent. The women were not legally recognized as wives, but were known as placees; their relationships were recognized among the free people of color as mariages de la main gauche or left-hand marriages.
Many of these free ladies of mixed African and white blood became kept women of the wealthy white planters. Their place in the stratified society of the time was rigid, and there was little other choice for them. Their offspring, therefore, had the national, cultural, and linguistic background of their fathers, as well as the African heritage of their mothers. They led comfortable, even luxurious, lives. They were wealthy families in the city, while their men, the white plantation owners, had their legitimate families in the rural areas, where their plantations were located.
Trained by her mother in French literatute, music, dancing, and nursing, Henriette Delille was groomed to take her place in the placage system as the common-law wife of a wealthy white man. As a young woman, under the watchful eye of her mother, she attended many quadroon balls, a chief element of their social world.
As a devout Catholic, Henriette was drawn to a strong religious belief in the teaching of the Catholic Church, and refused to accept this sinful lifestyle and devoted herself to God. She became an outspoken opponent of the placage system on the grounds that it represented a violation of the Catholic sacrament of marriage.
In 1827, at the age of 14, the well-educated Henriette began teaching at the St. Claude School, an establishment founded for the education of young girls of color. Over the next several years, her devotion to caring for and educating the poor grew, causing conflict with her mother. In 1836 Henriette wrote, "I wish to live and die for God."
Sisters of the Holy Family
Henriette and her family were light skinned enough to pass for white, as they were octoroons, seven-eighths white. Her parents and siblings listed themselves as white in the census, Henriette used the label free person of color, which applied to all biracial people. Her brother Jean Delille was strongly opposed to her activities. His sister's actions within the Creole community exposed his heritage. Estranged from Henriette, Jean moved from New Orleans to a small Creole community in Iberia Parish, Louisiana.
As a result of declaring herself nonwhite, Henriette was refused as a postulant by the Ursuline and Carmelite nuns, which were open only to white women.
In 1835, her mother suffered a nervous breakdown. Later that year, the court declared her incompetent, and granted Henriette control of her assets. After providing for her mother's care, Henriette sold her remaining property. In 1836 she used the proceeds to found a small unrecognized order of nuns, the Sisters of the Presentation of the Blessed Virgin Mary. The original members consisted of Henriette, seven young Creole women and a young French woman.
During the 1840s Delille began assembling the group of young women who would become the Sisters of the Holy Family. She and a friend, Cuban born Juliette Gaudin, taught religion to the slaves, encouraged free quadroon women to select men of their own class and encouraged slave couples to have their unions blessed by the church. They were later joined by Josephine Charles.
The Sisters of the Holy Family Order was founded at St. Augustine's Church in 1842. The first three novices – Delille, Gaudin and Charles – are considered the founders of religious community of Creole women. Destined by the mores of the time to live a life of ease in the tradition of their female ancestors, these young women dared to break away from that life style.
Father Etienne Rousselon secured formal recognition of the new order from the Vatican. The sisters taught the slaves and provided a home for orphans, later establishing schools as well. This was during a time under Louisiana law when educating slaves was punishable by death or life imprisonment.
One of their first works of charity was caring for several elderly women, probably former slaves. During her tenure as head of the order, Delille made it possible for the order to build a home for the sick, aged and poor people of color.
Delille was a nun at a time when nuns shaped and created much of the social landscape. They were not passive and complacent women hidden by the church. By 1851, Delille had personally purchased a home where the sisters could live in the community and further their ministry. Nuns did not set out to be feminists or activists, but they were the first people to push for women's rights.
Henriette Delille died in 1862 at the relatively young age of 50, probably of tuberculosis. She is buried in St. Louis Cemetery No. 2. Friends attributed her death to a life of service, poverty, and hard work.
Six weeks before President Abraham Lincoln signed the Emancipation Proclamation, the following obituary appeared in a New Orleans newspaper:
Last Monday died one of these women whose obscure and retired life was nothing remarkable in the eyes of the world but is full of merit before God… Without ever having heard speak of philanthropy, this poor maid had done more good than the great philanthropists with their systems so brilliant yet so vain.
At the time of Delille's death, there were twelve members in the Sisters of the Holy Family. By 1909, it had grown to 150 members, and operated parochial schools in New Orleans that served 1300 students. By 1950, membership in the order peaked at 400.
Image: Henriette Delille Monument
Saint Louis Cathedral
New Orleans, Louisiana
Today the Sisters of the Holy Family remain active, with over 200 members who serve the poor by operating free schools for children, nursing homes and retirement homes in New Orleans and Shreveport, Louisiana; Washignton, DC; Galveston, Texas; Little Rock, Arkansas; California; and the Central American country of Belize.
Damage caused by Hurricane Katrina in 2005 shut down the New Orleans operations of the order. Members formerly based in New Orleans are now serving in other areas of the country.
Henriette Delille is the first United States native-born Creole whose cause for sainthood has been officially opened by the Catholic Church. The canonization process was initiated in April 1988, requested by Mother Rose de Lima Hazeur, Superior General of the Sisters of the Holy Family. It was reviewed by a special commission in Rome who gave permission to officially open the process, which can take decades, sometimes centuries.
Pope Benedict XVI advanced the sainthood cause of Henriette Delille, a freeborn woman of African descent in 19th-century New Orleans, declaring that she had lived a life of "heroic virtues." By signing the decree on March 27, 2010, the pope confirmed the recommendations of Vatican authorities who have studied the cause for several years. She can be beatified once a miracle is attributed to her intercession.
SOURCES
New Orleans History
Wikipedia: Henriette Delille
Sisters of the Holy Family
Mother Henriette Delille Declared Venerable