Wife of Vice President Aaron Burr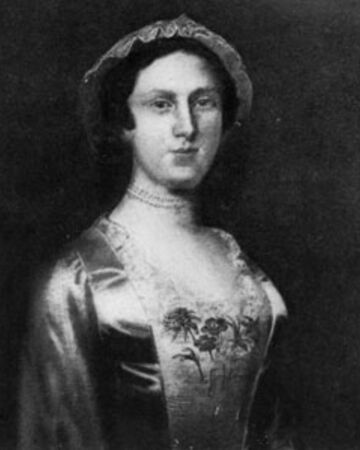 In 1763 Theodosia Bartow married James Marcus Prevost, a British Army officer with whom she had five children. They lived in Bergen County, New Jersey, in a home they named the Hermitage. In 1776 James Marcus was called back to active duty in the Revolutionary War, while Theodosia tried to keep their home from being confiscated by the American government. Meanwhile she began a relationship with a young American officer named Aaron Burr. After her husband's death in 1781, 35-year-old Theodosia Prevost, with five children, married 25-year-old Aaron Burr.
Childhood and Early Years
Theodosious Bartow died in a carriage accident in Shrewsbury, New Jersey, in 1746 at age 34, while his wife Ann was pregnant with their only child, Theodosia Bartow. For five years Ann raised Theodosia as a single parent, apparently partially in Shrewsbury and partially in New York City where several of her sisters and brothers were living.
Since two of Ann's sisters had recently married men with military backgrounds, and Ann met and married British Captain Philip De Visme in 1751. Ann had five children with Philip between 1752 and 1768, half brothers and sisters to Theodosia. Philip died in 1768, and Ann at 49 was again a widow, now with six children. Theodosia was then 16.
There is no record that Theodosia had any extensive schooling, but her knowledge of languages, her analytic abilities and her reading habits indicate that she was educated at home, far more extensively than most privileged women in the colonial New York area.
Through her stepfather and her uncles she was introduced to young officers, one of whom was James Marcus Prevost, a British Army officer of Swiss origin. In 1763, at age 17, Theodosia married James Marcus at Trinity Church in lower Manhattan.
Within months Prevost was ordered to leave New York with his regiment for Charleston, South Carolina. Theodosia accompanied him there. However, by the end of the year she was pregnant. Captain Prevost was allowed to take Theodosia back to New York where she stayed with her mother, but there is no record of a child born in 1764.
Meanwhile Prevost was assigned to a detachment of troops at Fort Loudoun on the Pennsylvania frontier. He returned to Theodosia in New York in 1765. In 1767 he purchased 150 unoccupied acres in Bergen County – north of Paramus, New Jersey – then bought 102 adjacent acres which included a two-story house they named the Hermitage after the cottage of philosopher Jean-Jacques Rousseau in Montmorency, France.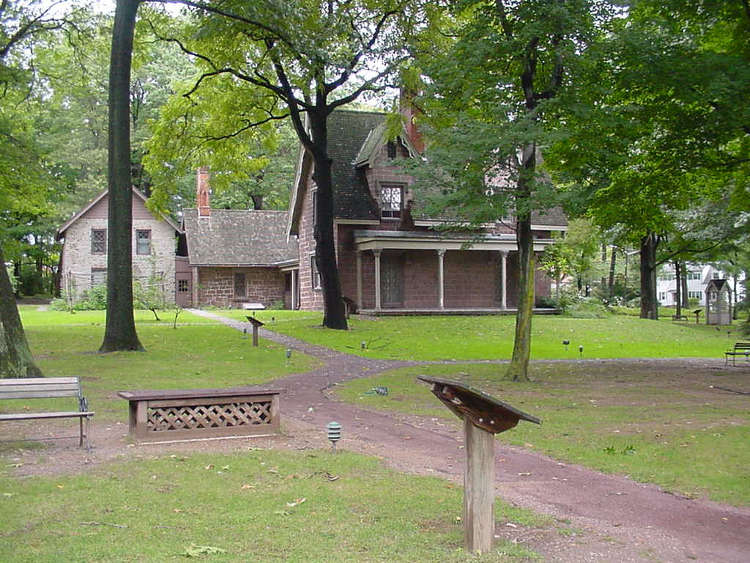 Between 1766 and 1771 Theodosia and James Marcus had five children, two boys and three girls, who spent their childhood at The Hermitage. The boys were John Bartow born in 1766 and Augustine James Frederick born in 1767. Little is known of the girls, Anna Louisa born in 1770, Mary Louisa born in 1771 and Sally.
Soon after the Prevosts moved to their Bergen County land, they began to build another house and a number of mills down by the Ho-Ho-Kus Brook. When these were completed in 1770, the Prevosts moved there and sold their previous home and 68 surrounding acres to Theodosia's widowed mother, Ann De Visme, who moved from New York City with her five young De Visme children. The Prevosts moved into the home on the lower ground which they called Little Hermitage.
In 1772 Prevost's unit in the British Army, the Royal American Regiment, was ordered to the West Indies. In November of that year, he left from Perth Amboy and sailed to Jamaica to command one of the battalions of this regiment. He was back in New York in 1773.
In January 1775 he obtained a royal grant of 5000 acres in New York, and invested in other properties, some in conjunction with Ann De Visme who as a widow could own real estate. The acquisition and sale of lands to enhance one's economic position were typical in British North America prior to the American Revolution.
While Prevost, De Visme and others were engaged in property acquisitions, another very different set of circumstances was unfolding in the American colonies. Taxation without representation, economic opportunities, individual and community rights, increased local self rule and control of the western frontier had been issues since the mid-1760s.
By the mid-1770s there was increasing friction between the colonies and England. The impact of events would be dramatic for the Hermitage household. Prevost was an important officer in the British military, as was his nephew and uncle. Among her relatives, there were significant splits, with most relatives favoring loyalty to the mother country, but some becoming pro-revolution.
In 1776 James Marcus was called back to active duty with the Royal American Regiment. Meanwhile 29-year-old Theodosia took charge of the Hermitage with five children, a mother and a teenage half-sister. They faced survival amidst guerilla warfare in heavily contested Bergen County from late 1776 into the early 1780s.
Additionally, Theodosia had to fight against the ongoing threat of confiscation of her home. Her efforts included a welcome to the Hermitage for leading Patriot officers and government officials. Among the visitors to the house during the Revolution were James Monroe, the Marquis de Lafayette, Alexander Hamilton and General William Alexander.
The Hermitage became a place of tranquility and culture during a time of chaos and violence. Theodosia was a marvelous hostess and conversationalist because she was well-read and fluent in French and Latin. She was sophisticated and understood the political issues of the day.
Theodosia's style of entertaining was not unlike the French salons where guests debated political theory, philosophy, and religion. Sometimes they wrote poetry, and Theodosia was skilled in crambo – an impromptu poetry-writing contest which was all the rage in eighteenth century salons. The men who stayed at The Hermitage found Theodosia and her lady friends delightful.
Bergen County was one of the most contested areas in America. While Patriot militias had control of northern Bergen County, and the British occupied lower Bergen County, the region between was attacked by both sides, and neighbors on both sides were killed, wounded, or imprisoned.
However, the women of the Hermitage were spared attacks from the Patriots because there were no male British supporters residing there who might fight against the Revolution. And the British actions in the vicinity did not pose a threat to the women since it was well known that the property was owned by one of their military officers.
The largest danger Theodosia had to face was the threat of confiscation of her home and property by the Patriots. There were those in the area who wanted to send the women to the British in New York City and take the Hermitage as a prize. Theodosia worked actively to counter this threat by sending petitions to the New Jersey State patriot authorities.
In September 1777, when 21-year-old Aaron Burr made a successful attack on a British picket outside of Hackensack, he stopped in Paramus, a Patriot post coming and going. Theodosia's cousin, Captain John Watkins, was in Burr's regiment, and she probably met Burr at this time. Technically she was an enemy, but the American officers of the immediate vicinity did not consider her as such. Burr's stay was short for he and his regiment were ordered to winter in Valley Forge.
In 1778, the Continental Army engaged the British regulars in the important Battle of Monmouth (June 28, 1778) as both armies were heading north. In that battle in 92 degree heat, Burr had his horse shot from under him and suffered from heat prostration. He was next ordered to spy on British movements in and around New York City in preparation for the arrival of the first French naval fleet.
In July 1778, word reached Theodosia that General George Washington and his troops would be passing through on their way from Monmouth Court House to White Plains in Westchester County, New York. When the general and his entourage stopped at a local house, Theodosia sent an invitation to Washington and his men to come and stay at the Hermitage, stating that the accommodations were the "most commodious in the area."
Washington accepted her offer and for four days he and his officers were entertained at the Hermitage. As one wrote: "At Mrs. Prevost's we found some fair refugees from New York who were on a visit to the lady of the Hermitage. With them we talked and walked and laughed and danced and gallanted away the leisure hours of four days and four nights." While there with Washington, Alexander Hamilton had the opportunity to enjoy Theodosia's hospitality.
While Hamilton remained with Washington as the Continental Army moved across the Hudson River to Westchester County, Aaron Burr was put in charge of bringing leading Tories (American colonists loyal to the British) down the Hudson under a truce flag to the British in New York City. Theodosia and her half-sister were passengers on one of Burr's trips down the Hudson to visit relatives. Over five days Theodosia and Burr had a chance to get to know each other.
His health impaired by exhaustion and exposure through autumn 1788, Burr spent some time recuperating at the Hermitage. He then received command of the Westchester line, brought discipline to these troops and engaged in a number of skirmishes. But illness continued to plague him, and Washington allowed Burr to retire from the army. It took him more than a year to recover. He then studied law, continued to visit the Hermitage and to engage in extended correspondence with Theodosia.
James Marcus Prevost and his brother, General Augustine Prevost, had raised a new battalion in Europe for his British regiment, which was first stationed in the West Indies, then in British Florida. In 1778 the Prevosts moved into the southern American colonies, where the Revolutionary War was then raging. James Marcus became the second in command to his brother in the successful British campaign in Georgia and the Carolinas. After Savannah's capture in December 1778, he was for a short time British governor of Georgia.
James Marcus asked Theodosia to send their two sons, who were mere boys aged 11 and 9, to join him in the South to follow in their father's footsteps as ensigns with the British forces. So during the entire course of the war, her position continued to be one of great apprehension.
The success of James Marcus Prevost and his relatives against the Patriots in the South increased the interest of the Bergen County Commissioners for Forfeited Estates to take action against the Hermitage. At the end of 1778 the New Jersey Legislature passed a law calling for the confiscation of property owned by Loyalists and others who were acting against the independence cause. The Hermitage was a prime target.
Despite the influence of friends, threats to her property continued for two years. In November 1780 she was informed that "there are Inquisitions found and returned in the Court of Common Pleas, held for [Bergen County] on the fourth Tuesday in October last, against the following persons, to wit, James Marcus Prevost…"
Final judgement was to be rendered in January 1781. However, the issue of confiscation after the fall of 1780 disappeared from the records and letters of all concerned parties. The indictments against The Hermitage properties were never executed. Apparently the prolonged advocacy of Aaron Burr and many others had eventually taken effect.
It may have also helped that James Marcus Prevost was no longer fighting against American troops. Early in 1780 Prevost was assigned to Jamaica to deal with disturbances there. The health conditions in Jamaica debilitated the English troops. In July Prevost reported to London that most of his officers were in the infirmary, and he feared the annihilation of his regiment. Prevost's own health was in decline. Sometime in 1780 he sent his sons back to their mother at the Hermitage, and they undoubtedly reported on their father's poor health.
In early 1781 Aaron Burr, now in better health, was deeply involved in his law studies from sixteen to twenty hours a day. His relationshop with Theodosia through the rest of 1781 seem to have been mostly through correspondence. For much of this time, Theodosia stayed with Burr's sister Sally Reeves in Litchfield, Connecticut, for reasons that are unclear, possibly to avoid New Jersey wagging tongues.
In May 1781 Theodosia wrote to Burr from Litchfield:
Our being the subject of much inquiry, conjecture, and calumny, is no more than we ought to expect. My attention to you was ever pointed enough to attract the observation of those who visited the house. Your esteem more than compensated for the worst they could say. When I am sensible I can make you and myself happy, I will readily join you to suppress their malice. But till I am confident of this, I cannot think of our union. Till then I shall take shelter under the roof of my dear mother, where by joining stock, we shall have sufficient to stem the torrent of adversity.

You speak of my spirits as if they were at my command, or depressed only from perverseness of temper. In these you mistake. Believe me, you cannot wish their return more ardently than I do. I would this moment consent to become a public mendicant, could I be restored to the same tranquillity of mind I enjoyed this time twelvemonth.

The influence my letters may have on your studies is imaginary. The idea is so trite that I ask in hopes it was worn from your mind. My last year's trials are vouchers. I was always writing with a view to please you, and as often failed in the attempt. If a desire for my own happiness cannot restore me to myself, pecuniary motives never can.

I wish you to study for your own sake; to ensure yourself respect and independence; to ensure us the comforts of life, when Providence deigns to fit our hearts for the enjoyment. I shall never look forward with confidence till your pride extends to that. I had vainly flattered my self that pride was inseparable to true love. In yours I find my error; but cannot renounce my idea of its being a necessary support to, and the only security for, permanent affection… My health and spirits are neither better nor worse than when you left me…
Adieu,
Theodosia Prevost
Theodosia lacked the beauty of some of Burr's many previous loves, but what she did possess was a highly educated, razor sharp mind – a quality largely unknown in a society which placed little emphasis on the education of women. The few surviving letters give some insight into what increasingly bound them together – an interest in the ideas of leading thinkers and thoughts touching on the meaning of life, their happiness and their future, as well as how to react to the negative opinions of others concerning their relationship.
By fall 1781 Burr had completed his studies. The next task was to get these efforts approved in Albany by the three sitting Supreme Court justices who were empowered to issue the license needed to practice law in New York. Burr had a major problem. Since colonial times, a candidate for the bar had to complete three years of apprenticeship. Burr could claim barely one year.
However, Burr pushed on. He moved up to Albany and petitioned the justices, stating, "Surely, no rule could be intended to have such retrospect as to injure one whose only misfortune is having sacrificed his time, his constitution, and his fortune to his country." But the judges delayed a decision for several months. Burr remained in Albany, but was able to make a visit or two to Theodosia.
Accompanying a body of troops in Jamaica in 1781, James Marcus Prevost died of wounds suffered earlier in the war. On December 30, 1781 Theodosia's half-sister, Caty, wrote Burr from the Hermitage: "If you have not seen the York Gazette, the following account will be news to you; We hear from Jamaica that Lieutenant Col. Prevost, Major of the 60th foot, died at that place in October last.'"
While the news in the Gazette legally opened the way for Theodosia and Aaron to marry as seemed to be their intention, there was no decision to act quickly. Burr was still in Albany attempting to get the license to begin a career that would bring him an income. Theodosia seemed hesitant. There was the fact that she was 35 and he was 25, and, despite Burr's attractive characteristics, Theodosia had to weigh some of his less attractive traits. She arranged to spend time with relatives after the new year.
Then, in January 1782, the three New York Supreme Court justices agreed that time spent in the military would be taken into consideration in judging the qualifications for admission to the bar. Burr was examined, passed, and obtained his license as an attorney on January 19. He then immediately began his study for the next and highest rank in the profession, counselor-at-law, which he attained on April 17.
Burr was now ready to set up his own law office, and decided to do so in Albany, since New York City was still occupied by the British. While he was busy establishing his law practice through spring 1782, he got news that Theodosia' half-sister Caty and her fiance Joseph Browne, a British-born medical doctor and rebel officer, had set July 2 as the date for their wedding at the Hermitage. Burr arrived there some time before the event, and they decided to make it a double wedding.
On July 2, 1782, 35-year-old Theodosia Prevost, with five children, married 25-year-old Aaron Burr at the Hermitage. After the wedding Theodosia and Aaron settled in Albany, where he developed his law practice. As an attorney in New York, Burr had few equals. He commanded large fees, with which he furnished splendid homes, clothed himself and his wife in the most elegant fashion, and entertained lavishly.
The newlyweds moved to New York City the following year, after the British evacuation in 1783. Here Burr and Alexander Hamilton rose in the legal profession and in the politics of the new nation. In 1783 he was elected to the New York Assembly; in 1789 he was appointed the state's attorney general. Two years later, Burr took a United States Senate seat from Philip Schuyler, Alexander Hamilton's father-in-law. Burr and Hamilton had long been political and professional antagonists; this election elicited Hamilton's unrelenting hatred.
During their marriage, Theodosia gave birth to four children with Aaron Burr, but only one survived – a daughter they named Theodosia, at Burr's insistence, born in 1783. Theodosia managed a succession of increasingly affluent homes in New York City as well as a summer residence in Westchester County near many of her Bartow and Pell relatives. She oversaw Aaron's law office when he was on his frequent business trips and helped raise their daughter, whom Burr took great pains to educate her, promising to make her the equal of any man.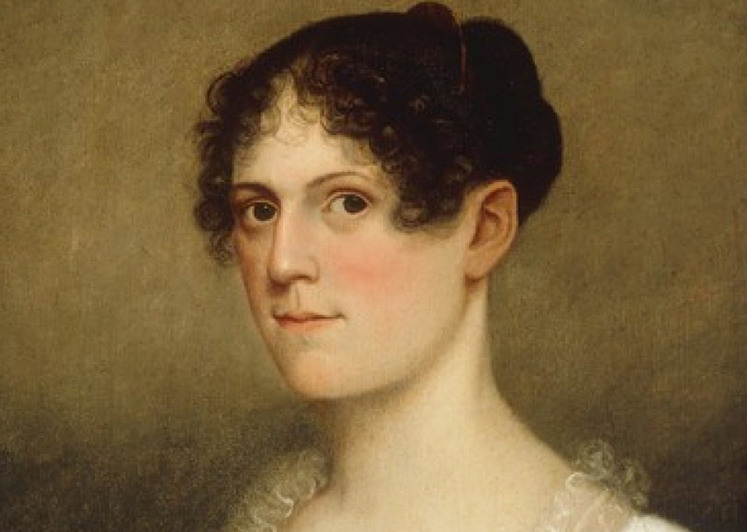 Years later, Theodosia became ill with cancer which progressed despite the efforts of the leading doctors in the young nation. In her last year of life, she inspired Burr to set up a school with Madame de Senat for young ladies and gentlemen in New York City.
Theodosia Prevost Burr died of stomach cancer on May 18, 1794, at the age of 48 – long before Aaron Burr became such a controversial figure. Burr was devastated. From that moment on, he focused his love on his daughter, who would serve as his refuge during his darkest days.
Burr saw other women, but did not find a marriage partner to love like Theodosia for nearly forty years, marrying again at age 77. Even then he said, "The mother of my Theo was the best woman and finest lady I have ever known."
In 1800 Republican Thomas Jefferson chose Aaron Burr as his presidential running mate. When the election results were tallied, Burr and Jefferson tied in total electoral votes. Congress would vote to decide the winner. Wary of appearing underhanded, Burr refused to lobby Congress for votes.
Alexander Hamilton, who despised Jefferson but hated Burr even more, lobbied for Jefferson, to little effect. But Jefferson won the election, and Burr became Vice President of the United States. Jefferson gave Burr little power in the administration and barred his nomination for a second term as vice president.
Determined to rise, Burr began a flirtation with the Federalist Party. In 1804 Burr ran for governor of New York. Primarily due to slanderous attacks on him in the press, Burr was beaten soundly. Alexander Hamilton, who feared Burr would diminish the power he held in the Federalist Party, and Burr later read in a newspaper article that Hamilton had expressed a "despicable opinion" of him.
Angry and depressed over his defeat, Burr decided to try and restore his reputation by challenging Hamilton to a duel. Burr may have hoped that Hamilton would apologize, but the communication between the men escalated until a duel was unavoidable. On July 11, 1804, on the dueling grounds at Weehawken, New Jersey, Burr shot Hamilton dead.
As word of Hamilton's death spread, the public outcry forced Burr to flee for his safety. In New York and New Jersey, Burr was charged with murder. And in much of the Northeast, Hamilton was mourned as a fallen hero. But to many Americans, particularly in the South, Burr was viewed as a man who had rightfully defended his honor.
Although he was a wanted man, Burr enjoyed immunity from prosecution in Washington, DC. There, he presided over the impeachment trial of Samuel Chase, an associate justice of the U.S. Supreme Court. Burr set a remarkable standard for decorum and fairness during the trial, in which Chase was acquitted.
The United States had purchased the Louisiana Territory from France in 1803, and Aaron Burr saw the territory as a place where his political hopes could be revived. Conspiring with James Wilkinson, Commander-in-Chief of the U.S. Army and Governor of Northern Louisiana Territory, Burr hatched a plot to conquer some of Louisiana and maybe even Mexico and crown himself emperor. The precise motive behind his western adventures has never been clarified.
Aaron Burr was arrested and tried for treason in August 1807 for attempting to form a republic in the Southwest. He sought help from Britain, who considered his proposals but turned him down. With private backing, Burr trained and outfitted a small invasion force. But Wilkinson betrayed him, and Burr was captured in Louisiana in the spring of 1807 and taken to Richmond, Virginia, to stand trial.
Charged with the high misdemeanor of launching a military expedition against Spanish territory and the treasonous act of attempting to separate areas from the United States, Burr stood trial before Chief Justice John Marshall in the U.S. Circuit Court at Richmond. The outcome hung upon Marshall's instructions to the jury concerning the technicalities of American treason law.
Burr was acquitted on the treason charge, and the misdemeanor indictment was eventually canceled. The acquittal was extremely unpopular, and Marshall was burned in effigy. Still Burr faced public condemnation and fled to Europe. Although he was legally free, his political career was finished. For the next four years he wandered through Europe, vainly trying to find support for plans to revolutionize Mexico, free the Spanish colonies, and instigate war between England and the United States.
Finally, in 1812, he returned to America, broken in health and financially destitute. After some discreet inquiries, he decided it was safe to return to New York. The United States was again on the brink of war with Britain, and his treason plot and the killing of Hamilton had been largely forgotten. Burr was able to get the murder charges against him dropped, and he once again began to practice law.
He was moderately successful, but his final years were not easy. In December 1812 he encouraged his cherished daughter Theodosia to visit him in New York. She was lost at sea during the voyage from South Carolina, where she lived with her husband. Burr was devastated.
As the years passed, Burr's fortunes again declined. By 1830 he had come to depend heavily upon contributions from a few friends for his survival. In 1833, at the age of 77, Burr married a wealthy widow 20 years his junior who divorced him in 1836 when it became apparent he would run through her fortune.
Over the next several years a series of strokes left him paralyzed and dependent for his care upon a cousin. Aaron Burr died on September 14, 1836, on Staten Island, New York, at the age of 80, a nearly forgotten man.
Aaron and Theodosia Prevost Burr were considered America's first feminists, and were loyal followers of Mary Wollstonecraft, English author of A Vindication of the Rights of Woman. In their correspondence, the Burrs both showed a marked concern for the rights of women. Dolley Madison had appointed Burr guardian of her son should she die, after seeing how young Theodosia was educated.
SOURCES
The Prevosts
The Hermitage
Theodosia Prevost
Answers.com: Aaron Burr