Head Matron at Union Hotel Hospital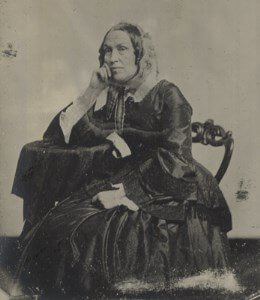 When her husband abandoned her, Hannah Ropes did not despair. She raised her two children, became an abolitionist and activist for social reform. She volunteered as a nurse during the Civil War and used her prominent social position to obtain enormous amounts of supplies for ill and wounded soldiers.
Early Years
Hannah Anderson Chandler was born June 13, 1809, in New Gloucester, Maine, the daughter and sister of prominent Maine lawyers. Hannah developed strong beliefs during her early years. Her religious faith was very strong, and she was passionately opposed to slavery. Hannah married educator William Ropes in 1834; they lived in Waltham, Massachusetts. Hannah gave birth to four children, two of whom lived to adulthood.
Although records are sparse, it seems William quit teaching in 1847, and Hannah expressed her concern for his health to family members. He moved to Florida soon after, possibly because of health issues, leaving her to raise their children alone. She charged him with abandonment and divorced him in 1860. William remained in Florida until his death in 1864.
In 1855, Hannah's son Edward Ropes turned 18 and became a homesteader in the Kansas Territory, near the town of Lawrence. As Hannah was increasingly interested in the abolitionist movement, she and her daughter Alice joined her son in Kansas. Pro-slavery raiders from Missouri were always a threat, compelling the family to be constantly ready to defend themselves. In her home, she kept, "loaded pistols and a bowie-knife upon my table at night, (and) three Sharp's rifles, loaded, standing in the room."
In November she wrote a letter to her friend Senator Charles Sumner describing conditions in Kansas:
There is not, there has not been, a single cabin safe from outrage anywhere in the territory for the two past weeks. Without the slightest provocation, men are cut down, leaving families in lone places without any protection; our cattle are taken; teams of freight stopped on the public way, and all the merchandize handled over, to see what it contains. Ammunition withdrawn, and then the luckless wagoner sent on his way. Market-men, too, coming to bring us apples, and potatoes and flour, are forbidden to proceed. Gentlemen whom I know and honor, some of them simply visitors, riding in their own carriages up from Kansas City, find their horses' heads seized, while beastly, half-drunk Missourians demand their business, and a pledge that they will not tell Lawrence people how near armed men are camping around them. …
These experiences prompted Ropes to return to Massachusetts. During this period she became politically active and well connected. Gaining recognition as a reformer and abolitionist, she became acquainted with many of New England's leaders.
She also began to develop her writing talent. In 1856, she published Six Months in Kansas: By a Lady, a collection of letters Ropes wrote to her mother while she was in Kansas Territory. Ropes blamed the conflict in Kansas on that "most unmitigated calamity Heaven ever suffered upon the earth – Franklin Pierce." She also wrote a novel about prairie life, Cranston House, which was published in 1859.
A nephew sent Hannah Ropes a copy of Notes on Nursing, published by Florence Nightingale in 1859, and Hannah must have been deeply influenced by the book. Women nurses had been held in the same class with prostitutes only a decade earlier, but because of Nightingale's book, the Union Army began accepting women "of good conduct" to care for sick and wounded soldiers.
Union Hotel Hospital
In May 1862, Edward Ropes enlisted in the Union Army. The following month, Hannah Ropes offered her services to the Office of U. S. Army Nurses and was soon named Head Matron of the Union Hotel Hospital, a dilapidated former tavern in the Georgetown neighborhood of Washington, DC. Upon taking charge Ropes actively criticized the appalling conditions – both the lack of sanitation and the indifference and even cruel treatment of the soldiers. She believed that every soldier deserved healthy surroundings, good food and humanitarian treatment.
In her Civil War diary, she often noted her respect for the enlisted man. In October 1862, she wrote, "The poor privates are my special children of the present," and described "the loss they have experienced in health, in spirits, in weakened faith in man, as well as shattered hope in themselves." Ropes trained her nurses to treat patients with compassion, and to ignore their own poor accomodations and long hours to bring comfort to the ill and wounded. If any failed to place the needs of the soldiers ahead of their own, she fired them.
Ropes used her prominent social position and political connections to obtain enormous amounts of supplies for the wounded. She made changes at the hospital, which meant butting heads with the military and surgeons, who resented the presence of women in the hospitals, but Ropes was not afraid to stand up to her male supervisors. She had one surgeon at Union Hotel Hospital arrested for graft: selling food and clothing meant for hospital patients for a profit.
The Head Matron was apalled by the conduct of some staffers and surgeons. They only wanted to help those who appeared likely to survive, but Hannah Ropes wanted to save them all! And she personally took action against officers and stewards who were found to be incompetent or cruel to the wounded men. In her November 1, 1862 diary entry, she wrote:
Today the steward's reign reaches a culminating point. I had said yesterday to Dr. Ottman, in his room, "Do you know a dark hole has been parted off in the cellar, said to be for any patient the steward chooses to incarcerate therein?" The chaplain was in the room at the time, a gentle refugee from Virginia and a professor in some college there. Peaceful, retired citizens both, neither answered directly. …

I said, "You men may have fears too strong to allow you to act, I have no office to lose or gain. I am free to do right, and if any patient in this house is put into that black hole I will go to Washington and stay until I gain the "open sesame" to that door. How can you let this hospital be turned into a prison?" …

Hardly was I seated with spectacles on my nose before Fanny appeared, pale and trembling, holding by the door. "Mrs. Ropes! Julius is in that awful place!" "What! In the cellar?" "Yes, what
shall we do?" … Off went the glasses, down went the paper, away broke my prospective rest of half-an-hour in my easy chair; and when I had tumbled noisily out of that chair, another figure appeared in the door by Fanny's side, our little mite of a Miss Kendall. … I caught sight of her quivering face, her earnest, sad eyes, glistening with tears that drift and float there always, and … I said, "Come, will you go with me?"

[They got no satisfaction from the Surgeon General, and then they called at the office of Secretary of War Edwin Stanton.]

Ten minutes passed … a large man with a dark beard, bald head, and legal brow walked into the room, stationing himself in front of a desk. The gentleman who had so kindly greeted us when we came, told me who it was. I went to the end of the desk and, without introducing myself at all, stated in the fewest words possible the facts about Julius.

Secretary Stanton's eyes gleamed with the fire of a purpose, "Call the Provost Marshal" was all he said, and went on writing. Before we got hold of the importance of the order, that functionary appeared. Stanton lifted the pen from the paper and, looking at him, said, "Go to the Union Hospital with this lady, take the boy out of that black hole, go into it yourself so as to be able to tell me all about it, then arrest the steward and take him to a cell in the Old Capitol Prison, to await further orders!"

Very soberly he said it, and as soberly he said to me, "I am very much obliged to you, very much, for giving me this information." … The same car that brought us out, brought the men to take away our ogre, the steward. It was a frightfully grand scene to see the amazement of the steward, the joy of the men, and pale terror of the head surgeon. …
Secretary Stanton had also written an order forbidding anyone from removing the Head Matron from her post.
Nurse Louisa May Alcott
The evening of December 13, 1862, volunteer nurse and budding author Louisa May Alcott reported for duty at Union Hotel Hospital, soon after her 30th birthday, and was welcomed by the Head Matron. Alcott was just in time to help with the wounded pouring in from the Battle of Fredricksburg.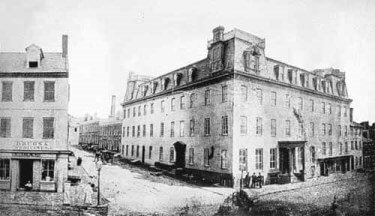 Image: Union Hotel Hospital
Union Hotel Hospital became the setting of Alcott's book, Hospital Sketches, which she wrote and published the following year. The book is a compilation of four sketches based on letters Alcott sent home during the six weeks she spent as a volunteer nurse in Georgetown. The pieces would receive great critical and popular acclaim, making Alcott an overnight success.
Alcott's admiration of her supervisor was evident in her description of Hannah Ropes' actions as casualties arrived from the Battle of Fredericksburg:
In they came, some on stretchers, some in men's arms, some feebly staggering along propped on rude crutches, and one lay stark and still with covered face, as a comrade gave his name to be recorded before they carried him away to the dead house. All was hurry and confusion; the hall was full of these wrecks of humanity, for the most exhausted could not reach a bed till duly ticketed and registered; the walls were lined with rows of such as could sit, the floor covered with the more disabled, the steps and doorways filled with helpers and lookers on; the sound of many feet and voices made that usually quiet hour as noisy as noon; and, in the midst of it all, the matron's motherly face brought more comfort to many a poor soul, than the cordial draughts she administered, or the cheery words that welcomed all, making of the hospital a home.

The sight of several stretchers, each with its legless, armless, or desperately wounded occupant, entering my ward, admonished me that I was there to work, not to wonder or weep; so I corked up my feelings… The merciful magic of ether was not [used today]. It's all very well to talk of the patience of woman, but the endurance of these men… their fortitude seemed contagious, though I often longed to groan for them, while the bed shook with the irrepressible tremor of their tortured bodies. Forty beds were prepared, many already tenanted by tired men who fell down anywhere, and drowsed till the smell of food roused them.

Round the great stove was gathered the dreariest group I ever saw – ragged, gaunt and pale, mud to the knees, with bloody bandages untouched since put on days before; many bundled up in blankets, coats being lost or useless; and all wearing that disheartened look which proclaimed defeat, more plainly than any telegram of the [General Ambrose] Burnside blunder. I pitied them so much, I dared not speak to them, though, remembering all they had been through since the rout at Fredericksburg, I yearned to serve the dreariest of them all.
Alcott and the other nurses were overwhelmed as wounded soldiers continued to arrive. They dispensed food and medication, changed dressings, bathed patients, wrote and read letters for soldiers, and sometimes held the hands of dying men. Later in the day Alcott wrote:
At five o'clock a great bell rang… The newcomers woke at the sound; and I presently discovered that it took a very bad wound to incapacitate the defenders of the faith for the consumption of their rations; the amount that some of them sequestered was amazing; but when I suggested the probability of a famine hereafter, to the matron, that motherly lady cried out: "Bless their hearts, why shouldn't they eat? It's their only amusement; so fill every one, and, if there's not enough ready tonight, I'll lend my share to the Lord by giving it to the boys."

And, whipping up her coffee-pot and plate of toast, she gladdened the eyes and stomachs of two or three dissatisfied heroes, by serving them with a liberal hand; and I haven't the slightest doubt that, having cast her bread upon the waters, it came back buttered, as another large-hearted old lady was wont to say.
Ropes worked even longer hours than her nurses, writing reports, ordering supplies, and keeping a diary of each day's activities at Union Hotel Hospital. In one of her diary entries, writing in the third person, she described the passing of one of the men wounded at Fredericksburg:
"Thank you, madam, I must be marching on." So said Lewie as he passed away. Sitting on one side of him was his nurse, Miss Alcott, on the other side the matron [Ropes]… There was in the man such a calm consciousness of life, such repose in its secure strength… The matron is left alone when the breath ceases.
On January 9, 1863, Hannah wrote a letter to her son, briefly mentioning that she and Miss Alcott had "worked together over four dying men and saved all but one… we both took cold… and have pneumonia and have suffered terribly." But they continued to work.
Ropes and Alcott had contracted the deadly typhoid pneumonia – the major killer of wounded soldiers during the Civil War. Louisa May Alcott hovered between life and death for several days, but she would survive the illness. Hannah Ropes would not; she died of the disease on January 20, 1863, at the age of 53.
Ropes' good friend and supporter, Senator Charles Sumner of Massachusetts, eulogized Hannah's life and contributions in a letter:
Mrs. Ropes was a remarkable character, noble and beautiful and I doubt if she has ever appeared more so than when she has been here in Washington, nursing soldiers.
SOURCES
Accounts from Civil War Nurses – PDF
Hannah Ropes: The Other Woman Behind Little Women
Hannah Ropes Spends 6 Months in Kansas With Loaded Pistols and Bowie Knife