Wife of Secretary of State William Seward
Frances Adeline Miller was born in 1805, the daughter of Judge Elijah Miller and Hannah Foote Miller, and lived most of her life in Auburn, New York. Raised as a Quaker, her father taught her slavery was wrong. This belief became stronger as she grew up.
Frances studied at the Troy Female Seminary, which was founded by Emma Willard in 1814 in Vermont in an attempt to further the education of women. She later relocated the school to Troy, New York. Prior to its founding women were generally excluded from attending college.
William Henry Seward was born in Florida, New York, May 16, 1801. He was the son of Samuel Sweezy Seward and Mary (Jennings) Seward. He graduated from Union College in 1820, studied law and was admitted to the bar in 1822.
In 1823, he moved to Auburn, New York, where he became a junior partner in Judge Elijah Miller's law practice, and fell in love with the judge's youngest daughter, Frances. Abolition of slavery was the core principle that drew the couple together. Miller granted permission for Seward to marry his daughter under the condition that they live with him.
Marriage and Family
On October 20, 1824, Frances Miller married William Seward, and they moved into Judge Miller's 1816 South Street home in Auburn, now the William and Frances Seward House. The couple raised five children: Augustus Henry (1826-1876), Frederick William (1830-1915), Cornelia (1835-1836), William Henry (1839-1920) and Frances "Fanny" Adeline (1844-1866).
Augustus Henry Seward graduated from West Point, pursued a career in the army, and spent much of his life in the West in the paymaster corps. He rose to the rank of major. Frederick William Seward attended Union College, graduating in 1849, and served as secretary to his father from 1849 to 1857. He worked as associate editor of the Albany Evening Journal edited by Thurlow Weed from 1851 to 1861. When his father was appointed Secretary of State, Frederick became assistant secretary of state, in charge of consular service.
After Seward Sr. was injured in a carriage accident in 1865, Frederick served as acting secretary of state. Frederick was elected to the New York State Assembly in 1874 and served as assistant secretary of state under Rutherford B. Hayes from 1877 to 1879. Frederick also edited and published his father's autobiography and letters.
William Henry Seward, Jr. was educated at home. He became interested in finance and opened a private bank in Auburn in 1861. He left his career and family to fight in the Civil War, where he rose to the rank of brigadier general. After the war, he returned to banking and lived with his wife in the family homestead in Auburn.
Cornelia Seward died of smallpox at the age of 5 months. The light of her father's eye, Frances (Fanny) Adeline Seward never enjoyed good health. She was an aspring writer and passionate reader, and from the age of fourteen until her death at age 22, she kept a detailed diary about her life in both Auburn and Washington, DC, including encounters with President Lincoln, foreign diplomats and artists.
Seward in Politics
Six years after his marriage, William Seward began a career in politics. Although she was always supportive of her husband's political career, Frances did not move with him to Washington after he was elected to the Senate. Ongoing health problems, the care of her aging father and a general dislike for the responsibilities of being a politician's wife, kept Frances in Auburn. However, she played an important role as her husband's advisor and supported the women's rights movement.
With the backing of master politician Thurlow Weed, the Whig newspaper editor, Seward was elected to the New York State Senate in 1830 where he served for four years. He was nominated by the Whigs for governor in 1834, but was defeated by William L. Marcy. From 1834 to 1838 he practiced law and served as an agent for the Holland Land Company, settling settlers' claims in Chautauqua County.
During his two terms as governor of New York (1839-1843) Seward established himself nationally as an outspoken abolitionist, refusing to honor requests of southern states to return their fugitive slaves who had escaped to New York to live. He also favored internal improvements and public support of Catholic schools.
From 1843 to 1848, once again a private citizen, Seward practiced law and began to restore his depleted finances. In 1846 he became the defense counsel for William Freeman, a mentally-ill Auburn resident of African American and Native American descent who murdered a white farmer and his family. Seward's argument that Freeman's mental state should excuse his actions is one of the first uses of the "insanity defense."
In 1849 Seward was elected to the United States Senate, and increasingly built a reputation as an antislavery senator. He believed that slavery was morally wrong, and said so many times, outraging Southerners. He acknowledged that slavery was legal under the Constitution, but denied that the Constitution recognized or protected slavery. He famously remarked in 1850 that "there is a higher law than the Constitution."
After 1855, the Whig party merged into the Republican Party, and Seward became one of its leaders. In 1859, confident of gaining the presidential nomination and advised by his political ally and friend Thurlow Weed that he would be better off avoiding political gatherings where his words might be misinterpreted by one faction or another, Seward left the country for an eight-month tour of Europe.
During that hiatus, his lesser-known rival Abraham Lincoln worked diligently to line up support in case Seward failed to win on the first ballot. After returning to the United States, Seward gave a pro-Union Senate speech that reassured moderates but alienated some radical Republicans. When Lincoln won the nomination, Seward loyally supported him and made a long speaking tour of the West in the autumn of 1860.
The Sewards and the Underground Railroad
Slavery was still being practiced in the state of New York when Seward was a boy, and many wealthy families had slaves. His father had owned three slaves, and Seward had seen the unequal living conditions and education of the local slaves and their masters.
He later wrote, "I early came to the conclusion that something was wrong… and [that] determined me… to be an abolitionist." This belief would stay with Seward through his life and permeate his career. Slavery was slowly abolished in New York from 1797-1827 through a gradual mandated process.
Frances Seward was equally committed to the cause. Having inherited money from both sides of their family, the Sewards used their personal wealth to support the abolition movement, which sought to end slavery and the international slave trade. They were also financial backers of former slave Frederick Douglass' North Star newspaper in Rochester.
The Underground Railroad came into being, in part, because of the enactment of the 1850 Fugitive Slave Law, which provided penalties for anyone who concealed a fugitive slave.
In an incident that became know as the Jerry Rescue, leaders of the local abolition movement had organized a committee to thwart enforcement of the Fugitive Slave Law. On October 1, 1851, federal marshals from Rochester, Auburn, Syracuse and Canandaigua, New York, arrested an African American man who called himself Jerry. When he was informed that he was being arrested under the Fugitive Slave Law, he put up substantial resistance, but was subdued.
Word of the arrest quickly reached the the New York State Convention of the antislavery Liberty Party, then in session at a nearby church. There are reports that the wife of a Commissioner Sabine, who would hear the case, had already leaked plans of the arrest. By pre-arranged signal, church bells began ringing, and a crowd gathered at Sabine's office, where Jerry had been taken for arraignment.
An immediate effort to free the prisoner was unsuccessful, and though he escaped to the street in irons, he was recaptured. The arraignment was put off until evening and relocated to a larger room. A large crowd gathered in the street. With a battering ram the door was broken in, and the prisoner was surrendered. He was hidden in the city for several days, and later taken in a wagon to Oswego, where he crossed Lake Ontario into Canada.
In the excitement following the Jerry Rescue, Frances Seward wrote to her husband, "two fugitives have gone to Canada – one of them our acquaintance John." Another time she wrote, "A man by the name of William Johnson will apply to you for assistance to purchase the freedom of his daughter. You will see that I have given him something by his book. I told him I thought you would give him more."
William and Frances Seward House
Although he spent many years in Albany and Washington, DC, the Seward home at Auburn was his principal residence from the time of his marriage in 1824 until his death. The house was originally built by Frances' father in the Federal style in 1816, then substantially modified by the Sewards in 1840, then again in 1866, to allow for the diplomatic entertainment expected of his office. The original, 10-room, brick house was expanded to over 30 rooms.
In the 1850s, the Sewards opened their Auburn home as a safehouse for fugitive slaves, knowingly committed an act of civil disobedience. Two rooms in the house were used as hiding places for fugitive slaves; one was located above the woodshed at the back of the house; the other was a basement kitchen at the front of the house. On November 18, 1855, Seward noted "the underground railroad works wonderfully. Two passengers came here last night."
While William Seward was away on public duties, Frances played a more active role in local Underground Railroad activities. In the town of Auburn, a core group of women – Frances Seward and her sister Lazette Worden, and Martha Wright, sister of Quaker minister Lucretia Mott – maintained continuity.
This network operated effectively through links to other Underground Railroad nodes throughout Maryland, Pennsylvania, central and western New York and Canada. Hundreds and perhaps thousands of African Americans, both men and women, escaped from slavery to freedom through Auburn and Cayuga County in the thirty-five years before the 13th Amendment ended slavery.
Frances Seward was also an advocate for the education and advancement of African Americans. The Samuel S. Seward Institute in the village of Florida, New York, had been founded by William Seward's father, who settled in the region in the early 19th century and started the school with an endowment of $20,000 after succeeding in various local business pursuits. Frances worked closely with the teachers there.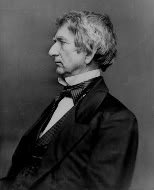 Image: Secretary William Seward
In 1859, the Sewards encouraged Harriet Tubman, the fugitive slave who had risked her life to lead 300 others to freedom, to make Auburn her home – Tubman and her family were living in Canada at that time. The Sewards arranged for her to purchase seven acres of their farmland, and she built a home on their street where she lived until her death. While Tubman served as a Union nurse and spy during the Civil War, Frances raised and educated Tubman's niece, Margaret Williams.
Excerpt from a letter from Frances Seward to William Seward on January 19, 1861:
…Compromises based on the idea that the preservation of the Union is more important than the liberty of nearly 4,000,000 human beings cannot be right. The alteration of the Constitution to perpetuate slavery – the enforcement of a law to recapture a poor, suffering fugitive – giving half of the Territories of a free Country to the curse of slavery – these compromises cannot be approved by God or supported by good men.
Union Secretary of State
In 1860, Seward was appointed United States Secretary of State by President Abraham Lincoln. Seward had been one of Mr. Lincoln's first visitors when he arrived in Washington on February 22, 1861 and his advice was sought frequently over the next four years. Seward and Mr. Lincoln first met during the 1848 presidential campaign when both were campaigning in New England.
Seward took office with a condescending attitude toward Lincoln, but he and the President became close personal friends – to the consternation of his enemies – a relationship encouraged by the proximity of Seward's home to the White House.
According to William O. Stoddard, a newspaper editor from Champaign Illinois:
Conferences between Mr. Seward and Mr. Lincoln were almost of daily occurrence, and the iron hand discernible in the conduct of our foreign affairs was not solely that of the shrewd and able head of the State Department. These conferences were generally held at the White House, to and from which Mr. Seward went and came with the easy familiarity of a household intimate rather than with any observance of useless etiquette. It was not all uncommon, however, for Mr. Lincoln to walk over to the State Department, in the daytime, or to Mr. Seward's house, in the evening, with or without an attending private secretary to carry papers. On the whole, he generally preferred to go alone…
Seward became a central force in the Lincoln administration. As Secretary of State, he rendered services of inestimable value to the nation. To prevent foreign states from giving official recognition to the Confederacy was the task of the hour, and in this he was successful.
He gladly worked with Lincoln on the Emancipation Proclamation, a document that freed all the slaves in states rebelling against the North. Seward also played an integral role in negotiating the Lyons-Seward Treaty of 1862, which set forth aggressive measures by which the United States and Great Britain agreed to end the Atlantic slave trade.
A few days after the 1864 presidential election, Seward addressed a group of serenaders outside his house:
The election has placed our President beyond the pale of human envy or human harm, as he is above the pale of ambition. Henceforth all men will come to see him as you and I have seen him – a true, loyal, patient, patriotic, and benevolent man. Abraham Lincoln will take his place with Washington and Franklin and Jefferson and Adams and Jackson, among the benefactors of the country and of the human race.
The Thirteenth Amendment to the Constitution of the United States was proposed by the United States Congress on January 31, 1865. On December 18, 1865, Secretary of State William Henry Seward officially proclaimed that the Thirteenth Amendment had been ratified by the legislatures of twenty-seven of the then thirty-six states, thus ending slavery in the United States.
Assassination Attempt
On April 14, 1865, Lewis Powell, an associate of John Wilkes Booth, attaked Secretary Seward, the same night that Abraham Lincoln was shot. Powell gained access to Seward's home by telling a servant that he was delivering medicine for Seward, who was then bedridden following a carriage accident nine days earlier in which his right arm was broken and both sides of his lower jaw fractured.
When Powell started up the stairs of Seward's home, he was confronted by Seward's son, Frederick, who told the intruder that his father was asleep. Powell started down the stairs, but suddenly swung around and pointed a gun at Frederick's head. After the gun jammed, Powell repeatedly struck Frederick on the head with the pistol, leaving him in critical condition on the floor. Powell also attacked and injured another son, Augustus.
Powell then burst into William Seward's bedroom and stabbed him several times in the face and neck with a knife. Seward was seriously wounded, and would carry the facial scars from the attack through his remaining days. This incident was part of the plot to kill President Lincoln and his supporters. Lewis Powell was captured the next day and was executed on July 7, 1865.
The events of the night of the Lincoln assassination put Frances Seward into a state of great anxiety about her family. She feared that Frederick would die of his injuries (he survived). That and the stress of almost losing her husband greatly affected her already fragile health. The events of April 14 undoubtedly hastened her death.
Frances Seward died June 21, 1865, of a heart attack at age 60.
Fanny, Seward's only surviving daughter, died of tuberculosis in October 1866.
Although it took Seward several months to recover from his wounds, he remained Secretary of State, and emerged as a major force in the administration of President Andrew Johnson, frequently defending Johnson's more moderate reconciliation policies towards the South, to the point of enraging Radical Republicans who once regarded Seward as their friend.
In the fall of 1866, Seward joined President Johnson, Ulysses S. Grant, the young General George Armstrong Custer on the president's ill-fated "Swing Around the Circle" campaign trip.
At one point Seward became so ill on the trip, probably from cholera, that he was sent back to Washington in a special car. Both Johnson and Grant, as well as several members of the Seward family, thought the Secretary was near death. But as with his April 1865 stabbing, Seward surprised many by his rapid recovery.
As Secretary of State, Seward argued that the United States must move westward, proposing American possession of the Danish West Indies, Samana, Panama and Hawaii, but these were not ratified by the Senate. Despite a minimal degree of Congressional support, by the end of his term Seward had established a realm of informal influence in the Hawaiian Islands, Japan and China.
Seward's greatest achievement was the purchase of Alaska from Russia. On March 30, 1867, he completed negotiations for the territory, which involved the purchase of 586,412 square miles of territory (more than twice the size of Texas) for $7,200,000, or approximately 2 cents per acre. The purchase of this frontier land was alternately mocked by the public as Seward's Folly, "Seward's Icebox," and Andrew Johnson's "polar bear garden."
Every year Alaska celebrates its purchase by the United States on Seward's Day, the last Monday of March. When asked what he considered his most valuable contribution as Secretary of State, Seward replied, "The purchase of Alaska – but it will take the people of the United States a century before they realize it."
William Seward retired from public life when Ulysses S. Grant took office as president, and despite his poor health, took a trip around the world in fourteen months, from July 1869 to September 1871. During his last years, Seward also wrote prolifically. His son Frederick later edited and published his memoirs in three volumes: Autobiography of William H. Seward from 1801 to 1834: With a memoir of his life, and selections from his letters from 1831 to 1840.
Olive Risley Seward
Olive was the daughter of Anson Risley, a prominent civil servant who later worked for the Secretary of the Treasury. After the death of his wife Frances in 1865 and his daughter Fanny in 1866, Olive became William Seward's close companion during the last four years of his life, beginning in 1868. She was forty years his junior.
In order to curtail gossip and family concerns about their relationship, Seward adopted Olive in 1870. She and her sister Harriet Risley traveled extensively with Seward through Asia, the Middle East and Europe in 1870-1871, an experience recorded in the book William H. Seward's Travels Around the World, published in 1873, a best-selling work of its day for which Olive Risley Seward was credited as editor. She and Seward's three surviving sons were named joint heirs of the Seward estate.
William Henry Seward died in his office at home in Auburn on October 10, 1872, after having difficulty breathing. He was 71 years old. His last words were to his children saying, "Love one another." He was buried in Fort Hill Cemetery in Auburn with his wife and two daughters, Cornelia and Fanny.
In 1957, a century after the Alaska Purchase, actor Joseph Cotten portrayed Seward in The Freeman Story of his NBC anthology series, The Joseph Cotten Show. Virginia Gregg played Fanny Seward. Actor Richard Mulligan portrayed William Seward in the 1988 mini-series, Gore Vidal's Lincoln.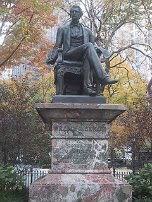 Image: William Henry Seward Monument
Madison Square, New York City
This imposing bronze statue of statesman William Seward was created by artist Randolph Rogers. The sculpture was dedicated in 1876, and Seward is said to be the first New Yorker to be honored with a monument in the city.
Seward Avenue in Auburn is named in his honor. Also in Auburn, Frances Street, Augustus Street, and Frederick Street are named for members of the Seward family. The four streets form a block.
SOURCES
William H. Seward
Wikipedia: William H. Seward
Wikipedia: Olive Risley Seward
William and Frances Seward House
Wikipedia: Frances Adeline Seward