Wife of Confederate Secretary of State Judah P. Benjamin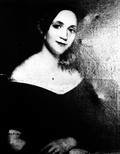 Judah Benjamin took a job teaching English to Natalie St. Martin, daughter of a prominent Creole family, so that he could learn French from her. And a love affair developed between the two. They were married in 1833 and lived on a sugar plantation and an elegant townhouse on Bourbon Street in New Orleans.
Judah Philip Benjamin was born a British subject on St. Thomas, British West Indies, Aug. 11, 1811. His parents, Philip Benjamin and Rebecca de Mendes Benjamin, were Sephardic Jews who had immigrated to the West Indies from Spain. In 1813 in response to a letter written by Rebecca's uncle, Jacob Levy, who lived there and spoke of the opportunities for Jewish people there, the Benjamins moved to Wilmington, North Carolina. That city was the Benjamins' home until 1817 when the family followed Levy to Fayetteville, North Carolina, where Benjamin attended Fayetteville Academy.
In 1825, at the age of 14, he enrolled in Yale College. He was the top student in his class when he was expelled in 1827 after being charged with stealing from a fellow student, but the allegations were never proved. Though Benjamin was not an observant Jew, historians acknowledge that anti-Semitism was probably at the heart of his dismissal from school.
Marriage and Family
Following his expulsion, Benjamin moved to New Orleans, where he clerked and studied law at a law firm and began to study for the bar – to become a lawyer in Louisiana required fluency in both English and French. In order to fulfill this requirement, Benjamin took a job teaching English to the daughter of a prominent Creole family, Natalie St. Martin, so that he could learn French. And a love affair developed between the two.
On February 12, 1833, Benjamin married Natalie St. Martin, who was 16 years old at the time. As a condition of marriage, Benjamin agreed that the couple's children would be raised in the Catholic faith. Though his wife was extravagant and notoriously promiscuous, Benjamin indulged her. In 1843, Natalie gave birth to their only child, a daughter named Ninette.
For Natalie, Benjamin acquired the Belle Chasse sugar plantation in Plaquemines Parish and an elegant townhouse on Bourbon Street in New Orleans. As his wealth and status grew, Benjamin took on the trappings of antebellum Southern aristocracy. Benjamin built a grand home at Belle Chasse, where he became a path-breaking sugar planter.
Benjamin's law practice flourished. He and his friend John Slidell published a summary of decisions made by the territorial government and Supreme Court of Louisiana which became a standard legal guide. Benjamin devoted most of his attention to commercial law and became a widely admired lawyer. His plantation and legal practice both prospered.
Benjamin national reputation as a lawyer was established by his participation in the Creole Case, which was the result of a slave rebellion in 1841 on board the brig Creole. His brief – which reviewed the status of slavery under both international law and U.S. domestic law – was printed as a pamphlet and widely circulated. In this more liberal period of his life, he believed and argued that slavery was against the laws of humans and nature. He would later reverse his position.
Natalie was not supportive of Benjamin's new interest in politics, or tolerant of his absences. In 1842, he was elected to the Louisiana House of Representatives as a Whig, and in 1845 he served as a member of the state Constitutional Convention.
In 1845, after eleven years of marriage, Natalie took their daughter and moved to Paris. Natalie joined Benjamin briefly after his election to the Senate in 1852, but returned again to Paris because of scandalous rumors about her in Washington.
Though they never divorced, the couple rarely lived together again as husband and wife. Benjamin made a trip each summer to France to see his wife and child. His lifelong devotion to his wife has been well documented, and theirs was a romantic but tragic marriage that doomed Benjamin to much loneliness.
After his wife's departure, Benjamin retreated to his plantation, from 1845 to 1848, and began to experiment with sugar chemistry and processing. Ultimately, he lost the plantation when a friend defaulted on a note that Benjamin had signed.
Political Career
Despite his business reversals, Benjamin renewed his commitment to political service. Elected to the U.S. Senate in 1852, he was the second Jewish senator in U.S. history (after David Levy Yulee of Florida, in 1845). Also in 1852, Benjamin was nominated to the U.S. Supreme Court by President Millard Fillmore. Preferring to take his seat in the Senate, Benjamin declined Fillmore's offer and thereby missed the opportunity to be the first Jewish Supreme Court justice.
Benjamin also turned down an appointment as ambassador to Spain in 1853. Mindful of the escalating national conflict between North and South, he wanted to stay in the United States. In 1854 he wrote, "[A] gulf … is already opened between the Northern and Southern Whigs. … God knows what awaits us. The future looks full of gloom to me."
He took office as a Senator on March 4, 1853. During his first year as a Senator, he challenged another young Senator, Jefferson Davis of Mississippi, to a duel over a perceived insult on the Senate floor. Davis quickly and publicly apologized, and the two began a close friendship.
Varina Howell Davis, the future First Lady of the Confederacy, wrote years later of them during this period. "Sometimes when they did not agree on, a measure, hot words in glacial, polite phrases passed between them."
Benjmain quickly gained a reputation as a great orator. In 1854 Franklin Pierce offered him nomination to a seat on the Supreme Court, which he again declined. Benjamin was a noted advocate of the interests of the South, and his most famous exchange on the Senate floor was related to his religion and the issue of slavery: abolitionist Benjamin Wade of Ohio referred to him as "a Hebrew with Egyptian Principles."
When newspapers, political enemies, and military leaders insulted him with stinging phrases of religious prejudice, he almost never answered, but simply retained what observers called a perpetual smile.
In 1856 Benjamin left the Whig party and joined the more conservative Southern Democrats. He served Louisiana in the Senate until February 4, 1861 when he resigned from office along with other senators from the seceding Southern states. The Civil War had begun.
In the Confederate Cabinet
Judah P. Benjamin resigned his Senate seat to become Attorney General in the Confederate Cabinet, the first Jewish Cabinet member in a North American government. His brilliant legal mind made him invaluable to President Jefferson Davis, and as the bond of trust and friendship between the two deepened, Davis gave Benjamin increased responsibility.
Davis stated later that he chose Benjamin because he "had a very high reputation as a lawyer, and my acquaintance with him in the Senate had impressed me with the lucidity of his intellect, his systematic habits, and capacity for labor." Benjamin has been often referred to as "the Brains of the Confederacy."
Benjamin served as attorney general until November 21, 1861, when he became Secretary of War, inheriting a war department that was disorganized and deeply in debt. Throughout 1862, the Confederacy suffered both human and equipment shortages, and severe casualties, for which he was personally blamed. Benjamin was charged with inefficiency, and a motion to remove him from his post was drafted.
President Davis, still confident in Benjamin's abilities, appointed him Secretary of State on March 18, 1862. Benjamin served in that capacity for the remainder of the war, often working at Davis' side for up to 12 hours a day. Benjamin's service and loyalty to the Confederacy were extraordinary, especially in light of the anti-Semitism and hatred that pervaded the South throughout the war years.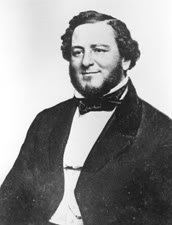 Image: Secretary of War Judah P. Benjamin
Judah Benjamin could not win foreign recognition for the Confederacy – his foremost goal as Secretary of State. But when he realized that military reverses had cooled foreign approval, he persuaded President Davis to take another direction, which proved highly successful. He realized that blockade-running was vital to sustaining Southern supplies, and he sent commercial agents to Bermuda, the West Indies and Cuba to open ports to Confederate blockade-runners. After mid-1863, the system was expanded and brought rich rewards to investors, shipowners and the Confederate Army. In this area Benjamin performed his most valuable service to the South.
In 1864, as the South's military position became increasingly desperate, he came to publicly advocate a plan whereby any slave willing to bear arms for the Confederacy would be emancipated and inducted into the military. This would have the dual effect of removing the greatest obstacle in British public opinion to an alliance with the Confederacy, and would also ease the shortage of soldiers that was crippling the South's military efforts.
As the clouds of defeat gathered, Benjamin spoke before 10,000 people in Richmond, delivering a remarkable speech in favor of a Confederate offer to free slaves to fight for the South. Although the idea of arming slaves as soldiers was supported by General Robert E. Lee, who desperately needed more men in the field, the public and political reaction was fierce.
Howell Cobb, the former governor of Georgia, wrote that "if slaves will make good soldiers, our whole theory of slavery is wrong." Nevertheless, the Confederate Congress passed a partial version of the measure on March 13, but by then it was too late. Richmond fell less than a month later.
Life after the Civil War
After General Lee's surrender to Ulysses S. Grant at Appomattox Courthouse on April 9, 1865, President Jefferson Davis and his cabinet fled Richmond in early April of 1865. After stopping briefly at Danville, Virginia, where the full cabinet met for the last time, the Southern officials continued to retreat South.
U.S. agents targeted Benjamin for capture because it was assumed, falsely, that he knew the location of large sums of money. After a brief stop in North Carolina, Benjamin headed south to Florida. Dressed as a Frenchman and speaking fluent French, Benjamin passed himself off as a journalist, Monsieur Bonfals. Because Benjamin was too heavy to ride a horse, he traveled by cart with a former Confederate officer from New Orleans who pretended to be his interpreter.
On May 1, 1865, Federal agents increased their efforts to locate all Confederate fugitives, and the New York Times called for Jefferson Davis, Judah Benjamin, and Confederate Secretary of War John C. Breckinridge to die "the most disgraceful death on the gallows." The price on Benjamin's head was $40,000, dead or alive. But by then Benjamin had already reached Tampa, Florida.
With the help of Confederate sympathizers and former Confederate soldiers, Benjamin traveled to the Gamble Mansion on the Manatee River below Tampa. En route, he presented himself as Mr. Howard, a farmer and cattle buyer. With Federal troops closing in, he was twice forced to hide in a canebrake near the mansion to avoid capture.
The Gamble Mansion
Built between 1845 and 1850 by Major Robert Gamble, a major figure in the early history of Florida, the Gamble Mansion was the center of operations for a large sugar plantation on the Manatee River in southwest Florida. The region stretching along the Gulf Coast from the Crystal River to below Tampa Bay was an ideal area for growing sugar cane and many prominent Floridians established plantations there.
Major Gamble had lost a fortune on the operation, however, and by 1865 the Gamble mansion was the residence of Captain Archibald McNeill, a famous blockade runner. McNeill kept commerce coming and going from South Florida by running his small sloops and schooners out to sea under the guns of the Union blockade. With Union troops searching for him, Benjamin hid at the Gamble mansion.
In late May 1865, after allowing Benjamin time to rest and prepare to continue his voyage, Captain McNeill set sail out of the Manatee River, which fronted the Gamble house. Making his way silently through the web of Union warships, he slipped into the Gulf of Mexico and escaped with important cargo – Judah P. Benjamin.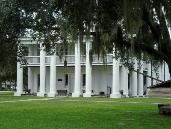 Image: Judah P. Benjamin Confederate Memorial
The Gamble Mansion was saved in 1925 when the United Daughters of the Confederacy purchased it and donated it to the state. That same year, it was designated the Judah P. Benjamin Confederate Memorial. The house was skillfully designed so that it would remain relatively cool in south Florida's hot summers. Much of the mansion was constructed with a primitive form of concrete called tabby, which is a mixture of water, shells and limestone.
After his vessel was shipwrecked, Benjamin was rescued and returned to Florida, where he again feared capture by Federal agents. He eventually reached Nassau and safety, and then set sail for England, arriving there on August 30, 1865, after almost five months of dangerous and grueling travel.
Living a spartan and frugal life at first, he studied English law. Barely a year after the close of the war, he was admitted to the British bar in June of 1866, and achieved enormous financial success in his new home country. He and Natalie developed a closer relationship following his arrival in England
In 1872 he attained the distinguished position of Queen's Counsel and was recognized as one of the leaders of English law. His book, Law of Sale of Personal Property (1868), was a standard in England and the United States for the next twenty-five years. He is credited with making major contributions to the British Empire's dominance of world trade in the last half of the nineteenth century.
Benjamin spent a few evenings at dinner with Jefferson Davis when the ex-president visited London five times between 1868 and 1883. Otherwise, he avoided nostalgic encounters with friends from the South. It is one of the enduring mysteries that Benjamin chose to erase all ties to his previous life. He never returned to the United States.
Benjamin fell from a tram car about 1880, and suffered multiple injuries; he also developed kidney and heart problems. He practiced law in England until 1883, when he retired and moved to Paris to be with Natalie and Ninette, but not for long.
Judah P. Benjamin died on May 6, 1884, in Paris, France, at the age of 72. He was buried at the Pere Lachaise Cemetery under a headstone marked Philippe Benjamin in the family plot of the Boursignac family, his daughter's in-laws. Three grandchildren died in childhood and no direct descendants survived. In 1938, the Paris chapter of tbe Daughters of the Confederacy finally provided an inscription to identify the man in the almost anonymous grave.
Because of the Civil War, Judah P. Benjamin became the first Jewish political figure to be projected into the national consciousness. Jews in the South were especially proud of his achievement because he validated their legitimacy as Southerners. A pivotal figure in American Jewish history, Benjamin broke down the barriers of prejudice to achieve high office. After him, it was more acceptable for Jews to be elected to office.
Benjamin's Belle Chasse Plantation was razed in March 1960 to make way for government buildings, and his townhome in the French Quarter is now a strip club.
SOURCES
Judah P. Benjamin
Wikipedia: Judah P. Benjamin
My Jewish Learning: Judah P. Benjamin
Legal Encyclopedia: Judah Philip Benjamin
The Gamble Mansion and Judah P. Benjamin