Wife of Union General Judson Kilpatrick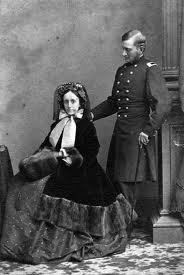 Luisa Fernandez de Valdivieso, a wealthy Chilean woman, met and married Kilpatrick while he was serving as U.S. Minister to Chile (1865-1870). The couple had two daughters, one of whom was the grandmother of artist and designer Gloria Vanderbilt.
Hugh Judson Kilpatrick was born January 14, 1836, on the family farm near Deckertown, New Jersey. He was the fourth child of Colonel Simon Kilpatrick and Julia Wickham. Like many rural children of the era, Kilpatrick quit school after the primary grades.
Image: Judson and Luisa Kilpatrick
It took him a while but Kilpatrick managed to gain admittance to the United States Military Academy at West Point, where he dropped his first name. Graduating 17th in a class of 45 cadets in May 1861, he was commissioned a second lieutenant in the 1st U.S. Artillery.
Kilpatrick in the Civil War
Ardently pro-Union and antislavery, Kilpatrick realized that the quickest road to promotion was with the volunteers, and rushed into service as captain of the flashy 5th New York volunteer regiment. It took just one month for his name to appear in the headlines – at Big Bethel on June 10, 1861, he was hit in the buttock by a grapeshot. He was praised in Northern newspapers, and was touted as the first Union officer to be wounded in the war.
Physically, Kilpatrick was a candidate for least heroic-looking of any general in the army. Only twenty-seven years old, a fellow officer described him as "A wiry, restless, undersized man with black eyes [and] a lantern jaw." He sported huge, stringy sand-colored sideburns, had bandy legs that gave him a rolling gait, and spoke in a shrill voice. He constantly attempted to advance himself by aggressiveness and bluster.
On September 25, 1861, Kilpatrick was commissioned a lieutenant colonel in the 2nd New York Cavalry, which he helped to raise. For the next several months, while the war was largely inactive in the East, he served as a staff officer and took part in cavalry skirmishing in Northern Virginia.
When the Second Bull Run Campaign began in August 1862, Kilpatrick seized all opportunities for self-promotion. He made a successful raid on a Confederate railroad early in the campaign. When the climactic battle began at Bull Run, he ordered a cavalry charge in the twilight at the end of the first day's fighting which succeeded only in annihilating a squadron under his command.
Kilpatrick was aggressive, fearless, ambitious and blustery. In his mid-twenties, he was a master of using political influence to get ahead. His men had little love for him and his willingness to exhaust men and horses and to order suicidal mounted cavalry charges. Yet he received the attention he wanted, and was promoted to colonel of the 2nd New York in December 1862.
In February 1863, General Joseph Hooker created a Cavalry Corps in the Army of the Potomac, commanded by General George Stoneman. Kilpatrick assumed command of the First Brigade, Second Division.
In the Chancellorsville campaign in the spring of 1863, Kilpatrick led a successful raid into the rear of General Robert E. Lee and his Army of Northern Virginia. Although the expedition failed in its goal of throwing Lee into a retreat toward Richmond, Kilpatrick achieved fame by aggressively capturing wagons, burning bridges, and riding around Lee, almost to the outskirts of Richmond, Virginia.
When Stoneman was relieved after Chancellorsville, Hooker named General Alfred Pleasonton as his temporary replacement. The new cavalry commander was looking for a fighter to lead the new cavalry division he had stolen from Hungarian commander, Major General Julius Stahel, and he chose Kilpatrick.
At this moment of triumph for Kilpatrick, there were many misgivings and unanswered questions about him. First was his reckless disregard for the lives of soldiers under his command. He had shown a tendency to take off on wild goose chases without a thought to the waste of horseflesh such adventures involved, and to order reckless charges which slaughtered his troopers, as he had at Second Bull Run – these traits would earn Kilpatrick the nickname Kill Cavalry among his men.
Further, there were questions about his honesty: he had lain in jail for weeks in 1862 under suspicion that he had sold confiscated Confederate livestock and provisions for personal gain. He had been jailed again for defaming government officials while on a drunken spree in Washington. He had even been implicated in a graft scheme whereby certain horse brokers paid him off in order to get contracts to sell horses to his brigade.
As if all this were not enough, he was a known devotee of prostitutes, though he was married and his wife was with child. He drank hard liquor while at the same time professing temperance. His official reports of battle were notoriously fictionalized, with exaggerated accounts of heroic behavior and enemy casualties.
And yet against all this, Kilpatrick showed a fearlessness and a positive love of fighting that the Army of the Potomac badly needed in its officers. He showed "a great impatience and eagerness for orders," a trait which endeared him to superiors.
Kilpatrick at Gettysburg
At the beginning of the Gettysburg Campaign, on June 9, 1863, Kilpatrick had fought at Brandy Station, the largest cavalry battle of the war. He was promoted to brigadier general on June 13. He fought at Aldie and Upperville, and assumed division command three days before the Battle of Gettysburg began.
On June 30, Kilpatrick's two brigades fought a sharp skirmish with Stuart's cavalry at Hanover, Pennsylvania, 15 miles east of Gettysburg, but then proceeded on a wild goose chase in pursuit of Stuart. Kilpatrick wasted July 1 looking for Stuart, disobeying the command of General George Meade, who had ordered Kilpatrick to make accurate information-gathering his "most important and sacred" duty.
On the morning of July 2, Kilpatrick received orders to move toward the battlefield, and directed his brigades to Hunterstown, five miles northeast of Gettysburg. Arriving in mid-afternoon, he clashed with CSA General Wade Hampton's cavalry, where both sides made reckless charges and then pulled back. At 11:00 that night, Kilpatrick moved south, reaching Two Taverns, five miles southeast of Gettysburg, between 3:00 and 4:00 am.
At 8:00 am, July 3, General Kilpatrick was ordered to move west toward the Emmitsburg Road and come into position on the Army of the Potomac's left, south of the Round Tops. As he was leaving Two Taverns, Second Division commander Brigadier General David Gregg commandeered General George Armstrong Custer and his rear brigade, leading it back up the Baltimore Pike to join his two brigades guarding the army's right rear. Kilpatrick headed west with only one brigade.
After Pickett's Charge on the afternoon of July 3, army commander Generals Meade and Pleasonton ordered Kilpatrick to launch a cavalry charge against the infantry positions of CSA Lt. General James Longstreet on the Confederate right flank, just west of Little Round Top.
Kilpatrick's lone brigade commander, Brigadier General Elon Farnsworth, protested against the futility of such a move. Kilpatrick essentially questioned his bravery and allegedly dared him to charge: "Then, by God, if you are afraid to go I will lead the charge myself." Farnsworth reluctantly complied with the order. He was killed in the attack and his brigade suffered significant losses.
Image: General Kilpatrick and Staff
Kilpatrick (second from left on porch), commander of Third Division, Cavalry Corps, and staff members on the porch of his winter quarters at Brandy Station, Virginia, December 1863 – April 1864.
The Dahlgren Affair
Just before Lt. General Ulysses S. Grant began his Overland Campaign in the spring of 1864, Kilpatrick conducted a raid toward Richmond and through the Virginia Peninsula, hoping to rescue Union prisoners of war held at Belle Isle and in Libby Prison. He destroyed much property and had many encounters with the enemy, but did not achieve his goal. One of his brigade commanders, Colonel Ulric Dahlgren, the son of Rear Admiral John Adolph Dahlgren, was killed in the process. Papers found on Dahlgren's body shortly after his death, contained orders for an assassination plot against Confederate President Jefferson Davis.
The discovery and publication of the Dahlgren Papers in the Confederate press sparked an international controversy. The expedition was such a fiasco that Kilpatrick found he was no longer welcome in the Eastern Theater. He transferred west to command the Third Division of the Cavalry Corps of the Army of the Cumberland under Major General William Tecumseh Sherman. Summing up Judson Kilpatrick, Sherman said "I know that Kilpatrick is a hell of a damned fool, but I want just that sort of man to command my cavalry on this expedition."
Starting in May 1864, Kilpatrick rode in the Atlanta Campaign. On May 13, he was severely wounded in the thigh at the Battle of Resaca, and his injuries kept him out of the field until late July. When he returned, he had considerable success raiding behind Confederate lines, tearing up railroads, and at one point he rode his division completely around the enemy positions in Atlanta. Kilpatrick continued with Sherman throughout his March to the Sea to Savannah, Georgia, and as they swung north in the Carolinas Campaign. Kilpatrick delighted in destroying Southern property.
Kilpatrick's Shirttail Skedaddle
The Battle of Monroe's Crossroads (known colloquially as Kilpatrick's Shirttail Skedaddle) was fought during the Carolina Campaign on the grounds of the present day Fort Bragg Military Reservation, near Fayetteville, North Carolina. In command of the Confederate cavalry in the area were General Wade Hampton and Major General Joseph Wheeler, whose goal was to capture General Kilpatrick using an elite squadron of hand-picked troopers.
General Kilpatrick had developed a reputation as a ladies' man since his wife's death in 1863, but the the persistent story of his female companions on that day is disputed as legend by some historians. On the morning of March 9, 1865, Kilpatrick was allegedly riding in a carriage with Marie Boozer and her mother, who had been accompanying Kilpatrick since the fall of Columbia, South Carolina, their home.
Union scouts, commanded by Captain Theo Northrop, patrolled 10 to 15 miles in front of the vanguard of Kilpatrick's main column. Northrop arrived at Monroe's Crossroads, named for Charles Monroe who owned the adjacent farm. By then, the farm residents had fled. The Monroe farm included the main house and a small cabin behind it, apparently the residence of a black woman. The mansion house was designated Division Headquarters. The 400 dismounted men of the 4th Cavalry Brigade, escorting supply and ammunition wagons, as well as Kilpatrick's headquarters wagon, set up camp by the residence, while wagon drivers parked on the lawn.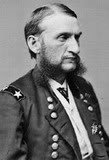 Image: General Judson Kilpatrick
By 6:00 pm, Kilpatrick was headed toward Monroe's Crossroads. A small contingent of Kentucky cavalry were riding in front, about 40 men in all. All at once, South Carolina troopers charged out of the woods and surrounded the first Union contingent farther down the road. With no chance of escape, the Federals dropped their reins in submission.
The second group of riders escaped by riding into the adjacent forest. They crashed blindly through the trees, branches grabbing at their clothes, sometimes lashing their faces. Some riders lost their hats as they fled. The Confederates did not pursue them. Kilpatrick and his female companions finally arrived at the crossroads late that evening. He was briefed on the situation: there were Confederate patrols operating throughout the area, but no large force had been detected. Kilpatrick, his staff, and the two women divided up the farmhouse rooms. Kilpatrick and Marie Boozer apparently left the house for a while, staying part of the night in the nearby cabin.
Sometime in the predawn hours, Kilpatrick and his female companion had returned to the house. On March 10 at 6:00 am, Kilpatrick stepped out onto the porch of the main house to make sure his horses were being cared for. Expecting to be out only a moment, he was dressed only in his shirt and long underwear. In the yard, several soldiers had awakened and were rolling their blankets.
The area around the Monroe house was covered in a thick fog, and as Kilpatrick inquired about his horses, CSA General Joseph Wheeler and his escort broke through the fog and his bugler sounded the charge. Simultaneously breaking the morning silence was a penetrating Rebel yell. Stunned by the sounds and commotion of the thundering horsemen, Kilpatrick stood motionless on the porch in his underwear. As he looked around for an escape route, Confederate cavalrymen were pouring out of the fog by the dozens.
A squad led by a young Confederate Captain charged directly up to Kilpatrick, gun drawn, and asked, "Where is General Kirkpatrick?" This officer obviously had no idea he was pointing his weapon at the leader of General Sherman's cavalry. Looking around, Kilpatrick saw an officer mounting a trotting horse. Pointing, he replied, "There he goes." And the cavalryman galloped off in hot pursuit. Startled into action by his good luck, a barefoot Kilpatrick leapt the porch rail and headed southwest toward the safety of a nearby swamp, making good his second escape in twenty-four hours.
Hearing firing to his right, Kilpatrick worked his way along the edge of the swamp and joined a group of his men. Recovered from their initial shock, the Union troopers were now ready to fight. They crept up the slope toward the house, using the cover of pine trees, and counterattacked the Confederates with their rapid-firing Spencer carbines. Anticipating the approach of Union infantry, the Confederate commanders ordered their troops to disengage from the action in the mid-morning. Hampton's cavalry finally withdrew in good order toward Fayetteville, denying Kilpatrick the honor of entering the town first.
Shooting stopped at Monroe's Crossroads about 9:00 am, March 10, 1865, ending a comparatively short, but brutal battle. The Union cavalry, remaining after the Confederates departed, turned the main house into a makeshift hospital where the most seriously wounded were examined and treated by physicians. A Union infantry brigade arrived soon after the battle ended and buried both the Confederate and Union dead in shallow graves mounded over with the sandy eastern North Carolina soil.
Kilpatrick, somewhat shaken, expressed his wish to leave the area as soon as the wounded were tended. As the last casualty was released by the surgeon, his staff sent word to Kilpatrick that they were ready to move. He and his aides rode through the assembled regiments, issuing commands for them to fall in behind. By midafternoon, the cavalry division moved out. Because they had been delayed by the surprise Confederate attack, they were not the first Union troops to occupy Fayetteville, as Kilpatrick had hoped. Instead, the cavalry camped that night within the protective reach of General Sherman's infantry, still some distance from Fayetteville.
Image: Battle of Monroe's Crossroads Monument
This monument honoring both North and South fighting forces was erected on the site of the battle by the U.S. Army Corps of Engineers' 307th Engineer Battalion (Combat) (Airborne) in April, 1996, just south of burial area C.
The Battle of Monroe's Crossroads had gained the additional time needed for the Confederate infantry to conduct an organized crossing of the Cape Fear River at Fayetteville, unmolested by the advancing Federals. With their troops and equipment east of the Cape Fear River, the Confederates burned the bridges as Union forces arrived.
After the war, Judson Kilpatrick commanded a division of the Cavalry Corps in the Military Division of the Mississippi from April to June 1865, and was promoted to major general of volunteers on June 18, 1865. Kilpatrick pulled some political strings, and was appointed U.S. Minister to Chile in 1865 – probably not quite the job he was hoping for, but it was probably a stroke of luck.
While there, he married Luisa Fernandez de Valdivieso, a wealthy Chilean woman, who was a niece of the Archbishop of Santiago, and reportedly was a descendant of Spain's royal house of Navarre. They had two daughters. Kilpatrick was also involved in some unsavory political situations, and ended up getting recalled in 1870.
In August 1878 General Kilpatrick invited the Grand Army of the Republic (the Union veterans fraternal organization) to hold their annual encampment on his farm in Sussex County, New Jersey. All told, some 40,000 veterans and visitors crowded into the space. There was a parade of cavalry from Deckertown to the farm, complete with horses, carriages, wagons and cannons. The veterans camped in Kilpatrick's fields, slept in tents, and built campfires, as they had during the war. The next day thousands of veterans held a "sham battle" (today called a reenactment) with firing of cannons and musketry, infantry charges, and finally a truce.
President James A. Garfield re-appointed Kilpatrick to his post of Minister to Chile in March 1881. But not for long. Kilpatrick was ill all year.
Major General Judson Kilpatrick died December 4, 1881, in Santiago, Chile, at the age of 45. His body was returned for burial on the grounds of the United States Military Academy at West Point, New York.
There is a large granite marker in the cemetery at West Point, where his body was moved in 1887. And in a cemetery where such markers are routinely inscribed with ranks held, companies commanded, battles fought and honors received, the grave monument of the arrogant, ambitious and egocentric General Judson Kilpatrick is surprisingly modest. Other than his last name, it is inscribed with a simple sentence: "Erected by his comrades and friends," of which he had many.
A commemorative marker placed by the County of Sussex remembers the site of Kilpatrick's Grand Encampment on Deckertown Turnpike in New Jersey. Sadly, there is little else to remember him by: both the house he was born in and the house he later lived in are gone.
Laura Delphine Kilpatrick, daughter of Luisa Fernandez de Valdivieso and General Judson Kilpatrick, married Harry Hays Morgan, an American diplomat. In 1924 their daughter Gloria Laura Mercedes Morgan married Reginald Vanderbilt – youngest son of railroad magnate Cornelius Vanderbilt II – and they were the parents of artist, writer and designer Gloria Vanderbilt.
Gloria Vanderbilt and writer Wyatt Emory Cooper are the parents of Anderson Cooper (born June 3, 1967), an Emmy Award-winning television journalist, currently working for the CNN television network. And of course, this makes Cooper the great-great-grandson of General Judson Kilpatrick.
The Kilpatricks had another daughter, Julia Mercedes Kilpatrick, but there is little information about her life except a marriage announcement in the New York Times, November 11, 1894:
The military wedding at Murray Hill Hotel [in New York City] at 4 o'clock Wednesday afternoon was of especial interest, the bride Miss Julia Mercedes Kilpatrick, daughter of General Hugh Judson Kilpatrick, and the bridegroom Lieutenant William Carroll Rafferty of the First Artillery, United States Army, being prominent in military and social circles. Miss Laura Delphine Kilpatrick, the bride's sister, acted as maid of honor.

General James Grant Wilson gave the bride away – the bride's father, Major General Judson Kilpatrick, died December 4, 1881 in Santiago, Chile, at the age of 45. Among the many guests who attended the reception after the ceremony were former Union Civil War Generals and their wives: Mrs. O.O. Howard, Mrs. James Grant Wilson, Mr. and Mrs. Daniel Sickles, General and Mrs. Horace Porter.
SOURCES
Battle of Monroe's Crossroads
Wikipedia: Hugh Judson Kilpatrick
The Generals of Gettysburg: The Leaders of America's Greatest Battle by Larry Tagg. Brigadier General [Hugh] Judson Kilpatrick
Judson Kilpatrick, Vernon's Civil War hero (sort of)