Wife of Confederate General Lewis Armistead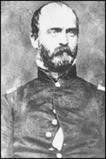 Image: General Lewis Armistead
Lewis Addison Armistead was born on February 18, 1817, at the home of his great-grandfather, John Wright Stanly, in New Bern, North Carolina, son of Walker Keith Armistead and Elizabeth Stanly Armistead. Lewis' grandfather, John Stanly, was a U.S. Congressman and his uncle Edward Stanly served as military governor of eastern North Carolina during the Civil War. Lewis grew up near the mountains of Virginia on the family farm, Ben Lomond, near the town of Upperville, Virginia.
Early Military Career
Lewis Armistead was accepted to West Point on March 21, 1833, but resigned on January 29, 1836, after an incident in which he broke a plate over the head of fellow cadet Jubal Early. He was also having academic difficulties, and some historians cite academic failure as his true reason for leaving.
His influential father managed to obtain for Armistead a second lieutenant's commission in the 6th U.S. Infantry on July 10, 1839, at roughly the time his classmates graduated. He served three years in Florida and was transferred to Jefferson Barracks, just south of St. Louis, Missouri, in 1842. In 1844, Lewis met someone who would be a life-long friend, fellow Army officer Winfield Scott Hancock.
Armistead's first marriage was to Cecelia Lee Love, a distant cousin of Robert E. Lee, in 1844. They had two children: a son, Walker Keith Armistead, was born on December 11, 1844 at Saint David's Parish, Alabama; and a daughter, Flora Lee Armistead, was born on June 26, 1846.
Armistead served in the Mexican War, and was brevetted to the honorary rank of Captain for his actions in battle. After the Mexican War in 1849, he was assigned to recruiting duty in Kentucky, where he was diagnosed with a severe case of Erysipelas, a degenerative skin disease that destroys tissue. The diseased tissue was removed and he eventually recovered.
In April 1850, little Flora Lee died, and was buried at Jefferson Barracks, where Armistead was serving at the time. Later that year, Cecilia Armistead died on December 12, 1850 from an unknown cause. In 1852, the Armistead family home in Virginia, Ben Lomond, burned, destroying nearly everything. Armistead took leave in October 1852 to go home and help his family.
While on leave Armistead married his second wife, the widow Cornelia Taliaferro Jamison, at Christ Church in Alexandria, Virginia, on March 17, 1853. She was the widow of a naval midshipman who had died in 1845. They both went west when Armistead returned to duty shortly thereafter.
The new Armistead family traveled from post to post in Nebraska, Missouri, and Kansas. The couple had one child, Lewis B. Armistead, who died on December 6, 1854, and was also buried at Jefferson Barracks next to Flora Lee Armistead. He was promoted to captain on March 3, 1855.
On August 2, 1855, at Fort Riley, Kansas, tragedy again struck Armistead when his second wife, Cornelia Taliaferro Jamison Armistead died during a cholera epidemic.
Between 1855 and 1858, Armistead served at posts in Kansas Territory and in Nebraska Territory. In 1858, his 6th Infantry Regiment was sent as part of the reinforcements in the aftermath of the Utah War.
Armistead in the Civil War
With the attack on Fort Sumter, South Carolina, in April 1861, many Southern men were faced with the difficult decision of remaining with the Army they had served loyally for most of their lives, or leaving to fight for their home states. Like many of his Southern comrades, Lewis Armistead resigned from the U.S. Army on May 26, 1861, to serve his beloved Virginia.
Shortly thereafter, in an incident popularized in the novel Killer Angels by Michael Shaara that Armistead attended a tearful farewell party. Held for the departing Southerners by their brother officers and wives at the home of Winfield and Almira Hancock in Los Angeles, California. Lewis gave Almira his prayer book, inscribed with "Trust in God and Fear Nothing."
He also gave other possessions to be forwarded to his family in the event of his death. To his friend Winfield, he gave a new Major's uniform and goodbyes were said, in what was to be a final farewell between dear and trusted friends.
Traveling east, Lewis arrived in Richmond, Virginia, in mid-September 1861, and was appointed to the rank of Major in the Confederate Army on September 14, 1861. Within less than two weeks, he was appointed full Colonel and given command of the 57th Virginia Infantry Regiment which was in training just north of Richmond.
He served in the western part of Virginia, but soon returned to the east and General Robert E. Lee's Army of Northern Virginia. On April 1, 1862, he was promoted to Brigadier General and was given command of an infantry brigade, which was made up of five Virginia regiments: the 9th, 14th, 38th, 53rd, and his old regiment, the 57th.
Armistead served in the battles of Seven Pines, the Seven Days, Sharpsburg, and the Suffolk Campaign. At Malvern Hill on July 1, 1862, Armistead's largely unsupported brigade led the assault against the strong Union position and was forced back, suffering more than 350 killed and wounded out of 1,200 engaged.
During the Maryland Campaign in September 1862, Robert E. Lee, recognizing Armistead's qualities, appointed him provost marshal for the army. He was well-suited for such duty because, according to a colonel in his brigade, Armistead was a "strict disciplinarian" who believed that "obedience to duty" was "the first qualification of a soldier."
Later that fall, when Lee reorganized the Army of Northern Virginia, Armistead's brigade was assigned to a new division commanded by General George Pickett. At Fredericksburg in December 1862, the division occupied the center of the Confederate line, and therefore saw no action. In the spring of 1863, Armistead and his brigade took part in a foraging expedition to southeastern Virginia and as a result missed the Chancellorsville Campaign.
Armistead at Gettysburg
Pickett's Division was one of the largest in the Army of Northern Virginia. Having been assigned to defenses in the Richmond area in 1863, Pickett's troops were veterans of several campaigns, and joined the army as it made its way toward Maryland and Pennsylvania. Pickett's division, which up to then had been held in reserve, was chosen to spearhead Lee's attack on the center of the Union line.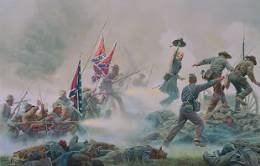 Image: Follow Me, Boys!by Mort Kunstler
Armistead at Gettysburg, hat on his sword as he led his brigade in Pickett's Charge, has become one of the icons of the Civil War. He and a small group of survivors crossed the stone wall that was the objective of the attack, which has come to be known as the High Water Mark of the Confederacy.
In an action that would forever be known as Pickett's Charge, General Lewis Armistead led his brigade on foot from the front toward Cemetery Ridge, his hat waving from the tip of his raised sword. Rushing across the shell-swept field, they reached the center of the Union line, which was commanded by Armistead's old army buddy, General Winfield Scott Hancock, commander of the Union II Corps.
In the lead when the remnants of Pickett's Division pierced the Union Line, Armistead crossed the low stone wall and temporarily broke the Union line. As he crossed over the wall, he placed his hand on one of Lt. Alonzo Cushing's cannon in the center of the Angle when Armistead was struck by a volley of rifle fire.
General Armistead was shot twice: in the fleshy part of the arm and below the knee. When Armistead went down he gave a Masonic sign asking for assistance. Shortly thereafter, Union Captain Henry Bingham, a Masonic Brother and a member of General Hancock's staff, came to his aid. Generals Armistead and Hancock were also members of the Masonic Order. Bingham told Armistead that his old friend Hancock had been commanding this part of the Union line, and that Hancock had also just been wounded.
The charge, although bravely executed, was repulsed with severe loss. Pickett's soldiers who survived the charge returned to Seminary Ridge, broken and shattered. The charge had lasted barely 50 minutes, but Pickett lost over half of his division in killed, wounded, and captured, including all three of his brigadier generals in the charge.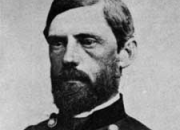 The badly wounded Armistead was subsequently taken prisoner by Federal forces and carried to a Union field hospital at the George Spangler Farm. According to the surgeon who tended him there, none of the wounds caused bone, artery, or nerve damage, and his injuries were not believed to be fatal. But he was exhausted both mentally and physically.
Despite the best efforts of Union doctors, General Lewis Armistead died on the morning of July 5, 1863, from a combination of blood loss and exhaustion.
Though initially buried on the Spangler farm, Armistead's remains were later moved to the family vault at Old St. Paul's Cemetery in Baltimore, Maryland. There he is buried next to his uncle, Lieutenant Colonel George Armistead, commander of the garrison of Fort McHenry during the Battle of Baltimore.
The scene of Armistead's wounding is featured in Michael Shaara's novel, The Killer Angels, in which Armistead is a principal character. Actor John Prosky depicted Armistead in a special appearance in Gods and Generals, accompanying Pickett at Fredericksburg. As a result, Lewis Armistead has become one of the best known Confederate officers in the war.
Armistead's death was immortalized in the 1993 film, Gettysburg, in which he was portrayed by actor Richard Jordan. In the movie, the meeting between Armistead and Bingham at the High Water Mark was changed, with Lt. Thomas Chamberlain, brother of Colonel Joshua Lawrence Chamberlain, taking Bingham's place.
Friend to Friend Memorial by Ron Tunison
Gettysburg National Military Park
Inscription: Depicted in this sculpture is Union Captain Henry Bingham, a Mason and staff assistant to General Hancock, rendering aid to fallen Confederate General Lewis Armistead who is shown handing his watch and personal effects to be taken to his friend, Union General Hancock.
SOURCES
The Fame of Pickett's Charge
Lewis A. Armistead (1817–1863)
Wikipedia: Lewis Addison Armistead
Brigadier General Lewis Addison Armistead