Deborah Sampson in Uniform
Female Soldier in the Revolutionary War
Deborah Sampson was born in Plympton, Massachusetts, on December 17, 1760. Although her family name was originally spelled without the p, it is under this spelling that she is most commonly remembered. She was the oldest of seven children of Jonathan and Deborah Bradford Sampson, both of old Colonial stock. Mrs. Sampson was a descendant of William Bradford, once Governor of Plymouth Colony.
Jonathan Sampson abandoned his family and moved to Maine, where he continued to live in poverty. Her mother was of poor health and could not support the children, so she sent them off to live with various friends and relatives. Deborah, aged five, was taken by a spinster, and she was then sent to work in the home of the elderly widow of the Reverend Peter Thatcher.
At the young age of eight, Deborah became an indentured servant in the household of Jeremiah Thomas – the proud father of ten sons – in Middleborough, Massachusetts. For ten years, she helped with the housework and worked on the farm, growing to be almost five feet eight inches tall, almost a foot taller than the average woman of her day, and taller than the average man. Hard labor developed her physical strength.
As was customary with farm girls of the era in her circumstances, she received no formal schooling, but she learned by having the Thomas boys review their studies with her each evening after they returned from school and chores were done for the night. In winter, when there wasn't as much farm work to be done, she was able to attend school.
When she turned eighteen and was released from her indentured servitude, Deborah took a position as schoolteacher, rejecting the suggestion that she should marry. She supplemented her income by spinning and weaving at various homes and at Sproats Tavern, a gathering place for men who discussed the battles of the Revolutionary War and the heroic exploits of the local young men.
In the Continental Army
At the age of 21, Deborah wanted to do her part in the War for Independence. Since women were not allowed to enlist, she disguised herself as a man. Her physical attributes helped her disguise her sex. She had a muscular build, and her limbs were strong and well proportioned. Her breasts were small, and she could easily bind them with a cloth.
The local recruiting office enlisted Deborah Sampson under the name of "Thomas Thayer" of Carver. Her lack of facial hair did not give her away, since recruiters were signing up adolescents who were too young to grow beards. Because someone had remarked about the manner in which she held a quill pen, she feared that she might have been recognized and did not report for duty the following day.

To lessen the chance that she might be recognized, Deborah dressed in male clothing and traveled dozens of miles from Middleborough in eastern Massachusetts to Worcester, near the center of the state. There, on May 20, 1782, she tried again, this time successfully enlisting in the Continentinal Army under the name of Robert Shurtliff, and served seventeen months in the army.
Although the last major battle of the Revolution had been fought the previous October when Cornwallis surrendered at Yorktown, a desperate guerilla warfare was still being fought in some areas by determined Tories who refused to give up, and the British still occupied New York City and other areas.
Deborah was chosen for the Light Infantry Company of the 4th Massachusetts Regiment, which consisted of fifty to sixty men, and marched with her unit to West Point, New York, where they patrolled the no man's land between British-controlled Manhattan and the areas of Westchester held by the Patriots. One of the Tory units was a feared band led by Colonel James DeLancy, and several merciless hand to hand struggles took place. In these wild skirmishes, Deborah demonstrated her courage, strength, loyalty and fighting skill.
At one point, Deborah's regiment encountered another American unit headed by Colonel Ebenezer Sproat. She had spent time spinning and weaving in a tavern owned by Colonel Sproat's father, and feared that he would recognize her, but he did not.
During her first battle, on July 3, 1782, near Tarrytown, New York, Deborah received two musket balls in her thigh and a forehead wound from a sabre slash. She begged her fellow soldiers to just let her die and not take her to the hospital, but they refused to abandon her. A soldier put her on his horse and they rode six miles to a hospital.
The doctors treated her head wound, but Deborah did not tell him about her bullet wounds. Fearful that her true identity would be discovered, when the doctor began to attend another wounded soldier, Deborah limped out of the hospital. She later removed one of the balls herself with a penknife and a sewing needle, but her leg never fully healed because the other ball was too deep for her to reach. It bothered her for the rest of her life. She was some time recovering from her wounds before she was able to rejoin her company.
On April 1, 1783, Deborah was promoted and spent seven months serving as a personal orderly to General John Patterson. This job entitled her to a better quality of life, better food, and less danger.
During the summer of 1783, Deborah came down with malignant fever and was cared for by Dr. Barnabas Binney. He removed her clothes to treat her and discovered the band she used to bind her breasts, and thus discovered her secret. He did not betray her, nor did he make any sign to her that he knew. He took her to his house, where his wife and daughters further treated her, thinking that she was a young man the entire time.
After Sampson recovered, she returned to the army, but only for a short time. In September 1783, peace was assured through the signing of the Treaty of Paris. On October 25, 1783, General Henry Knox honorably discharged Deborah Sampson from the Army at West Point.
Deborah went home to Plympton, but her mother disapproved of her dressing like a man. She then went to the home of her aunt, Alice Waters. The elderly Waters reportedly thought Deborah was her nephew. While living in Stoughton with her aunt and uncle, Deborah met Benjamin Gannett, a farmer from Sharon, Massachusetts. She decided to discard her male garb and dressed as a female again. She and Benjamin soon became engaged.
Deborah Sampson married Benjamin Gannett on April 7, 1785. They had three children: Earl (1786), Mary (1788) and Patience (1790). The marriage was for the most part cursed with poverty. The Gannetts lived in a small three room structure in Sharon. Money was a constant problem, and there are letters still existing in which Deborah mentions small sums of money she had borrowed from friends.
In January 1792, Deborah petitioned the Massachusetts State Legislature for back pay, which the army had withheld because she was a woman. Her petition passed through the Senate and was approved and signed by Governor John Hancock.
On January 19, 1792, the legislature granted Deborah thirty-four pounds with interest from October 23, 1783. A document praising her service was sent with the pension, and stated, "that the said Deborah Sampson exhibited an extraordinary instance of feminine heroism by discharging the duties of a faithful, gallant soldier, and at the same time preserving the virtue and chastity of her sex unsuspected and unblemished and was discharged from the service with a fair and honorable character."
In 1796, Deborah and Benjamin adopted a baby, Susannah Baker Shepard, whose mother had died in childbirth and whose father seems to have disappeared soon after. Life was hard for the Gannetts. Their farm was only forty-nine acres, one of the smallest in the community.
When an idealistic young writer and editor named Herman Mann proposed that he collaborate with Deborah on an account of her military service, she readily accepted, hoping that income from a book would help her pay off her family's debts. The reminiscence, entitled The Female Review: Life of Deborah Sampson, the Female Soldier in the War of the Revolution was published in 1797.
Mann commissioned Joseph Stone of Framingham to paint a portrait of Deborah for the frontispiece of the book, which is far from flattering. The book sold well and brought Deborah some notoriety. Unfortunately, Herman Mann invented entire episodes of her life, creating even more misconceptions about her military career.
Still struggling to improve her financial circumstances, in 1802, Deborah began performing The American Heroine in Boston, and later in towns across Massachusetts and New York. During the performance, she delivered a patriotic oration about her experiences in the army, which was written by Mann. She then reappeared on stage in uniform and demonstrated how to clean, load, and fire a musket. Her audiences were astonished.
Deborah became acquainted with the famous midnight rider, Paul Revere after he established a copper-rolling business in the town next to Deborah's. Struck by her plight, in 1804 Revere wrote to Massachusetts' representative William Eustis, requesting that Congress grant her a military pension for her services during the war. This had never before been requested by or for a woman, but with her health failing, the money was greatly needed.
In his letter dated February 20, 1804, Revere wrote: "Her husband is a good sort of man, though of small force in business. They have a few acres of poor land, which they cultivate, but they are really poor. I have been induced to enquire her situation, and character, since she quit the male habit and soldier's uniform for the most decent apparel of her own sex; and obliges me to say, that every person with whom I have conversed about her, and it is not a few, speak of her as a woman with handsome talents, good morals, a dutiful wife, and an affectionate parent."
On March 11, 1805, Congress placed her on the Massachusetts Invalid Pension Roll, and began paying her four dollars a month. Deborah also received back pay of forty-eight dollars for each of the two preceding years. While this may sound like a pittance to modern Americans, that forty-eight dollars was probably more money than the Gannetts earned from their farm in a year.
In 1809, she sent another petition to Congress, asking that her pension as an invalid soldier, given to her in 1805, commence with the time of her discharge in 1783, but it was denied. In 1816, her petition came before Congress again. This time, out of kindness, generosity, and maybe a little guilt, they approved her petition, awarding her $76.80 a year, or $6.40 a month. She found this amount much more satisfactory, and was able to repay all her loans and take better care of the family farm.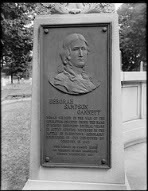 Deborah Sampson Monument
Rock Ridge Cemetery
Sharon, Massachusetts
Things brightened up for Deborah in 1813. Her son Earl married Mary Clark and built a beautiful mansion which still stands at 300 East Street in Sharon. There Deborah made her home in her final years. She and her descendants attribute her chronic ill health during that period to the musketball that had been lodged in her thigh since the Revolution.
Deborah Sampson died on April 29, 1827, in Sharon, Massachusetts, at the age of 66 of yellow (mountain) fever. She was buried in nearby Rock Ridge Cemetery. Her gravestone is located a short distance from the hill on which her grandson, George Washington Gay, erected a monument to her and the Civil War veterans many years later.
The town of Sharon memorializes Sampson with Deborah Sampson Street, a Deborah Sampson Statue in front of the public library, Deborah Sampson Field, and the Deborah Sampson House.
On May 23, 1983, Governor Michael J. Dukakis signed a proclamation which declared that Deborah Samson was the Official Heroine of the Commonwealth of Massachusetts. Two news services stated this was the first time in the history of the United States that any state had proclaimed anyone as the official hero or heroine.
SOURCES
Deborah Sampson
Wikipedia: Deborah Sampson
Deborah Sampson Performs in Boston
Canton Massachusetts Historical Society
Distinguished Women of Past and Present
paulreverehouse.org: Letter on Behalf of Deborah Sampson Gannett – PDF File