Wife of Union General Carl Schurz
Margarethe Meyer was born on August 27, 1832, in Hamburg, Germany, the youngest of four children in a prominent family that encouraged her to pursue the arts and education. Her mother died at her birth. Her father, Heinrich Meyer, a prosperous, socially liberal Jewish merchant, opened his home to artists and intellectuals. Her older sister Bertha married the excommunicated priest Johannes Ronge, the founder of German Catholicism.
As a teenager, Margarethe was exposed to the teachings of kindergarten founder Friedrich Froebel. When Froebel came to Hamburg to lecture on his new theories of educating children, Margarethe and Bertha attended his classes. Froebel designed the kindergarten (garden of children in German) to provide an educational situation less formal than elementary school. Through the use of songs, stories, games, simple materials and group activities, children develop habits of cooperation and application, and the transition from home to school is thought to be made less formidable.
After the failed German revolution of 1848, Bertha followed Ronge into exile in London, in an area populated by German refugees. There they opened the England Infant Garden in Tavistock Place. In fall of 1851, she became seriously sick and desperately needed help in the household, so Margarethe moved to London as well.
Carl Schurz was born on March 2, 1829, in Liblar, Germany, the son of a schoolteacher. He studied at the Jesuit Gymnasium of Cologne, and also studied the piano under private instructors. Financial problems in his family obligated him to leave school a year early, without graduating, so he could help sort out his family's tangled financial affairs.
Later he graduated from the Gymnasium by passing a special examination, and entered the University of Bonn, where he led students against Kaiser Frederick Wilhelm IV's regime in 1848, and became a lieutenant in the revolutionary army. After the failed revolution, Schurz was forced to flee his native land in 1849; he also made a daring return to Germany under a false passport to rescue a professor from the Spandau prison.
From 1849 to 1852, Schurz did newspaper work and taught in Paris and in London. Visiting his friend Johannes Ronge, he met Margarethe, whom he described in his Reminiscences as a girl "of fine stature, a curly head, something childlike in her beautiful features, and large, dark, truthful eyes." They fell in love at first sight.
Carl Schurz married Margarethe Meyer on July 5, 1852. In August of that year, they immigrated to the United States, settling in Philadelphia, where their first child, Agatha, was born in 1853. The Schurzes had a total of four more children: Marianne, Emma, Carl Lincoln, and Herbert.
While in Philadelphia, Schurz studied English intensively. He visited Washington, DC, in 1854 and met with several senators and President Franklin Pierce, and they advised him of political opportunities in the Midwest.
Margarethe, troubled by a lung ailment, returned to England with Agatha in 1855 for a water cure. Carl rejoined his family at the end of the year, taking them to Switzerland, where a second daughter, Marianne, was born.
After returning to America, the family moved to Watertown, Wisconsin, in August 1856, where Carl's parents, sisters, several other Schurz relatives, and many German immigrants had settled. Immediately immersed in the antislavery movement and in politics, Schurz joined the Republican Party, and was an unsuccessful candidate for lieutenant-governor in 1857.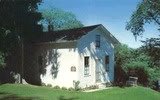 Image: America's First Kindergarten
The first kindergarten was begun in this building in Watertown, Wisconsin, in 1856 by Margarethe Meyer Schurz. A memorial tablet was dedicated to Margarethe Meyer Schurz in May 1929 a few feet from the building.
The Schurz family home in Watertown was known as Karlshuegel (Carl's Hill). Margarethe began a kindergarten class there, the first in the United States, in the fall of 1856. She employed Froebel's philosophy while caring for the children, leading them in games, songs, and group activities that channeled their energy while also preparing them for school. Like most of the early kindergartens, it was conducted in the German language.
The original class numbered only five students, the Schurz children Agathe and Marianne, two girl cousins and a boy, Franklin Blumenfeld, son of the editor of the local German-language newspaper. Other parents were so impressed at the results that they prevailed upon Margarethe to teach their children as well.
The class proved to be very successful, but the noise of the children was too much for her husband, so she moved her class to a small frame building in Watertown. It was in this little building that the kindergarten took off.
Traveling to Boston with Carl in the fall of 1859, Margarethe met teacher Elizabeth Peabody and explained Froebel's principles to her, inspiring Peabody to set up the first English-speaking kindergarten in 1860. Peabody devoted the rest of her life to promoting the kindergarten movement.
Margarethe's poor health became such that she could not continue with her work, but Peabody became a nationally known advocate of early education, and helped bring kindergartens into widespread use.
Carl studied law, was admitted to the bar, and in 1859 the family moved to Milwaukee, where he set up a law practice.
A militant liberal and reformer, Carl Schurz was chairman of the Wisconsin delegation to the Republican National Convention of 1860, where he supported Abraham Lincoln. During the ensuing presidential campaign, Schurz performed many services on Lincoln's behalf, stumped the Midwest on a speaking tour, and succeeded in persuading many German-American voters to switch their allegiance from the Democratic to the Republican Party.
Following Lincoln's election and inauguration, Schurz was appointed minister to Spain in 1861, but after the outbreak of the Civil War, he persuaded Lincoln to grant him a commission in the Union army. In early 1862, Schurz was granted a leave to return from Madrid to the United States. After a turbulent ocean voyage, Schurz and his family arrived back in America.
President Lincoln made Schurz a brigadier general of volunteers on April 15, 1862. This was a baldly political move designed to encourage German-American support for the war, but Lincoln's high opinion of Schurz's abilities undoubtedly played a part. Schurz's very first appointment, in June 1862, was to the head of an entire division, which raised eyebrows.
The next year, in another move which angered many who were more competent and more experienced, not to mention senior in rank, he was promoted (over them) to major general on March 14, 1863. In June 1862, Schurz took command of a division, first under John C. Fremont, and then in Franz Sigel's corps, whom he served under during the Second Battle of Bull Run.
In May 1863, Schurz was a division commander in the XI Corps at the Battle of Chancellorsville under General Oliver O. Howard. Schurz's division performed poorly in the rout of the Eleventh Corps, though Schurz himself had tried to alert Howard to the peril on his flank. Schurz had a bitter argument with Howard over the strategy employed at that battle, resulting in their defeat by General Thomas J. "Stonewall" Jackson.
At 5:15 p.m., General Stonewall Jackson's 30,000 veterans crashed into General Oliver O. Howard's 9000 inexperienced troops. Caught by surprise, General Charles Devens' division quickly broke. Howard tried desperately to rally General Carl Schurz's division, but it too quickly broke. A third line of Colonel Alolphus Buschbeck held briefly before it collapsed. Jackson had routed Howard's Corps opening the way for the Confederates to destroy Hooker's army.
After the Chancellorsville debacle, General Schurz was horrified by press criticism of the German troops and particularly his own division for their confusion and panic – he took pains to point out that it was General Charles Devens' First Division that was driven back, not his.
By the time of the Battle of Gettysburg, Schurz outranked all but two division commanders, Newton and Doubleday. Unlike those men, however, Schurz was a novice as a soldier, with no military training. He did, however, acquire competence on the job, and was a diligent soldier. No one denied that Schurz took his military duties very seriously, or that his personal courage was beyond question. Schurz commanded the Third Division of Howard's XI Corps at Gettysburg.
With his thick spectacles, broad forehead, tousled brown hair and reddish beard, lanky frame, and gentlemanly demeanor, Carl Schurz at thirty-four looked like a college professor. But he was a force of nature – charming and animated, gay and vivacious, and always a commanding presence with his gift for oratory. Unfortunately, he overplayed his part. After a while, his self-righteous attitude created problems with his superiors. At the time of Gettysburg, Howard was rightly convinced that Schurz was using his influence with Lincoln to have Franz Sigel returned to the head of Howard's corps.
At 10:30 a.m. on July 1, 1863, Schurz was riding at the head of his division as it marched toward Gettysburg, when he received a dispatch from General Howard that the I Corps was fighting west of Gettysburg. Schurz was ordered to rush his corps forward and assume command of the XI Corps, and to occupy the high ground on its right flank, near Oak Hill, northwest of town.
When Schurz's (now Schimmelfennig's) division came up around 12:30 p.m. in a sweat from double-quicking the last several miles to the battlefield, Schurz led them forward through town toward Oak Hill. As Schurz rode toward the hill, General Robert Rodes' 8000-man Confederate division had gotten there first. Schurz would have to push them off the hill to take it.
As he completed deploying Schimmelfennig's division to face Oak Hill, Schurz received word from Howard that a large enemy force was now approaching from the northeast. USA General Francis Barlow's division came through town at about that time, and with instructions from Howard – but without talking to Schurz, who was busy near Oak Hill – Barlow posted his men too far forward on the right of Schimmelfennig.
In the position Barlow chose, there was a gap between him and Schimmelfennig which uncovered his left, and his right flank was completely exposed to the enemy force approaching from the northeast. Before Schurz could do anything to remedy the situation, CSA General Jubal Early's division struck Barlow's right rear just as Rodes struck from Oak Hill.
Schurz's line crumbled quickly. Schurz's horse was shot under him, and both XI Corps divisions tumbled back through Gettysburg, losing almost 50% of their men, half of them captured in the retreat through town. It had become another humiliating rout for the XI Corps.
Image: General Carl Schurz
An 1862 engraving
The fault had not been Schurz's. He had shown energy and stayed at the front with his men. He was not responsible for Barlow's fatal position, except that he had missed an important interview with Barlow when that officer was hurrying his division onto the field. But the stain that covered the XI Corps covered him, too.
General Carl Schurz retained his division command when the Eleventh Corps was sent to Chattanooga, Tennessee, in fall 1863, and fought in the Union victory there. He was later put in command of a Corps of Instruction at Nashville.
In 1864, General Schurz took leave from the army to campaign for President Lincoln's re-election.
Schurz briefly returned to active service, and during the last months of the war, he was with General William Tecumseh Sherman's army in North Carolina, as chief of staff of General Henry Slocum's Army of Georgia. He resigned from the army when the war ended.
After the war, Schurz returned briefly to Wisconsin, but his ambitions on the national level soon lured him elsewhere. He
In 1866, he moved to Detroit, Michigan, and in 1867 to St. Louis, Missouri, where he was editor of one of the leading German language newspapers in that city.
Carl Schurz became a journalist, and served as the main correspondent for the Washington Bureau of the New York Tribune during the winter of 1865. He then took a position as editor-in-chief at the Detroit Post, where he remained until 1867. Next he moved to St. Louis, Missouri, to work with the Westliche Post, a German daily newspaper.
In 1867, when her third daughter two-year-old Emma died, Margarethe, her health weakened by grief, left for Europe with Agatha and Marianne. They stayed for over two years before joining Carl in Washington, DC.
In the meantime, Schurz continued active in Republican political affairs. He campaigned for Ulysses S. Grant, and in 1868 he became the first German American elected to the Senate, serving as Senator from Missouri from 1869 to 1875. Schurz quickly became disillusioned with Grant's administration. By 1870 he was publicly criticizing the administration, and in the 1872 election he led a reform-minded third party force of Liberal Republicans in opposition to Grant.
After completing his term in the Senate, Schurz moved back east, serving as Secretary of the Interior in the cabinet of President Rutherford B. Hayes. As Secretary, he adopted progressive policies, implementing legislation aimed at protecting forests, advocating better treatment for American Indians and African Americans, and implementing a merit system in the civil service. He retired from the Department of the Interior in 1881.
Schurz left public service after the Hayes administration, and settled in New York, where he remained for the rest of his life. He continued to attack the "spoils system" in the United States government, and led the New York Civil Service Reform League. He served as editor of the New York Evening Post from 1881 to 1885, and as an editorial writer for Harper's Weekly from 1895 to 1898. He remained politically active as a recognized leader in the German American community.
Image: Carl Schurz Monument
The Carl Schurz Monument offers one of New York's great vistas of upper Manhattan and the Bronx. Located at Upper Morningside Drive and 116th Street, the Monument consists of a 50-foot-wide semicircular platform that juts out from the cliff at the top of Morningside Park; a sweeping stairway leads to the Park below. The bronze statue is by noted sculptor Karl Bitter. Flanking it are benches and three low marble relief's representing African Americans and Native Americans, groups whose rights Schurz defended during his military, political and journalistic careers.
In 1876, Margarethe gave birth to a son, Herbert.
Margarethe Meyer Schurz died in Washington, DC, on March 15, 1876, only three days after Herbert's birth. She was 43 years old. Her remains are believed to have been transported to her native Hamburg, Germany.
During his later years, Carl Schurz was perhaps the most prominent independent in American politics, noted for his high principles, his avoidance of political partisanship, and his moral conscience.
Carl Schurz died in New York City on May 14, 1906.
SOURCES
Wikipedia: Carl Schurz
Margarethe Meyer Schurz
The Generals of Gettysburg: The Leaders of America's Greatest Battle by Larry Tagg. Major General Carl Schurz
Wikipedia: Margarethe Schurz
Margarethe Meyer Schurz 1833 – 1876