Wife of Union General John Curtis Caldwell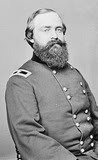 Martha Helen Foster was born on August 12, 1838, the daughter of Jeremiah Foster of East Machias, Maine. John Curtis Caldwell was born in Lowell, Vermont, on April 17, 1833, the son of George M. and Elizabeth Curtis Caldwell. Lowell was some fifteen miles south of the Canadian border in northern Vermont. He graduated from Amherst College in 1855 and moved to Maine, where he was the principal of the Washington Academy in East Machias. He continued in this position for about five years until war broke out in 1861. While there, he met Martha Foster.
Image: General John Caldwell
Martha Helen Foster married John C. Caldwell on May 15, 1857, at Machiasport, Maine. Their three children were: Charles S. Caldwell; b. January 21, 1858; Harriet Caldwell (married to Henry S. Murchie), Calais, Maine; Harry C. Caldwell, b. August 16, 1866.
Caldwell in the Civil War
Twenty-eight-year-old John Curtis Caldwell was mustered into service as Colonel of the newly formed 11th Maine Volunteer Infantry on November 12, 1861, and departed for Washington, DC, the next day. After stopping in Portland and Boston, the regiment took a steamer to New York City; from there they took the cars to Philadelphia. The regiment arrived at Washington on the evening of November 15, then set up camp at Camp Knox on Meridian Hill overlooking the capital city, where they spent the winter perfecting drill and discipline and learning the art of war.
On March 30, 1862, Colonel Caldwell and his regiment, part of the Third Brigade of Casey's Division of the IV Corps, Army of the Potomac, departed with McClellan's army for the Peninsula Campaign. On June 1, 1862, Caldwell was promoted to Brigadier General and assumed command of the First Brigade, First Division, II Corps, after General Oliver O. Howard fell wounded at the Battle of Seven Pines. From this point onward, General Caldwell participated in every battle of the Army of the Potomac until the reorganization of the army in the spring of 1864 – always as part of the elite II Corps.
Caldwell soon proved his worth as a brigade commander during the subsequent Seven Days' Battles on the outskirts of Richmond, turning in a number of creditable performances particularly at Glendale on June 30, where he displayed "personal gallantry" in coming to the aid of the beleaguered Union division led by General Philip Kearny.
General Israel Richardson, First Division commander, in a postscript to his official report on July 6, 1862, stated: "…I cannot too much commend the admirable manner in which my three brigadier-generals – French, Meagher, and Caldwell – have done their duty with their brigades… If anything can try the patience and bravery of troops it must be their fighting all day for five consecutive days and then falling back every night."
Earning praise for his conduct and skill on the field of battle, Caldwell retained command of his brigade throughout the summer of 1862, and as the Army of the Potomac set out after General Robert E. Lee's invading army in western Maryland in early September 1862.
At the Battle of Antietam, on September 17, 1862, at twenty-nine years of age, Caldwell was the youngest general officer in the Army of the Potomac. Caldwell was wounded in the battle, and he received criticism that he handled his brigade poorly in the assault on the Sunken Road (or Bloody Lane) in the center of the Confederate line. One allegation related that Caldwell disappeared while his brigade was waiting for orders to go into battle, and his men would not advance without him.
Caldwell's brigade was engaged in the Battle of Fredericksburg in December 1862. While preparing his brigade to assault the stone wall on Marye's Heights against the entrenched Confederates, General Caldwell received a wound to his left side, but refused to leave the field, and continued to urge his men forward. Soon another shot struck him in the left shoulder, and he was forced to seek medical attention, at which time he turned over command to one of his colonels.
Caldwell's brigade was among the commands with the highest number of casualties. During their fruitless assault, they lost nearly 1000 of the 1800 men that went into battle that day. One of his regiments broke and ran during the assault, damaging his reputation. As for Caldwell, it was two months before his wounds healed sufficiently to return to duty.
By May of 1863, the division under General Winfield Scott Hancock had already earned an unenviable reputation for their combat record. As new army commander, General Joseph Hooker, began his spring campaign at Chancellorsville in early May 1963, the II Corps troops were not in his initial plans. But pressure mounted on General George Sykes' division of General George Meade's V Corps, and the call went out for support. Hancock answered, with Caldwell's brigade taking the lead.
After digging in around the Chancellor House, Caldwell's men performed well under difficult circumstances, enduring several days of fighting back-to-back on two fronts, in opposite directions. As Hooker made the decision that his army would retreat, Hancock's Division was ordered to cover the army's exodus. Here Caldwell's brigade and the rest of the division played a major role in saving the Union army, plugging gaps in the line, changing fronts as necessary, and the supporting artillery.
Three weeks after the battle, on May 22, 1863, John Caldwell was given command of the First Division, II Corps when General Hancock was promoted to the command of the II Corps. This was a quick advancement for Caldwell considering that he lacked any kind of formal military training and had no experience in even a state militia unit. His division command would last until the Army of the Potomac was reorganized in March 1864.
General Caldwell at Gettysburg
As the II Corps was put on the road to Gettysburg, Caldwell's division included the brigades of Edward Cross, Samuel Zook, John Brooke, and the Irish Brigade under Patrick Kelly. Arriving early in the morning of the second day of the battle, July 2, 1863, by way of the Taneytown Road, with the lines of engagement already drawn, this would be Caldwell's first test as a division commander, and it would be a ferocious one.
That afternoon, as the powerful assault from CSA General James Longstreet's Corps struck the Union III Corps, Hancock ordered Caldwell to reinforce the III Corps at an area of the Rose Farm that would forever be known as the Wheatfield, and to report to General George Sykes of the V Corps, who was operating nearby, for instructions on where to place his troops. Realizing that time was of the essence, Caldwell had all four of his brigades moving within minutes.
Approaching the field from the north, Caldwell delivered the largest Union assault in all three days at Gettysburg. The attack was handled expertly: within ten minutes, in unfamiliar terrain with nothing to guide them but the sound of the heaviest fighting, three of Caldwell's brigades were surging in unison against the enemy. The sudden attack threw three Confederate brigades back in disorder and gained ground beyond the original Union line. A short time later, however, CSA General Lafayette McLaws rushed forward with two fresh brigades and attacked Caldwell's exposed right flank.
When his attack stalled, Caldwell continued to be active and alert, riding in person (essentially acting as his own staff) to ask for the support of nearby brigades when it became evident that no higher officer was coordinating the Union effort in this critical part of the battlefield.
While he was thus occupied, McLaws' brigades had already started his division tumbling back, causing great confusion and a general retreat back across the Wheatfield. Remnants of Caldwell's division were sent flying pell-mell to the rear, and couldn't be rallied until after dark. For their efforts at restoring the left flank, Caldwell's Division lost forty percent of its men.
General Caldwell's Description of the Wheatfield:

The position assigned me was on the right of the Fifth and the left of the Third Corps, and I was ordered to check and drive back the enemy who were advancing at that point. I ordered Colonel Cross, commanding the First Brigade, to advance in line of battle through a wheatfield, his left resting on the woods which skirted the field. He had advanced but a short distance when he encountered the enemy, and opened upon him a terrific fire, driving him steadily to the farther end of the wheat-field.
In the meantime, I had put the Second Brigade in on the right of the First, and they advanced in like manner, driving the enemy before them. The Third Brigade I ordered still farther to the right, to connect with the Third Corps, while I held the Fourth Brigade in reserve. The First, Second, and Third Brigades advanced with the utmost gallantry, driving the enemy before them over difficult and rocky ground, which was desperately contested by the slowly retreating foe.
The First Brigade, which had been longest engaged, had expended all its ammunition, when I ordered Colonel Brooke (Fourth Brigade) to relieve it. He advanced with his usual gallantry, and drove the enemy until he gained the crest of the hill, which was afterward gained by the whole of my line. In this advantageous position I halted, and called upon General Barnes, who was some distance in the rear, to send a brigade to the support of my line. He readily complied, and ordered the brigade of Colonel (Sweitzer) forward into the wheatfield.
I then galloped to the left to make a connection with General Ayres, and found that I had advanced some distance beyond him. He, however, gave the order to his line to move forward and connect with my left. Thus far everything had progressed favorably. I had gained a position which, if properly supported on the flanks, I thought impregnable from the front.
General Ayres was moving forward to connect with my left, but I found on going to the right that all the troops on my right had broken and were fleeing to the rear in great confusion. As soon as they broke, and before I could change front, the enemy in great numbers came in upon my right flank and even my rear, compelling me to fall back or have my command taken prisoners. My men fell back under a very heavy cross-fire, generally in good order, but necessarily with some confusion. I reformed them behind a stone wall until relieved by the Twelfth Corps.
After the battle, General Caldwell was criticized by General Sykes, the Fifth Corps commander, who reported to Hancock that the division had "done badly." As a result, Caldwell lost Hancock's confidence – this was, after all, Hancock's old division. He withheld praise from Caldwell after the battle, and ordered an investigation of the July 2 conduct by the First Division. Lieutenant Colonel C.H. Morgan of Hancock's staff, who himself had come upon Caldwell's division in full flight to the rear, wrote "[the investigation] showed that no troops on the field had done better."
The investigation vindicated Caldwell, but he was overlooked for promotion. It was obvious that General Hancock had lost confidence in Caldwell, and his reputation in the Army of the Potomac was damaged. A recent writer on Gettysburg has blamed Sykes for giving sketchy instructions to Caldwell.
On July 3, Hancock placed Caldwell in temporary command of the Second Corps, but Army Commander George Meade, who favored West Pointers, ordered that John Gibbon, although inferior in rank to Caldwell, be given the command. After both Gibbon and Hancock fell wounded while helping repulse Pickett's Charge later that afternoon, Caldwell was once again elevated to corps command. Less than a week later, however, Meade once again relieved Caldwell and appointed William Hays, an 1840 graduate of West Point, who was was also inferior in rank to Caldwell.
General John Caldwell continued to serve with distinction during the actions of the fall of 1863 and early 1864, receiving high praise from General Gouvernour Warren, then commander of the V Corps. All the while, Caldwell continued to praise his subordinates and recommend promotions for them.
With the attrition it had suffered in its many campaigns, the Army of the Potomac underwent a major reorganization in the spring of 1864, consolidated from five corps to three. Caldwell lost his command and was replaced by General Francis Barlow. Caldwell saw no further combat service; he spent the final year of the war behind a desk, serving on a number of military boards in Washington, DC.
Caldwell received an honor of sorts in April 1865, when he was one of eight general officer assigned as an honor guard in Abraham Lincoln's funeral train as it made its way on the long journey from the nation's capital to Springfield, Illinois. On January 15, 1866, Caldwell was mustered out of service.
Returning to his home and family in Maine, Caldwell went on to enjoy much success in a number of post-war careers. Upon his return, the thirty-two-year-old entered the legal profession, passing the bar exam and opening his own practice. He served for a brief stint in the Maine legislature, and from 1867 until 1869 was the Adjutant General of the state militia.
He then entered the diplomatic service with several consecutive diplomatic posts: United States Consul to Valparaiso, Chile, from 1869 to 1874; US Minister to Uruguay and Paraguay, 1874 to 1882, under Presidents Ulysses S. Grant, Rutherford B. Hayes, James A. Garfield, and Chester A. Arthur.
Caldwell took a break from his diplomatic career in 1882 and settled in Topeka, Kansas, where he resumed his law practice from 1882 to 1885. While there, he also served as Chairman of the Kansas Board of Pardons from 1885 to 1893 and again from 1895 to 1897.
With the inauguration of President William McKinley in 1897, Caldwell was once again tapped for a position in the State Department, becoming US Consul to San Jose, Costa Rica, a position he held from 1897 to 1909. Here he remained for the next dozen years serving under both McKinley and his successor Theodore Roosevelt.
In 1909, Caldwell retired at the age of seventy-six. He returned to Topeka and spent the remaining years of his life living with one or another of his children.
Brigadier General John Curtis Caldwell died on August 31, 1912, at his daughter's home in Calais, Maine. He was buried in the St. Stephen Rural Cemetery in New Brunswick, Canada.
2nd Delaware Infantry Monument
Part of Caldwell's First Division, II Corps
Gettysburg National Military Park
General Caldwell may be the only Civil War general buried in Canada. Reenactors of Company H, Fifth Regiment, New Hampshire Volunteers, based in Canada's Atlantic Provinces are dedicated to caring for General Caldwell's final resting place, and each year conduct a graveside service to honor him. James Garrett played the role of General John Curtis Caldwell in the movie, Gods and Generals.
SOURCES
John Curtis Caldwell
A General Without His Due
Wikipedia: John C. Caldwell
General John Curtis Caldwell
The Generals of Gettysburg: The Leaders of America's Greatest Battle by Larry Tagg. Brigadier General John C. Caldwell
Brigadier General John Curtis Caldwell
The Irish Brigade & 5th New Hampshire in the Wheatfield