Wife of Union General Grenville Mullen Dodge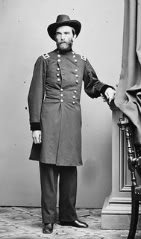 Ruth Anne Brown was born on May 23, 1833, in Peru, Illinois. Grenville Mullen Dodge was born in Putnamville, near Danvers, Massachusetts, on April 12, 1831, to Sylvanus and Julia Theresa Phillips Dodge. From the time of his birth until he was 13 years old, Dodge moved frequently while his father tried various occupations.
In 1844, the fortunes of Sylvanus Dodge improved. An ardent Democrat, he became postmaster of the South Danvers office and opened a bookstore. Good fortune also was in store for the young Dodge. While working at a neighboring farm, the 14-year-old met the owner's son, Frederick Lander, and helped him survey a railroad. Lander was impressed with Dodge and encouraged him to go to his alma mater, Norwich University in Vermont. Like Lander and other scholars at Norwich, Dodge dreamed of a transcontinental railroad, and took courses that would help him implement the dream.

After earning his degree in civil engineering in 1850, Dodge made a brief visit home then headed to Peru, Illinois, to join classmates. His first job was surveying for the Illinois Central Railroad. It was during this time in Peru, that he met the lovely Ruth Anne Brown. Although she played piano, and enjoyed opera and poetry, Ruth Anne could ride a horse and shoot a gun as well as Dodge.
In 1852, he became the principal assistant of well-known surveyor Peter M. Dey. Together they made the first railroad survey across Iowa, from Davenport to Iowa City, for the Mississippi and Missouri Railroad. This survey reached a point near Council Bluffs, Iowa, in 1853.
On May 28, 1854, Ruth Anne Brown married Grenville Dodge. He took his bride to Nebraska Territory, where the couple tried homesteading on his Elkhorn River claim. Relentless Indian attacks on settlers caused them to move to Omaha by the fall. Their daughter Lettie was born there in 1855. Their second daughter, Eleanor, whom they called Ella, was born in 1858.
In 1856, the family moved to Council Bluffs, Iowa, where Dodge opened a banking and real estate business. The main activity of Dodge's firm was selling lots and locating land warrants and engaging in land speculation. One of his speculative deals involved buying land along the route he and Dey proposed for the Mississippi and Missouri Railroad and persuading the towns of Omaha and Council Bluffs to sell bonds for it.
Before the financial panic of 1857, from which he suffered no great losses, Dodge and his partner founded the Council Bluffs Savings Bank. Dodge lobbied the Iowa Legislature to promote the railroad, which would run on his land. Dodge would go on to make a fortune speculating on real estate along other railroad routes he surveyed. Another Dodge venture in Council Bluffs was a general store.
Abraham Lincoln, then an attorney for the Rock Island Railroad, came to Council Bluffs in August 1859, to deliver a campaign speech and examine a tract of land he held as security for a loan. If he were elected president, the final choice for the route of the continental railroad would be his. Dodge talked with Lincoln for more than two hours at a local hotel, and then Lincoln was taken to a bluff now memorialized with the Lincoln Monument.
In 1860, Dodge, then a Council Bluffs city council member, appeared before the Congressional railroad committee which was debating the issue of funding. The country faced more pressing matters. Before Dodge attended Lincoln's inauguration in 1861, six states had left the Union. The Pacific Railroad Act of 1862 enabled westward construction to begin; the Act of 1864 solved the financial problems that had blocked the progress of both routes.
Dodge continued in his professional and business interests at Council Bluffs until the Civil War. At the outbreak of hostilities, he offered his services to the state government, and was sent by Iowa Governor Samuel Kirkwood to Washington, in the spring of 1861, to arrange for the equipment of the Iowa troops. Because of his success in this area, he earned immediate respect. Within a short time, he had organized the Fourth Iowa Infantry at Council Bluffs, and he also recruited a company of artillery known as the Dodge Battery.
Within two weeks time, Colonel Dodge was leading his command against the rebels in northern Missouri. He was first assigned to Rolla, Missouri, where he was placed in command of the post; in the southwest campaign, he commanded the First Brigade, Fourth Division of that army. His regiment was the first to enter the city of Springfield, Missouri, and at the Battle of Pea Ridge in March 1862, his brigade saved Curtis' army from disaster.
At Pea Ridge, Dodge had three horses killed, while the fourth was wounded under him. He was under fire for three days and remained at his post until the battle was brought to a close, and lost one-third of his entire command. Every field officer was either killed or wounded, for Dodge would not retreat. His calmness in the face of danger, his understanding of the situation, and his indomitable courage constituted the strong elements in the achievement of that victory.
Dodge suffered two wounds during the Missouri campaigns of 1861 and 1862. He received a thigh wound when the pistol in his flapping coat struck the saddle and discharged, explained Stanley P. Hirshson in Grenville M. Dodge. The second injury occurred at Pea Ridge, when an enemy shell severed a tree branch, striking Dodge in the head.
For his service in Missouri, Colonel Dodge was promoted to brigadier general, and after he had recovered from his wounds, he was assigned to duty at Columbus, Kentucky, in command of the Central Division, Army of the Tennessee, where his previous experience as a railroad builder was brought into requisition in the reconstruction of the Mobile and Ohio Railroad, which had been destroyed by the rebels and was needed to carry supplies to the army.
In November 1862, General Ulysses S. Grant appointed General Dodge to command of the Second Division, Army of the Tennessee. Dodge and his troops aided Generals Grant and William Tecumseh Sherman by rapidly repairing and rebuilding the railroads, bridges, and telegraph lines destroyed by the Confederates. While rebuilding the 150-mile Mobile and Ohio Railroad, the troops had to contend with the Confederates and guerillas ripping up track, wrecking bridges, and killing pickets. Dodge partially solved the problem by building two-story blockhouses near the bridges.
Dodge also organized and ran an effective espionage network. He devised a method to estimate the size of an enemy force based on the space it occupied on a road. His estimates of the size and location of the enemy enabled Union officers to make shrewd strategic decisions. Women and blacks were among Dodge's spies.
He organized the First Tennessee Cavalry, First Alabama Colored Infantry Regiment, and the First Alabama Cavalry Regiment as agents, and armed a detachment to guard runaway slaves. Because Southern pickets seldom stopped and questioned blacks, they made good messengers. Because of the intelligence his spies gave Grant at Vicksburg in 1863, Dodge was given command of the large left wing of the Sixteenth Corps of the Army of the Tennessee.
During General Sherman's Atlanta Campaign of 1864, Dodge commanded the XVI Army Corps. His Iowa troops held the right flank for General Sherman's army, earning Dodge the rank of major general.
On August 19, 1864, during the siege of Atlanta, Dodge received a wound that was so serious the New York newspapers reported him dead. While Dodge was looking through an eyehole in the Union breastworks, a Confederate sharpshooter spotted him and shot him in the head. But the injury was not as serious as first thought; he was given a thirty-day leave, and was brought to Council Bluffs to recover.
In November 1864, he was made commander of the Department of the Missouri. Dodge established his headquarters at Fort Leavenworth, Kansas, in 1865, and his family joined him. Another daughter, Anne, was born in Kansas in March 1866.
As the Civil War was coming to a close, Dodge's command was expanded to include the Departments of Kansas, Nebraska, Colorado, and Utah. Dodge was assigned to clear the plains of Indians, who were murdering settlers. Dodge practiced a tough policy towards the Native Americans through psychological warfare, brutal exterminations, and worthless treaties. During the summer of 1865, Sioux, Cheyenne, and Arapaho Indians had been raiding the Bozeman Trail and overland mail routes. Dodge ordered a punitive campaign to quell these raids, which came to be known as the Powder River Expedition.
When Dodge called for volunteer troops to fight the Indians, most men said the war was over and declined the service. Five regiments of "Reconstructed Rebs" provided the necessary forces. They were made up of Southern war prisoners willing to fight Indians for their freedom. Before the Indians were eradicated, President Johnson instituted leniency.
During the 1865 campaign in the Black Hills, while escaping from a war-party, Dodge realized he had found a pass for the Union Pacific Railroad, west of the Platte River. On May 30, 1866, he resigned from the military, and returned to Council Bluffs where he took up the duties of Chief Engineer of the Union Pacific Railroad, and thus a leading figure in the construction of the Transcontinental Railroad.
As chief engineer, Dodge was placed in charge of selecting and surveying the 1186-mile route west to Promontory Point, Utah. He was not in charge of construction of the transcontinental railroad or its workers, as he liked people to think. Dodge had been hired by Thomas Clark Durant, who was the main investor in the Union Pacific Railroad and head contractor on the project. Durant was also defrauding the company and manipulating the route to suit his own landholdings.
Although Durant had once promised Dodge stock in his secret scam, the Crédit Mobilier, it had never materialized. Dodge was eager to get in on the windfall, however, and purchased 100 shares in his wife's name. It turned a handsome profit – 341 percent in just 18 months – but when the scandal of Durant's dealings emerged in 1872, Dodge claimed that his wife bought the shares from "her own resources," presumably housekeeping money.
Dodge fled to Texas to avoid testifying in the inquiry. Federal agents were sent out, but they could not manage to find him. Peter Dey, whom Dodge had once replaced as engineer, told Congress that Dodge was "a man of wonderful resources, and can live in Texas all winter, out of doors, if he wants to, where none of your marshals can go, and if he don't want to come he will not come." Dey proved correct.
Dodge was elected to Congress from Iowa's 5th District. He learned the art of lobbying, and for the rest of his life did so on behalf of veterans and the railroads. Finding politics not to his liking, Dodge did not seek another term. The Union Pacific Railroad was well underway, and he devoted four years of his life to building his "greatest accomplishment," as he referred to the railroad.
On May 10, 1869, Dodge and Samuel Montague, the Central Pacific's chief engineer, set the final spike of the Transcontinental Railroad at Promontory Point, Utah. Dodge retired for a while to Council Bluffs. The general was a family man, and he had kept frequent correspondence with his wife throughout his absences. Shortly thereafter, he and Ruth Anne started building a new home at 605 Third Street in Council Bluffs. At age 39, he moved his family into the lavish new home.
Image: Grenville Dodge House
General Dodge's handsome Victorian home was built in 1869 in Council Bluffs, Iowa, at a cost of $35,000, a great deal of money for the time. The fourteen room, three-story mansion stands on a high terrace overlooking the Missouri River Valley, and displays such architectural features as parquet floors, cherry, walnut, and butternut woodwork, and a number of then-modern conveniences. The house, a National Historic Landmark, is now the Dodge House Museum, and is open to the public.
By 1870, Dodge was one of the richest men in Iowa. Dodge loved to make money, "irrespective of whether it were ethical or permanent," concluded his biographer, Stanley P. Hirshson. He speculated in land along the railroad routes that he proposed and won government contracts to supply Indian agencies – even though he had the highest bid and substituted items in the contracts. Between 1860 and 1870, his wealth increased from $12,000 to $350,000.
However, despite his wealth and substantial government contracts, and the fact that he helped build the Union Pacific, the Texas and Pacific, and other railroads, the federal government granted him a pension in 1873, because his war wounds disabled him so he could not "obtain subsistence from manual labor." The pension was made retroactive to his discharge from the army.
Dodge then lived in Manhattan for the next few decades. Between 1874 and 1879, Dodge visited Europe and conferred with German and Italian engineers building a tunnel under the Alps. He also assisted in the construction of the Trans-Siberian Railroad in Russia. During the 1880s and 1890s, Dodge served as president or chief engineer of dozens of railroad companies, including those in the Southwest U.S.
In the mid-1880s, Dodge began writing his memoirs. He hired an assistant to compile information and interview people who knew him. The research resulted in the Dodge Records, 23 volumes on Dodge's life. As noted by his biographer Hirshson, Dodge often rewrote history to suit himself, and "conveniently passed over his connections with politics, lobbying, and various scandals. And shrewdly but discreetly, he upgraded his role in significant events and downgraded his opponent's."
Retiring to Council Bluffs in 1907, Dodge spent much of his time organizing his memoirs and being active in patriotic organizations. He donated his records to libraries, but never could arrange for someone to write his biography during his lifetime. In 1914, he was bedridden with cancer, and returned briefly to New York for radium treatment, and also had an operation without anesthesia.
General Grenville M. Dodge died at Council Bluffs on January 3, 1916, at the age of 84. A caisson carried his body to Walnut Hill Cemetery for entombment.
Dodge left a trust to be activated twenty-one years after the death of his grandchildren, to be used for charities. In 1987 it was disclosed at $1 million. More than $400,000 has since been distributed and the fund was valued at $1,600,000 in June 1996.
Fort Dodge in Kansas, an important army base during the settlement of the western frontier, was named in his honor. Camp Dodge, the state headquarters of the Iowa National Guard, established in 1905 as a militia training camp, continues to honor Dodge's memory as does a statue of him at the Soldiers and Sailors Monument at the state Capitol in Des Moines.
Ruth Anne Dodge died on September 5, 1916, at her home in New York. Her body was brought back to Council Bluffs where she was buried at the family mausoleum in Walnut Hill Cemetery.
Image: Ruth Anne Dodge Memorial
Called the Black Angel, the sculpture at the Ruth Anne Dodge Memorial is the translation of a dream experienced by Ruth Anne Dodge on the three nights preceding her death. The form is a winged angel standing in the prow of a boat, one arm outstretched and the other holding a vessel from which flows a stream of water.
According to legend, Mrs. Dodge related to family members that she had a vision of being on a rocky shore and, through a mist, seeing a boat approach. In the prow was a beautiful young woman whom Mrs. Dodge thought to be an angel. The woman carried a small bowl under one arm and extended the other arm toward Mrs. Dodge in an invitation to partake of the water flowing from the vessel. The angel spoke twice, saying: "Drink, I bring you both a promise and a blessing."
This story prompted Ruth Anne's daughters, Anne Dodge and Eleanor Dodge Pusey, to commission Council Bluffs' most valuable work of art, a solid bronze statue, in memory of their mother. It was created in 1917 by Daniel Chester French, who was responsible for the famous statue of Abraham Lincoln at the Lincoln Memorial in Washington, DC, and the Minute Man statue in Concord, Massachusetts.
SOURCES
Abraham Lincoln and Iowa
Grenville M. Dodge Biography
Wikipedia: Grenville M. Dodge