Wife of Confederate General John Singleton Mosby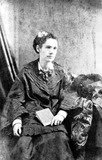 Pauline Clarke was born in Kentucky on March 30, 1837. Her father, Beverly J. Clarke, was an active attorney and a former US Congressman and diplomat from Franklin, Kentucky.
John Singleton Mosby was born on December 6, 1833, at his maternal grandfather's home, Edgemont, in Powhatan County, Virginia. Raised in Nelson and then Albemarle counties, Virginia, little is known of his childhood, other than that he was a frail, sickly child – so frail, in fact, that he was relieved of most chores as a child. Like many in the Virginia middle class, his family owned slaves, one (Aaron Burton) was very close to him. Although an antsy student, he loved history.
Because of his small stature and frail health, throughout his school career Mosby was the victim of bullies. Instead of becoming withdrawn and lacking in self-confidence, the boy responded by fighting back although – he said in his memoirs – he never won any fight in which he was engaged. He began learning how to use his smaller size and speed against larger and more formidable opponents. His hero was Francis Marion, the "Swamp Fox" of the American Revolution.
Mosby enrolled at the University of Virginia in Charlottesville on October 3, 1850, but his career at the University, where he studied Greek and mathematics, was overshadowed by an incident that made a lasting impression upon his mind and affected his future course.
In early 1853, George Turpin, a fellow student and bully, threatened Mosby's life. Mosby stood only 5 foot 7 inches tall and weighed approximately 128 pounds. He was of fair complexion with sandy colored hair with his most dominant feature being his piercing blue eyes. Mosby recognized his disadvantage in size and armed himself with a pepperbox pistol. When the two met the next day, Turpin rushed at Mosby. Mosby calmly drew his pistol and shot Turpin in the throat.
Later that day, March 29, 1853, Mosby was arrested at his home, Tudor Grove. He was confined at Albemarle County jail until the trial on May 17, 1853. On May 25, the jury found him not guilty of malicious shooting, but guilty of unlawful shooting. Consequently, Mosby was found and was sentenced to one year in the Charlottesville jail and was fined $500.
The prosecutor in this case was Judge William J. Robertson, of Charlottesville, who made a vigorous arraignment of the young student. On visiting the jail the day after the conviction, much to his surprise, Robertson was greeted by Mosby in a friendly manner. Robertson loaned some law books to the prisoner, and a lifelong friendship developed between the two. Thus it was that young Mosby began the study of law, which he later made his profession.
A petition for his release was signed by 298 people of the Charlottesville area. After serving seven months of a twelve-month sentence, Mosby was pardoned by the Governor of Virginia in December 1853, fifteen days after his twentieth birthday. Mosby was said to be so affected by the experience that he never referred to it again particularly in his later memoirs.
Mosby then spent several months studying in Robertson's law office. He passed the bar exam on September 4, 1855, and set up his own practice in nearby Howardsville, 25 miles south of Charlottesville. There he met Pauline Clarke of Franklin, Kentucky, and she captured Mosby's affection. They shared a love of literature and the classics, often reading to each other.
Image: John Singleton Mosby
On December 30, 1857, Pauline Clarke married John Mosby at a Nashville hotel. After living for a year with Mosby's parents, the couple moved to Bristol in southwest Virginia, near Pauline's hometown. There Mosby practiced law, and drilled with the local militia in the wake of John Brown's Raid. The couple had eight children, four boys and four girls; their first child, a daughter named May, was born on May 10, 1859.
John Singleton Mosby was a small town lawyer opposed to secession when the Civil War broke out in 1861. But when Virginia seceded and called for her patriotic sons to respond, he immediately enlisted in the Washington Mounted Rifles. In May 1861, this unit was organized as Company D, 1st Virginia Calvary, with William Jones as captain. Jones, who formed the company, was a cantankerous, eccentric former West Pointer and regular Army officer. Colonel of the 1st Virginia Calvary was James Ewell Brown (J.E.B.) Stuart.
On July 11, 1861, Mosby had his first encounter with the Federal cavalry just south of Martinsburg, Virginia (now West Virginia). When his patrol came upon a Federal detachment, they managed to capture two Federal soldiers, and then chased the others to Martinsburg. Mosby realized immediately that he liked soldiering. On July 18, Mosby's unit was sent to Manassas, where it was present for the Battle of Manassas, but played only a minor role in that action. Afterward, the 1st Virginia Cavalry was posted in Fairfax County, and Mosby became familiar with the area while on scouting missions.
When William Jones became the new commander of the 1st Virginia Cavalry, Mosby was appointed adjutant, with the rank of 1st Lieutenant. While not on duty, Mosby studied books on strategy and tactics, and had discussions on military matters with Jones. Both of these experiences would be of great value to Mosby later in his career.
About this time, he began to formulated his plan to conduct daring raids behind enemy lines to create havoc on Federal supply and communication lines. He believed these operations would force the Federal Army to reduce their forces facing the Confederate army in order to protect their rear, and would also provide valuable information about Federal troop movements.
When Jones was transferred to another regiment on September 24, 1861, J.E.B. Stuart had been promoted to brigadier general of the Confederate Cavalry, and Stuart asked Mosby to join his staff. Mosby had discovered that he had little liking for the routine of military life, preferring scouting duties. He showed extraordinary ability in that position, and soon became Stuart's chief scout.
While scouting USA General George B. McClellan's position on the Virginia Peninsula in the spring of 1862, Mosby discovered that the Federal rear positions and supply lines were poorly guarded, and suggested to Stuart that he could circle McClellan's army and attack his rear positions. This resulted in Stuart's famous ride around McClellan's army on the Peninsula in June 1862. Mosby acted as the guide on that mission and received high praises from Stuart for "conspicuous and gallant service."
Mosby letter to his wife:
Richmond, Monday, June 16, 1862.
My dearest Pauline:
I have just received your letter this morning. I returned yesterday with General Stuart from the grandest scout of the war. I not only helped to execute it, but was the first one who conceived and demonstrated that it was practicable. I took four men, several days ago, and went down among the Yankees and found out how it could be done. The Yankees gave us a chase, but we escaped.
I reported to General Stuart,–suggested his going down,–he approved,–asked me to give him a written statement of the facts, and went immediately to see General Lee, who also approved it. We were out nearly four days,–rode continuously four days and nights,–found among the Yankee camps and sutlers' stores every luxury of which you ever conceived.
Stuart's name is in everyone's mouth now. I was in both cavalry charges,–they were magnificent… I have been staying with General Stuart at his headquarters… The whole heavens were illuminated by the flames of the burning wagons, etc. of the Yankees. A good many ludicrous scenes I will narrate when I get home. Richmond in fine spirits,–everybody says it is the greatest feat of the war. I never enjoyed myself so much in my life…
In late December 1862, following the Battle of Fredericksburg, J.E.B. Stuart, with Mosby as scout, conducted a raid against the Federal positions in Fairfax, Prince William, and Loudoun Counties, working to cut the Federal supply and communications lines between Washington and Fredericksburg. They ended up in Loudoun County just before the New Year.
On December 31, 1862, at Oakham, the home of Hamilton Rogers east of Middleburg, Mosby asked Stuart for permission to put into action his plan to organize an independent command to harass Federal forces during the winter months in the region that stretched from Washington, DC, across the Blue Ridge Mountains into the Shenandoah Valley, and beyond the Potomac River into Maryland.
Stuart left Mosby, a 29-year-old lieutenant, with nine men to carry out the raids; he and these nine men, along with a local guide, John Underwood, conducted two successful raids. Mosby wrote, "In two days we captured 20 cavalrymen, with their horses, equipment, and arms." This was the beginning of Mosby's Rangers. Stuart was elated with Mosby's success and gave him fifteen men for an independent operation in northern Virginia.
This was Mosby's chance of a lifetime – the opportunity to prove the theory he had formed through his experiences and years of studying military history. The premise was that a small number of men over a large rural area could launch devastating surprise cavalry attacks – on Union cavalry outposts, guard stations, U.S. Military Railroad junctions, depots, trains, and supply wagons – that would not only weaken the enemy's morale, but tie up thousands of his troops much needed for operations against the main Confederate forces.
This group was organized in a very nonmilitary way, with few resemblances to usual military life; no drills, little or no Confederate military support, and limited communications with regular forces. With outriders ringing the column, the Rangers descended upon supply wagons, enemy outposts, railroad trains, and bodies of Federal troops. Within weeks, Mosby's value became evident.
Swiftly attacking larger forces, capturing Union soldiers and horses, and retreating into the woods offered an even more dangerous notion of fighting that instilled greater honor upon the men willing to undertake such dangerous missions. Mosby had immediate success with surprise attacks against the Union cavalry screen and its many small outposts on the Loudoun-Fairfax county line in the early months of 1863. This led men who were home on leave, boys ages 16 and 17, and infantry convalescents to join the Rangers.
Safe Houses
On January 18, 1863, John Singleton Mosby and his men rode into Fauquier County. Just north of Warrenton, Mosby told his men to scatter and find shelter in the homes of the people, and to meet him on January 26 at Mount Zion Baptist Church just east of Aldie. This would become the pattern of his operations – the rangers would stay in hiding until the appointed time and place for a raid.
Mosby knew that if his raiders stayed in a camp, sooner or later Federal troops would find it. Instead, he requested that patriotic Virginians board his men in their homes. At a time when most of the menfolk were away and slaves often ran away, having a young Mosby Ranger in the household was considered a blessing. To the teenage girls of these households, it also meant a considerable improvement in their flagging social lives – dances, card games, entertainments, moonlit walks, and sleigh rides. Tales of bravery and bravado right out of Ivanhoe would now be their regular fare.
Amanda Virginia Edmonds of Belle Grove in Fauquier wrote the following:

Much to our surprise, mortification, and sorrow the slumbers of the household were aroused by the rattling of swords and the clatter of horses, which fortunately made known to our dear soldiers that something was wrong. Bud jumped from his bed, and there to his utter surprise were Yankees dashing up. Bud, with Mr. Alexander and George, dashed down the stairs where Ma and I met them nearly frightened to death. They dashed to their secret hiding place followed by overcoats, pistols, and everything I could grab up…
There was great risk in hiding Mosby's men. Harboring "partisan guerillas" was more than enough legal cause for arrest by Federal troops. Houses from the Snickersville Pike to the Manassas Gap Railroad, from the Blue Ridge to the Bull Run Mountains were searched again and again as the war dragged on.
The climax came when Mosby captured Union Brigadier General Edwin Stoughton at Fairfax Court House on March 9, 1863. The Stoughton capture brought Mosby fame both in the South and in the North. Young volunteers hurried to join the growing command. Mosby chose the counties of Fauquier and Loudoun as a base, where civilians alerted the partisans to the arrival of Federal units in the region, devising various warning signals.
Image: The Fairfax Court House Raid
Mort Kunstler
On March 9, 1863, John Singleton Mosby led a raid into Fairfax, Virginia.
Mosby appears in the center of the painting, framed by the light of the court house. He wears the captain's uniform he wore during the raid (even though he was still a lieutenant). The raid occurred at about 2:00 am, when Fairfax was covered in snow. When I discovered Mosby's daring raid occurred in the snow I was delighted. I love painting snow scenes and I receive so many requests for them.
~Mort Kunstler, Artist
Mosby's partisan rangers were allowed to keep what they took from Yankees – mostly pistols, carbines (short repeating cavalry rifles), and horses. Most of the Rangers had four pistols and four horses in order to always be prepared for a raid. Other materiel was sold to the Confederate Army or given to homeowners who took the risk of boarding rangers locally.
On June 10, 1863, Mosby's unit was organized as the 43rd Battalion of Virginia Cavalry in the Confederate Army. Mosby selected each officer personally, while allowing the men to affirm his choices with a vote. Mosby's Rangers earned official praise from Stuart and General Robert E. Lee for its exploits and timely gathering of critical intelligence. The area where they most frequently operated became known as Mosby's Confederacy – the four Virginia counties nearest Washington, DC.
Mosby letter to his wife:
Fauquier County, October 1, 1863
My dearest Pauline:
Just returned from a raid. I went down in the suburbs of Alexandria and burned a railroad bridge in a quarter of a mile of two forts and directly in range of their batteries, also captured Colonel Dulaney, aide to (Governor) Pierpont. Dulaney lives in Alexandria,–has a son in my command, who was with me at the time…
It was quite an amusing scene, the interview between Colonel Dulaney and his son. Just as we were about leaving the Colonel sarcastically remarked to his son that he had an old pair of shoes he had better take, as he reckoned they were darned scarce in the Confederacy, whereupon the son, holding up his leg, which was encased in a fine pair of cavalry boots just captured from a sutler, asked the old man what he thought of that.
I am now fixing my triggers for several good things which, if they succeed, will make a noise. Old Mrs. Shacklett is going to Baltimore next week and I shall send for some things for you all… In Richmond I got some torpedoes, which have just arrived, and my next trip I shall try to blow up a railroad train. Went to see the Secretary of War,–he spoke in the highest terms of the services of my command,–said he read all my official reports. Also saw old General Lee,–he was very kind to me and expressed the greatest satisfaction at the conduct of my command.
Safe houses dotted the area, with each house having a hiding place for the Rangers. Mosby's men called them "secret closets," and they included underground passageways leading to an outside exit or a false wall/panel in a room. The local population knew that if the Confederates were discovered in their residences, they faced incarceration and great reprisal from the Federal authorities. Consequently, the local population were always on alert and served as a vast warning intelligence network for the Rangers, with nearly every house in the region holding a spy or a messenger functioning at all times, day and night.
Mosby's men shared the booty and money from their raids with the locals, then assisted them by plowing fields, harvesting crops, and patrolling against undisciplined guerrillas who infested the mountains. As 1863 gave way to 1864, the people remained steadfast in their loyalty to him.
On May 12, 1864, Jeb Stuart died in Richmond as a result of an action at Yellow Tavern. Mosby declared that he was his "best friend in the Army." After Stuart's death, Mosby reported directly to General Lee.
By the summer of 1864, the battalion consisted of six companies, including an artillery company. Before autumn chilled into winter, Mosby organized two more companies. He counted between 300 and 400 officers and men in the command, and the reach of the partisans extended west beyond the Blue Ridge into the Shenandoah Valley, where Mosby increasingly shifted his operations as a decisive struggle for control of the breadbasket of the Confederacy unfolded that summer and fall.
With instructions not to suffer a battlefield defeat that might adversely affect Abraham Lincoln's reelection campaign, USA General Philip Sheridan began retiring north. He had been ordered by Grant to destroy the fertile region's crops, barns, and mills and confiscate its livestock. As the Northerners retreated, cavalry units roamed the countryside, liberally applying the torch. Stunned residents watched their harvests and barns become engulfed in flames. Pillars of smoke marked the passage of Sheridan's army.
Mosby letter to his wife:
October 12, 1864, Near Middleburg
My dearest Pauline:
I have been engaged in a perpetual strife with the Yankees ever since my arrival. They are now engaged in repairing the railroad (Manassas). I attacked a camp of 800… As we operated in Sheridan's rear, the railroad that brought his supplies was his weak point and consequently our favorite object of attack. For security, it had to be closely guarded by detachments of troops, which materially reduced his offensive strength. We kept watch for unguarded points, and the opportunity they offered was never lost.
Early in October one of my best men, Jim Wiltshire, afterwards a prominent physician in Baltimore, discovered and reported to me a gap through which we might penetrate between the guards and reach that railroad without exciting an alarm. It was a hazardous enterprise, as there were camps along the line and frequent communication between them, but I knew it would injure Sheridan to destroy a train and compel him to place stronger guards on the road. So I resolved to take the risk. Jim Wiltshire had a time-table and we knew the minute when the train was due and so timed our arrival that we would not have to wait long.
There was great danger of our being discovered by the patrols on the road and our presence reported to the camps that were near. The situation was critical, but we were so buoyant with hope that we did not realize it. The western-bound passenger train was selected from the schedule as I knew it would create a greater sensation to burn it than any other; it was due about two o'clock in the morning.
Wiltshire conducted us to a long, deep cut on the railroad. No patrol or picket was in sight. I preferred derailing the train in a cut to running it off an embankment, because there would be less danger of the passengers being hurt. People who travel on a railroad in a country where military operations are going on take the risk of all these accidents of war. I was not conducting an insurance business on life or property.
It was a lovely night, bright and clear, with a big Jack Frost on the ground. I believe that I was the only member of my command who went through the war without a watch, but all of my men had watches, and we knew it would not be long before the train would be due. Videttes were sent out, and the men were ordered to lie down on the bank of the railroad and keep quiet. We had ridden all day and were tired and sleepy, so we were soon peacefully dreaming. I laid my head in the lap of one of my men, Curg Hutchinson, and fell asleep.
For some reason – I suppose it was because we were sleeping so soundly – we did not hear the train coming until it got up in the cut, and I was aroused and astounded by an explosion and a crash. As we had displaced a rail, the engine had run off the track, the boiler burst, and the air was filled with red-hot cinders and escaping steam. A good description of the scene can be found in Dante's "Inferno." Above all could be heard the screams of the passengers – especially women.
The catastrophe came so suddenly that my men at first seemed to be stunned and bewildered. Knowing that the railroad guards would soon hear of it and that no time was to be lost, I ran along the line and pushed my men down the bank, ordering them to go to work pulling out the passengers and setting fire to the cars.
It did not take long to pull out the passengers. While all of this was going on, I stood on the bank giving directions to the men. The burning of this train in the midst of Sheridan's troops and the capture of his paymasters created a great sensation.
Mosby relied heavily on the local farmers to supply forage for his men's nearly 1600 horses. Often leaving on two raids a day by the autumn of 1864, there was inevitably a detail led by Mosby's quartermaster on a "corn raid." By that time, resources in southern Loudoun and northern Fauquier counties were being exhausted, and the target became the non-participating Quaker families, whose sons stayed home and whose farms accordingly prospered. Paid in Confederate money, scrip, and IOUs, these Quakers unhappily cooperated.
Exasperated Federal troops decided to burn Mosby out by destroying his base of support – the local farmers. On November 28, 1864, on orders from USA General Philip Sheridan, General Wesley Merritt and some 5000 federal cavalrymen came from Winchester into the Loudoun Valley. They had orders to burn every barn, shed, and grain mill; to destroy all crops and farm machinery; to confiscate all horses, cows, sheep, pigs, and goats; and to arrest all men between the ages of 15 and 50, regardless of their wartime sympathies. They did so over the next five days, and the damage was horrendous to Confederates and Unionists alike.
By 1865, the 43rd Virginia had grown to eight companies, and some 1911 men had served in the unit commanded by Mosby. He had set an example of mobile, creative, dashing action still studied today by the military. He had been shot multiple times, once almost fatally near Atoka on December 21, 1864. Mosby's promotion to colonel came in January 1865. General Robert E. Lee cited Mosby for meritorious service more often than any other Confederate officer during the course of the war.
Mosby's operations over 28 months proved his theory was right – that small bands of men could inflict great harm on larger forces by striking quickly and secretly. He became known as the Gray Ghost by fearful Federal forces. His raids became the stuff of legend, and thousands of Union troops were stymied by his operations. They made hundreds of attacks on Federals throughout the year, and many became legendary.
On April 21, 1865, Mosby met his men for the last time at Salem, Virginia, to disband, rather than surrendering to Federal forces, and many tears were shed.
Mosby's Farewell Address to his Command
Fauquier County, April 21, 1865
Soldiers:
I have summoned you together for the last time. The visions we have cherished of a free and independent country have vanished, and that country is now the spoil of the conqueror. I disband your organization in preference to surrendering it to our enemies. I am no longer your Commander. After an association of more than two eventful years, I part from you with a just pride in the fame of your achievements and a grateful recollection of your generous kindness to myself. And at this moment of bidding you a final adieu, accept the assurance of my unchanging confidence and regard.
John. S. Mosby, Colonel.
At the close of the Civil War, the process of re-integrating Southern supporters into the Union involved signing an oath of allegiance to the United States of America. The first step for soldiers was surrender. At least 779 members of the 43rd battalion were paroled by the end of June 1865.
This did not include Mosby, who headed south to learn the fate of Joseph Johnston's army with some half a dozen of his former Rangers. When Mosby approached Richmond, he learned of Johnston's surrender in North Carolina. At that time, Mosby acknowledged that the War was over and ordered the final disbanding of his last soldiers and arms. Mosby retreated into a self-imposed exile, first at his father's home near Lynchburg, Virginia.
Mosby letters to Pauline:
Valley Farm
August 27, 1865
My dearest Pauline:
I stayed almost a week at Pa's and then returned to Uncle John's, as the infernal Yankees were in Lynchburg, which made it dangerous to remain there longer. Uncle John made John Hipkins go to Richmond, as we were anxious to learn what were the designs of the Yankees towards me. Mr. Palmer went to see General Lee. General Lee sent me word by Willie Cabell that he was waiting to see General Grant; he also said that he entirely approved of everything I had done. He is going to move up to Haymarket.
When I passed through Charlottesville, there were fourteen Yankee cavalry in the place. I met a lieutenant and one man in the street. They said nothing to me. I went up to the University to call on Dr. McGuffey. A short while after I left, it was surrounded by two companies of Yankee cavalry. If you see Willie tell him Pa is anxious for him to return home. I want to find out what will be the course of the Yankees towards me before I return to Fauquier.
Leesburg, Virginia
January 8, 1866
Dearest Pauline:
I was just in the act of starting home this morning when an order came for my arrest. I am now under arrest here, awaiting orders from General Ayres. Don't be uneasy…
Yours affectionately, John S. Mosby
From the Baltimore Sun
February 6, 1866
Colonel Mosby has been released upon parole by General Grant, he being included in the terms of General Lee's surrender.
Thus it was nearly a year after Lee's surrender that the war closed for Mosby. He settled in Warrenton in Fauquier County, Virginia, where he was joined by Pauline and their children, whom he had rarely seen in the last two years. He lived first at Road Island, a house outside of Warrenton, and later on the main street of town in a house known locally as Brentmoor. He attempted to re-establish his law practice, and watched his family grow to four sons and four daughters.
When Ulysses S. Grant became president in 1869, Mosby visited him in the White House and offered his support. Mosby publicly backed the Republican in his 1872 re-election bid, feeling that this was his state's best bet in the postwar South, and Grant carried Virginia. Because Republicans were blamed for making war on the South, emancipating the slaves, and the unpopular policies of Reconstruction, Mosby's support of Grant made him highly unpopular. In Warrenton, someone took a shot at him.
The Civil War was then but seven years past, and the Southern people were not prepared to follow his lead. They turned against Mosby bitterly. Young and inexperienced in politics, he may have thought it inconceivable that they would treat his voting for Grant as an unforgivable sin. His motive was gratitude rather than political – for Grant's kindness toward the Southern army, General Lee, and himself – than any design to change the attitude of the South toward the Federal Government. The Colonel, in spite of the abuse and recrimination heaped upon him, never repented this act.
Pauline Clarke Mosby died on May 10, 1876, at Warrenton, Virginia. One of the Mosby sons had died in 1873, and another died in 1876.
Mosby's subsequent life was influenced greatly by the strong friendship between him and the great general who had ordered his honorable parole. After attempts to assassinate him and the failure of his law practice, Grant helped Mosby get the job, so he could leave Virginia, and he soon moved to Washington, DC.
John Singleton Mosby served as the U.S. Consul to Hong Kong (1878-1885) under Republican Presidents Hayes (Grant's successor), James A Garfield, and Chester A. Arthur.
After returning to the United States, Mosby became active on the lecture circuit, and wrote his war reminiscences and several other works for magazines and newspapers, spreading his account of his exploits during the war.
Before General Grant died in 1885, he got Mosby a job with the Southern Pacific Railroad in San Francisco. Mosby liked California a great deal, and lived there until 1901. He became friends with General George S. Patton's father, a fellow Virginian. He and young George discussed and reenacted Civil War scenes from Mosby's past on the Pacific beach below the Patton home. The future World War II general's love of six-shooters and the use of rapid troop movements began with the inspirational stories of the aging Civil War hero.
In 1901, Mosby took a federal post under President Theodore Roosevelt in the General Land office in Nebraska, and later as an assistant attorney to the Department of Justice in Washington. In his last years, he liked to explore the places of his Civil War exploits.
Mosby found such little satisfaction with his later years he once remarked: "I wish that life's descending shadows had fallen upon me in the midst of friends and scenes I loved best". Such a death, in his view, would have maintained both his heroic and honorable status at their peak.
After a series of physical debilitations, Colonel John Singleton Mosby died in a hospital in Washington, DC, on May 30, 1916, at the age of 82. A train took his remains to Warrenton, VA, where he was buried beside his wife Pauline and his deceased children.
One obituary read:
His home lay across the Potomac at Warrenton, Virginia, but he was often seen in Washington, his white hair and strong Roman features making him a picturesque figure on the streets or lecture platform.
Mosby's great work was his distinctive warfare near Washington, against the troops guarding the Potomac. For two years of almost incredible activity – Mosby himself said, "I rarely rested more than a day at a time" – he maintained his warfare, neutralizing at times some fifty thousand troops by compelling the enemy to guard his rear and his capital.
Seldom was an attack made with more than two hundred and fifty men. Usually from thirty to sixty would be collected at a rendezvous, such as Atoka, Aldie, or Upperville, and after discharging their duties, they would be swallowed up in impenetrable darkness, leaving behind only a threat of some future raid. The execution of this bold plan was successful; its damage to the enemy enormous, and it exhibited a military genius of the highest order.
SOURCES
John S. Mosby
Colonel John Mosby
John Singleton Mosby
Colonel John S. Mosby
Colonel John Singleton Mosby
John Singleton Mosby's Revenge
Memoirs of Colonel John S. Mosby
John Singleton Mosby – The Grey Ghost
Colonel John Mosby and the Southern Code of Honor