Wife of Declaration Signer William Whipple
Katharine Moffat was born in 1734 in Portsmouth, New Hampshire, the daughter of John Moffat, who came to America as a ship captain engaged in the timber trade. About 1724, John Moffat had married a young woman of means named Katharine Cutt, and through trade and land speculation, they became one of New Hampshire's wealthiest couples. Of their five children, four survived – three daughters and one son.
William Whipple was born January 14, 1730, in Kittery, Maine, son of Captain William and Mary Cutt Whipple. His mother was the daughter of Robert Cutts, a wealthy and distinguished ship-builder, who established himself at Kittery, and at his death left her a handsome fortune. Young Whipple was educated at a common school until he went to sea as a cabin boy in his fourteenth year.
William Whipple's great-grandfather Robert Cutt settled in the Portsmouth area prior to 1649 and established the Kittery shipyard. His great grand-uncle John Cutt was New Hampshire's first President and his great-great-grandfather Richard Cutt was a member of the British Parliament from Essex in the 1650s. He was born in the Cutt mansion, built about 1660 on the east bank of the Piscataqua River a few rods from the water and about a mile from the river's mouth.
By the age of twenty-one, Whipple commanded a ship of his own. For several years, he devoted himself to the merchant marine business, plying the Atlantic carrying wood to the West Indies, rum to Africa, and slaves back to Portsmouth. Whipple was very successful, and he acquired a considerable fortune.
At age 29, he gave up the seafaring life, sold his boat, and moved to Portsmouth, New Hampshire. There, in partnership with his brother Joseph, Whipple established himself as a merchant, and that venture was also prosperous. As a merchant, he became a victim of the British trade restrictions of the 1760s, and an early adherent to the Patriot cause in Portsmouth.
In 1763, Katharine Moffatt's only brother, Samuel, married and moved into the mansion John Moffatt built for his son. At first, Samuel and his young wife Sarah Catherine did well. The floor plan of their home gave it an impressive entrance, one well suited to lavish entertaining. They traveled through town in a four-wheeled carriage, and their friends and Samuel's business associates were from the first families of the colony.
Unfortunately, Samuel Moffatt's business affairs did not go well. He undertook several shipping ventures, including an ill-fated voyage to Africa to obtain slaves, with his brother-in-law Peter Livius. When most of the enslaved cargo of the ship Triton died during the passage to the West Indies, Livius declared that his share of the cost of the voyage was a loan, rather than an investment, and sued Samuel for his losses. It was this lawsuit that finally caused Samuel's financial ruin. Samuel fled the colony aboard the ship Diana, in the company of his cousin William Whipple, to the Dutch-held island of St. Eustatius, where Samuel was able to escape his creditors and work to rebuild his fortune.
In a bold move designed to thwart Livius' efforts, John Moffatt sued Samuel for the amount he had advanced to his son to establish his mercantile business. John had never transferred the deed to the house to Samuel, so it was Samuel's moveable goods that were sold at auction to satisfy his debt to his father.

Livius, though frustrated in his attempts to sue Samuel directly, was "determined to get his Money out of somebody," and, "Has found a Law of this Province made between 40 and 50 Years ago which says that every Master or Commander of a Ship that carries any Inhabitant out of the Province without giving Bond in the Secretary's Office shall be subject to a Fine and pay all the Damages arising thereby."
Livius charged that William Whipple, as commander of the ship Diana, in which Samuel fled from the colonies, had "subjected himself to this Law." When Whipple returned to Portsmouth, he was "chagrined at finding a Stop put to his Business, for where he and his Brother to go on with any other Affairs," Livius might keep attaching their business. The brother's dissolved their partnership so that Joseph would be free to carry on, and William thereafter devoted himself to public service.
In May 1769, Sarah Catherine Moffatt finally left Portsmouth to join her husband Samuel in St. Eustatius, taking her oldest child Betty, Mrs. Sparks, "the two Negros and the boy James" with her. She left two of her children with her sister-in-law Katharine Moffatt, who split her time between caring for her ailing mother at her parents' house and caring for her niece and nephew at her brother's mansion. After the death of her mother, Katharine and her father moved into the newer and more grand residence.
A year later, Katharine Moffat quietly married her cousin William Whipple. The couple did not make the union public until well after people began to notice that Katharine was pregnant, at which point William Whipple joined the Moffatt household, bringing with him an impressive array of sophisticated furniture. In 1773, the couple lost their only child William Jr. at the age of eleven months. They raised their niece and nephew, Mary and John Tufton Moffatt, as their own until they were grown.
Due to John Moffatt's failing eyesight and advancing deafness, he relied on his nephew and now son-in-law William Whipple to take care of the place, and to help him with his business affairs. As William became increasingly embroiled in the Revolutionary cause some of these responsibilities were assumed by Katharine.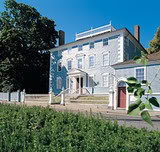 One of America's finest Georgian mansions,
the house overlooks Portsmouth's waterfront
and has extensive flower gardens. The
Whipples lived here their entire married life.
The enormous horse chestnut tree in the yard was planted by William Whipple in the fall of 1776 with chestnuts he brought to Portsmouth from Philadelphia after signing the Declaration of Independence. In 1817, the house passed to John Moffatt's great-granddaughter, Maria Tufton Haven Ladd, who, with her husband Alexander, raised thirteen children in the house.
Whipple's Political Career
From the start, William Whipple sided with the colonies in the conflict with Great Britain. A leading advocate for independence, William Whipple served on the town's Committee of Safety. In 1776, New Hampshire dissolved the Royal government and reorganized with a House of Representatives and an Executive Council, and he became a Council member. Whipple was elected a delegate from New Hampshire to the Continental Congress in 1775, taking his seat in May.
Accepting election to the Continental Congress carried negative political consequences in Portsmouth. This anonymous letter in the January 9, 1776, New Hampshire Gazette might have fazed a weaker man than Whipple. The writer said independence meant ruin and destruction and asked how the colonies, with 1,000 miles of seacoast and no ships of war, could defend themselves against "310 battleships, completely manned and fitted?" He wondered how a country of three million who might raise an Army of 30,000 could expect to win against a nation of 15 million with an Army of 150,000. He said the colonies "were without arms, without ammunition, without trade, contending with a nation that enjoys the whole in the fullest latitude."
That Congress recognized Whipple's military insight is evidenced by his appointment to many special committees dealing with military matters. General George Washington's request in May 1776 for arms was referred to Whipple's committee. This was followed by appointment to the Committee to work with Generals Washington, Horatio Gates, and Thomas Mifflin to develop "a plan of military operations for the ensuing campaign."
Whipple was elected to the Congress again in 1776. By the time he reached Philadelphia on February 28, 1776, only seven Delegates had spoken for independence. But Thomas Paine's 47-page pamphlet generated overwhelming mass sentiment for independence. Whipple, John Adams (MA), Roger Sherman (CT), and Richard Henry Lee (VA) joined in the call. As late as April, a majority did not yet exist for independence. Yet, three months later, Congress voted unanimously to separate from the mother country.
Richard Henry Lee introduced the Resolution of Independence on June 7:
That these United Colonies are, and of right ought to be, free and independent states, that they are absolved from all allegiance to the British Crown, and that all political connection between them and the state of Great Britain is, and ought to be, totally dissolved. That it is expedient forthwith to take the most effectual measures for forming foreign alliances. That a plan of Confederation be prepared and transmitted to the respective colonies for their consideration and approbation.
Dr. Josiah Bartlett (NH) and Whipple are believed to have cast the first and second votes for the Declaration as the normal order of voting began with the northern colony. After declaring Independence, there was no middle ground, no place for the hesitant in Congress. Members were renewed, animated, enthusiastic, and buoyant with hopes of a speedy victory. However, twice Congress had to flee Philadelphia to avoid capture by the British. But despite all setbacks, it continued doggedly at its task.

William Whipple's Signature
On the Declaration of Independence
According to family legend, after signing the Declaration of Independence on August 2, 1776, Whipple returned to Portsmouth with a handful of horse chestnuts from Philadelphia, one of which planted in the yard in commemoration of his participation in that momentous event.
Whipple was re-elected to Congress in 1778, and chaired the Foreign Affairs Committee when France pressured the Congress in January 1779 to decide on issues critical to a Peace Conference with England. Whipple's Committee decided that negotiations could only begin after Great Britain acknowledged "the absolute and unlimited liberty, sovereignty, and independence" of the United States in matters of government and commerce. Whipple declined to be chosen to the Continental Congress again.
Whipple's Military Career
In 1777, William Whipple was summoned to Exeter, promoted to Brigadier General of the New Hampshire Militia, and ordered to drive British General John Burgoyne out of Vermont. One of sixteen signers who served as soldiers during the war, he took part in campaigns in New York, Massachusetts, and Rhode Island.

William Whipple
Twice he took leave from Congress to lead the New Hampshire militia against the British. Appointed a brigadier general by the New Hampshire legislature in 1777, he played a major role in the Battle of Saratoga (NY). Lieutenant General John Burgoyne commanded the invading Army from Canada. Major General Horatio Gates, a former professional soldier in the British Army, commanded the American forces. Whipple and Gates were well acquainted through Whipple's service on Congressional Committees dealing with the Army.
Whipple was with Gates on October 14, 1777, when Burgoyne's Adjutant arrived with a flag seeking a cessation of the fighting. Whipple was one of the officers Gates chose to negotiate the surrender of General Burgoyne and his army. Historians have ranked the Battle of Saratoga as one of the most decisive in history as it changed the course of the Revolution by bringing France into the war on America's side. On February 6, 1778, France signed treaties of Amity and Commerce with France.
In the summer of 1778, Whipple led New Hampshire's militia south to aid General John Sullivan in an attempt to recapture Rhode Island. The enemy army of more than 6000 troops was protected by a Naval force of seven ships of war and two galleys. Sullivan's command, including two Brigades under Major General Marquis Lafayette, eventually numbered nearly 10,000, including Whipple's Brigade of 1200 New Hampshire volunteers.
Unfortunately, most of Sullivan's troops were recruits without discipline or knowledge of war, and supplies were limited. When the French Fleet under Admiral Count d'Estaing, which had agreed to join the operation, failed to take part despite appeals by Lafayette, American troops became disheartened and deserted in large numbers.
Sullivan retreated to the north end of the Island the night of August 28, and an engagement ensued the 29th. News that the British were to be reinforced (General Henry Clinton arrived with 4000 troops the next day) caused Sullivan to retreat to the mainland the evening of August 30, 1778. Whipple and General Ezekiel Cornell of Rhode Island executed the withdrawal without loss or incident, and Sullivan's General Order of the 31st commended them for their work.
In 1780, Whipple was elected to the New Hampshire Legislature, in which he was to serve many terms. In May 1782, Superintendent of Finance Robert Morris appointed Whipple tax collector for the state of New Hampshire, and he accepted the difficult and unpopular job. His duties were to receive and transmit the state's taxes, to expedite the collection of these taxes by all proper means and to urge the local authorities to comply with the requisitions of Congress.
Times were hard in New Hampshire, and the state was very slow in paying its share to the national capital. In August of 1783 Whipple tried to resign, but Morris would not let him. In January 1784, Whipple paid $3000 to the treasury, his first remittance.
Whipple resigned his military appointment on June 20, 1782, but served as a member of the New Hampshire Legislature and an Associate Justice of the Superior Court from 1782 until his death. He continued to ride the circuit with the court, although he often fainted and fell off his horse due to a heart ailment.
In the fall of 1785, Whipple suffered severe chest pains, which became so acute he had to return home before completing the 1785 circuit. Unable to lie in bed, he slept sitting in a chair in his bedroom.
William Whipple died from his heart condition on November 28, 1785, at the age of 54. His tomb is in Portsmouth's North Cemetery. His wife, son, and mother are also buried there.
Postmortem examinations were rare but Whipple, believing medical science would benefit from knowledge of his affliction, authorized his own. The autopsy showed an ossification in his heart – only a small aperture the size of a knitting needle was open for blood circulation. Considering how small a proportion of blood circulated through the lungs, the doctor performing the autopsy found "it a matter of wonder and astonishment that life could be so far prolonged."
When William Whipple died, his wife Katharine was devastated. She was left without a husband of the first rank who was esteemed by the entire community. Her father, very weak and feeble, still provided for her, but she was aware that at 93 years of age, he could hardly live much longer. In 1779, she had convinced her father to convey to her a farm on the outskirts of town at the Plains.
In 1784, Katharine persuaded her father to bequeath to her the right to live in the Portsmouth mansion house for sixteen years. He did so, but in his will entailed the house to her brother's eldest surviving son, Samuel R.C Moffatt, and his heirs. Samuel's wife, Sarah Catherine Moffatt, received nothing, but John Moffatt did make bequests to all of her children. The house that Sarah Catherine had been living in was sold, and she was forced to move.
Samuel and Sarah's second daughter had married Nathaniel Haven, who immediately began acting on behalf of his wife and his mother-in-law, raising questions about how John Moffatt's estate was being handled. A feud between Sarah Catherine Moffatt and Katharine Moffatt simmered until Sarah's death in 1802. Samuel's children brought suit against Katharine and eventually won their case, with Nathaniel Haven acting as their proxy and the famous orator Daniel Webster as a consulting lawyer. By the time the affair was settled, Samuel R.C. Moffatt had died, and his wife decided to sell the property.
Katharine Moffat Whipple died on November 22, 1821, in Portsmouth, New Hampshire.
Whipple's Legacy
One of the Revolution's great champions, William Whipple gave everything to the cause and died just before his dream of a strong central government was realized. He served his native state and his fledgling nation unceasingly, to the damage of his personal health. His was a quietly determined war effort – he fought not only on the battlefield, but in the courts and congresses during a revolutionary time. His letters are witness of his ever alert, courageous, and encouraging spirit. No member of the Congress worked harder or contributed more to the founding of the United States. His reward was not fame; it was helping to create the greatest democracy ever known.
New Hampshire historian Richard Francis Upton, in evaluating the various Delegates representing the state, placed William Whipple first and labeled him "one of the most popular and respected members of Congress. His was the New Hampshire voice most often raised in Congressional debates, and it was a voice listened to, especially on marine, foreign affairs, and public administration issues."
SOURCES
The Moffatts
William Whipple
Framers of Freedom
Catharine Moffat Whipple
William Whipple 1730-1785
Wikipedia: William Whipple
The Life of William Whipple
Signer of the Declaration of Independence
blainewhipple.com: General William Whipple of New Hampshire