Wife of Declaration Signer Carter Braxton
Carter Braxton
Elizabeth Tayloe Corbin was born in 1747 at her family plantation, Middlesex, in King William County, Virginia. She was the eldest daughter of a British colonel who was the Receiver of Customs in Virginia for the King.
Carter Braxton was born on September 10, 1736, into a wealthy family at Newington, a tobacco plantation in King and Queen County, Virginia. He was the son of George Braxton, a wealthy planter and merchant. His mother was the daughter of Robert "King" Carter, a prominent landowner and politician, who was for some time a member and the president of the King's Council.
Carter was liberally educated at the College of William and Mary and, while still in his teens, inherited the large family estate, consisting chiefly of land and slaves. His estate was increased greatly when he was married at age nineteen to the daughter of Christopher Robinson, a wealthy planter in Middlesex County; she died during childbirth two years later, leaving him two daughters. Soon thereafter he sailed to England, and stayed for more than two years.
Carter Braxton returned to America in 1760, and in 1761 he married Elizabeth Corbin. They lived in great splendor in richly furnished mansions on two of his plantations, and produced a total of sixteen children, though only ten children survived infancy.
In 1761, Carter Braxton was appointed to represent King William County in the Virginia House of Burgesses. In 1765, he supported Patrick Henry's Stamp Act Resolutions; the imposition of import taxes was adversely affecting his own business interests.
In March 1773, when the House of Burgesses recommended the formation of a Committee of Correspondence to communicate with the other American colonies, Lord Dunmore, the last royal governor of the colony of Virginia, immediately dissolved the Virginia Assembly. Many of burgesses gathered a short distance away at the Raleigh Tavern, and continued discussing their problems with the new taxes and the lack of representation in England.
At this time, colonists in Massachusetts were also at sharp odds with the British, and punitive action had been taken. As a gesture of support, the reconvened House of Burgesses passed a resolution making June 1, 1774, a day of fasting and prayer in Virginia. In response, Dunmore again dissolved the Assembly.
Braxton immediately joined the Patriot's Committee of Safety, and he was elected to the first Virginia Convention that met in Williamsburg after Lord Dunmore's dissolution of the assembly. In March 1775, the delegates adopted measures for the defense of the country, agreed to break off commercial association with Britain, and encouraged domestic production of textiles, iron, and gunpowder.

On April 20, 1775, the day after the first battles at Lexington and Concord, Royal Governor Lord Dunmore seized the gunpowder in the Williamsburg magazine and took it to a British vessel in the James River. Several colonial militia units prepared to retaliate, but moderate leaders such as George Washington and Peyton Randolph restrained them.
Patrick Henry, a leader of the militia, however, refusing to be pacified, led a group of the Hanover County militia into Williamsburg and demanded the return of the gunpowder or payment for it. Before any hostilities occurred, Carter Braxton met with crown official Richard Corbin, his father-in-law, and convinced him to pay for the powder. Henry dismissed his men and bloodshed was for the time averted. The royal governor fled Virginia on June 7.
Braxton was a member of the General Convention that was convened in Richmond on July 17, 1775, and, assuming the powers of the executive and the legislature, passed acts for the organization of the militia and minutemen. He was one of the eleven members of the Committee of Safety appointed by that body.
Peyton Randolph, a delegate to the Continental Congress from Virginia, died in October 1775. When the convention reassembled in Richmond in December 1775, Carter Braxton was chosen to succeed Randolph, and took his seat in February 1776.

Signature on the Declaration of Independence
However, Braxton did not share the same zeal for freedom from England as his colleagues. He was convinced that a possible civil war was far more dangerous than democracy. Eloquently, he took to the floor of Congress to air his opposition to a hasty and complete break from England. No record exists to show how Braxton actually voted, but he signed the Declaration of Independence on August 2, 1776. Soon thereafter the Virginia Convention reduced its delegation from seven to five.
Nine days later, Braxton returned to Virginia, where he supported a bill to recruit slaves to fight for the Revolution, to be given freedom in exchange for their service. The bill was defeated, but Braxton then embraced the effort to win American freedom, and purchased supplies for the army out of his own pocket.
He was elected to succeed William Aylett (who resigned to join the army) in the Virginia General Convention, and became a member of the first House of Delegates under the new Virginia constitution, which met at Williamsburg in October 1776.
Soon after taking his seat, he received, along with Thomas Jefferson, an expression of the public thanks:
Saturday, October 12th, 1776.
"Resolved, unanimously, that the thanks of this house are justly due to Thomas Jefferson and Carter Braxton, Esquires, for the diligence, ability and integrity with which they executed the important trust reposed in them, as two of the delegates for this county in the General Congress.
Braxton continued to be a delegate in the house for several years, where he proved himself to be faithful to his constituents, and a zealous advocate for civil and religious liberty. He was chairman of the committee of religion, made the reports of the committee of grievances and propositions, and was a member of the committee of trade and of important special committees. He was a member of the House of Delegates in 1777, 1779, 1780, 1781, 1783, and 1785.
Carter Braxton lost nearly all of his wealth in the course of the American Revolution. He loaned £10,000 sterling to support the revolutionary cause, and also used his wealth to sponsor shipping and privateering. During the War, his vessels were either sunk or captured by the British; they destroyed several of his plantations as well – Elsing Green and Chericoke, which is still in the family's possession today.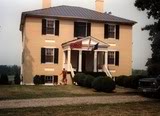 Chericoke Plantation
On a rise above the Pamunkey River, this plantation has been the property of the Braxton family and their descendants since the mid eighteenth century. Carter Braxton built the original house shortly after he married to Elizabeth Corbin, reputedly because he wanted a home even bigger than his substantial dwelling at nearby Elsing Green. The original home was built around 1770, but was destroyed by fire five years later. The present dwelling was built in 1828 by Carter Braxton's grandson.
He also risked the fortune he had inherited in extensive commercial enterprises, and accumulated a great deal of debt from the war. The debts due him became worthless because of the depreciation of the currency, and he was involved in endless litigation and interminable financial embarrassments. He fell deeper and deeper in debt and was forced to sell off his vast land holdings. He never recovered financially, and was forced to leave his country estate for simple quarters in Richmond.
In 1786, Braxton moved to Richmond and was appointed a member of the Privy Council, or council of state, and remained in that office until March 30, 1791. After an interval of a few years, during which he occupied a seat in the House of Delegates, he was again elected into the Executive Council, where he continued until his death.
Carter Braxton died in Richmond of a stroke on October 10, 1797, at the age of sixty-one. He was buried in the family cemetery adjacent to his plantation, Chericoke.
Elizabeth Corbin Braxton died in 1814.
Carter Braxton, An Address to the Convention of the Colony and Ancient Dominion of Virginia; on the Subject of Government in General, and Recommending a Particular Form to Their Consideration, May 1776:
Public virtue means a disinterested attachment to the public good, exclusive and independent of all private and selfish interest, and which, though sometimes possessed by a few individuals, never characterized the mass of the people in any state. And this is said to be the principle of democratical governments, and to influence every subject of it to pursue such measures as conduce to the prosperity of the whole.

A man therefore, to qualify himself for a member of such a community, must divest himself of all interested motives, and engage in no pursuits which do not ultimately redound to the benefit of society. He must not through ambition desire to be great, because it would destroy that equality on which the security of the government depends, nor ought he to be rich, lest he be tempted to indulge himself in those luxuries which though lawful are not expedient, and might occasion envy and emulation. Should a person deserve the esteem of his fellow citizens and become popular, he must be neglected, if not banished, lest his growing influence disturb the equilibrium.
The Virginia Delegation to the Continental Congress reads like a who's who of the American Revolution: George Wythe, Richard Henry Lee, Thomas Jefferson, Benjamin Harrison, Thomas Nelson Jr., Francis Lightfoot Lee and Carter Braxton.
SOURCES
Carter Braxton
Securing the Republic
Carter Braxton: Virginia
Carter Braxton Biography
Wikipedia: Carter Braxton
Carter Braxton 1736 – 1797
Signer of the Declaration of Independence