Wife of Confederate General Nathan Bedford Forrest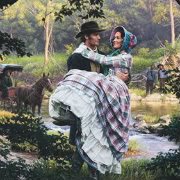 Mary Ann Montgomery was born October 2, 1826, daughter of Elizabeth Cowan Montgomery and William Montgomery, a Presbyterian minister. Nathan Bedford Forrest and his twin sister Frances or Fanny were born on July 13, 1821 – the second and third oldest of twelve children born to William and Miriam (Beck) Forrest – in Bedford County, Tennessee. William supported his family as a blacksmith who had been part of the westward expansion across Tennessee, moving from one village to another as opportunity presented itself.
Image: Nathan and Mary Ann
Hernando, Mississippi, August 1845
John Paul Strain, Artist
In 1834, Nathan's father packed the family up and moved to a small farm in northern Mississippi. Just three years later, William died, leaving Nathan to care for his mother and several siblings. During this time, Nathan had barely survived a typhoid epidemic that ravaged the region and took the lives of three of his siblings, including his twin sister. Forrest recovered and began thinking about his future.
Although he had no education or training , he provided well for the family, first as a laborer. He taught himself to write and speak clearly and learned mathematics, but he never learned to spell (as witnessed by the uncouth phraseology and spelling of his war dispatches).
With only the Mississippi hill farm, Forrest began making changes in the family's business affairs, and helped his mother scratch out a comfortable living for the family. Nathan always maintained close ties to his family and watched over them as best he could.
The frontier hardships drove Nathan to work hard and to become a successful businessman. He got involved in trading cattle and horses, and a slave trader, which was not an unusual profession at the time. It has been said that he never split a family and did not knowingly sell slaves to cruel masters. He had a few successes in the slave trade and investments in business and real estate, and slowly accumulated the capital to buy Mississippi and Arkansas plantations.
Marriage
Although there are a number of differing accounts of the events that took place in the summer of 1845, Forrest did meet his future wife in a notable and romantic way. On an August Sunday, he met the daughter of a Presbyterian minister, Mary Ann Montgomery, and her mother while they were on their way to church. The Montgomery's buggy had broken down while crossing a stream, and some local young men were on the river bank laughing and teasing Mary Ann and her mother. Forrest rode up on his horse, and immediately waded across the stream and carried Mary Ann her mother to safety.
After properly introducing himself, Forrest asked permission to call on Mary Ann. Impressed with his gallantry Mrs. Montgomery agreed. He and Mary Ann were married six weeks later, on September 25, 1845. And so began the lifelong love affair that would become part of the legend of General Nathan Bedford Forrest.
On April 25, 1845, Nathan Bedford Forrest married Mary Ann Montgomery in DeSoto County, Mississippi. They had two children; a son, William Montgomery Bedford, born in 1846, and in 1848 a daughter, Frances, who died when she was five years old.
Forrest moved to Memphis in 1849, where he became active in city affairs. He developed his natural ability as a leader and held many civic posts throughout his young life. He worked as a law enforcement officer, magistrate, and was elected alderman for the City of Memphis.
He was in turn a horse and cattle trader in Mississippi, and a slave dealer and horse trader in Memphis, until 1859, when he began planting cotton in northwestern Mississippi. By 1861, he had become one of the wealthiest men in the South.
The Civil War
In June 1861, Forrest enlisted as a private in Captain Josiah White's Tennessee Mounted Rifles, along with his youngest brother and fifteen-year-old son. On July 10, 1861, Tennessee Governor Isham Harris, who knew Forrest by his reputation as a businessman in Memphis, and commissioned him a lieutenant colonel with the authority to recruit a battalion of mounted rangers. Forrest recruited and equipped his command, sometimes at his own expense.

Nathan Bedford Forrest

By November, Forrest's Tennessee Cavalry Battalion included roughly 790 men from Tennessee, Alabama, Kentucky, and Texas. In December 1861, in his first major combat experience at Sacramento, Kentucky, Forrest demonstrated the traits of common sense tactics and close-hand fighting that would characterize his military career.
Forrest set up winter headquarters at Hopkinsville, in southwestern Kentucky, on December 20, lodging his troopers in floored tents as they contended with the cold and an outbreak of measles. The lieutenant colonel shared his winter quarters with his wife Mary and their son Willie.
As a cavalry leader, Forrest displayed spectacular talent. His men were devoted to him, admiring his stature, commanding air, courtesy, even his ferociousness. He seemed to be a natural military genius with an intuitive grasp not only of tactics, but also of logistics. He is noted mainly as a highly successful raider behind Union lines, but also distinguished himself in several traditional type battles.
In February 1862, Forrest took part in the defense of Fort Donelson, and refused to surrender with the rest of the Confederate forces. He simply led his 700 men out before the surrender, establishing a reputation for boldness, and was promptly made a colonel and regimental commander.
In April 1862, Forrest fought with distinction at the Battle of Shiloh where he was severely wounded during the Confederate retreat. In June 1862, he assumed command of a cavalry brigade. The next month, he captured the Union garrison with its stores at Murfreesboro, and on July 21, 1862, he was promoted to brigadier general, and began a long and illustrious association with the Confederate Army of Tennessee.
That Devil Forrest
A succession of commanders realized Forrest's talent as a raider and used him to wreak havoc behind Union lines. Forrest believed in surprise, audacity, and nerve, and trained his men to become splendid scouts and raiders. At the head of a mounted brigade, he took a brilliant part in General Braxton Bragg's autumn 1862 campaign.
In the winter of 1862-63, he was continually active in raiding the enemy's lines of communication, and succeeded in severing Grant's communications in western Tennessee in December 1862. He destroyed Union supplies and disabled miles of track and trestle work, and eluded pursuit until forced into a pitched battle at Parker's Crossroads on December 31, 1862. With the battle almost won, a second Union force appeared, and Forrest was fortunate to save most of his force. Several of Forrest's battles were minor classics of cavalry tactics.
On February 3, 1863, Forrest's command suffered a defeat at Dover, Tennessee, while under the command of Major General Joseph Wheeler. Then, following redeeming victories at Thompson's Station and Brentwood that spring, Forrest stopped a Union raid led by Colonel Abel Streight through northern Alabama in April and May 1863. In his final confrontation with Streight, the Confederate cavalryman manipulated his forces magnificently, convincing the Federals to surrender their numerically superior forces by artificially inflating his own command.

General Forrest's Pursuit of Streight
Clyde Heron, Artist
Not always affable, Forrest had troubles with some superiors, particularly General Braxton Bragg. In the wake of the Confederate victory at Chickamauga in September 1863, Forrest urged Bragg to pursue the defeated Federals, but he did not. Resentful of Bragg's ineptitude and poor treatment of him during the Chickamauga Campaign, the fiery cavalryman bitterly denounced his superior officer. Forrest took his grievance to Confederate President Jefferson Davis.
Davis transferred Forrest to an independent command in Mississippi. For the third time in his military career, Forrest created a new command of recruits and conscripts around a nucleus of battle-tested veterans. By this time, his fame as a cavalry leader had become legendary, and his exploits continued until the end of the war. He was promoted to major general on December 4, 1863. In the winter of 1863-64, Forrest was as active as ever.
Fort Pillow Massacre
Historians still argue over Forrest's responsibility for the Fort Pillow Massacre, in which many Union African American troops were killed. In the spring of 1864, General Forrest, who had been raiding throughout western Tennessee in Kentucky, planned to move on Fort Pillow on the Mississippi River with about 1,500 to 2,500 men. He wrote on April 4, "There is a Federal force of 500 or 600 at Fort Pillow, which I shall attend to in a day or two, as they have horses and supplies which we need."
The Union garrison at Fort Pillow consisted of about 600 men, divided almost evenly between black and white troops. Many of the blacks were former slaves and understood the personal consequences of a loss to the Confederates – at best an immediate return to slavery. According to survivors, many blacks were killed after they had surrendered.
Union Major William Bradford refused to surrender the fort, and Forrest quickly ordered an attack. The Confederates charged across the short distance between their lines and the fort, helping one another scale the parapet, from which they fired down into the fort. Victory came quickly, with the Union soldiers running toward the river or surrendering.
Shelby Foote describes the scene:
Some kept going, right into the river, where a number drowned, and the swimmers became targets for marksmen on the bluff. Others, dropping their guns in terror, ran back toward the Confederates with their hands up, and of these some were spared as prisoners, while others were shot down in the act of surrender.
Of the fort's 600 men, between 277 and 297 were killed; 64 percent of these were U.S. Colored Troops. Charges of a Fort Pillow Massacre became grist for Northern propaganda mills during the war, and plagued Forrest for the remainder of his life.
A Southern reporter traveling with Forrest makes clear that the discrimination was deliberate:
Our troops, maddened by the excitement, shot down the retreating Yankees, and not until they had attained the water's edge and turned to beg for mercy, did any prisoners fall into our hands. Thus the whites received quarter, but the Negroes were shown no mercy.
Yet, historian Albert Castel quotes several eyewitnesses on both the Union and Confederate sides as saying that Forrest ordered his men to stop firing. In a letter to his wife three days after the battle, Confederate soldier Samuel Caldwell wrote, "If General Forrest had not run between our men and the Yanks with his pistol and sabre drawn, not a man would have been spared."
On June 10, 1864, Forrest defeated a much larger Union force at Brice's Cross Roads, Mississippi, arguably his finest military feat. In planning this action, he took into account the weather, the terrain, the condition of his own and of the enemy's troops, deployment, time, and distance in a deft blending of strategy, tactics, and logistics.
In July 1864, he stood off USA General A.J. Smith at Tupelo, where Forrest was wounded while directing the pursuit of retreating Federal troops. He recovered and led a surprise raid on Memphis that produced another Union retreat from Mississippi. These lightning blows of Forrest's caused USA General William Tecumseh Sherman great alarm.
Throughout the balance of 1864, though the greatest efforts were made by the Federals to crush him, General Forrest raided in Mississippi, Tennessee, and Alabama, with almost unvarying success. His cavalry destroyed railroad and blockhouses and blockaded shipping on the Tennessee River, disabling and capturing several Union vessels before destroying the Union supply depot at Johnsonville.
Immediately thereafter, Forrest joined General John Bell Hood in the disastrous Tennessee campaign of November and December 1864. His rearguard action during the Confederate retreat from Nashville undoubtedly saved the Army of Tennessee from extinction.
Returning to Mississippi, Forrest was promoted to lieutenant general on February 28, 1865, and took command of the cavalry in the Department of Alabama, Mississippi, and East Louisiana. His raids were uniformly bold and skillful, and are his chief right to fame in the history of the cavalry. Indeed, next to J.E.B. Stuart and Philip Sheridan, he was the finest cavalry leader of the whole war.
Forrest fought increasing enemy forces with dwindling ranks. The long spring 1864 raid of USA General James H. Wilson, one of the ablest of the Union cavalry generals, pushed Forrest back to the defense of the Confederate ordnance center at Selma, Alabama, where Forrest was finally defeated on April 2, 1865.
Despite a lack of formal military education, Forrest was known for his keen tactical skills including the use of fast-moving cavalry and "hit and run" attacks. He reportedly had 30 horses shot from under him, and personally killed 31 men in hand-to-hand combat, saying "I was a horse ahead at the end."
Lieutenant General Nathan Bedford Forrest surrendered his command at Gainesville, Alabama, on May 9, 1865, under the agreement between CSA General Richard Taylor and USA General E. S. Canby.
Part of Forrest's farewell to his troops on May 9, 1865:

In bidding you farewell, rest assured that you carry with you my best wishes for your future welfare and happiness. Without in any way referring to the merits of the cause in which we have been engaged, your courage and determination, as exhibited on many hard fought fields, has elicited the respect and admiration of friend and foe.

And I now cheerfully and gratefully acknowledge my indebtedness to the officers and men of my command, whose zeal, fidelity and unflinching bravery have been the great source of my past success in arms. I have never on the field of battle sent you where I was unwilling to go myself, nor would I now advise you to a course which I felt myself unwilling to pursue. You have been good Soldiers; you can be good citizens. Obey the laws, preserve your honor, and the government to which you have surrendered can afford to be and will be magnanimous.
After the war, Nathan Bedford Forrest lived in Memphis, and spent years struggling to regain the financial status he had enjoyed before the war, and failed in many business ventures. He sold his cotton plantation in 1867, and for some years was president of the Selma, Marion and Memphis Railroad, but resigned in 1874.
The Ku Klux Klan
Forrest was evidently active in organizing the Ku Klux Klan, and became its first Grand Wizard in 1867. Although he repeatedly denied membership – even to Congress – Forrest in fact led the Klan through one of its most successful periods, when robed terrorists succeeded in rolling back Reconstruction. Through the KKK, he sought to restore white conservative Democrats to power. Even so, he never completely adjusted to the new realities of the postwar South.
Forrest sympathizers have long claimed that he disbanded the Klan when it became violent. In fact, it was only disbanded when its work was essentially done – blacks and Republicans had been terrified into not voting – and when it came under intense criticism.
Spiritually, Mary Ann Forrest had a great influence on her husband. After struggling to deal with the Confederacy's defeat, as well as its devastating effect on the South during the Reconstruction Era, Forrest dissolved his affiliations with several extremist groups, and made a concerted effort to shake his persona as That Devil Forrest.
Mary used her strength of faith to overcome her husband's anger and resentments. Forrest himself recounted her influence to a friend saying:
I am not the same man you were with so long and knew so well. I hope I am a better man now than then. I have been and am trying to lead another kind of life. Mary has been praying for me night and day for all these years, and I feel now that, through her prayers, my life has been spared and I have passed safely through so many dangers.
In the 1870s, Forrest's health began to fail, and for several years he was plagued by illness.
General Nathan Bedford Forrest died October 29, 1877, at his brother's home in Memphis at the age of 57.
Services were held at Court Avenue Presbyterian Church in Memphis, and an oration was given by Jefferson Davis. A funeral procession formed at the church by thousands of marchers, who then proceeded to accompany the body to Elmwood Cemetery where he was buried. In 1905, he and his wife were reinterred in Forrest Park in downtown Memphis.
Part of General Nathan Bedford's Obituary
The New York Times, October 30, 1877:
Of late years, his views had undergone a considerable change. The guerrilla chieftain had softened down into the retired veteran, anxious, apparently, only for peace with everybody. He was in favor of promoting good feeling between the two sections, and by the terms of his address to his old comrades in arms, asking them to join in decorating the graves of the dead Union soldiers.

His last notable public appearance was on the Fourth of July in Memphis, when he appeared before the colored people at their celebration, was publicly presented with a bouquet by them as a mark of peace and reconciliation, and made a friendly speech in reply. In this, he once more took occasion to defend himself and his war record, and to declare that he was a hearty friend of the colored race.

General Forrest would be remembered only as a daring and successful guerrilla cavalry leader, were it not for the one great and indelible stain upon his name. It was evident that he felt this, as his constantly-repeated defenses of himself show.
Forrest's personality and his natural soldierly gifts were such that USA General William Tecumseh Sherman considered him the most remarkable man the Civil War produced on either side. CSA General Joseph E. Johnston, the Confederate general whose greatness lay above all in calm and critical judgment, said that Forrest; had he had the advantage of a thorough military training, "would have been the great central figure of the war."
Unlettered, contemptuous of West Point formal training, and given to insubordination, Forrest nonetheless was a brilliant horseman and tactical thinker – and the only soldier on either side to go from private to lieutenant generalduring the course of the war. His tactic was the charge, and he frequently overcame Union forces that vastly outnumbered his own as he personally led his troops.
Mary Ann Montgomery Forrest died in January 1893 in Memphis.
The Forrests' great-grandson, Nathan Bedford Forrest III, (April 7, 1905 – June 13, 1943) died in the service of his country. He was a Brigadier General of the United States Army Air Forces, and the first American general to be killed in battle in Europe; his remains are buried at Arlington National Cemetery on grounds that formerly belonged to his great-grandfather's commanding general, Robert E. Lee.
SOURCES
Bits of Blue and Gray
Mary Ann Montgomery
Nathan Bedford Forrest
A Different Kind of Hero
General Nathan Bedford Forrest
Nathan Bedford Forrest Biography
Wikipedia: Nathan Bedford Forrest
The Massacre at Fort Pillow – PDF File
Forrest's Obituary: The New York Times
A Brief Biography of Nathan Bedford Forrest
Nathan Bedford Forrest and Mary Ann Montgomery
Assessing Civil War Historiography and Nathan Bedford Forrest's Place in It