Wife of Confederate General P. G. T. Beauregard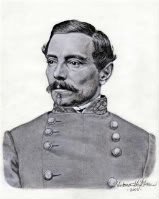 In 1860, widower Pierre Beauregard married Caroline Deslonde, whose family owned plantations in Louisiana and a home on Esplanade Avenue in New Orleans known as Stalian Hall. Caroline's sister Mathilde married John Slidell, a US Senator from Louisiana. Both men served important roles in the Confederacy, Beauregard as the famous general and Slidell as an important Confederate diplomat.
Image: General P.G.T. Beauregard
Pierre Gustave Toutant Beauregard was born on May 28, 1818, at his family's plantation home, Contreras, in St. Bernard Parish near New Orleans, Louisiana. His parents were Creole planter Jacques Toutant Beauregard and Helene Judith de Reggio Beauregard. Beginning at age eight, Gustave (as he was called in his youth) attended three years at a private academy in New Orleans. At the age of 12, he was sent to a French boarding school in New York City for four years, where he first learned to speak English.
Gustave received an appointment to the United States Military Academy at West Point at the age of 16, and graduated second in his class in 1838, which also included his future Bull Run opponent, Irvin McDowell. While at the academy, his artillery instructor was Robert Anderson, whom he would later face during the Civil War at Fort Sumter. His great admiration of the French leader Bonaparte earned him the nickname Little Napoleon from his classmates.
Beauregard was commissioned a second lieutenant with the Army Corps of Engineers. In 1838, he assisted in the construction of Fort Adams on Brenton's Point at Newport, Rhode Island. In 1839, he was advanced to first lieutenant and assigned to build coastal defenses in Florida, before being transferred to Louisiana the next year.
From 1840 to 1844, he was involved in two major engineering projects at the passes of the Mississippi River and in the construction of Fort Livingston on Grand Terre Island at Barataria Bay. He was also posted to Pensacola, Florida, and later in 1844-45, at Fort McHenry in Baltimore, Maryland.
During the Mexican War (1846~1848), Beauregard served under the command of General Winfield Scott. He was involved in the construction of defenses at Tampico, Mexico. During the siege of Vera Cruz, he was instrumental in the placement of artillery batteries, which helped to bring the operation to a successful conclusion. He continued to see action at Cerro Gordo, Contreras, Chapultepec and finally Mexico City, where he was twice wounded. Shortly afterward, Beauregard received the brevetrank of Major. With the war's end, Beauregard returned to peacetime duties in the United States.
In September 1841, Beauregard married Marie Antoinette Laure Villere, the daughter of Jules Villere, a sugar planter in Plaquemines Parish, and a member of one of the most prominent Creole families in southern Louisiana. The couple had three children: René, Henri, and Laure. Marie died in March 1850, while giving birth to Laure.
After fourteen years of continuous service at the rank of Lieutenant, Beauregard attained the rank of Captain on March 3, 1853. He once again saw army engineer duty in Louisiana, correcting navigational problems on the Mississippi River, and overseeing construction of Fort Proctor east of New Orleans on the banks of Lake Borgne. Beauregard also supervised the repair of the fortifications in Mobile Bay and along the lower Mississippi River, updated the levee system, and stabilized the Federal Customs House which was near collapse due to settlement of the soft Louisiana soil. He received the rank of captain on March 3, 1853, and served as chief engineer for the draining of New Orleans in 1858–1861.
In 1860, the widower Beauregard married Caroline Deslonde, the daughter of André Deslonde, a sugar planter from St. James Parish. Her family had a substantial plantation at Belle Pointe, Laplace, Louisiana, in what is now St. John The Baptist Parish. The newlyweds honeymooned in what is today called the Beauregard-Keyes House at 1113 Chartres Street.
Image: Rear Gardens at Beauregard-Keyes House
In the French Quarter of New Orleans
On January 23, 1861, P.G.T. Beauregard was appointed Superintendent of the United States Military Academy at West Point, New York. The secessionist debate had reached critical mass by this point and Beauregard's pro-Southern leanings were the probable cause for his prompt removal from this posting on January 28, 1861, giving him the shortest tenure as Superintendent in West Point history.
A few days later, his brother-in-law Senator John Slidell made an impassioned secession speech. On January 26, Louisiana withdrew from the Union, prompting Beauregard to resign his commission on February 20, 1861, thus ending his career as a United States military officer. Beauregard returned home to Louisiana and joined the Orleans Guards, a volunteer unit composed of elite Creole gentlemen of New Orleans, with the rank of Private.
Shortly thereafter, he was offered command of all artillery and engineering units in the Louisiana State forces with the rank of Colonel. Braxton Bragg had been given command of all state forces with the rank of Brigadier General. Insulted, Beauregard promptly refused. At the request of Governor Thomas Overton Moore, however, he made recommendations for strengthening the lower Mississippi River defenses at Forts Jackson and St. Philip.
In April 1861, General P.G.T. Beauregard was placed in command at Charleston, SC. He fired the first shot at Fort Sumter in South Carolina – where his former artillery instructor at West Point, Major Richard Anderson, was in command. Beauregard led the attack on Fort Sumter and accepted its surrender on April 12, starting the Civil War.
Offering his services to the fledgling Confederacy, Beauregard found himself placed in command of the defenses of Charleston, South Carolina, with the rank of Brigadier General. The Federal garrison at Fort Sumter, located in Charleston Harbor, was soon to be provisioned. Beauregard found himself facing his old artillery instructor, Major Robert Anderson, who now commanded the garrison at Fort Sumter. Anderson refused the demand to surrender, causing his former student to begin a 36-hour bombardment. Fort Sumter was surrendered to Confederate forces on April 14, 1861, and the Little Napoleon became a household name throughout the South.
After Fort Sumter was evacuated, Beauregard was immediately ordered to Virginia, and he received a hero's welcome at each of the railroad stations along the route. He was given command of the Alexandria Line of defenses against an impending Federal offensive that was being organized by Union General Irvin McDowell (one of Beauregard's West Point classmates) against the Confederate railroad junction at Manassas.
Beauregard devised strategies to concentrate the forces of full General Joseph E. Johnston with his own to initiate an offensive against McDowell. Despite his seniority in rank, Johnston acquiesced to Beauregard's plan that essentially gave the Creole control of the impending battle. Though placed under the command of General Joseph E. Johnston, at the eleventh hour, Beauregard was instrumental in the Confederate victory at the First Battle of Bull Run (Manassas) on July 21, 1861. As Johnston's final troops arrived from the Shenandoah Valley, the Confederates launched a counterattack that routed the Union Army, sending it streaming back toward Washington in disorder.
Beauregard (and Johnston) criticized Confederate President Jefferson Davis for lack of supplies that hindered a push onward to Washington. And Beauregard enraged Davis when his report about Bull Run was printed in the newspaper, which suggested that Davis's interference with Beauregard's plans prevented the pursuit and full destruction of McDowell's army.
This was the first of several future conflicts with Davis, who considered many of Beauregard's battle plans too complicated for an army as inexperienced as the Confederates were in 1861. Throughout the war, Davis and Beauregard would argue about Beauregard's tendencies to devise grand strategies based on formal military principles, but with little regard to logistics, intelligence, relative military strengths and politics.
Beauregard, the more romantic figure, received the bulk of the acclaim for the victory at Bull Run from the press and the general public. On July 23, General Johnston recommended to President Davis that Beauregard be promoted to full general, and Davis approved.
Beauregard remained as second-in-command of the Army of Northern Virginia under Joseph E. Johnston through January 29, 1862, when he was sent west to serve as second-in-command of the Army of the Mississippi under General Albert Sidney Johnston (no relation to Joseph E. Johnston), effective March 14, 1862.
The two generals planned the concentration of Confederate forces to oppose the advance of Major General Ulysses S. Grant before he could combine his army with that of Major General Don Carlos Buell in a thrust up the Tennessee River toward Corinth, MS. In the Battle of Shiloh, which began April 6, 1862, the Confederates launched a surprise attack against Grant's army and nearly defeated it. Once again, a more senior general named Johnston deferred to the junior Beauregard in planning the attack.
The massive frontal assault was marred by Beauregard's improper organization of forces caused intermingling of units and confusion of command, and failed to concentrate mass at the appropriate place on the line to affect the overall objectives of the attack. In midafternoon, General Albert Sidney Johnston, who was near the front of the battle action, was mortally wounded. Beauregard, positioned in the rear of the army to send reinforcements forward, assumed command. As darkness fell, he chose to call off the attack against Grant's final defensive line, which had contracted into a tight semicircle with their backs to the Tennessee River at Pittsburg Landing.
Beauregard's decision was one of the most controversial of the Civil War and many have wondered what might have happened if the assault had gone forward into the night. Beauregard assumed that the battle was essentially won and his men could finish off Grant in the morning. Furthermore, the terrain to be crossed (a steep ravine containing a creek) was extremely difficult, and Grant's defensive line was heavy with massed artillery.
Unbeknownst to Beauregard, Buell's Army of the Ohio arrived during the night, and he and Grant launched a massive counterattack on April 7, in a surprise rout that produced 23,000 casualties. Overwhelmed, the Confederates retreated to Corinth. Later, Union troops approached Beauregard's fortifications, and he withdrew from Corinth on May 29 to Tupelo, MS, because contaminated water supply in Corinth were causing significant casualties in his army.
And when Beauregard went on medical leave from his army without requesting permission in advance, President Davis relieved him of command on June 27, 1862, replacing him with General Braxton Bragg. At Beauregard's request, his allies in the Confederate Congress petitioned President Davis to restore his command in the West, but Davis remained angry at Beauregard's unauthorized absence. Beauregard's career suffered greatly.
In August 1862, Beauregard was ordered to Charleston and took command of coastal defenses in South Carolina, Georgia, and Florida. He wasn't happy with his new assignment, believing that he deserved command of one of the great Confederate field armies, but he defended against the formidable siege of Charleston by Union naval and ground forces. He held this post through April of 1864.
Caroline Deslonde Beauregard died on March 2, 1864. The couple had no children together. While visiting his forces in Florida, Beauregard received a telegram telling him of her death. She had been left behind in Union-occupied New Orleans and had been seriously ill for a period of two years. Beauregard also lost a much loved daughter in childbirth, followed shortly by the death of his young grandchild.
A Northern-leaning newspaper in New Orleans printed the opinion that Mrs. Beauregard's condition had been exacerbated by the traitorous actions of her husband. This so fanned negative popular opinion in New Orleans that 6000 people attended her funeral, and Union General Nathaniel Banks provided a steamer to carry her body up river for burial in her native parish. Beauregard wrote that he would like to rescue "her hallowed grave" at the head of an army.
On April 23, 1864, Beauregard was given command of the Department of North Carolina, to which he added the designation "and Southern Virginia." In mid–May at Bermuda Hundred, Virginia, Beauregard halted Union General Benjamin Butler's advance up the James River toward Richmond. Beauregard's forces defeated Butler's troops on May 16 at the Battle of Drewry's Bluff, and bottled them up on a narrow neck of land between the James and Appomattox Rivers at the Bermuda Hundred lines.
With the arrival of General Ulysses S. Grant to reinforce Butler, Beauregard was forced to withdraw in the face of superior numbers and focus on the protection of Petersburg, Virginia. The arrival of General Robert E. Lee and the Army of Northern Virginia relegated him to secondary status for the remainder of the siege of Petersburg.
Beauregard served under Lee until September of 1864, when he took command of the Military Division of the West, which included two armies under Generals Richard Taylor and John Bell Hood, in Alabama and Georgia respectively. In October 1864, Beauregard went to North Carolina, where he united with General Joseph E. Johnson to resist the march of General William Tecumseh Sherman.
Sherman's March to the Sea in late 1864 played havoc with Beauregard's command. As his forces retreated northward into the Carolinas, he was made second-in-command of the Army of Tennessee on March 16, 1865, under General Joseph E. Johnston. Johnston and Beauregard surrendered their forces to Sherman on April 26, 1865.
After the collapse of the Confederacy, Beauregard returned to New Orleans and took the oath of allegiance to the United States. Though he applied for a Presidential pardon, it would be three years before one was granted. Legislation lifting all restrictions on former Confederate officers did not pass until 1876.
General Beauregard, beaten down by both war and peace, moved in the home at 1113 Chartres Street – where he and Caroline had spent their honeymoon in 1860 – for 18 months, between 1866 and 1868, while he searched for work.
Beauregard became involved in promotion of railroads, both as a company director and a consulting engineer. He was the president of the New Orleans, Jackson, and Mississippi Railroad from 1865 to 1870, and president of the New Orleans and Carrollton Street Railway from 1866 to 1876, for which he invented a system of cable-powered street railway cars.
General Beauregard spoke out in favor of civil rights and voting for the recently freed slaves. During the summer of 1873, the Reform Party, led by Beauregard and others who had fought for the Confederacy, brought forth a proposal for unification of the people with equal power sharing between whites and blacks with each race filling its quota for public office. Republicans rejected it because blacks didn't trust their former masters. Democrats rejected it because they thought the concept of equal rights for blacks was an absurdity.
Beauregard served in the government of the State of Louisiana, first as Adjutant General for the state militia from 1878 to 1888, and then less successfully as manager of the Louisiana Lottery. Though considered personally honest, he failed to reform corruption in the lottery. He was named the New Orleans commissioner of public works in 1888, and published A Commentary on the Campaign and Battle of Manassas in 1891.
General P.G.T. Beauregard, the Great Creole, died in New Orleans on February 20, 1893, at the age of 74, and was buried at Metairie Cemetery.
SOURCES
P.G.T. Beauregard
P. G. T. Beauregard
Wikipedia: P.G.T. Beauregard
Pierre Gustave Toutant Beauregard
Pierre Gustave Toutant Beauregard Biography