Wife of General Francis Marion: The Swamp Fox
Image: Francis Marion: the Swamp Fox
By Bryant White
Mary Esther Videau was born September 17, 1737. She was described as a maiden lady of Huguenot descent, of considerable wealth, and most estimable character. She met General Francis Marion after the Revolutionary War. Francis Marion was born February 26, 1732, at Gayfield Plantation, St. James Parish, South Carolina.
Marion's family was also of Huguenot ancestry. His parents were Gabriel Marion and Esther Cordes Marion, both first-generation Carolinians. He was the last born of six children, and was a puny child. When he was five or six, his family moved to a plantation in St. George, a parish on Winyah Bay. Apparently, they wanted to be near the English school in Georgetown. Marion's family was of Huguenot ancestry; he was fluent in English and French.

At about 15 years old, Francis joined the crew of a ship and sailed to the West Indies. His imagination had been stirred by the ships in the Georgetown port. When he asked his parents' permission, they willingly agreed. They hoped a voyage to the Caribbean would strengthen his frail physique. He signed on as the sixth crewman of a schooner heading for the West Indies.
During his first voyage, the ship sank, supposedly after a whale rammed it. The seven-man crew escaped in a lifeboat and spent a week at sea before they drifted ashore. Despite his sea ordeal, Francis came back in better health. However, he was done with sailing. Francis decided to stick to land, managing his family's plantation.
As Francis got older, he enjoyed playing in the swamps. He learned about the local Indians, and how they fought and survived in the swamp. The Cherokee used the landscape to their advantage, Marion found; they concealed themselves in the Carolina backwoods and mounted devastating ambushes. Little did he realize how much this would help him in the future.
In 1761, after his militia had defeated the area Cherokee, Marion returned to farming. He was successful enough to purchase his own plantation, Pond Bluff, near Eutaw Springs in St. John's Parish, which was his home for the rest of his life. But he scarcely had time to settle there when a war with the Cherokee began.
But the growing storm that was to become the Revolutionary War brought Marion out of retirement. Like many others, he considered himself a Patriot and loved his freedom. In 1775, Marion was elected to the first South Carolina Provincial Congress, an organization in support of colonial self-determination.
In June 1775, the Provincial Congress voted to raise three regiments. Based on his past experience, Marion was made Captain in the Continental Army. Because of his success, he climbed the promotional ladder to Major, Colonel, and, eventually to Brigadier General. His first assignments involved guarding artillery and buildings at Fort Sullivan in Charleston harbor.
When he saw combat during the Battle of Fort Sullivan in June 1776, Marion acted valiantly. In the brilliant victory of June 28, which drove the British fleet from Charleston harbor, Marion played an important part, and was soon afterward promoted to the rank of lieutenant-colonel. The victory was so decisive as to relieve the southern states from anything like systematic attack for more than two years.
During part of this time Colonel Marion commanded the fortress on Sullivan's Island. But for much of the next three years, he remained at the fort, occupying the time by trying to discipline his troops, whom he found to be a disorderly, drunken bunch insistent on showing up to roll call barefoot. In 1779, he joined the Siege of Savannah, which the Americans lost.
Marion's role in the war changed course after an odd accident in March 1780. Attending a dinner party at the Charleston home of a fellow officer, Marion found that the host, in accordance with 18th-century custom, had locked all the doors while he toasted the American cause. The toasts went on and on, and Marion, who was not a drinking man, felt trapped. He escaped by jumping out a second story window, but broke his ankle in the fall. Marion left town to recuperate in the country, and he was not captured when the British took Charleston in May 1780.
Francis Marion joined General Horatio Gates just before the Battle of Camden in August 1780, but Gates sent Marion to take command of the Williamsburg Militia, and asked him to undertake scouting missions and impede the expected flight of the British after the battle. He soon began raising and organizing the force thenceforth known as Marion's Brigade. After Gates' crushing defeat at Camden on August 16, this was the only American force worth mentioning in South Carolina.
Unlike the Continental troops, Marion's Men, as they were sometimes called, served without pay, supplied their own horses, arms, and often their food. All of Marion's supplies that were not obtained locally were captured from the British or Loyalist forces.
Marion had his first military success that August, when he led 50 men in a raid against the British. Hiding in dense foliage, the unit attacked an enemy encampment from behind and rescued 150 American prisoners. The British especially hated Marion and made repeated efforts to neutralize his force, but Marion's intelligence gathering was excellent and that of the British was poor, due to the overwhelming Patriot loyalty of the populace in the Williamsburg area.
British Colonel Banastre Tarleton, sent to capture Marion, despaired of finding the "old swamp fox", who eluded him by traveling along swamp paths. Tarleton was hated because he burned and destroyed homes and supplies, whereas Marion's Men, when they requisitioned supplies (or destroyed them to keep them out of British hands) gave the owners receipts for them. After the war, most of the receipts were redeemed by the new state government.
Once Marion had shown his ability at guerrilla warfare, making himself a serious nuisance to the British, Governor John Rutledge (in exile in North Carolina) commissioned him a brigadier general of state troops. He and his soldiers concentrated their attacks on British supply lines and camps. They rested during the day and marched at night, often attacking at midnight. Marion cut the supply lines linking the British-occupied cities, and chased and harassed various British leaders, most notably Colonel Tarleton.
Marion displayed a natural talent for strategy and tactics and was known for his personal bravery. Scouts always rode ahead of his troop to prevent ambushes. Some of them hid in the tops of tall trees and signaled with shrill whistles. If a bridge had to be crossed near an enemy post, blankets would be laid on the wooden planks to muffle the horses hoofs. When planning a raid, Marion kept the target to himself until the last moment.
Though often outnumbered, Marion's militia would continue to use guerilla tactics to surprise enemy regiments, with great success. Because the British never knew where Marion was or where he might strike, they had to divide their forces, weakening them.
Marion operated out of the swampy forest of the Pee Dee region in lower South Carolina. His strategy was to surprise the enemy, cut their supply lines, kill their men, and release any American prisoners they might have in custody. He and his men then retreated back into the thick recesses of the swamps. They were feared, very effective, and their fame was widespread.
In November 1780, Marion earned the nickname he's remembered by today. Colonel Tarleton, informed of Marion's whereabouts by an escaped prisoner, chased the American militia for seven hours, covering some 26 miles. Marion escaped into a swamp, and Tarleton gave up, cursing, "As for this damned old fox, the Devil himself could not catch him." Soon the locals — who loathed the British occupation — were cheering the Swamp Fox. Marion became a hero of the Revolution.
As the Revolutionary War raged on, Marion's success grew. General Marion fought in battles at Kings Mountain, Cowpens, Guilford Court House, and Georgetown. When General Nathanael Greene took command in the south, Marion and Lieutenant Colonel Henry Lee were ordered in January 1781 to attack Georgetown, but were unsuccessful. In April, however, they took Fort Watson and in May, Fort Motte, and succeeded in breaking communications between the British posts in the Carolinas.
By midsummer 1781, the Continentals under General Greene had gained virtual control of South Carolina. The retreating British, disillusioned and sick with summer heat, united forces under Colonel Stewart at Orangeburg and began their march to Charleston.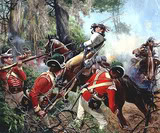 Image: Battle of Eutaw Springs
By Don Troiani
In the Eutaw Campaign, General Marion made a brilliant and useful raid, covering 200 miles of country, making a complete circuit around the British army. In an action at Parker's Ferry, August 31, he struck a blow at the enemy's cavalry, which crippled it for the rest of the campaign. He rescued a small American force trapped by Major C. Fraser with 500 British. For this, he received the thanks of the Continental Congress.
Early in September, 1781, 2300 well-equipped British camped in cool shade beside the gushing springs of Eutaw, little dreaming the Continentals were close upon their heels. General Greene, hearing of General George Washington's plan to encircle and embarrass the British at Yorktown, Virginia, was determined to prevent Southern aid from reaching the beleaguered Cornwallis.
Contingents under Marion, Pickens, Lee, Hampton and other South Carolina leaders were called together, and reinforcements from other colonies joined them. These 2092 poorly-equipped, underfed, and near-naked Americans camped on September 7 at Burdell's Plantation, only seven miles from Eutaw Springs.
Strategy for the ensuing attack is accredited to the genius of the dreaded Swamp Fox, who knew every foot of the Santee swamps and river. Marion commanded the right wing under General Greene at the Battle of Eutaw Springs.
On September 8, General Greene's army attacked the British at Eutaw Springs. In the first part of the action, he was successful after a desperate conflict; in the pursuit, however, the Americans failed to dislodge the British from a stone house which they held, and their severe loss in both engagements was over 500 men. The British lost about 1000, one-half of whom were prisoners.
Better success attended the American partisan operations directed by Greene and conducted by General Francis Marion, Thomas Sumter, Andrew Pickens, Henry Lee, and William Washington. They fell upon isolated British posts established to protect the Loyalist population, and generally captured or broke them up.
Casualties were extremely high. "Blood ran ankle-deep in places," and the strewn area of dead and dying was heartbreaking. Greene collected his wounded and returned to Burdell's Plantation. The British remained the night at Eutaw Springs.
On September 9, the British hastily retreated toward Charleston, leaving behind many of their dead unburied and seventy seriously wounded. Marion joined with Lee in the pursuit, in which great numbers of prisoners were taken. This last major battle in South Carolina completely broke the British hold in the South, and cut them off from their forces in the North.
The British evacuated Charleston on December 14, 1782. Seven years of England's determination to bring South Carolina to her knees had met failure. Only six weeks later, Cornwallis surrendered to General Washington at the Battle of Yorktown, and American Independence was assured.
In December 1782, General Marion felt that his work in the field had been accomplished. In his favorite encampment at Watboo, under the shade of the cedar trees, Marion thanked his officers and men for their service, and bid them a friendly and affectionate farewell. Few leaders have ever been so popular among their men.
When the war was over, General Marion left his brigade and returned to Pond Bluff in St John's Parish and set to work to repair the damages done to his property during the war. His plantation lay within a mile of the marches and countermarches of the British, and had been subject to every kind of waste and depredation.
In 1784, Marion was appointed to the command of Fort Johnson in Charleston harbor, practically a courtesy title. His nephew Theodore had hinted to his uncle that it was time for the general to get married. His relatives and friends informed him that Mary Videau always listened with glowing cheeks and sparkling eyes when anyone began reciting the exploits of the Swamp Fox. While in command at Fort Johnson, Marion met Mary.
Mary Videau married General Francis Marion February 20, 1786. She brought to the union not only her charm, but a large fortune. Thereafter, the general was able to live without depending upon the favors of the state. They lived quietly and happily on his plantation.
Image: Pond Bluff
After the war, Marion's militiamen rebuilt his war-damaged home at Pond Bluff, where Marion and Mary lived for the rest of his life.
The Swamp Fox was then fifty-four years old, admired by his state and nation, no less for his dashing bravery and patriotism than his chivalrous sense of honor as a soldier and a citizen. He was almost immediately elected a member of the South Carolina Senate, which voted him a gold medal for his glorious and meritorious conduct. He was kept there by re-elections until 1790.
In 1788, Marion was elected one of seven delegates to the convention called to ratify the Federal Constitution, two others from St John's being Henry Laurens and William Moultrie. He was absent on May 23 when the final vote of ratification was taken and passed.
In 1790, Marion declined further public service, and lived the rest of his life on his farm. He was loved by the community, and often helped his fellow veterans in time of need. But the years of campaigning day and night in the swamps were now having their effects on his health. Comrades came and paid their respects.
General Francis Marion died February 27, 1795, at Pond Bluff in St. John's Parish in his sixty fourth year. He was buried at Belle Isle Plantation, the home of his brother Gabriel. He had no children, and his widow never married again.
Mary Videau Marion died July 26, 1815, and was buried next to her husband.
Francis Marion never commanded a large army or led a major battle. Histories of the Revolutionary War tend to focus on George Washington and his campaigns in the North, rather than small skirmishes in the South. Yet, the Swamp Fox is one of the war's most enduring characters. Though things looked bad for the Americans after Charleston fell, Marion's cunning, resourcefulness, and determination helped keep the cause of American independence alive in the South.
Fortunately, the real Francis Marion has not been entirely obscured by his legend — historians including William Gilmore Simms and Hugh Rankin have written accurate biographies. Based on the facts alone, "Marion deserves to be remembered as one of the heroes of the War for Independence," says Sean Busick, who has written the introduction to a new edition of William Gilmore Simms' The Life of Francis Marion.
SOURCES
Francis Marion
The Swamp Fox
General Francis Marion
The Battle of Eutaw Springs
Swamp Fox Murals Trail Society