Wife of Confederate General James Longstreet
James Longstreet was born in Edgefield, South Carolina on January 8, 1821, son of James and Mary Anne Dent Longstreet. His father, who nicknamed him Pete, was a farmer, and Longstreet spent the first nine years engaged in farm work or outdoor activities with his older siblings William and Anna, as well as the four younger sisters he accumulated between 1822 and 1829.
Longstreet's father owned slaves, and through the combined efforts of their toil and the family's work, the Longstreet farm was prosperous. Young James's early education was one gained through hard work, and he developed physical strength, independence of mind, and a strong work ethic.
While he dreamed of a military career, his parents recognized that entrance into West Point Military Academy would require preliminary academic training. On October 7, 1830, young Longstreet was removed from the rural life he loved, and sent to the Augusta, Georgia, home of his uncle, noted attorney Augustus B. Longstreet, where he enrolled at the prestigious Richmond County Academy.
A sociable young man, James gained several friends whom he would retain throughout his adult life: one of these was a young man named Ulysses Simpson Grant, who was in the class behind James. At the time he graduated from West Point as part of the class of 1842, he ranked 54th in a class of 56, sixteen of whom would go on to be Civil War generals.
With his graduation in June 1842, Longstreet received the coveted commission as a brevet second lieutenant and was assigned to the Fourth Infantry, which was commanded by Colonel John Garland, and stationed at Jefferson Barracks near St. Louis.
After the customary graduation leave of absence, he reported for duty and entered at once into the garrison life. A year later, to Longstreet's delight, Ulysses S. Grant survived West Point and reported for duty at Jefferson Barracks. The two soon became constant companions. It was there that he introduced his cousin Julia Dent to Grant, and the two were soon married. James and Julia were descended from two brothers, George and Peter Dent of Charles County, Maryland.
James Longstreet fell in love with Maria Louise Garland – called Louise by her family – the colonel of the regiment's daughter. The couple honored her parents' request that they wait until Mary was older and were married in Lynchburg, Virginia, on March 8, 1848.
Meanwhile, the ambitious Longstreet undertook tours of duty in Louisiana and Florida before traveling to Texas to join General Zachary Taylor's Eighth Infantry. During the border dispute that escalated into the Mexican War in May of 1846, 25-year-old Longstreet fought at the Battle of Cherubusco under General Winfield Scott, and received a severe wound to his leg at Chapultepec. He remained in Mexico at an army hospital until the end of the year, then returned to his regiment.
At another post in Carlisle Barracks, Pennsylvania, Louise gave birth to their first child, John Garland Longstreet, who was born on December 26, 1848. From 1849 to 1851, Longstreet served as commissary of the Department of Texas. On December 15, 1850, their second son, Augustus Baldwin Longstreet, was born in San Antonio, Texas.
On April 19, 1853, another son, William Dent Longstreet was born In San Antonio, Texas. On July 19, 1854 Longstreet's youngest child, William Dent Longstreet, died in Washington DC. While visiting her parents in Santa Fe, New Mexico, Louise gave birth to a fourth son, James Longstreet, named after his father. Maria gave Longstreet a fifth child named Mary Anne Longstreet on December 31, 1860, in Albuquerque, New Mexico.
The Civil War defined Longstreet's life. When Alabama seceded from the Union in January of 1861, Longstreet, like many other officers with ties to the south, felt the pull of his allegiance to his home in Georgia. He resigned his commission in the U.S. Army in May and joined the forces of the Confederacy as a lieutenant colonel. He traveled to the Confederate capitol at Richmond, Virginia, was appointed brigadier-general in June, and was sent to Manassas Junction, Virginia, to head a brigade of Virginia infantry.
Although Longstreet played but a minor role in the First Battle of Manassas in July 1861, he won the admiration of his superiors. Under General Joseph E. Johnston, Longstreet turned in one of his worst performances at the Battle of Seven Pines in Virginia on May 31, 1862.
Johnston's wounding during that battle required Longstreet to prove himself anew to Johnston's successor, General Robert E. Lee. Longstreet's solid performance during the Seven Days battles on Virginia's peninsula earned him Lee's trust, as evidenced by his appointment as Lee's senior lieutenant in command of the Army of Northern Virginia's I Corps. Longstreet performed admirably in his new role. The two men developed a friendship that lasted until Lee's death in 1870.
Longstreet's wife and children had long since come from Texas, and were living with friends in Richmond, Virginia. Early in 1862, during a scarlet fever epidemic in that city, three of the four Longstreet children (Mary Anne, James and Augustus Baldwin) died within eight days. The blow was almost too much for Longstreet; he hurriedly went to Richmond. It was some days before he could leave his wife 13-year-old son Garland, who were devastated by the tragedy.
The loss affected the general greatly. An aide noted that his "grief was very deep," while others commented on his change in personality. Because the Longstreets were too grief-stricken, General George Pickett and his fiancée LaSalle Corbett made the burial arrangements.
Lee recommended Longstreet for a promotion to Lieutenant General on October 11, 1862, and gave him command of the newly formed I Corps. His performance at Antietam earned Longstreet the epithet Old War Horse from General Lee. Another officer equally rewarded was General Stonewall Jackson, who became leader of the II Corps.
Relied upon by Lee due to his methodical nature and thoroughness, Longstreet remained a trusted advisor, and Lee followed his counsel in many battles. A believer in tactical defense, Longstreet saw greater chance of victory in preserving the lives of his men and resisting the temptation to make heroic assaults on the enemy.
For most of Lee's first year in command, the Army of Northern Virginia possessed a highly effective command structure. Jackson executed Lee's orders without much question. Longstreet's role was often that of devil's advocate, as he promoted caution and identified potential flaws in his aggressive commander's plans.
It was Longstreet's actions at the Battle of Gettysburg, fought in Pennsylvania in July 1863, that haunted him after the war. That battle marked the first major campaign for the army without Jackson, who died in May 1863, and the beginning of problems within the army's high command.
Prior to the summer of 1863, Longstreet offered a plan to the Richmond government designed to relieve pressure on Vicksburg. His proposal was not adopted in favor of Lee's plan to invade the North. Lee's plan was designed to relieve Virginia of Union troops, giving farmers time to bring in their crops; to threaten Northern cities, convincing the Union government that a continued war was useless; and to relieve other parts of the Confederacy by causing Union armies in the west to move east.
Reacting to the Army of Northern Virginia moving north, the Army of the Potomac moved much faster than Lee had expected, and the two armies met at Gettysburg. Longstreet told Lee that offensive attacks on the Federal position along Cemetery Ridge were doomed to failure. He preferred to flank the Union line and establish a defensive position somewhere between the Union Army and Washington DC. He felt that Meade would then be forced to attack a well-established Confederate line.
Lee's refusal to fight defensively rankled Longstreet, who barely concealed his displeasure. Still, his assault in the afternoon on July 2 virtually destroyed the Union Army's III Corps, but failed to capture the prominent Round Tops that dominated the Union position. Lee refused to relinquish the initiative, however, and issued plans for a massive frontal assault on the Union center the following day.
Pickett's Charge
Pickett's Charge was an infantry assault ordered by General Lee against Union positions on Cemetery Ridge on July 3, 1863, the last day of fighting at Gettysburg. Its futility was predicted by Longstreet, and it was arguably an avoidable mistake from which the Southern war effort never fully recovered psychologically.
At 1:00 that afternoon, after once again failing to dissuade Lee, Longstreet supervised a 140-cannon bombardment of the Union left flank. This barrage was answered by 110 Union guns, making it the largest artillery battle in U.S. history. After an hour, Meade ordered a cease fire, leading Lee to believe the Union batteries had been demolished, but it was largely ineffective..
During this bombardment, which drew a furious response from the Union guns on the ridge opposite, Longstreet showed himself at his most fearless. With the shells screaming and exploding all around him, he was observed by Brigadier General J. L. Kemper of Pickett's division:
Longstreet rode slowly and alone immediately in front of our entire line. He sat his large charger with a magnificent grace and composure I never before beheld. His bearing was to me the grandest moral spectacle of the war. I expected to see him fall every instant. Still he moved on, slowly and majestically, with an inspiring confidence, composure, self-possession, and repressed power in every movement and look, that fascinated me.
When the smoke cleared, Lee ordered Longstreet to advance on the Union center, an action Longstreet adamantly opposed; he could not bring himself to give the order to attack. Pickett had to ask, "General, shall I advance?" and Longstreet merely nodded.
At 3 pm, 12,500 Southern soldiers stepped from the ridgeline and advanced the three-quarters of a mile to Cemetery Ridge in what is known to history as Pickett's Charge. As the Confederates approached, there was fierce flanking artillery fire from Union positions on Cemetery Hill and north of Little Round Top.
Horrified, Longstreet and General George Pickett watched helplessly from Seminary Ridge as a line of well-shielded Union forces armed with highly accurate rifled muskets fired on their troops marching in formation toward Cemetery Ridge. Over 6,500 of Longstreet's men marched to their death, fell wounded on the field of battle, or were captured.
Longstreet reacted quickly after the disaster by getting artillery ready to repulse a possible Union counterattack, and helping to rally Pickett's men. The abject failure of Pickett's Charge was felt keenly throughout the Army of Northern Virginia and the Confederacy.
Storm Over Gettysburg
I've painted many of these dramatic nighttime events at Gettysburg, but none kindles my imagination more than the brief ride Lee and General James Longstreet made together on the night of July 3rd. Hours earlier, Lee and Longsreet had watched as the courage and tragedy of Pickett's Charge unfolded – and devastated the heart of Lee's army. In the darkness of that Friday night, July 3, 1863, a ferocious thunderstorm rolled over Gettysburg. Storm Over Gettysburg captures that dramatic moment as Lee and Longsreet ride through the storm together, discussing Lee's next move.
~Mort Kunstler, Artist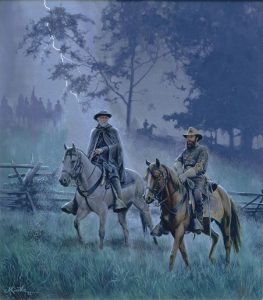 When the Army of Northern Virginia crossed the Potomac River after Gettysburg, Longstreet wrote a letter to an uncle. In it he stated that he "would prefer that all the blame should rest upon me. As General Lee is our commander, he should have the support and influence we can give him." He then added, "The truth will be known in time, and I leave that to show how much of the responsibility of Gettysburg rests on my shoulders." Unfortunately for him, he could not know at the time how heavy that burden would be. It would define his military career and history's judgment of him.
Longstreet described his and Lee's wartime relationship as "affectionate, confidential, and even tender, from first to last." When Louise Longstreet gave birth to a son in October 1863, the couple named him Robert Lee Longstreet.
A physically strong man — he stood 6 feet 2 and weighed about 200 pounds — Longstreet had worked tirelessly for the cause. An excellent organizer, he assembled arguably the finest staff in the army. A skillful tactician, he had directed four assaults that defined his ability on a battlefield. His personal courage was never questioned. He lacked Stonewall Jackson's prowess in independent command, but in other key respects he was Jackson's superior.
After Gettysburg, the Army of Tennessee was pushed south of Chattanooga and into northern Georgia, and Longstreet and two of his divisions were sent as reinforcements. Longstreet arrived in time to participate in the Confederate victory at the Battle of Chickamauga.
Longstreet was then sent north to Knoxville, where he failed to chase Burnside's Union forces out of Knoxville. Longstreet and his men wintered in eastern Tennessee, and joined Lee in Virginia in early May 1864, and helped Lee repulse efforts by General Ulysses S. Grant to breech the Confederate lines near Chancellorsville at the Battle of the Wilderness.
On the second day of fighting – almost exactly one year later, and three miles away from where Stonewall Jackson was mortally wounded by his own men during the Battle of Chancellorsville – Longstreet was shot by his own men in the thickets of the Wilderness on May 6, 1864. Many believe the battle wouldn't have ended in a draw if Longstreet had been able to direct his counterattack in person.
Longstreet was struck by a minie ball in the throat and exited through his right shoulder, severing nerves. As a result of his wounds, his once clear voice was now husky and his right arm was paralyzed. He was put on leave until his wounds healed. Longstreet's fall was recognized as a great blow to the South and a stroke of luck for the North.
Longstreet rejoined Lee in October 1864, with his right arm paralyzed and in a sling, initially unable to ride a horse. He had taught himself to write with his left hand; by periodically pulling on his arm, as advised by doctors, he was able to regain use of his right hand in later years. For the remainder of the Siege of Petersburg, he commanded the defenses in front of the capital of Richmond, including all forces north of the James River and Pickett's Division at Bermuda Hundred.
On April 2, the Federals attacked all along the line around Petersburg, and the Confederate line collapsed, causing Petersburg and Richmond to be abandoned. Longstreet retreated with Lee in the Appomattox Campaign, commanding both the First and Third Corps, following the death of General A. P. Hill on April 2.
The situation had arisen which General Lee considered would justify surrender, an event that had been anticipated on both sides as the result of the fighting on the 6th and 7th of April. Longstreet advised him of his belief that Grant would treat them fairly.
As Lee rode toward Appomattox Court House on April 9, 1865, Longstreet said, "General, if he does not give us good terms, come back and let us fight it out." But General Grant, Longstreet's best friend at West Point and in the antebellum army, offered generous terms, and it was over, at a cost of more than 620,000 American lives.
At Appomattox, Longstreet was warmly received by Grant, and their friendship from before the war continued. Longstreet never saw Robert E. Lee again, although they did exchange letters prior to Lee's death in 1870.
After the war, Longstreet got involved with the Republican Party and became known as a traitor to the South. In November 1865, Ulysses S. Grant petitioned President Andrew Johnson to restore Longstreet's citizenship. When Longstreet and Johnson met, Johnson said, "There are three persons of the South who can never receive amnesty: Mr. Davis, General Lee and yourself. You have given the Union cause too much trouble."
In 1867, Longstreet wrote letters to the New Orleans Times, which were reprinted widely. In them, he advised Southerners, as a "conquered people," to cooperate with the North and the Republicans, as the war was fought upon "Republican ideals." Southerners were furious. When he officially joined the Republican Party, supported the Grant administration, and accepted Republican political appointments, they were outraged.
The battle lines between the Republican North and the Democratic South were still very much in evidence, and Longstreet's party affiliation – and his surprising conversion to Roman Catholicism – branded him a traitor. Many Southerners – even those who had once hailed him as a military hero – now cast aspersions on his military record.
A group of Virginians, led by General Jubal A. Early, made charges that Longstreet failed to execute Lee's alleged order to attack at dawn on July 2, 1863, thereby costing the Confederates the victory at Gettysburg. Longstreet's displeasure with Lee at Gettysburg became the basis for which Early and his cohorts attacked him. In the process, General Lee was absolved of any responsibility for the defeat.
The blame for the heavy losses suffered at Gettysburg was placed squarely upon Longstreet's shoulders, and he was excluded from Confederate circles, even military reunions, and there are few monuments to Longstreet in the South. Such criticism chafed Longstreet, but he was unable to defend himself well in writing.
His warm friendship with now Grant helped Longstreet attain numerous patronage positions in New Orleans. He was nominated for the position of surveyor for the port of New Orleans with a generous salary. In January 1872, he was commissioned brigadier general in the state militia and was assigned responsibility for all the militia units and police forces in the city. At the end of the year, he resigned his post as state adjutant general but kept his militia commission.
In addition to sons Garland, Robert Lee, and James Jr., Longstreet had a new son and daughter. They were Fitz Randolph born in 1869, and the couple's tenth and last child Maria Louisa born in 1872. Although Louise and James had lost five children during their years together, the five living in 1872 all lived to adulthood.
After a local newspaper invited the general to move his family to Gainesville, Georgia, Longstreet shifted his political support to his home state in 1875. He purchased the Piedmont Hotel in Gainesville, as well as a farm outside town – which his neighbors derisively called Gettysburg. He continued to hold minor political offices granted as thanks for his work on behalf of the Republican Party's southern wing.
In January 1879 he was appointed postmaster of Gainesville. Following a short stint as US Ambassador to Turkey that ended in 1881, Longstreet returned to Georgia and assumed the duties of US Marshal of Georgia at the age of sixty. Evidence of widespread corruption involving his deputies, however, led to his removal from that office in 1884.
While in Georgia, he had a very large two-story house built for his family; in 1889, it burned to the ground. He lost all of his war souvenirs, including his Confederate uniform and sword, a sash Jeb Stuart had given him, and a pair of Mexican spurs he had worn in both the Mexican War and the Civil War.
In January 1890, Maria Louise Longstreet died at the age of sixty-two at Gainesville, Georgia.
On April 29, 1893, Longstreet attended the reunion held commemorating the 30th anniversary of the Battle of Gettysburg. The reunion was not held on the actual anniversary of the battle due to the extreme heat and humidity common to Pennsylvania at that time of year. Veterans of the war were reaching advanced ages, and since most camped out in the open, it was not deemed advisable to subject their failing constitutions to such extremes in environment.
On September 8, 1897, at the age of 76, James Longstreet married Helen Dortch at the Governor's mansion in Atlanta, much to his children's disapproval. He and his 34-year-old bride honeymooned briefly near Atlanta and later took a trip to Mexico. Helen would be instrumental in the effort to salvage her husband's reputation.
As the years passed, Longstreet became bitter, and his attempts to "set the record straight" made the situation worse. He was naive in many ways. He failed to follow his uncle's advice not to anger people by submitting controversial letters to newspapers. He did not anticipate extreme, long-lasting Southern hatred toward him, nor that there would be consequences for supporting Grant, becoming a Republican, and accepting political appointments.
In defense of his criticism of Lee's tactical offensive at the Battle of Gettysburg, which Longstreet maintained resulted in the needless death of thousands of Confederate troops during Pickett's Charge, the former general published his memoirs, From Manassas to Appomattox: Memoirs of the Civil War in America, in 1896.
General Longstreet had received a letter from General A. A. Long dated May 31, 1875. In this letter, General Long states "I do not recollect of hearing of an order to attack at sunrise, or at any other designated hour, pending the operations at Gettysburg during the first three days of July, 1863." General Long, at the time of the Battle of Gettysburg was General Lee's military secretary.
On January 2, 1904, Longstreet contracted pneumonia. Large quantities of blood began to flow from his mouth, and he hemorrhaged so badly that the throat wound he had received 49 years earlier was reopened. Delirious for some time, he eventually lost consciousness.
James Longstreet died of pneumonia on the morning of January 2, 1904, just six days short of his 83rd birthday.

I love this one! Sculpted by Gary Casteel, this monument was sponsored by the North Carolina Division of the Sons of Confederate Veterans and dedicated on July 3, 1998. Hero was the name of Longstreet's horse.
On January 6th when the services began, a local guard unit and representatives of the Longstreet Chapter of the United Daughters of the Confederacy attended the body. Two priests and Bishop Keiley, one of the general's old soldiers, conducted the services. All the Longstreet children except James attended.
After services at the courthouse, pallbearers carried the casket to a hearse, which began the long procession to Gainesville's Alta Vista Cemetery. State and local dignitaries, militia units, Confederate veterans carrying flags, and other groups followed as church bells tolled. At the gravesite, Bishop Keiley gave a eulogy, after which guards fired their volleys, and Taps sounded its haunting notes.
When the news of his death spread across the country, many newspapers had extolled his virtues as a man and his prowess as a general. Too bad they waited so long. As the pallbearers prepared to lower the casket, one of his old soldiers was moved to lay his uniform and enlistment papers on the lid of Longstreet's coffin, saying nothing, but speaking volumes.
Despite all the accusations, he still commanded the respect of thousands both North and South, both Blue and Gray. As Longstreet himself had said:
Error lives but a day. Truth is Eternal.
Helen Dorch Longstreet continued Longstreet's pursuit of clearing his name, publishing Lee and Longstreet at High Tide: Gettysburg in the Light of the Official Record in 1905. Mrs. Longstreet was a former newspaper editor and State Assistant Librarian for the State of Georgia before she married General Longstreet.
SOURCES
James Longstreet
Battle of Gettysburg
The Life of James Longstreet
James Longstreet (1821-1904)
The Generals of Gettysburg: The Leaders of America's Greatest Battle, by Larry Tagg: Lieutenant General James Longstreet
About North Georgia: James Longstreet