Wife of Confederate General John Gregg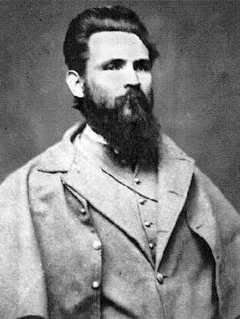 Mary Francis Garth was raised in the lap of luxury in Decatur, Alabama. Her father, Jessie Winston Garth, was an Alabama senator and one of the wealthiest plantation owners in the state. He was also a Unionist, who strongly opposed secession, and was willing to give up his hundreds of slaves if it meant saving the Union.
Image: Confederate General John Gregg
John Gregg was born in 1828 in Lawrence County, Alabama. He was a well-educated man, and spent most of his formative years either attending or teaching school. In 1847, he graduated from La Grange College and studied law in Tuscumbia, Alabama. In 1852, at the age of twenty-four, he moved to Fairfield, Texas, where he was elected District Judge, and served in that position until 1860.
In 1858, Mary Garth married John Gregg in Morgan County, Alabama; both were thirty years old. At the time, John was a practicing attorney in Freestone County, Texas. Following the wedding, John took Mary with him back to Fairfield, where she enjoyed the prestige that came with being the wife of a prominent lawyer.
John Gregg became an ardent secessionist and voiced his strong opinions all the way to the Texas Secession Convention. He became a member of the Provincial Congress of the Confederacy in Montgomery, Alabama, and later in Richmond, Virginia. Immediately after the first battle of Manassas (or Bull Run) in July 1861, John resigned his congressional seat and returned to Texas to recruit and organize the 7th Texas Infantry, and he was named its colonel.
After the Civil War began, Mary traveled with her husband. When the 7th Texas Infantry marched to Hopkinsville, Kentucky, Mary went along. Their only separation came after the fall of Fort Donelson in February 1862, when John was captured and sent to prison at Fort Warren, Massachusetts. Mary returned to her father's plantation. After his parole in July of 1862, their pattern of being together continued.
In September of 1862, John was commissioned brigadier general and sent to Mississippi. One of the first major engagements of General Gregg's military career was the Battle of Raymond on May 12, 1863. The men under his charge were the 3rd, 10th, 30th, 41th, 50th and 9th battalions of Tennesseans, as well as the reconstituted 7th Texas Infantry. As John led his troops in battle, Mary stayed with friends in Brandon.
When the 7th Texas met General James B. McPherson's 17th Corps on that day, Gregg fought with a vengeance. Little did he know that he had led his brigade of 3,000 men into battle against a force of some 12,000 strong. After almost six hours of fierce fighting, Gregg was forced to retreat back to Jackson MS, where he would be involved in the Battle of Jackson on May 14, 1863.
After the fall of Vicksburg July 4, 1863, Gregg's Brigade was ordered to northern Georgia to reinforce General Braxton Bragg's beleaguered army. During the Battle of Chickamauga on September 19, 1863, John was severely injured when a bullet struck him in the neck. Mary traveled to the Confederate military hospital in Marietta, Georgia, to be by his side while he recuperated.
The Greggs remained together until January 1864, when John was transferred to Virginia to command Hood's famous Texas Brigade in General James Longstreet's Corps. On January 11, 1864, at a train station in Dalton, Georgia, Mary said goodbye to her husband as they boarded separate trains. Mary's train would take her south to her father's home, while John's train headed north to Richmond. The parting was emotional.
After recovering from his wounds, John Gregg was given command of the famous Hood's Texas Brigade in Robert E. Lee's Army of Northern Virginia. He and his soldiers participated in the Overland Campaign during the spring of 1864, seeing action at the Battles of the Wilderness, Spotsylvania Court House, and Cold Harbor.
The Richmond-Petersburg Campaign (June 15, 1864 – March 25, 1865) was a Union effort to capture the city of Petersburg, Virginia, from Confederate forces under the command of General Robert E. Lee. Union forces captured Fort Harrison from the Confederates on September 30, 1864, which prompted Lee to order an offensive on the right flank of the Union forces on October 7, in an action that would be called the Battle of Darbytown and New Market Roads.
The Union defensive lines were positioned along New Market Road, with further Union cavalry defending Darbytown Road. The initial Confederate attack was successful in dislodging the Union Cavalry from Darbytown Road, and the Rebels then attacked the Union lines on the New Market Road.
During this attack, the Texas Brigade's commander Brigadier General John Gregg was killed, and the attack was repulsed.
Mary had been staying at the her father's home in Decatur, Alabama, when the War Department of the Confederacy brought the heartbreaking news.
Confederate Postmaster-General John Regan wrote to Mary:
My Dear Madam,
I am called to perform the most melancholy duty. Your noble husband and my best friend has fallen in battle. I will not mock the grief which awaits you by more words. Keen and bitter as is my own sorrow for the loss of so dear a friend, and of an officer so valuable to the country and so esteemed by all. I wish it were in my power to bear a portion of the deeper and holier grief which must fall on you, the partner of his joys and sorrows, and the cherished idol of his heart.
After weeks of grief and depression, Mary decided she could not rest until she traveled to Virginia to claim her husband's body. First, however, she made plans to travel to Aberdeen, Mississippi, where her father owned land. She hoped to find Aberdeen a suitable place to live as well as to bury her husband.
But, first she had to retrieve his body and this would not be easy. The Confederacy was unraveling, and a trip to Virginia through enemy lines would be an extremely risky maneuver. On January 18, 1865, accompanied by a family member, she began the 800-mile journey to Richmond.
After arriving, Mary succumbed to a nervous breakdown. They had to wait weeks before she could recover enough of her strength to make the long journey back home. Finally, on April 8, 1865, the casket bearing the remains of John Gregg arrived at Aberdeen, Mississippi, where he was buried in the Odd Fellows' Cemetery.
Mary purchased a home in Aberdeen and became a successful planter in Monroe County. She also opened her home to orphaned girls, giving them the loving home they would not have had otherwise. To local citizens, Mary Gregg became something of a saint.
Mary Garth Gregg's Home
Aberdeen, Mississippi
As Mary Gregg, settled into her new life in Aberdeen, she became a successful planter and was one of the city's most prominent citizens. She was famous for her work with orphans as well as the afflicted. For the remaining thirty years of her life, she never left the town in which her husband's remains were interred. Later, she was among the women whose efforts began a Memorial Day observance.
Mary Gregg died on June 15, 1897, and following a solemn and impressive ceremony was laid to rest next to her husband at Aberdeen, Mississippi.
SOURCES
John Gregg
John Gregg (CSA)
Seventh Texas Infantry
Handbook of Texas Online
Mary Garth Gregg: A Steel Magnolia
General John Gregg: The End Of The Story
Battle of Darbytown and New Market Roads