Wife of Confederate General Ambrose Powell Hill
One of the greatest love stories of the Civil War was that of Confederate General A.P. Hill and his wife Kitty. They met during the social season in Washington, DC a few years before the war and fell instantly in love. Their marriage was one of commitment and devotion from beginning to end. During the war, Kitty remained as close to Hill as possible, which caused him great anxiety for her safety.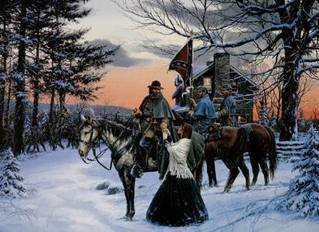 The Parting by John Paul Strain
Not even the biting cold of a Virginia winter could cool the affection shared by General A.P. Hill and his wife Kitty Morgan Hill.
Kitty Morgan was born in Lexington, Kentucky in 1834, one of ten children born to Calvin and Henrietta Hunt Morgan. Because her delicate features resembled a china doll, family members called her Dolly. Her brother John Hunt Morgan would go on to become a famous Confederate cavalry general. Her sister Henrietta Morgan would later marry Basil Duke, who served in Morgan's Cavalry Corps.
Ambrose Powell Hill, Jr. was born on November 9, 1825, at the family estate, Greenland, ten miles west of Culpeper, Virginia, the last of four sons born to Thomas and Frances Hill. Although he was known by his initials in the history of the Army of Northern Virginia, his mother called him Powell, and that was the name he was called by friends and family. An avid reader, Powell devoured everything from Shakespeare to the Bible to books on the exploits of Napoleon.
The class that entered West Point in the summer of 1842 was one of the Academy's finest – among Powell Hill's classmates would be several future Civil War generals such as George Pickett, David Jones, George B. McClellan, Cadmus Wilcox, Darius Couch, George Stoneman, and Thomas 'Stonewall' Jackson.
In June 1855, Kitty Morgan married a cousin, Calvin McClung, who was a merchant in St. Louis, but he died suddenly soon thereafter. In 1857 her sister insisted that Kitty accompany her on a visit to Washington, hoping the exciting social scene would lift her out of her grief. While attending a party at the Willard Hotel she met Powell Hill, a dashing army officer nine years her senior. It was love at first sight. Kitty was petite, vivacious and blue-eyed, with luxuriant light brown hair that fell to her waist.
Powell wrote to his sister Lucy:
I can reach you and you can reach me easily, that in case either of us be married, we can surely attend the other. Look out for mine at any time! You know I am so constituted, that to be in love with someone is as necessary to me as my dinner, and there is now a little siren who has thrown her net around me, and I know not how soon I may yield up my right to flirt with whom I please.

She is a sensible little beauty, and if the spasm will stay in me long enough, and she will say 'yes,' why I don't believe I could do better. Alas, though, I much fear that the good things of this world are unequally distributed in her case. Her beauty and sense are her only dowry! But, when you come down you must be prepared to spend a week at Willard's and judge for yourself. So get your fine dresses ready.
Hill courted Kitty faithfully, and by 1859 they were planning marriage. Hill even wrote his old classmate George B. McClellan (later a general in the Union Army) to invite him to the wedding:
My dear Mac,

I have been waiting for some time in the expectation that you would wend your way in this direction, and that I might have the opportunity of telling you over a cigar, that which I have been wanting to tell you for the last month – I'm afraid there is no mistake about it this time, old fellow, and please God and Kentucky Bluegrass, my bachelor life is about to end, and I shall swell the number of blessed martyrs who have yielded up freedom to crinoline and blue eyes.

She is young, 24 years… gentle and amiable, yet lovely, and sufficiently good looking for me – and what's more I know that you will like her, and when you come to know her, say that I have done well – I believe too her income is equal to mine – and if this is so I am glad for her sake, and if not I shall not be disappointed – I expect to be married in Lexington, Kentucky on the 18th of July and if you would come down from Chicago, you know there is no one whose presence would delight me more.
Hill.
On July 18, 1859, Powell Hill and Kitty Morgan were married at her mother's home outside Lexington, Kentucky. Kitty was resplendent in a silk wedding dress, and Hill was handsome in his blue army captain's uniform and a handsome red mustache. John Hunt Morgan was best man.
Kitty and Powell quickly grew to complement each other perfectly. They both made friends easily, and Powell was particularly proud of Kitty's musical talents and charm. Four children were born to the couple, all girls: Henrietta born in Washington in 1860, died during the war; Frances Russell (1861-1917); Lucy Lee (1863-1931); A. P. Hill (1865-1871).
While the Hills were finding domestic happiness, the country was in a state of unrest. It was clear by 1860 that the rift over slavery and states' rights that had been growing between North and South since the beginning of the Republic was going to lead to civil war.
In December, 1860, South Carolina seceded from the Union. Seven deep Southern states followed suit and elected Jefferson Davis their president. It was unclear what border states like Hill's home state of Virginia would do. But she leaned more and more toward secession, and in February
When Virginia left the Union in the spring of 1861, A.P. Hill, as he was called by his associates during the war, resigned as First Lieutenant in the U.S. Army. He strongly believed in states' rights, and felt it was his duty to defend the honor of Virginia. He was quickly made colonel and chosen to take command of the 13th Virginia Regiment.
Kitty Hill used the silk from her wedding gown to make a battle flag for the regiment – "a beautiful silk banner, the handiwork of the accomplished lady of our Colonel, and will be prized and defended as the gift of a fair daughter of Kentucky, bidding us God Speed in fighting the battles of the South" – for Hill's 13th Virginia.
A.P. Hill was only thirty-five years old when the Civil War began, and stood around the average height of the day, between 5'8″ and 5'9″ and when well weighed 150 to 160 pounds. He was narrow-chested and frail, and his health was often fragile. Always emotional, he was so high-strung before battle that he had a tendency to be unwell when the fighting was about to begin.
Hill's frequent illnesses and the stress of being in the field would drop his weight to 125 pounds by the end of the war. These debilitating symptoms did not affect his relationship with his men, however; he was extraordinarily affectionate and was always concerned with their well-being.
During the war Kitty stayed as close to her husband as possible, something that often caused him anxiety over her safety. She stayed with friends, in hotels, or wherever convenience allowed. When she traveled, she rolled her jewelry and other valuables into her hair which she put in a chignon for safekeeping.
A.P. Hill fought at Yorktown and Williamsburg during the Peninsula Campaign in the spring of 1862. Recommended for promotion, in a mere 90 days he jumped from Colonel to Major General. Seeing action in the series of battles around Richmond known collectively as the Seven Days, he established a reputation for great bravery, skill and aggressiveness.
In the winter of 1862-63, following the Battle of Fredericksburg, the couple enjoyed fleeting moments together near the Virginia front. Despite the hardship of war and the demands of command, their relationship remained strong. They rejoiced in occasional reunions, treasured stolen moments together, until the time came for another parting.
At Chancellorsville in May 1863, General Hill was on Stonewall Jackson's famous flank march and took command of the corps when Jackson fell mortally wounded on the night of the May 2. General Robert E. Lee subsequently reorganized the Army of Northern Virginia, and gave Hill command of the new Third Corps (and promotion to the rank of Lieutenant General), which he led in the Gettysburg Campaign.
Kitty sometimes engaged in activities that she thought would help her husband. In 1864, when she heard that General Philip Sheridan was coming to a certain hotel, she sent her children to friends, and went to the hotel to obtain information. As she made her getaway, she was fired upon by Federal soldiers, but escaped unharmed.
Shortly before the Wilderness Campaign, the Hills decided to have their baby daughter Lucy Lee christened. The service was performed by Reverend Richard Davis, rector of St. Thomas' Parish at Orange Court House. General Lee stood as godfather and held the child in his arms. As the minister sprinkled the water on her brow and gave her his blessing, a tear rolled down the old soldier's cheek. Cannonading was heard in the distance, and Lee and his corps commander rushed to their saddles and galloped to the front.
Illness struck Hill again at the Wilderness in the spring of 1864, almost resulting in a disaster when he was unable to ride out and reorganize his tired men. He missed the Battle of Spotsylvania Court House because of sickness, but followed the troops in an ambulance. He returned in time for the battles along the North Anna and Cold Harbor.
General A.P. Hill's men held many of the main lines during the siege of Petersburg, and were involved in most of the major engagements there. Sickness, that seemed to worsen as the siege dragged on, continued to plague him, causing him to take brief leaves of absence.
As fate would have it, Kitty Hill was nearby on April 2, 1865, when Hill rode out to try and rally his collapsing lines. He was shot through the heart by a stray group of soldiers from the Union Sixth Corps. He died instantly. By General Lee's order, a charge was made and Hill's body was recovered and buried in Chesterfield County.
With tears in his eyes, General Robert E. Lee remarked very sadly, "He is at rest now, and we who are left are the ones to suffer."
Lee told an assistant to "break the news to her as gently as possible." Kitty was doing household chores when the aide's knock interrupted her. "The General is dead! You would not be here if he had not been killed," she cried.
The General's Long Journey to his Final Resting Place
An article entitled First Burial of General Hill's Remains now at Southern Historical Society was written by A.P. Hill's cousin, G. Powell Hill, to whom the General's body was taken in Richmond. When the body arrived in Richmond, "we were expecting the entrance of the Federal troops into the city at any moment." Therefore they "left the city by way of Fourteenth street and Mayo's bridge, slowly and sadly wending our way through Manchester and up the river to my father's refugee home [in Chesterfield County]. He had refugeed [there] from Culpeper county."
G. Powell Hill's account continues:
The General's family [wife and children] had not arrived, and the condition of his remains was such as to give us serious doubts as to the practicability or advisability of attempting to convey them so great a distance across the country in an ambulance (more than one hundred miles to [his family home] in Culpeper). We decided then and there to give his remains temporary burial, and at some future day remove them to his native county and place him by the side of his parents. The grave was hastily dug, and … we buried the body about 2 P. M., April 4, 1865, in the old Winston burying-ground. …
The records of the Pickett Society at the Virginia Historical Society now indicate that Hill was buried near Bosher's Dam near on the James River just west of Richmond. Are we talking about the same place here?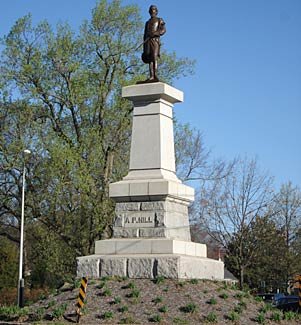 Image: A.P. Hill Monument
Richmond, Virginia
At any rate, in 1867 General A.P. Hill's remains were moved to Hollywood Cemetery in Richmond. During the late 1880s, several former comrades raised funds to erect a statue in his honor. On May 30, 1892, Hill was re-buried standing up beneath that monument at the center of the intersection of Laburnum Avenue and Hermitage Road in Richmond, which has been reduced to a small strip of land to accomodate modern traffic needs.
The Civil War ended on April 9, 1865, with the surrender of the Army of Northern Virginia at Appomattox. Two months later, Kitty gave birth to a girl that was christened Ann Powell Hill.
Kitty was left embittered by the war that killed her husband and her brother, General John Hunt Morgan. In 1870 she married a Louisville doctor named Alexander Forsyth. She bore him two children. He fell ill and died in 1875.
Kitty Morgan Hill died at age 86 on March 23, 1920, and was buried at Lexington Cemetery in Fayette County, Kentucky.
SOURCES
A. P. Hill
The Last Campaign
And Then A.P. Hill Came Up