Wife of Confederate General James Lawson Kemper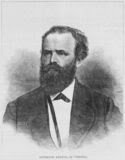 General James Kemper was wounded then captured by Union forces during Pickett's Charge at the Battle of Gettysburg. His wife Belle was informed that she could not see her captured and badly wounded husband because Confederate authorities had refused the same courtesies to a Union family. Kemper was released after three months' imprisonment, but never fully recovered from his wounds.
Image: General James Kemper
Cremora Cave was born in 1834, the daughter of Cremora and Belfield Cave. James Lawson Kemper was born on June 11, 1823, to William and Maria Allison Kemper in Madison County, Virginia. He was the sixth of eight children, and his childhood was spent at the two-story family home called Mountain Prospect, which also included 600 acres of land. His immediate family as well as four of his father's sisters, his maternal grandmother, and several domestic servants also lived there.
The first education that James Lawson Kemper received was in a field school built near his home. The Hill and Kemper families hired a teacher to teach their children in this building. One of Kemper's grade school friends, who became a friend for life, was Ambrose Powell Hill, better known as General A.P. Hill.
James was accepted to Locust Dale Academy when he was 13 years old, where he stayed from 1830-1840. He enrolled at Washington College (now Washington and Lee University), and received a Bachelor of Arts and graduated first in his class in the spring of 1842, and received a Master's Degree in 1845.
After graduating from Washington College , Kemper decided to study law. Under the supervision of Judge George W. Summers of Charleston, Kanawha County, Virginia, he read the law and then successfully took the bar exam, and began practicing law a year later. At the outbreak of the Mexican War in 1846 Kemper was commissioned a captain in the Virginia volunteers, but did not see active service.
Returning to Virginia and his law practice, in 1853 Kemper was elected to the Virginia House of Delegates for the first of five terms, the last (1861-1863) as Speaker of the House. Early letters (pre-1861) illustrate Kemper's growing law practice and his involvement in politics.
In 1850, at about the age of twenty-seven, James began to court Cremora Cave, affectionately called Belle by her future husband. She was sixteen years old at the time. Despite the age difference, on July 4, 1853, they were married by Reverend J. Earnest at the Madison Court House, and they were to have seven children.
At the beginning of the Civil War, James Kemper was a member of the Virginia State Legislature and helped organize Virginia troops for the Confederate forces. Rising through the ranks, he fought at Bull Run, South Mountain, Antietam, Fredericksburg, and was promoted to Brigadier General in June, 1862. He was the youngest of the brigade commanders, and the only nonprofessional military officer in the division.
After a gallant performance at the Battle of Seven Pines during the Peninsula Campaign, Kemper was promoted to brigadier general on June 3, 1862, and briefly commanded a division in Longstreet's Corps. Upon the return to duty of wounded Major General George Pickett, Kemper reverted to brigade command.
In 1863, Kemper's brigade was assigned to Pickett's division in General James Longstreet's Corps, and missed the Battle of Chancellorsville while the corps was assigned to Suffolk, Virginia. But the corps returned in time for the Gettysburg Campaign, and Kemper rejoined Lee's army as a brigade commander in Pickett's division.
At Gettysburg, Kemper arrived with Pickett's division late on the second day of battle, July 2, 1863. His brigade was one of the main assault units in Pickett's Charge on July 3, 1863, advancing on the right flank of Pickett's line. After crossing the Emmitsburg Road, Kemper's brigade was hit by flanking fire from two Vermont regiments, driving it to the left and disrupting the cohesion of the assault. Kemper rose on his spurs to urge his men forward, shouting "There are the guns, boys, go for them!"
This bravado made him a more visible target, and he was severely wounded by a bullet in the abdomen and thigh and captured by Union forces. Kemper was rescued by Confederate forces and carried back to Confederate lines on Seminary Ridge, but was too critically injured to be transported during the retreat from Gettysburg, and was left behind to be treated and recaptured. Newspaper accounts at the time claimed he was killed in action, and Robert E. Lee sent condolences to his family.
There exists a letter from Major General Ethan A. Hitchock, explaining to Kemper's wife Belle that she could not see her captured and badly wounded husband because Confederate authorities had refused the same courtesies to a Union family.
For three months, Kemper was a prisoner in a Federal hospital, and was exchanged September 19, 1863, on a certificate of the Federal surgeons that he could not live long. A long furlough enabled him to recover sufficiently to don his uniform again. For the rest of the war, he was too ill for combat – the bullet that struck him could not be removed surgically, and he suffered from groin pain for the remainder of his life.
From June 1864 until the Confederate surrender, Kemper was in command of the local forces around Richmond. He was promoted to Major General on September 19, 1864. After Appomattox he was paroled by United States military authorities on May 2, 1865.
After the war ended, General Kemper returned to Madison County to practice law and focus on rebuilding the state. He was concerned about Belle's health. Her condition began to decline – she had not been physically strong before. She came down with an eye infection that deteriorated her sight to the point of blindness within a few years.
Although he was involved with legal matters much of the time, James managed to take time to spend with his family. Depending mostly on income from his legal practices, he managed to make a decent living for himself and his family. Every year, James and Belle would take a vacation to the mineral springs.
Image: James Kemper Residence
The land on which the Greek Revival Style Kemper Mansion sits was originally a 52 acre parcel on the north end of the Town of Madison, Virginia. Kemper bought the house and lot in 1868, after he came home to discover that his old house had been destroyed in a raid led by General George Armstrong Custer. Kemper practiced law in a small log cabin office behind the home after the war.
In 1870, Belle became very ill. Just when they thought she was going to recover, her condition made a turn for the worse. At the time, she was pregnant with their seventh child, and on September 8, she gave birth to their son, Reginald Heber Johns. The birth complicated things even more.
Cremora (Belle) Cave Kemper died at the age of thirty-three. James could not stand to live in the house anymore, and spent his nights in his office on the grounds.
James Kemper was elected the first Governor of Virginia after Reconstruction, serving from 1874 to 1878. He became well known for his honesty and integrity, his initiation of the public school system, improvements on the public transportation system, and his strong position on civil rights.
As governor, Kemper fought for full civil rights and protection for the freedmen. He also supported a new constitution and the restoration of Virginia to normal relations with the United States. After he served his last term as governor, Kemper was offered the position as U.S. Senator, but declined, thus ending his political career.
Kemper was worn out physically and emotionally. In 1882, he moved into a new home at Walnut Hills in Orange County, Virginia. Walnut Hills was a mid-sized farm in a secluded area, where he retired to enjoy sheep farming and practicing law. The home overlooked the Rapidan River and had a lovely Blue Ridge view. At the time, there were six of his seven children still living.
Eventually, James Lawson Kemper's health deteriorated, and he died in his sleep at Walnut Hills on April 7, 1895, and was buried in the family cemetery there.
SOURCES
James L. Kemper
James Lawson Kemper
A Guide to the Papers of James Lawson Kemper