Wife of Signer: Thomas Stone
Margaret Brown, born in 1751, was the youngest of Dr. Gustavus Brown's fourteen children. Her mother, Margaret Boyd Brown, was Dr. Brown's second wife. His Scottish lordship, Edinburgh education, and property holdings in Scotland and Maryland placed Dr. Brown in a social position unparalleled in the colony.
Dr. Brown was also thought to be the richest man in Charles County. He provided for the wealth and education of all his children, not just his sons. Upon marriage or attaining the age of twenty-four, Margaret was to receive 300 pounds sterling.
Thomas Stone was born into an old and influential colonial family at Pointon Manor near Port Tobacco in Charles County, Maryland, in 1743. He was the second son in the large family of David and Elizabeth Jenifer Stone.

Thomas Stone

Thomas inherited a fondness for learning from his father and, at the age of fifteen, he studied Greek and Latin in a school operated by a Mr. Blaizedel. This school was more than ten miles from his home, and young Thomas rose early every morning and rode there on horseback.
Although his father had considerable wealth, Thomas borrowed money in order to study law under Thomas Johnson, a respectable lawyer in Annapolis. Once he was accepted to the bar, he established his legal practice in Frederick, Maryland. He began in 1765 by riding the circuit court between Port Tobacco, Frederick, and Annapolis. Two years later, he moved his practice to Charles County, nearer to his birthplace.
Margaret Brown married Thomas Stone in 1768, and with her came a dowry, which he used to purchase a farm near the village of Port Tobacco, which they named Habre de Venture. In 1770, they began the construction of a modest brick and frame Georgian country house. The family made their home there, which would include three children: Margaret (1771), Mildred (1773), and Fredrik (1774).
But before the house was completed, Thomas's father died and five of his younger brothers and sisters came to live with him, creating the need for larger living quarters. Stone expanded the house to its current configuration to accommodate his extended family.

Thomas Stone's Habre de Venture

During the 1780s, the plantation probably supported about 25 to 35 people including a number of slaves. Though the soil on the farm was poor, they grew grain crops and raised livestock on the land. At the time of his death, Habre de Venture consisted of more than 1,300 acres.
Today, Habre de Venture retains its unique design – a five-part colonial plantation house with wings extending on either side of the main block in a graceful arc. The wings created additional living space for the six family members, including four young brothers, Stone took in after his father's death. Originally unplanned, the arched wings are a signature feature of the house.
Toil and Trouble
This must have been an exciting time for Thomas. He had a budding law practice and a new family. However, it was not an easy time in the colonies. Great Britain had suffered a financial crisis after the Seven Years' War (1756 – 1763), a prolonged fight against France that took place on both European and North American soil. The cash-starved mother country looked to its American colonies to help raise money to pay the war debt. New taxes were being imposed and colonists were growing restless.
Stone's career focus changed during his early thirties, and in 1774 he started participating in local politics. His first appointment was to the Charles County Committee of Correspondence. As tensions mounted between the colonies and England, Committees of Correspondence were part of a vital communication network set up between the colonies to pass news of major events.
This office placed Thomas in a position to quickly expand his realm of influence from local to regional. Previously, he had been in favor of opening diplomatic relations with Great Britain and not going to war, as he was not only a pacifist but a conservative. After much internal deliberation, he wholeheartedly supported independence from England.
Stone's business was not lucrative, and he found it difficult to obtain a decent livelihood, but in time his practice improved. His fervent involvement in shaping his country was matched only by his care of his family. He was away from home a good deal of the time, so he brought his brother Michael in to develop the plantation.
In 1775, Thomas was chosen as a member of the Second Continental Congress when two members were added to the Maryland delegation, taking his seat on May 15, 1775. In July, he was re-elected for another year, and again the following May. On May 15, 1776, he voted in favor of drafting a declaration of independence.
Although Stone did not have an active part in the debates in Congress, he served on many important committees. He was the only Maryland delegate appointed to serve on the Committee of Confederation, where his legal knowledge and writing skills made him a valuable member. He remained until the Articles of Confederation were agreed to by a vote on November 15, 1777.
The Province of Maryland was still very hesitant to enter into a confederation that might lead to separation from England, but by the time that the Declaration of Independence was drafted, Thomas eagerly signed his name to the document, and became one of our country's founding fathers.


Thomas Stone's Signature
On the Declaration of Independence
In 1776, Margaret visited Thomas in Philadelphia while he was serving in the Continental Congress. Due to recent outbreaks of smallpox in the city, she opted to receive a smallpox vaccination which required ingesting mercury. Because she received careless treatment after the inoculation, Margaret became ill with mercury poisoning shortly thereafter, and her health began to decline. After Thomas signed the Declaration of Independence, he took his wife home.
Stone declined re-election to the Congress, except for part of 1784, when the meetings were at Annapolis. Instead, he entered the Maryland senate where he felt he could be more useful to the patriotic cause. Stone was elected to the Maryland Senate from 1779 until 1785, at first in order to promote the Articles of Confederation, which Maryland was the last state to approve.
At that point, his legal practice became lucrative, particularly in Annapolis, and his professional reputation soared. He moved his family to Annapolis in order to spend more time with them, and life was good.
But in the end, Thomas gave up the practice of law to care for his wife and their growing children. As Margaret's health continued to suffer, Thomas gradually withdrew from public life. In 1787, she became alarmingly ill, and Thomas watched over her with unwearied devotion.
After more than a decade of declining health, Margaret Brown Stone died in June 1787 at the age of 36.
At that point, Stone's own health declined. On the advice of his doctor, he was planning a sea voyage to England; but on October 5, 1787, before the vessel sailed, he died at the age of 44, leaving one son and two daughters.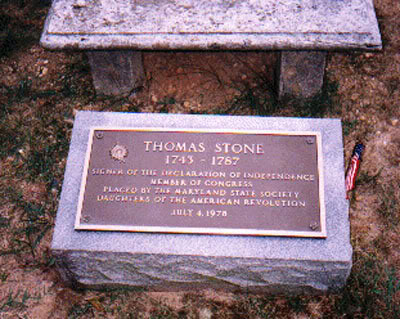 Thomas Stone Gravesite

Though he is a little-known political figure in history today, Thomas Stone was important to the development of the state of Maryland and the United States.
SOURCES
Thomas Stone
Thomas Stone 1743-1787
Margaret Brown 1751-1787
Thomas Stone National Historic Site