Wife of Confederate General George Pickett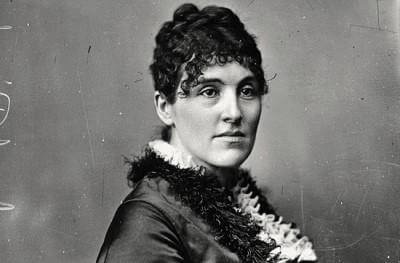 Image: A publicity photo taken during her early years as an author and narrator
LaSalle Corbell Pickett was a prolific author and lecturer, and the third wife of George Pickett, the Confederate general best known for his participation in the doomed assault known as Pickett's Charge during the Battle of Gettysburg. She gave her birth year as 1848 in order to perpetuate the myth that she was the Child Bride of the Confederacy, and was only 15 years old when she married General Pickett.
Early Years
According to the Corbell family Bible: "Sallie Ann Corbell, daughter of John David [Corbell] and Elizabeth, his wife, was born the 16th of May, 1843." Above the entry is written "our first born." Whatever the reason, at some future time, she changed her name to Lasalle, but I will use her birth name.
Born in 1825, George Edward Pickett was from an old Virginia family that arrived in the Colony in 1635. He enrolled at the US Military Academy at West Point and graduated in 1846. His first service was during the War with Mexico in 1847-48 where he received honors for gallantry in action.
When the Civil War broke out, Pickett resigned his commission with the United States Army and offered his services to Virginia. He was given the rank of colonel, and was later promoted to brigadier general in charge of a brigade of Virginia troops. Wounded at the Battle of Gaines' Mill, Pickett survived to rejoin the army after the Maryland Campaign in 1862. He was soon promoted to major general and assumed command of a division of Virginia and North Carolina troops.
Before the Gettysburg Campaign, Pickett fell in love with Sallie Corbell, and commuted back and forth from his duties in Suffolk to be with her. Sallie had originally met George Pickett in 1852 at age nine, while she was recovering from whooping cough and he was mourning the loss of his first wife and child.
General Pickett's Division was one of the largest in the Army of Northern Virginia. Having been assigned to the defense of Richmond in 1863, Pickett's troops were veterans of several campaigns, and joined the Confederate army as it made its way toward Maryland and Pennsylvania.
It was a wonderful march for the general who was filled with high spirits for several reasons – he was part of a victorious army on active campaign, away from the often boring defenses near Richmond, and he was engaged to Sallie Corbell.
Pickett's Charge
Pickett was afraid he might miss the fighting during the Battle of Gettysburg, and was "filled with excitement" when he was ordered to move his three brigades to the front lines. On July 3, 1863, Pickett's division lined up to participate in the grand assault on the Union center. His 5000 Virginians marched across the shell-swept field, charged the Union line on Cemetery Ridge, and briefly broke through, but were thrown back after desperate fighting. Pickett's soldiers returned to Seminary Ridge, broken and shattered.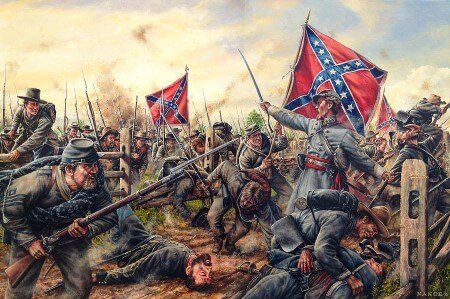 Image: Pickett's Charge
By Dan Nance
Pickett had lost more than half of his division in killed, wounded and captured in the assault, including all three of his brigadier generals. Deeply saddened by the loss of so many men and friends, General Pickett led his division back to Virginia, where they were allowed to rest and reorganize. The weariness of the harsh campaign eventually wore off.
In fall 1863 Pickett was assigned to command the Department of Virginia and North Carolina. During that time, the general took a short leave of absence to marry Sallie Corbell. Their wedding took place on September 15, 1863 at St. Paul's Episcopal Church in Petersburg. She was 20 years old; he was 38. The couple had two sons, George Jr. and David Corbell.
General Pickett's duties then placed him in command of numerous defensive lines around Richmond, Petersburg and southeastern Virginia – a post he held until 1864 when he returned to the field in command of his old division.
Sallie remained for a while at Petersburg, claiming that she was there to assume the role of a moral superior – to check the general's "bad habits" and monitor his drinking and swearing. She busied herself with visiting hospitals, prisons and orphanages, often with other officer's wives, and went on day trips to the front. When Sallie finally returned to Richmond in 1865, she found it in chaos. She and her son, George Junior, stayed in the ruins.
The Beginning of the End
On April 1, 1865, Pickett was in command of Confederate troops placed at the strategic crossroadsof Five Forks, Virginia, several miles west of Petersburg. That morning, the general accepted an invitation to attend a shad bake with fellow officers along the banks of Hatcher's Run, at a site far behind the front lines and out of touch with his men.
Shortly after 4 p.m. a combined force of Union infantry and cavalry stormed the Southern position and broke through the thin line. Pickett raced to the front, but it was too late. His command was in shambles and despite the efforts of his brigade officers to stave off the Union assault, there was little he could do but rally the survivors and withdraw from the battlefield.
Pickett's absence from the front lines possibly inflamed the ire of General Lee, who had ordered Five Forks to be held at all costs. With Five Forks in Union hands, the last supply route into Petersburg was lost, and the city was abandoned. The Army of Northern Virginia moved west toward Danville, hotly pursued by two Union armies and a massive cavalry force.
Image: General George Pickett
On April 6 at Saylor's Creek, Pickett's command – along with troops under Generals Richard Anderson, Richard Ewell and Joseph Kershaw – was nearly encircled by a combined force of Union cavalry and infantry. An attempt to break out failed and the Confederate position folded, costing Lee more than one-third of his army. Only several hundred panicked Confederates were able to get out of the trap, and they were personally rallied by General Lee.
General Pickett and his staff narrowly escaped capture as night fell. Pickett's escape without bringing out his troops may have been the final straw for Lee who relieved Generals Anderson, Bushrod Johnson and Pickett of command two days later, though Lee's order evidently never reached Pickett in the confusion of the retreat. General Lee thought the order had been given to Pickett, and when he saw him later he is said to have remarked, "I thought that man was no longer with the army."
General Pickett remained with his division as the army wearily marched to Appomattox. On April 9, Pickett commanded his remaining troops in the final battle line of the Army of Northern Virginia. He surrendered with Lee's army, bade goodbye to the soldiers of his command and was paroled at Appomattox Court House on April 9, 1865.
After the War
Pickett had difficulty receiving amnesty after the Civil War, a problem he shared with other former Confederate officers who had been West Point graduates and had resigned their commissions in the United States Army at the beginning of the war.
Sallie and George fled to Canada, where they had a difficult time dealing with their current status and the loss of a life of relative wealth. In order to make a living, the Picketts moved to Sherbrooke, where Sallie taught French, Latin and piano. Sallie began publishing her writing shortly after she was forced to sell her jewelry. In poor health and with little money, Sallie gave birth to another son, David Corbell, in May 1866.
Through the auspices of General Ulysses S. Grant, a general amnesty was signed into law by President Andrew Johnson in December 1868. Former Union officers supported pardoning Pickett, but a full pardon by Act of Congress was delayed until June 23, 1874, a year prior to Pickett's death.
The Picketts returned to Richmond. Unable to find suitable work and after declining offers that would take him away from his family, George Pickett turned to farming for several years before he accepted a lucrative offer to sell insurance for a New York company in Virginia. On Easter Sunday 1874, seven-year-old David Corbell Pickett, the second son of General and Mrs. Pickett, died of measles.
As an agent for the insurance company, George sold policies from his home and worked with insurance agents in other Virginia cities from whom he drew a commission. The life of an insurance agent was distasteful to the man who once led thousands of soldiers into battle, but he continued to work with the company until his death.
George Edward Pickett died July 30, 1875 from a liver abscess at the age of 50. He was buried in Norfolk, but his remains were disinterred and buried in Hollywood Cemetery in Richmond on October 24, 1875. Morethan 40,000 people lined the funeral route while another 5,000 marched in the funeral procession.
Widowhood
Sallie was totally devoted to her general, and spent the remainder of her life trying to preserve his legacy as a hero of the South. Alone, she moved to Washington, DC, after the general's death, and became a government clerk in the Federal Pensions Office.
Mrs. Pickett then undertook her greatest task – remolding herself into a popular writer and speaker. She wrote and spoke about the Battles of Gettysburg and the Monitor and the Merrimac, famous people she had met, stories of her youth in Nansemond County, Virginia, and numerous other topics.
In the summer of 1899, Sallie published her first book Pickett and His Men. It was claimed by some that she plagiarized Walter Harrison's book, Pickett's Men. Others say that her goal was to mold an independent spirit out of a flamboyant glory seeker. She presented the general as an affectionate, caring and admirable person, a man of classical tastes, simple and pure of heart. The book became a success.
Between 1899 and 1931, Sallie Pickett toured America many times; wrote for Cosmopolitan, McClures, and other popular magazines; and published more than half a dozen books. She had risen above poverty and was able to independently support her family.
Image: A Mature Sallie Pickett on Stage
This image was taken after 1910, about the
time she stopped touring as a speaker.
In 1911, Sallie's surviving son, George Edward Pickett II, an officer in the United States Army, contracted yellow fever and died at sea, while returning from military assignment in Manila, and was buried in Arlington National Cemetery. This threw her into a deep depression, and she never fully recovered.
In 1926, a visitor to Sallie's home described her as a frail, white-haired lady swallowed by a large chair amidst a disorderly array of boxes, faded photographs and documents, a house where velvet and silk cloth appeared to be thrown about carelessly.
Sallie outlived all the notables of the Civil War, and survived her husband by 56 years. In her books and lectures, she helped a new America understand those years of conflict between brothers, and aided in molding a new national identity. Although some challenged her memory, few were out to hurt her. To the world she represented the soldier's wife – heroic and self-sacrificing.
When Sallie Corbell Pickett died on March 22, 1931, the Ladies' Hollywood Memorial Association, which held title to the Confederate Soldiers' Section of Richmond's Hollywood Cemetery, denied the Pickett family permission to bury her beside her husband. She was instead buried in Arlington National Cemetery's Abbey Mausoleum.
The General had been laid to rest on Gettysburg Hill among his men, many of whom had originally been buried on the field at Gettysburg and had been reinterred in Hollywood Cemetery in 1872. In 1998, Mrs. General Pickett was finally laid to rest directly in front of the monument that had been erected over her husband's grave in 1888.
AUTHOR'S NOTE:
Many thanks to Billie Earnest for sharing her research into the Picketts with me. With her help, I have corrected several errors in this post.
SOURCES
George Pickett
LaSalle Corbell "Sallie" Pickett