Wife of Confederate General J.E.B. Stuart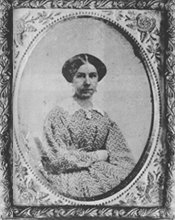 Flora Cooke was born in Missouri on January 3, 1836, the daughter of Virginia career Army officer Philip St. George Cooke. Educated at a private boarding school in Detroit, Flora met the dashing James Ewell Brown (JEB) Stuart while her father was commanding the 2nd U.S. Dragoons at Fort Leavenworth. His friends called him "Jeb." Stuart had recently graduated from West Point and was stationed on the Kansas frontier. As befitted the daughter of a colonel of cavalry, Flora was a skilled horsewoman, and she soon began going on long evening rides with Stuart.
The young officer was as taken with Flora as she was with him, and it did not take him long to propose. They became engaged less than two months after meeting. Stuart humorously wrote of his rapid courtship in Latin, "Veni, Vidi, Victus sum" (I came, I saw, I was conquered).
Although a gala wedding was planned for Fort Riley, Kansas, the death of Stuart's father on September 20 caused a change of plans, and the marriage on November 14 was small and limited to family witnesses.
At the beginning of the Civil War, Jeb was promoted to the rank of captain, but resigned from the U.S. Army on May 14, 1861, to join the Confederate Army, following the secession of Virginia. Trained officers, especially of cavalry, were so scarce that he was at once made a colonel. With very little delay, and formal training, his regiment was mustered into the Confederate Army.
Jeb's father-in-law, Philip St. George Cooke, was regarded as the most capable cavalry officer in the United States Army, and he gave his son-in-law the benefit of his experience and judgment. Upon learning that his father-in-law had turned his back on his native Virginia and would remain loyal to the Union, Stuart wrote to his brother-in-law, "He will regret it but once, and that will be continuously." The two never spoke again.
The Stuarts had three children: Flora, who died at the age of 5; Jeb Stuart, Jr., who was originally named for his paternal grandfather but was renamed after Cooke remained loyal to the Union; and Virginia Pelham, named in honor of John Pelham, Stuart's 24-year-old artillery commander who was killed in action at Kelly's Ford in March 1863.
Early in the war, Jeb Stuart established a public reputation for conducting daring reconnaissance raids in the enemy's rear. While these exploits were not militarily significant, they improved Southern morale. He was promoted to brigadier general and placed in command of the cavalry brigade in September 1861, and gained immortality for his so-called Ride Around McClellan during the 1862 Peninsula Campaign.
A promotion to major general followed on July 25, 1862, and he assumed command of the Cavalry Division of the Army of Northern Virginia, a post he held for the rest of his life.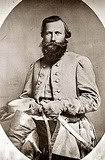 Image: General J.E.B. Stuart
On May 11, 1864, the Army of the Potomac's Cavalry Corps clashed with Fitzhugh Lee's division of the Army of Northern Virginia's Cavalry Corps a few miles north of Richmond at a place called Yellow Tavern. After a long hard fight, the men of General Williams Wickham's brigade began giving way during a determined attack by General George Custer's Michigan Cavalry Brigade. General Stuart dashed forward to try to rally his troopers and wasmortally wounded.
General Stuart was carried to the Richmond home of his brother-in-law, Dr. Charles Brewer. Word of his wounding reached Flora at Beaver Dam Station via messenger – the telegraph wires had been cut by Union General Philip Sheridan's cavalry. Flora and her two children raced by private train and reached Ashland, finding that the tracks had been torn up by Union troops.
A group of sympathetic wounded Confederate cavalrymen gave Flora their ambulance, which the group drove through a driving rainstorm. Throughout the journey, Flora received erroneous reports that her husband was doing well, only slightly wounded, giving her hope she would reach him in time.
Finding the bridge at the Chickahominy River destroyed, blocking them from easy access to Richmond, they forded the river a mile downstream delaying their arrival at the Brewer home until 11:30 p.m. General Stuart had died almost four hours earlier, receiving Confederate President Jefferson Davis as one of his last guests.
Stuart was 31, at the height of his fame and glory, and was known as the laughing cavalier. He had a zest for life, loved to sing, and always had a good time, but he could be serious when he needed to be. He was capable on the battlefield, and ably handled an infantry corps at Chancellorsville after General Stonewall Jackson received his mortal wound.
When General Robert E. Lee heard of Stuart's death, he wept. When Stuart fell, some of the spirit left the Army of Northern Virginia. Its Cavalry Corps would never be the same. Stuart will be forever the gallant young hero, struck down at the height of his fame, a symbol of the Confederacy.
That his energy was sometimes squandered on useless raids was but natural, considering the character of his forces, but in regard to his performances in the more exhausting and far more vital service of security and reconnaissance, General Johnston could ask, "How can I sleep unless he is on the outpost?" and General Lee could say, "He never brought me a false report." Stuart preserved under all circumstances the gaiety of a cavalry subaltern and the personal character of an earnest Christian, and the army regarded his loss as almost as heavy a blow to the Confederate cause as that of Jackson.
~Source: http://www.nndb.com/people/216/000097922/
Image: Memorial to Stuart at Yellow Tavern
Flora Stuart was only 28 years old. She would live almost sixty years after she lost her husband, but would never abandon her widow's clothing. Stuart would not have approved; the dashing cavalier, well known for his plumed hat and red lined cape, had always chided Flora for wearing dark-colors that did not accent what he saw as her natural beauty.
Flora remained true to the wishes expressed by her husband on his deathbed that his children "be educated South of the Mason and Dixon Line, and always… retain the right of domicile in the Confederate States."
Flora never remarried. She supported herself and her family as a teacher, eventually becoming headmistress of the Virginia Female Institute in Staunton – Virginia's oldest college preparatory school for girls. She served as its principal from 1880 until 1899. In 1907, the school was renamed Stuart Hall in her honor.
Flora Cooke Stuart died in Norfolk, Virginia, on May 10, 1923, from injuries sustained in a fall four days earlier. She was buried with great ceremony beside her general in Richmond's Hollywood Cemetery on May 12, 1923 – the 59th anniversary of her husband's death.
SOURCES
Jeb Stuart
Flora Cooke
Stuart Hall
J. E. B. Stuart
Rantings of A Civil War Historian