Wife of Patrick Henry
Image: Patrick Henry: American Patriot
Though he was not present for the signing of the Constitution, Patrick Henry was pivotal in galvanizing the Virginia colonists to action during the American Revolution. Along with Samuel Adams and Thomas Paine, he was one of the most influential advocates of the American Revolution, especially in his denunciations of corruption in government officials and his defense of historic rights.
On May 29, 1736, Patrick Henry was born at Studley, in Hanover County, Virginia, the second son of John Henry and his wife, Sarah Winston Henry, and one of eleven children. Two children died at young ages, leaving two sons and seven daughters in the family.

In 1754, sixteen-year-old Sarah Shelton married Patrick Henry at her family home, also known as Rural Plains. In 1755, Patrick and Sarah Henry's first child, Martha, was born at Pine Slash. From this marriage there were 5 other children: John (1757), William (1763), Anne (1767), Elizabeth (1769), and Edward (1771).
Sarah's dowry was a 600-acre tobacco farm in Hanover County named Pine Slash, a house, and six slaves. Patrick Henry's effort at farming there failed during the severe drought that afflicted Virginia. Fire destroyed the house and furnishings in 1757. Patrick sold their slaves and opened a store, but that business also failed.
In 1760, the Henrys were living above Hanover Tavern, which was owned by Sarah's father, and Patrick helped his father-in-law with the business. In his spare time, Patrick read law books and observed the proceedings in the Hanover County Courthouse, which was across the street from the tavern.
When he thought his self-study was sufficient, Patrick went to Williamsburg to be examined. In 1760, he was admitted to the bar and received his professional license to practice law, signed by George Wythe and John Randolph, and soon acquired a large country clientele.
Arguing the famed Parson's Cause in Hanover County in 1763, Patrick Henry proclaimed that a king who would veto a good and necessary law made by a locally elected representative body was not a father to his people but "a tyrant who forfeits the allegiance of his subjects." By all accounts Henry's oratory was captivating.
Patrick and Sarah Henry moved to Roundabout in Louisa County (six miles south of Hanover Courthouse) in 1764, and he practiced law in Spotsylvania and other counties within a horseback ride. He and Sarah finally became financially established.
In 1765, Patrick Henry was elected to the House of Burgesses from Louisa County. On May 29, he introduced a series of resolutions against the Stamp Act, and copies of his resolutions were published in newspapers throughout the colonies, which helped start the Revolution.
In 1771, Patrick Henry spent 600 pounds of his earnings to purchase Scotchtown Plantation – a farm about sixty miles from Williamsburg. Though not made of brick – the gentry usually lived in brick houses – it is a large house for the colonial period.
After the birth of their youngest child, Edward (Neddy), in 1771, Sarah's mental health suddenly began to decline. The colony of Virginia had just opened a lunatic asylum in Williamsburg, but its facilities were more like a prison than a hospital. Confined to a large cellar room and made as comfortable as possible, Sarah lived out her life at Scotchtown in the care of people who loved her.
During the few months between the First and Second Continental Congress, Henry returned to Virginia and organized a volunteer militia company for Hanover County, while also coping with the tragedy of Sarah Henry's puerperal psychosis, a severe mental illness that sometimes followed childbirth – an illness that never left her.
Though Sarah's death in February 1775 surely had a profound impact on him, Patrick Henry resumed an active leadership role in the Revolution, particularly at the second Virginia Convention at Richmond in March 1775. The Virginia delegates were divided between those who wanted only a peaceful solution and those who were ready to prepare for military resistance.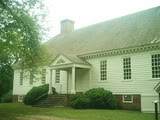 Image: Scotchtown Plantation
Patrick Henry led the call for preparedness and introduced a resolution to that effect. He delivered his "liberty or death" speech March 23, 1775, at St. John's Episcopal Church in Richmond. It was there that he helped spark a rebellion with fiery words impassioned by the volatile emotions that likely surrounded his wife's death. He won by no more than a half dozen votes.
The last paragraph of that speech:
Gentlemen may cry, Peace, Peace – but there is no peace. The war is actually begun! The next gale that sweeps from the north will bring to our ears the clash of resounding arms! Our brethren are already in the field! Why stand we here idle? What is it that gentlemen wish? What would they have? Is life so dear, or peace so sweet, as to be purchased at the price of chains and slavery? Forbid it, Almighty God! I know not what course others may take; but as for me, give me liberty or give me death!
Patrick Henry took his seat in the Second Continental Congress in May 1775, but he did not play a major part in its cautious deliberations. When Congress adjourned on August 1, Henry set out for home, never again to hold a continental or national office.
On the adoption of the constitution in 1776, he was elected the first governor of Virginia, and was re-elected in 1777 and in 1778. Not being eligible under the constitution for four years afterward, he returned to the legislature, but was again elected governor in 1784 and 1785, but in 1786 declined re-election.
After twenty-five years in Virginia's legislature, five conventions, and five exhausting terms as governor, Patrick Henry retired to Red Hill. He continued the practice of law, which he had resumed at the close of the Revolution with great success.
Because of her suffering and its impact on Patrick Henry, Sarah Shelton Henry is an unsung heroine of the Revolution. She heavily influenced one of the men who helped in the birth of the United States of America.
Patrick Henry died June 6, 1799 at his home at Red Hill Plantation, Virginia, at the age of 63.
SOURCES
Patrick Henry
Patrick Henry: Patriot
Places Associated With Patrick Henry
Friends of the American Revolution: Patrick Henry