Confederate Spy and Messenger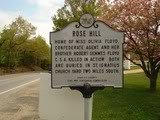 Image: Olivia Floyd Marker
One of the more fascinating figures during the Civil War was Miss Olivia Floyd. She lived at a plantation house known as Rose Hill in Charles County, Maryland. Rose Hill was built in 1730, and was the former home of Dr. Gustavus Richard Brown, a physician to George Washington. In later years, Rose Hill was purchased by Ignatius Semmes, who willed it to Olivia Floyd, her sister Mary and their brother Robert in 1843.
Annie Olivia Floyd was born on July 2, 1826 to David and Sarah Semmes Floyd. In early childhood, Olivia broke her back, and remained crippled her entire life because the break had never been set properly, but that did not stop her from assisting the Confederacy during the war. Within a short time after the war began, Miss Floyd became a spy and messenger for the South. She conveyed clothes, money, and letters through the lines.
On March 17, 1863, at the Battle of Kelly's Ford, while fighting as a member of J.E.B. Stuart's cavalry, her brother Robert was seriously wounded. He never recovered from his wounds, and died on April 3, 1863 at the residence of a Dr. Cooper in Fauquier County, Virginia, at the age of thirty-four. Following his death, Olivia became a more impassioned supporter of the Confederate cause. As a means of concealing money and documents for her duties as a messenger, she used a model of a wooden boat that her brother Robert had made.
During the fall of 1864, in October, Colonel Bennett H. Young and twenty other Confederate soldiers made a successful raid on the town of St. Albans, Vermont. Following the raid, Young and his men escaped with stolen money and horses, making their way into Canada, where they were arrested by Canadian authorities.
Union officials tried to extradite the soldiers and try them as spies. Young and his men were in fact Confederate soldiers who had escaped from a Union prisoner-of-war camp earlier. Their lives depended on proving that they were commissioned officers of the Confederate Army acting on official orders.
A message was sent to the South requesting a copy of their commissions. This message passed from Southern sympathizer to sympathizer, all the way to the state of Maryland. At Charles County, it finally reached Olivia Floyd.
The Union troops were suspicious of Miss Floyd, and just when she had received this message, Union soldiers were on their way to Rose Hill to search it. Looking for a place to hide the message, she thought of the pair of brass andirons, remembering that the brass balls at the top were hollow. She immediately placed the message in one of the hollow balls, not long before the Union soldiers arrived. Once there, the Union soldiers searched the house, and finding nothing, stopped in the parlor to sit and relax for a short time by the fire, resting their feet on the very andirons that contained the message.
Once the soldiers had gone, Olivia then retrieved the message, and hiding it in her hair, left Rose Hill. She soon arrived at the signal station at Popes Creek, Virginia, where the message was then sent to Richmond. The authorities there received the message in time to forward the commissions for Young and his men in time to save their lives.
After the war ended, Olivia Floyd sent the boat model and the andirons to Colonel Young. Many years later, Olivia was invited to attend a Confederate Reunion held in Louisville, Kentucky, as a personal guest of Colonel Bennett Young. At the gathering, Olivia was treated as an honored guest.
Image: Olivia Floyd Gravesite
Inscription:
In loving remembrance of
ANNIE OLIVIA FLOYD
Daughter of the Late
DAVID L. and SARAH SEMMES FLOYD
July 2, 1826
Dec 8, 1905
Olivia Floyd died at Rose Hill on December 8, 1905 and is buried at St. Ignatius Church at Chapel Point. She was 81 years old.
SOURCES
Rose Hill (Port Tobacco, Maryland)
Port Tobacco Archaeological Project