Civil War Nurse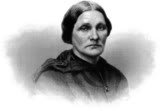 Mary Ann Ball was born on July 19, 1817, near Mount Vernon, Ohio. Her mother died when Mary Ann was just seventeen months old. Mary was sent to live with her grandparents, and when they died she went to live with her Uncle Henry Rodgers on his farm in Hamilton County, near Cincinnati. She received only a very basic education.
When Mary Ann was just sixteen she moved to Oberlin, Ohio, and possibly worked in a professor's home. She enrolled at Oberlin College, one of the few institutions of higher education open to women at that time in the United States, but did not graduate. She later returned to live with her uncle again, worked as a nurse, and assisted doctors in Cincinnati during the cholera epidemic of 1837.
In 1847, Mary Ann married Robert Bickerdyke, a sign painter and musician who was a widower with three children, and they had two boys of their own, Hiram and James. The couple moved to Galesburg, Illinois, in 1856. Robert died two years later, and their third child, Martha, died at the age of two a year after Robert's death.
Mary Ann was now a widow and needed to find a way to support her sons. Growing up on a farm, Mary Ann had the opportunity to learn about herbs and how to use them to make medicine, and she began using her botanical medicines to care for the sick in order to earn a living.
Her study of botanical medicine, which stressed the benefits of clean water, inhaling steam, wet compresses, herbal teas, healthy soups, and nature's water in fruits and vegetables – and above all cleanliness – is credited with saving more lives than inept physicians.
The Civil War
At the outbreak of the American Civil War, members of the Brick Congregational Church in Galesburg, Illinois, listened as a visiting pastor, the Reverend Dr. Edward Beecher (brother of Harriet Beecher Stowe), read a letter from a volunteer doctor stationed with the Union Army in Cairo, Illinois. The doctor, a Galesburg native, complained about the deplorable condition of the camp and hospitals.
The congregation responded with pledges of money and supplies to be used for their boys. A trustworthy, efficient volunteer, who would be acceptable to the military, was needed to deliver the supplies. Mary Ann, a forty-four-year old widow with two young sons, volunteered. The townsfolk of Galesburg promised to care for her children so Bickerdyke could deliver the supplies to Cairo.
Seeing the horrific conditions, Bickerdyke stormed through camp like a whirlwind, cleaning and sanitizing tents, setting up field kitchens and introducing army laundries. Where she found sick and wounded soldiers bedded on filthy straw in fetid tents, she had fresh straw spread and provided clean water and air. She had barrels cut in half so the men could bathe and dress in the clean clothes sent by the congregation.
Mary Ann set up huge kettles over raging fires, where she brewed hot soups, porridge, tea, and coffee. She baked bread in brick ovens, and bought and bartered for eggs, milk, and fresh vegetables from the local farmers, and prepared nutritious meals in field kitchens – establishing a makeshift army hospital for Northern soldiers.
After transforming the camp at Cairo, Bickerdyke felt compelled to remain, realizing that the work had just begun. She became hospital matron when a general hospital was organized there in November 1861, and spent the remainder of the war traveling with various Union armies.
For the next four years, Mother Bickerdyke continued her untiring efforts, following the armies of the western theater led by Generals John Logan, Sherman and Grant. She established more than 300 field hospitals to assist sick and wounded soldiers, and set up cooking and laundry operations at all established hospitals and camps.
From battle to battle, Mother fought constantly for the personal welfare of her boys. The nurse in gray calico was always there, changing a bloody dressing, serving a hot meal, cooling a feverish brow, carrying heated bricks to a bed, and quieting a soldier's fears.
She was given a pass for free transportation, and followed Grant's army down the Mississippi River, setting up hospitals as they were needed, and later accompanied the forces of General William Tecumseh Sherman on their march through Georgia to the sea. During battles, Bickerdyke commonly risked her own life by searching for wounded soldiers on the battlefield. After darkness fell, she carried a lantern into the disputed area between the two armies and retrieved wounded soldiers.
Generals Ulysses S. Grant and William Tecumseh Sherman admired Bickerdyke for her bravery and for her deep concern for the soldiers. She also earned a reputation for denouncing officers who failed to provide for their men. To assist the soldiers, Bickerdyke gave numerous speeches across the North, describing the difficult conditions that the soldiers experienced, and solicited contributions from the civilian population.
The only woman allowed in Sherman's camps became known simply as Mother Bickerdyke to thousands of Union soldiers, was famous for her ability to bypass bureaucracy, scrounge together supplies, and help run army field hospitals. Her talents ranged from brewing coffee for her boys to assisting in amputations. While traveling with the troops, Mary Ann suffered the same hardships and struggles as the soldiers did. The extreme cold weather, poor conditions, and lack of good food and supplies was hard on everyone.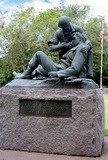 Image: Bickerdyke Monument
Theo Alice Ruggles Kitson, Sculptor
In 1906, a statue was made of Mary Ann kneeling beside a wounded soldier holding a cup to his lips. It now stands in the courthouse square at Galesburg, Illinois.
After the war ended, General Sherman asked Bickerdyke to participate in the Grand Review in the nation's capital, and she led an entire corps down Pennsylvania Avenue. Sherman offered her a seat on the reviewing stand as the parade passed by, but she refused. She preferred to pass out water to the soldiers after the parade.
Bickerdyke continued to help Northern veterans. She provided legal assistance to veterans seeking pensions from the federal government, and helped secure pensions for more than 300 Civil War nurses. She did not receive a pension until the 1880s, and then it was only twenty-five dollars per month.
On March 21, 1866, Mary Ann felt that her work for the army was done and she resigned. During 1866–67, she worked with the Chicago Home for the Friendless, and in 1867, in connection with a plan to settle veterans on Kansas farmland. She helped Civil War veterans begin new lives, and due to her efforts, General Sherman authorized the settlers to use government wagons and teams to transport the belongings of the veterans to their new homes.
With backing from the Kansas Pacific Railroad, Mary Ann opened a boarding house in Salina, Kansas. She had many visitors at the hotel, but couldn't bring herself to charge those who were unable to pay, and the railroad took the hotel away from her in 1869.
Mary Ann was very upset about that, and decided to leave Kansas for New York. She had been asked to help clean up the slums, and in 1870 she went to New York City to work for the Protestant Board of City Missions. While Mary Ann was in New York her sons started a farm on the land she had claimed for them in Great Bend, Kansas, and they now wanted her to come and live with them. She decided to give up her work in New York, and moved back to Kansas in 1874.
But her hard work was not over. When locusts destroyed the crops that summer, Mary Ann came to the rescue again. She made many trips and gave hundreds of speeches asking for help for the farmers, and returned with 200 carloads of grain, food and clothing.
All of this took its toll on her health, and she soon became very tired. But Kansas residents never forgot what she had done for them. A portrait of her was painted for the state capitol, and Topeka planned a great banquet in Mary Ann's honor and soldiers came from all over. It was a wonderful occasion for her, but she became ill that winter, and couldn't get her strength back.
Her doctor suggested that a warmer climate might improve her health, and in 1876, Bickerdyke moved to San Francisco, where she secured a position at the U.S. Mint. She devoted considerable time to the Salvation Army and similar organizations. She worked tirelessly on behalf of Civil War veterans, making numerous trips to Washington to press pension claims, and was herself granted a pension of $25 a month by Congress in 1886.
Mary Ann enjoyed living in California, but her son James persuaded her to come and live with him in Bunker Hill, Kansas, where he was principal of the high school. She returned to Kansas in 1887. On July 9, 1897, a statewide celebration for Mother Bickerdyke Day was planned. Eighty-year old Mary Ann enjoyed it very much.
During the holidays in 1899, she went to visit relatives, and on Thanksgiving Day there was a large family reunion. She went home around Christmastime, but had caught a cold that she couldn't shake. The following year, in early November Mary Ann had a slight stroke.
Mary Ann Bickerdyke passed away peacefully on November 8, 1901, in Kansas. Her remains were transported back to Galesburg, Illinois, where she was buried next to her husband.
SOURCES
Mary Ann Bickerdyke
Mary Ann Ball Bickerdyke
The Mother of the Union Army
Mary Ann "Mother" Bickerdyke
Wikipedia: Mary Ann Bickerdyke
Mary Ann Bickerdyke: Mother to the Union Boys