Confederate Civil War Spy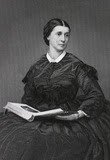 Early Years
Born in Port Tobacco, Maryland, as a teenager Rose O'Neal moved from her family's Maryland farm to her aunt's fashionable boardinghouse in Washington, DC. Personable, intelligent, and outgoing, she adapted easily to the social scene of the capital, and people in Washington's highest circles opened their doors to her.
At the age of 26, Rose disappointed an army of suitors by marrying 43-year-old Dr. Robert Greenhow, a wealthy and learned man with whom she had four daughters. In 1850, the couple left Washington and traveled west to pursue the promise of great financial gain. Instead, an injury led to the early death of Dr. Greenhow in San Francisco.
A popular Washington widow and hostess when the Civil War began, Mrs. Greenhow moved easily in the social circles of the nation's capital. Among her friends were presidents, senators, high-ranking military officers, and less important people from all walks of life. One of her closest companions had been John C. Calhoun, whose political instruction engendered Rose's loyalty to Southern interests.
First Battle of Bull Run
Rose Greenhow used her ample charms to pass along to Confederate officials information about the defenses of Washington and Union troop movements. She is credited with providing General P.G.T. Beauregard with information resulting in a Union rout at the First Battle of Bull Run in July 1861.
An 1863 letter written by General Beauregard confirmed that on July 10, Greenhow sent an attractive young woman named Betty Duvall to Beauregard's post at Fairfax Court House, just a few miles from Bull Run, bearing a message concerning Union General Irvin McDowell's preparation to advance on the Confederacy six days later. General Milledge L. Bonham of South Carolina received the message and transmitted it directly to Beauregard, who immediately began preparations to undermine McDowell's advance.
On the July 16, Greenhow sent a second message to Beauregard, who was by then encamped with the army near Bull Run. With the help of George Donellan, a former Interior Department clerk, Greenhow sent Beauregard an encoded dispatch containing the news that, as Beauregard later wrote, "the enemy – 55,000 strong, I believe – would positively commence that day his advance from Arlington Heights and Alexandria on to Manassas [near Bull Run], via Fairfax Court House and Centerville."
This news Beauregard forwarded by telegraph to President Jefferson Davis, who ordered General Joseph E. Johnston, stationed 50 miles away, to bring his troops into the area as reinforcements. While awaiting Johnston's arrival, Beauregard shifted his own troops to meet the advancing federals, and on July 21, the Union suffered a stunning and humiliating defeat.
Greenhow continued to transmit intelligence information to the Confederate army. Soon, her activities led Federal officials to become suspicious. By late July 1861, Allan Pinkerton, the head of the newly formed Secret Service for the Federal government, ordered surveillance of the Greenhow home.
Under House Arrest
The following month, Pinkerton placed Greenhow under house arrest and stationed guards inside the house. Although Greenhow destroyed some papers, enough was uncovered to incriminate her and heap suspicion upon some prominent Unionist figures that came under her influence. One of these was the powerful senator from Massachusetts, Henry Wilson, who seems to have been one of Greenhow's primary sources and perhaps her lover.
Word spread quickly that Federal agents had captured a major figure in Confederate espionage, and on August 26, both the New York Times and the New York Herald reported Greenhow's arrest.
Rose O'Neal Greenhow Letter to William Seward
November 1, 1861:
Sir – For nearly three months I have been confined, a close prisoner, shut out from air and exercise, and denied all communication with family and friends…. I therefore most respectfully submit, that on Friday, August 23d, without warrant or other show of authority, I was arrested by the Detective Police, and my house taken in charge by them; that all my private letters, and my papers of a life time, were read and examined by them; that every law of decency was violated in the search of my house and person, and the surveilance over me.
…during the first days of my imprisonment, whatever necessity forced me to seek my chamber, a detective stood sentinel at the open door. And thus for a period of seven days, I, with my little child, was placed absolutely at the mercy of men without character or responsibility; that during the first evening, a portion of these men became brutally drunk, and boasted in my hearing of the 'nice times' they expected to have with the female prisoners…
You have held me, sir, to man's accountability, and I therefore claim the right to speak on subjects usually considered beyond a woman's ken, and which you may class as 'errors of opinion.' I offer no excuse for this long digression, as a three months' imprisonment, without formula of law, gives me authority for occupying even the precious moments of a Secretary of State.
My object is to call your attention to the fact: that during this long imprisonment, I am yet ignorant of the causes of my arrest; that my house has been seized and converted into a prison by the Government; that the valuable furniture it contained has been abused and destroyed; that during some periods of my imprisonment I have suffered greatly for want of proper and sufficient food….
In making this exposition, I have no object of appeal to your sympathies, if the justice of my complaint, and a decent regard for the world's opinion, do not move you, I should but waste your time to claim your attention on any other score. I could easily have escaped arrest, having had timely warning. I thought it impossible that your statesmanship might present such a proclamation of weakness to the world, as even the fragment of a once great Government turning its arms against the breasts of women and children. You have the power, sir, and may still further abuse it.
You may prostrate the physical strength, by confinement in close rooms and insufficient food – you may subject me to harsher, ruder treatment than I have already received, but you cannot imprison the soul. Every cause worthy of success has had its martyrs…. The 'iron heel of power' may keep down, but it cannot crush out, the spirit of resistance in a people armed for the defense of their rights; and I tell you now, sir, that you are standing over a crater whose smothered fires in a moment may burst forth….
Greenhow remained under house arrest with her youngest daughter, 'Little Rose,' until she was transferred with her daughter to the Old Capitol Prison on January 18, 1862. For five months, she and her daughter remained at the Old Capitol Prison, but Rose continued to provide information to Southern loyalists. This prompted Federal authorities to banish her to the South, where they presumed she could do less harm. On June 2, the New York Times recorded her release and removal.
Deported to Richmond
Greenhow was deported to Richmond, where cheering crowds greeted her. That summer, CSA President Jefferson Davis sent her as an unofficial Confederate emissary to England, where she wrote her memoirs, My Imprisonment and the First Year of Abolition Rule at Washington. Her book cemented her exploits in the annals of Civil War lore and legend.
After some time, Rose yearned to return to America, and with $2000 in gold in her possession, Greenhow boarded the blockade-runner Condor, bound for the North Carolina coast in September 1864. At the mouth of the Cape Fear River a Union ship gave chase, forcing the Condor aground on a sandbar early in the morning. Fearing capture, Rose persuaded the captain to send her and two companions ashore in a lifeboat, but in stormy seas the small vessel overturned.
Within moments, Rose O'Neal Greenhow, weighed down by her cache of gold, drowned. After her body was recovered the following day, she was lay in state in a hospital chapel in Wilmington with a Confederate flag for a shroud. She was buried with military honors in Oakdale Cemetery in Wilmington, North Carolina.
SOURCES
Rose O'Neal Greenhow
The Rebel Rose of the Civil War
Wikipedia: Rose O'Neal Greenhow