The Year: 1692
On May 12, 1692, warrants were issued to apprehend and bring before the magistrates, "Alice Parker, the wife of John Parker, and Ann Pudeator, widow of Salem, widow." Alice Parker, commonly called Elsie, was the wife of a mariner. Perhaps she had been prone to take melancholy views of the dangers to which seafaring people are exposed.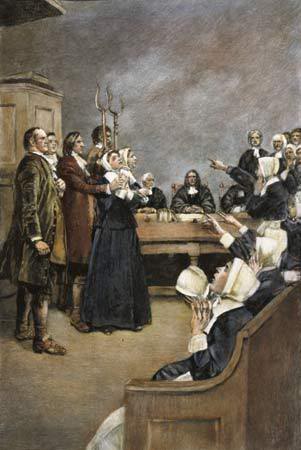 < A Witchcraft Trial Illustration by Howard Pyle (1853–1911) Samuel Shattuck of Salem seems to have been very active in getting up charges of witchcraft against persons in his neighborhood, and on the most absurd and frivolous grounds. Alice Parker had made a friendly call upon his wife, and not long after, one of his children fell sick. He suspected that it was "under an evil hand."
The Trial
Alice Parker, hearing that Shattuck had been circulating suspicions against her, went to his house. An angry altercation took place between them, and he gave his version of the affair in evidence. There was no one to present the other side. But the whole thing has a one-sided, irrelevant character, in no way bearing on witchcraft. All the gossip, scandal, and tittle-tattle of the neighborhood for twenty years back, in this case as in others, was dug up, and allowed as evidence, however remote from the questions belonging to the trial.
The Testimony of John Westgate
John Westgate was at Samuel Beadle's tavern one night with some companions, among them John Parker, Alice's husband. She disapproved of her husband's spending his evenings in such company in a barroom, and felt it necessary to put a stop to it, if she could.
Westgate says that she
"came into the company, and scolded at and called her husband, whereupon I, took her husband's part, telling her it was an unbeseeming thing for her to come after him to the tavern, and rail after that rate. With that she came up to me, and called me rogue, and bid me mind my own business, and told me I had better have said nothing."
He goes on to state, that, returning home one night some time afterward, he experienced an awful fright. "Going from the house of Mr. Daniel King, when I came over against John Robinson's house, I heard a great noise… and there appeared a black hog running towards me with open mouth, as though he would have devoured me at that instant time." In the extremity of his terror, he tried to run away from the awful monster; but, as might have been expected under the circumstances, he tumbled to the ground.
"I fell down upon my hip, and my knife run into my hip up to the haft. When I came home, my knife was in my sheath. When I drew it out of the sheath, then immediately the sheath fell all to pieces." He testified that after he got up from his fall, his stocking and shoe was full of blood, and that he was forced to crawl along by the fence all the way home. The hog followed him, and never left him until he got home.
In view of all these things, Westgate concludes his testimony thus:
"Which hog I then apprehended was either the Devil or some evil thing, not a real hog; and did then really judge, or determine in my mind, that it was either Goody (Goodwife) Parker or by her means and procuring, fearing that she is a witch."
The Deposition of Martha Dutch
This deponent testified and saith, that, about two years last past, John Jarman, of Salem, coming in from sea, I (this deponent and Alice Parker, of Salem, both of us standing together) said unto her, 'What a great mercy it was, for to see them come home well; and through mercy,' I said, 'my husband had gone, and come home well, many times.'
And I, this deponent, did say unto the said Parker, that 'I did hope he would come home this voyage well also.' And said Parker made answer unto me, and said, 'No: never more in this world,' which came to pass as she then told me; for he died abroad, as I certainly hear."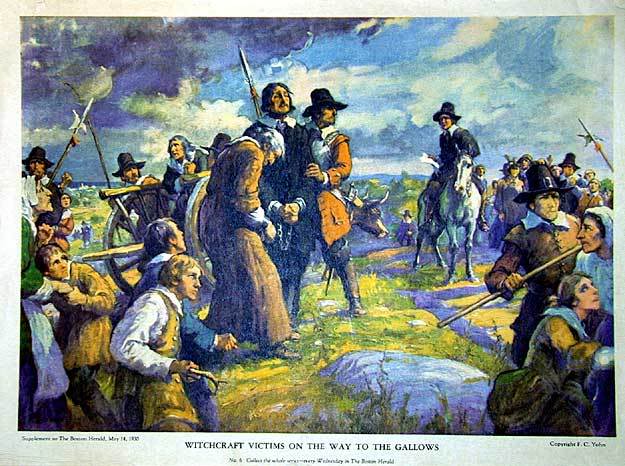 Witchcraft Victims on the Way to the Gallows
The Execution
On the 9th of September, the Court met again; and Martha Corey, Mary Easty, Alice Parker, Ann Pudeator, Dorcas Hoar, and Mary Bradbury were tried and condemned; and, on the 17th, Margaret Scott, Wilmot Reed, Samuel Wardwell, Mary Parker, Abigail Faulkner, Rebecca Eames, Mary Lacy, Ann Foster, and Abigail Hobbs received the same sentence. Those in italics were executed on September 22, 1692.
On October 17, 1710, the General Court, passed an act, that "the several convictions, judgments, and attainders be, and hereby are, reversed, and declared to be null and void." They ought to have extended the act to all who had suffered; but they confined its effect to those in reference to whom petitions had been presented.
Mary Parker's family received 8 pounds for her wrongful conviction.
SOURCES