Civil War Nurse for the Union Army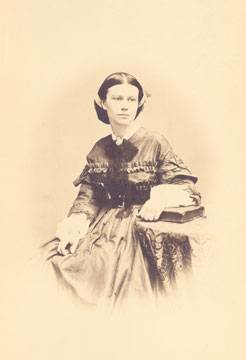 During the first year of the Civil War, family responsibilities kept Margaret Breckinridge at home, but she could not be satisfied to remain with the Home Guards. She wanted to be close to the scene of action, and was determined to become a hospital nurse. Her anxious friends worried that her slender frame and excitable temperament could not bear the stress and strain of hospital work, but she had made up her mind.
Childhood and Early Years
Margaret Elizabeth Breckinridge was born in Philadelphia on March 24, 1832. Her paternal grandfather was John Breckinridge of Kentucky, once Attorney General of the United States. Her mother died when Margaret was only six years old, at which time she and her sister Mary went to live with their maternal grandparents at Princeton, New Jersey. Margaret had a genuine love of study, an active intellect and a very retentive memory. When her school education was over, she continued her studies on her own.
In 1852, her sister Mary married Peter Porter of Niagara Falls, New York, where Margaret found a happy home. There was genuine love between the sisters. Mary Porter died of cholera in 1854, after an illness of only a few hours. Margaret had left her in perfect health only a few days earlier. The shock was so terrible that for many years she could not speak her sister's name without deep emotion.
After the Civil War began, Margaret worked at home packing supplies for soldiers and writing letters and articles, such as "A Word about the War" for the Princeton Standard, in an effort to bring to light the pressing needs of soldiers and call upon what she saw as the duty of women in war time.
Hospital Nurse
In April 1862, Miss Breckinridge set out on her own for Lexington, Kentucky, where she served briefly as a volunteer hospital nurse. With her slight form, her bright face, and her musical voice, she seemed a ministering angel to the sick and suffering soldiers, while her sweet womanly purity and her tender devotion to their wants made her almost an object of worship among them.
A guerrilla raid by John Hunt Morgan brought her face to face with the realities of war, and soon after Confederate General Kirby Smith gained possession of Lexington and its neighborhood for about six weeks, but Miss Breckinridge aired her loyal sentiments and gave what help she could to Unionists.
As soon as Kentucky was freed from rebel invaders, Miss Breckinridge went on to St. Louis to spend the winter with her brother. As soon as she arrived, she began to visit the hospitals in the city. She wrote:
I shall never be satisfied till I get right into a hospital, to live till the war is over. If you are constantly with the men, you have hundreds of opportunities and moments of influence in which you can gain their attention and their hearts, and do more good than in any missionary field.
Hospital Boats
But her chief work was on the hospital boats that were sent down the Mississippi River to bring up the sick and wounded from the posts below. She made two excursions of this kind. These boats went down the river empty unless they chanced to carry companies of soldiers to rejoin their regiments, but they returned crowded with the sick and dying, who were badly in need of nursing. Several of the nurses broke down under this arduous and difficult service, but Breckinridge congratulated herself that she had held out to the end.
Her great power of adaptation served her well. She could suit herself to the need of the moment, and was equally at home in making tea and toast for the hungry, dressing ghastly wounds for the sufferers, and in singing hymns and talking of spiritual things with the sick and dying. She was warned many times that she must take care of herself, but she did not see the need.
Early in March, 1863, she returned to St. Louis, expecting to make another trip down the river, but disease were already debilitating her delicate constitution. She decided to go east for a rest, intending to return in the autumn to one of the Western hospitals and devote herself to that work while the war lasted.
Early in June, Miss Breckinridge reached Niagara Falls, where she remained for a month. For a year, she struggled against disease and weakness, longing all the time to be at work again, making vain plans for the time when she should be "well and strong, and able to go back to the hospitals."
Hospital Training
Miss Breckinridge went in May 1864 to the Episcopal Hospital in Philadelphia to gain more experience in nursing, especially in surgical cases. She went to work with her usual energy and promptness, following the surgical nurse every day through the wards, learning the best methods of bandaging and treating various wounds.
In early June, Miss Breckinridge had an attack of erysipelas (a skin infection), which was not considered alarming. Then came news of the fighting at Richmond and of the probability that her brother-in-law Colonel Peter Porter had been killed. Her friends concealed it from her until they knew for sure, and the news of his death hit her hard.
She went to Baltimore to join Colonel Porter's grief-stricken family. After a week's rest in Baltimore, she proceeded with them to Niagara Falls, but the night after her arrival she became gravely ill, and it was soon evident that she would not recover from the extreme exhaustion she was suffering. For five weeks her life hung trembling in the balance.
Margaret Breckinridge died at Niagara Falls on July 27, 1864.
SOURCES
Woman's Work in the Civil War
Presbyterians and the Civil War: Margaret Elizabeth Breckinridge