Women in Art: 19th Century Sculptor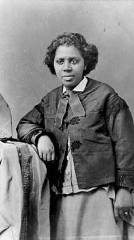 Edmonia Lewis was an American sculptor who created beautiful art and received great acclaim. In a world which did not encourage women of color, through incredible determination and sense of purpose, Lewis became the first professional African American and Native American sculptor, and often depicted African and Native peoples in her work. Among her best-known sculptures are Minnehaha, Charles Sumner, Phillis Wheatley and Abraham Lincoln.
Early Years
Edmonia Lewis' 1865 passport application states that she was born on July 4, 1844 in Greenbush, New York. Her father was a free black of West Indian lineage. Edmonia often said she was given the name Wild Fire by her mother, who was an excellent weaver and craftsperson of Native American descent.
Edmonia described her mother as "a wild indian… born in Albany… of copper color and with straight black hair… who wandered with her people, whose habits she could not forget." Her mother was rumored to be part African as well. Inspiration for much of Edmonia's art came from her ethnic background.
When Edmonia was around nine years old, both of her parents died within a year of each other. Lewis and her brother Samuel, twelve years older, lived with their mother's sisters for the next three years. Edmonia and her aunts sold Ojibwe baskets and other crafts to tourists visiting Niagara Falls, Toronto and Buffalo.
Samuel Lewis west for the Gold Rush. He settled in Bozeman, Montana and became wealthy as a gold prospector and real estate investor. Samuel arranged for his sister to attend a local grammar school and later paid Edmonia's tuition to New York Central College, a Baptist abolitionist institution. Edmonia was rebellious and did not learn English well.
In 1859, Samuel arranged for Edmonia to attend the Young Ladies Preparatory Department at Oberlin College near Cleveland, Ohio. Founded by abolitionists in 1835, Oberlin was the first higher learning institution in the nation to admit women and people of differing ethnicities. There her artistic talent emerged.
Disturbing Incident
In 1862, an incident occurred between Edmonia Lewis and two classmates at Oberlin, Maria Miles and Christina Ennes. The three women, who all boarded in the home of Oberlin trustee John Keep, planned to go sleigh riding with some young men later that day. Before the sleigh ride Lewis served her friends a drink of spiced wine.
Shortly after, Miles and Ennes fell severely ill. Doctors examined them and concluded that the two women had been poisoned. For a time it was not certain that they would survive. Days later, it became apparent that the two women would recover; therefore, the authorities took no action.
However, townspeople took matters in their own hands. Walking home alone one night, Lewis was dragged into an open field by unknown assailants and was beaten so severely that she was bedridden for weeks. Those responsible for her injuries were never found.
Due to the outrage in the town authorities felt obligated to arrest her, and Edmonia Lewis was put on trial for the poisoning of her classmates. She was defended in court by John Mercer Langston, an Oberlin graduate and the first African American admitted to the Ohio bar, and she was found not guilty.
Edmonia Lewis left Oberlin before completing her degree. With her brother's financial help, she moved to Boston in 1863 to study with master sculptor Edward Brackett. John Keep gave her a letter of introduction to abolitionist leader William Lloyd Garrison. Through him, she met many wealthy and influential Boston abolitionists, including Lydia Maria Child. Lewis crafted her own sculpting tools and sold her first piece, a sculpture of a woman's hand, for $8.
Career in Art
Lewis' dream was to work and study in Italy, and her first big break came in 1864. Her first bust was of Colonel Robert Gould Shaw, the white Bostonian who had been killed the previous year while leading an African American regiment in the Battle of Fort Wagner, South Carolina in the Civil War.
She sold 100 plaster copies of the Shaw bust at the Soldier's Relief Fair. With those proceeds and some help from her brother, Lewis moved to Rome in 1865. Because of the abundance of marble and skilled stonecutters, many American sculptors were attracted to Rome, including many women. Harriet Hosmer, Margaret Foley, Emma Stebbins and Anne Whitney helped establish a place for women in the field of sculpture. Lewis was readily accepted into this community.
She became friends with the famous artists and writers living in Rome at that time, including Nathaniel and Sophia Hawthorne, Henry Wadsworth Longfellow and Harriet Beecher Stowe. Established sculptor Hiram Powers gave Lewis space in his studio. She was 21 years old.
Lewis spent most of her career in Rome, where she began to work in marble. Her studies there contributed to her neoclassical techniques and subject matter. For instance, she presented people in her sculptures as draped in robes rather than in contemporary clothing.
To dispel her own fear that people would not believe she was capable of such work, Edmonia carved her own marble early in her career. Her contemporaries usually modeled a conceptual sculpture, then let Italian artisans carve the marble. She created her first emancipation statue, The Freedwoman and Her Child, then she started on a model for The Morning of Liberty.
In 1866, famous American actress Charlotte Cushman financed Lewis' first full-scale marble work, The Wooing of Hiawatha, which was inspired by Longfellow's popular poem, "The Song of Hiawatha". Cushman purchased the sculpture and donated it to the Boston YMCA, hoping to draw attention to Lewis talent.
An article in the Athenaeum, telling the story of Lewis' nomadic childhood helped raise interest in the piece, as well as the companion sculpture, The Marriage of Hiawatha. While Longfellow was in Rome, she studied his face, then sketched him and later sculpted a bust of him.
Edmonia finished another freedom sculpture Forever Free in 1867 and sent it to wealthy abolitionist Samuel Sewall in Boston. She was honored the following year when the sculpture was presented to Reverend Leonard Grimes, a leading black abolitionist. During this time, Edmonia met the acclaimed woman physician Harriot Kezia Hunt, who commissioned a life-size statue of Hygeia for her future grave in Mt. Auburn Cemetery in Cambridge, Massachusetts.
Lewis became one of the predominant sculptors in Rome. Her work sold for large sums, she won high commissions and her studio became a fashionable place for tourists to visit. In 1873 an article in the New Orleans Picayune stated, "Edmonia Lewis had snared two 50,000 dollar commissions." In the summer of 1873, Lewis was the first internationally renowned woman sculptor to exhibit in San Francisco and San Jose, where she won significant praise and sold several pieces.
Image: The Marriage of Hiawatha
Edmonia Lewis, 1872
One of a series of scenes inspired by Henry Wadsworth Longfellow's poem The Song Of Hiawatha, this is one of several sculptures which interpret Miss Lewis' ethnic heritage.
Lewis spent the year 1874 working on what would become her greatest triumph, The Death of Cleopatra, which portrays Cleopatra after she is bitten by an asp. It was unveiled at the Philadelphia Centennial Exposition in 1876, but did not sell like her smaller works. She later exhibited it at the Chicago Interstate Exposition in 1878. It again garnered much attention, but still did not sell, so she put it into storage.
Over the years, this enormous piece (Cleopatra was 63″ x 31-1/4″ x 46″ and 3015 pounds) was lost. It turned up first in a Chicago saloon, then as a grave marker for a racehorse named Cleopatra, and finally rescued from a salvage yard by a fire inspector in 1988. In 1995, it was restored to its glory and placed at the Smithsonian American Art Museum.
A testament to Lewis' renown as an artist came in 1877, when former U.S. President Ulysses S. Grant commissioned her to do his portrait. He sat for her as a model and was pleased with her finished piece.
In 1887, famed African American abolitionist Frederick Douglass visited Lewis in Rome, and she showed him and his second wife Helen Pitts Douglass around the city and Naples. He later described her as "cheerful and happy and successful." Most of the American artists living in Rome had returned to the U.S., but Lewis loved Rome and continued to live there.
In the late 1880s, the neoclassical genre became less popular, and Lewis' popularity declined. She continued to work in marble, increasingly creating altar pieces and other works for Roman Catholic patrons. In 1893, she exhibited some pieces at the World's Columbian Exposition in Chicago and at the Atlanta World's Fair in 1895, then disappeared from public view.
Lewis never married and had no known children, and the events of her later years are not known. For decades, the year of her death was speculated to be 1911 in Rome. An alternative view held that she died in Marin County, California and was buried in an unmarked grave in San Francisco. However, recent scholarship reveals that she lived in the Hammersmith area of London, England.
Edmonia Lewis died on September 17, 1907 in the Hammersmith Borough Infirmary in London.
Edmonia Lewis was the first African American/Native American female sculptor – and was the first such artist to celebrate her racial identity. Her fame and artistic achievement shocked and mortified those who claimed that African Americans lacked the capacity for intelligence and fine art. Her work has been criticized for the Caucasian look of many of her female figures.
SOURCES
Wikipedia: Edmonia Lewis
About.com: Edmonia Lewis