Women in Religion: Early American Religious Leader
Image: Hutchinson On Trial
Puritan leaders called Anne Hutchinson and her supporters Antinomians—individuals opposed to the rule of law. Puritans saw her as a challenge to their male-dominated society. Tried for sedition, she was also exiled as a danger to the colony. She lived in Rhode Island for a time and then moved to New Amsterdam, where she was killed in 1643 during a conflict between settlers and Native Americans.
Anne Marbury was born in Alford England, in July 1591, the daughter of Francis Marbury, a deacon at Christ Church in Cambridge. Anne's father believed that most of the ministers in the Church of England hadn't received the proper training for their position, and he said so. He was promptly arrested and spent a year in jail for his subversive words of dissent. But he wasn't deterred, and he was arrested several more times.

So it Is no surprise that Anne developed an interest in religion and theology when she was very young, and she wasn't afraid to ask questions about faith and the Church. Anne was home-schooled, and read from her father's library, where she found there were as many questions about faith as there were answers. In 1605, she moved with her family to London.
At the age of 21, Anne married Will Hutchinson, a prosperous cloth merchant. They returned to Alford, and Anne took on the role of housewife and mother. The couple considered themselves part of the Puritan movement, and they followed the teachings of the Puritan preacher John Cotton.
Anne bore 15 children and learned midwifery, a skill that entitled a woman to special respect and esteem. She also maintained her interest in theology. At a time when Puritans could not worship freely in England, they chose to follow the Reverend Cotton when he emigrated to Boston in 1633.
Anne and William and their children were among the 200 passengers who arrived at Massachusetts Bay Colony aboard the Griffen in the fall of 1634, in search of a place where they could worship freely. The Hutchinsons bought a house in Boston and a 600-acre farm. Anne received a warm welcome at first. Bostonians appreciated her skill as a midwife.
Bible Study
When the men of her church formed Bible study groups after church, Anne invited her female friends and neighbors to her home to discuss the Bible and the teachings of the local ministers. These ministers taught their parishioners that they could only find God by following the teachings of the Bible, and that only they—the ministers—could interpret the Bible correctly.
The Puritans interpretation of freedom of religion meant only that they would tolerate the neighboring colonies and their freedom to worship in any way they saw fit. John Winthrop and the rest of the founders dreamt of a settlement where freedom to worship meant you did not think or do unless you were acting in accordance to the strictest interpretation of the Bible. The freedom to worship, yes, but not the freedom to think.
America's First Female Religious Leader
At her meetings, Anne stated that she believed anyone could communicate directly with God—without the help of ministers or the Bible. Anne, who was very intelligent at a time when women were not encouraged to develop their minds, was soon offering her views on a variety of topics.
Her meetings became very popular, and soon men began to support her—important men like Sir Henry Vane, who would later be elected governor of the colony. An eloquent speaker, she began to draw large crowds of women and men.
By the summer of 1636, the Puritans began to view her as a threat. Small women's prayer groups were allowed by law, but large groups listening to the teachings and opinions of one individual leader were considered disorderly. The Puritans believed that women should obey men at all times, and that they should be forbidden to teach religion.
As her following grew, the magistrates decided that she was a dangerous woman who must be stopped. The laws of Massachusetts Bay were based on biblical teachings, and the colony's leaders took seriously Paul's commandment that women be silent in public meetings. But Anne's supporters insisted that her meetings were private gatherings.
On Trial for Heresy
In August of 1637, Anne Hutchinson was condemned by a conference of ministers. She was charged her with sedition for undermining the authority of the ministers and heresy for expressing religious beliefs that were different from those of the colony's religious leaders.
She was then tried by the General Court, the first female defendant in a Massachusetts court. Though she was 47, pregnant, and exhausted, she stood tall in the courtroom and bravely faced her accusers—forty-nine well-educated and powerful leaders of the Massachusetts Bay Colony, presided over by Governor John Winthrop. There was no lawyer to defend her.
For nearly all of the first day of her trial, Winthrop was the only accuser who spoke. Hutchinson, he said, had held meetings that were "not tolerable" in the sight of God, and she had stepped beyond the bounds of what was allowed for women.
But she used the Bible and the men's own words to skillfully defend herself. She stated that holding meetings in the home to discuss religion had been a common Puritan practice in England. She told them that God had spoken to her directly, and that only God could be her judge. This infuriated the Puritans—God would not speak to a woman!
But in the end, the verdict was against her. She was banished from—forced to leave—Massachusetts Bay Colony on March 22, 1638, and labeled a woman not fit for our society.
With her family and 60 followers, Anne left for the more tolerant Providence Plantation in Rhode Island, founded by Roger Williams. She lived first at Aquidneck, Rhode Island.
In September 1638, Governor John Winthrop noted in his journal that Anne Hutchinson had delivered a stillborn, misshapen child. In the seventeenth century, stillborn children and children with birth defects were called monstrous births, and were believed to represent either God's displeasure or the devil's influence over the mother.
After her husband died, Anne moved to Long Island in New Amsterdam, where she and five of her children were killed in an Indian raid during an attack by Native Americans in September 1643.
America's First Women's Rights Activist
Anne Marbury Hutchinson was brought down by the contemporary mores surrounding the role of women in Puritan society. She had not succeeded in changing the laws of her time, but her courageous actions helped set the stage for an America in which religious freedom became a reality.
In 1922, a statue was erected in front of the State House in Boston. It depicts Anne Hutchinson and her daughter Susannah, the only survivor of the Native American conflict in which her mother and siblings died. In 1945, the legislature voted to revoke Anne's banishment.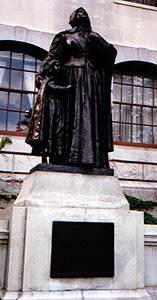 Anne Hutchinson Memorial
The inscription reads:
In Memory of
Anne Marbury Hutchinson
Baptized at Alford
Lincolnshire England
20 – July 1595 (sic)
Killed by the Indians
At East Chester New York 1643
Courageous Exponent
Of Civil Liberty
And Religious Toleration
Today Anne Hutchinson is remembered as the first American woman to fight publicly for religious freedom and for women's rights—a brave and principled woman who had the courage to speak her mind freely in a male hierarchy that allowed women no voice.
As I understand it, laws, commands, rules and edicts are for those who have not the light which makes plain the pathway.
~Anne Hutchinson
SOURCES
Anne Marbury Hutchinson
Anne Hutchinson Banished