Female Soldier in the Civil War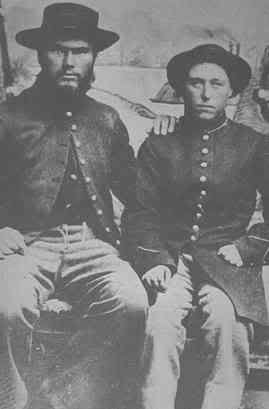 In 1862, Jennie Hodgers was living in Belvidere, Illinois. As the Civil War escalated, in July of 1862, President Abraham Lincoln sent out a call for an additional 300,000 men to serve in the Union Army. Nineteen-year-old Jennie Hodgers wanted to help her country.
Image: Jennie Hodgers (right) as Albert D.J. Cashier
Jennie Hodgers was born in Clogherhead, Ireland, on Christmas Day, 1844. She sailed to America as a stowaway and settled in Belvidere, Illinois. Little is known about her early life because her true identity was not discovered until a few years before her death. According to later investigation by the administrator of her estate, she was the child of Sallie and Patrick Hodgers.
On August 6, 1862, Jennie Hodgers enlisted in the Union Army as an infantryman in the 95th Illinois Infantry Regiment, using the name Albert D.J. Cashier. Jennie couldn't read or write, so she marked an "X" on the enlistment papers and passed a physical examination – just a quick look at the eyes and ears, no undressing involved.
At that moment Jennie Hodgers became Albert Cashier, Private First Class. She was five feet, three inches tall – the shortest person in her regiment – and weighed 110 pounds. How she came up with the name no one knows.
The 95th Regiment was mustered into Federal service at Camp Fuller, Illinois, on September 4, 1862, and a month later was on its way to Grand Junction, Tennessee, where it became part of General Ulysses S. Grant's Army of the Tennessee, originally assigned to the 1st Brigade, 6th Division, XIII Corps.
Other soldiers thought that Hodgers was just a small man who preferred being alone, which was not that uncommon. She endured long marches, lived in the open air, and performed all other duties required of a Union soldier. Her comrades later recalled her as a skilled rifleman.
The 95th Regiment fought in the Siege of Vicksburg, the Red River Campaign and the combat at Guntown, Mississippi, where they suffered heavy casualties. When Hodgers was captured by the Confederates during the Vicksburg Campaign, she managed to escape by grabbing a guard's rifle and knocking him senseless with it.
During 1864, the 95th pursued Confederate General Sterling Price during his Missouri raid. In December 1864, they fought at the Battle of Nashville, the last major battle in the Western Theater. Sent to the Gulf of Mexico, the regiment ended its military service by taking part in the siege and capture of Spanish Fort and Fort Blakely in March 1865.
After the War
Hodgers was mustered out of the Union Army with the remainder of the regiment on August 17, 1865, after serving for three years and 11 days in the ranks. She had marched thousands of miles, fought in more than 40 battles, and earned a reputation for bravery and tenacity under fire.
She and her fellow soldiers returned to Illinois where they were honored with a huge public rally before returning to civilian life. She had escaped the war without serious injury, allowing her to keep her identity a secret.
Hodgers returned to Belvidere, but soon moved on to several other Illinois towns, working at odd jobs. She finally settled in Saunemin, Illinois, in 1869. There she lived in a small house she bought, still posing as Albert Cashier.
She performed many different jobs over the next 40 years: janitor of a church, farm worker, town lamplighter and handyman. She also voted in elections, long before Illinois gave women the right to vote. In later years, Hodgers gained a reputation of being a bit eccentric.
It took a long time for Hodgers' secret to unravel. She applied for a veteran's pension in 1899, but didn't complete the process until 1907, since it required a medical exam. Somehow she convinced the examining board not to divulge her secret and the pension was granted.
In November 1910, Hodgers was at work picking up sticks at the home of Illinois State Senator Ira M. Lish. Unable to see her small form behind him, the senator backed his car down the driveway and struck her, breaking her leg. A doctor discovered her sex while examining her leg. She pleaded with the men to keep his secret, and they decided that no good would be served by making her true gender public knowledge.
Hodgers never recovered fully from the accident, and within months, the Senator and doctor agreed that she needed institutional care, because she was totally disabled. On May 5, 1911, Hodgers was moved from Saunemin to the Soldiers' and Sailors' Home in Quincy, Illinois, where she was admitted as a man.
In March 1914, the Home decided that the continuing decline in her mental health warranted her being placed in the State Hospital for the Insane at East Moline, Illinois. This required a court hearing, and although her gender was not referred to at the hearing, word got out and the press broke the story. At the hospital, she was forced to wear dresses for the first time in more than 50 years. She fought back for a long time before finally giving in.
Jennie Hodgers died at the Watertown State Hospital on October 10, 1915. Wearing her Union uniform, of which she was so proud and with her casket draped with an American flag, she was given a military funeral in East Moline on October 12.

Jennie Hodgers Grave Marker
Sunny Slope Cemetery
Saunemin, Illinois
Her body was moved to Saunemin, where she was buried as Albert Cashier in Sunny Slope Cemetery. Upon the headstone over her grave was inscribed the masculine name she carried into battle and bore throughout her life. In the 1980s, measures were taken to correctly identify the gravesite. Visitors will now find two headstones in place – the original veteran marker and a larger memorial stone.
It took W.J. Singleton, executor of her estate, nine years to track Cashier's identity back to Jennie Hodgers. The people of Saunemin have not forgotten their little soldier of the Civil War. On Memorial Day, 1977, they erected a larger monument that bears the name Jennie Hodgers. Her name is also inscribed on the Illinois monument at Vicksburg.
Jennie Hodgers' life must have been a difficult and lonely journey driven by circumstances mostly beyond her control. She earned the respect of her peers in war and peace and a special place in the history of the United States. She was a true patriot, an exemplary citizen and a source of pride for those who share her heritage.
What separates Jennie from the other females who dressed as men to fight in the Civil War is that she was the only one to serve for the full time that her unit served, and the only one to survive the war without anyone discovering her gender. Sooner or later, all the other women were found out and told to go home, or served as nurses in field hospitals. Why she continued to live as a man long after her military service ended is anybody's guess.
SOURCES
Wikipedia: Albert Cashier
An Irish Cailín Goes to War