Civil War Nurse from New York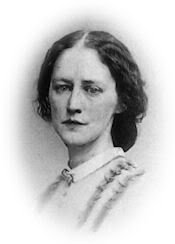 When the Civil War began, Jane Stuart Woolsey was 31 years old and living in New York City with her eight siblings and her mother. Woolsey participated in the first meetings of the Women's Central Relief Association, a precursor to the acclaimed U.S. Sanitary Commission. In 1863 she became Superintendent of Nurses at Fairfax Seminary Hospital, and served there until the end of the war.
Jane Stuart Woolsey was born in Connecticut in 1830, the second daughter of Charles and Jane Eliza Woolsey. She had seven sisters and one brother. In 1840 her father died, but the family lived in relative comfort in New York City, supported by relatives and inheritances. Jane was raised by a mother who hated slavery, although her ancestors for generations had been Virginia slave-holders. As the children grew, they were immersed in the subject of politics and educated on the wrongs of slavery.
As 100,000 men gathered in New York City at Union Square on April 20, 1861, showing support for the Union and welcoming Major Robert Anderson (who had just returned from the Battle of Fort Sumter with the tattered U.S. flag in hand), Woolsey watched the excitement from her doorstep, unable to participate because she was a woman. Woolsey did what she could in New York City, visiting local hospitals as a member of the Women's Auxiliary Committee.
Many nurses were unprepared for the carnage of war, but if it bothered Woolsey, she did not let it stop her from caring for soldiers with horrible wounds. Woolsey received training in hospital management in Rhode Island in 1863. She was working there when she was invited to become Superintendent of Nurses at the Fairfax Seminary Hospital near Alexandria, Virginia.
Woolsey served there until August 1865, then returned to New York and began writing her memoirs, Hospital Days, Reminiscence of a Civil War Nurse, which was published in 1868. Jane referred to the Union soldiers as robust, dedicated men, but she regarded Confederates as "traitors."
You can get a glimpse of Jane and her devotion to the Union by reading the preface of her book:
In the autumn of 1865, when the new Peace on all the hills and fields made them seem so sweet and fair, we found ourselves, a family long parted, exploring the by-roads in the north New Hampshire country. Following, one day, a winding green wagon-track, far from the main road, we came upon a desolate rough farm half way up the lower slopes of the Bartlett mountain. A dozen sheep were scattered over the stony fields, and among them sat a man in the full uniform of a Zouave, bagging trowsers, gay-braided jacket, cap, tassel, and long bright crimson scarf, complete. He had but just got home from some distant post, with very little back pay in his pocket for the sick wife, and none at all to spend in sober clothes, and had gone at once to work upon the obstinate farm, all in his gay attire. He seemed a little stunned by the silence round him. He missed the drums, he said.

We had a little talk over the old days already so distant although so near, and left him, the sun touching the red and the blue of his bright garments, tending his sheep under the solemn hills. One who sits and listens for the drums to-day seems like the Zouave among the sheep-crofts; the flags and the music have marched so far away. And yet there may be some, in these times of gain-getting, pleasure-seeking, and reaction who are not sorry to look backward a little, now and then, and refresh from the old fountains their courage and their love of country.
Jane and two of her sisters – Abby and Georgeanna Woolsey – who had also served as Civil War nurses, remained active in the nursing profession after the war. Jane was a hospital manager in the late 19th century.
Woolsey also worked as a teacher at the Lincoln Industrial School for Freedmen in Richmond, Virginia, and the Hampton Normal and Agricultural Institute, where she taught sewing and housework classes to newly-freed African Americans.